CHAPTER 5
The Nature Conservancy in Shangrila

TRANSNATIONAL CONSERVATION AND ITS CRITIQUES
Robert K. Moseley and Renée B. Mullen
IN the past decade, two prominent articles criticized transnational conservation organizations, including the Nature Conservancy (TNC), for their preference for "virgin wilderness" at the expense of the culture and livelihoods of indigenous peoples in developing countries (Chapin 2004; Dowie 2005). At about the same time, a series of investigative articles about TNC in the Washington Post made just the opposite argument (Stephens and Ottoway 2003).1 In its series, the newspaper implied that TNC programs that strive for some level of environmentally sustainable human use, be it with family farms or large forest product companies, are not compatible with nature conservation. While both sides clearly claim that big organizations are bad for conservation, their reasons for arriving at this conclusion are exactly the opposite. On the one hand, TNC is accused of creating "conservation refugees" by being culturally insensitive and excluding subsistence and commercial enterprise from conservation areas; on the other hand, it is criticized for allowing any economic activity on conservation land, the implication being that humans should be kept separate from nature. These divergent critiques squarely delimit extremes in the debate on the role of human communities in conserving the Earth's biological diversity.
We know firsthand that TNC is a big conservation organization. Both of us are conservation scientists who worked for TNC during its formative years in China,2 when it was a major actor in the construction of the ecological state in northwest Yunnan. From our point of view, the debate over big versus small and local versus transnational organizations misses the point. That point is about effectiveness, fairness, respect, and human compassion in biodiversity conservation in an already globally connected world where most economic development models have little regard for native species and indigenous human communities. In no small measure, it is also about the multitude of scales at which humans interact with nature and are accommodated within conservation programs when proximate causes of local biocultural diversity loss are often driven by distal factors operating on national or global scales.
This critical review describes the Nature Conservancy's history vis-à-vis evolving institutional conceptions of nature-as-wilderness as the organization went from a federation of state-based programs in the United States to the large global organization it is today. We also provide a candid critique of TNC's work regionally in Yunnan and locally in the Khawa Karpo area, especially in regard to how conservation planning was adjusted to include social and cultural elements that were not well incorporated into TNC's methods at the time. We are blunt about how the organization's conservation work with local people was replete with cultural misunderstandings, successes and failures, lessons learned, and strategic innovations. This real-life example of institutional evolution leads into a review of the work of Western social scientists who studied how TNC engaged with and interacted across many levels of Chinese and Yunnanese society between 1999 and 2005. We examine these critiques from the vantage point of the ones being studied and explore some of the common thematic areas that emerge, focusing on the organization's attempts to integrate social elements into biodiversity conservation programs. Our objective here is to explore the possibilities for dialogue across the disciplinary, paradigmatic, and epistemological divides that separate academic social science from conservation practice. The communication barrier between these two disciplines is significant, but we think that the effort needed to bridge this gap is critical for the sake of the Earth's biosphere and its human occupants.
EVOLVING PERSPECTIVES OF A TRANSNATIONAL NONGOVERNMENTAL ORGANIZATION
At its inception, TNC concentrated its core business locally, at places containing important biodiversity, where it made its greatest investments by far. But the organization's conservation goals, as well as the methods it employed, have broadened considerably during the past sixty years. Similar to most conservation movements born in the early twentieth century, TNC has its origins in the Western notion of "wilderness," where natural and human communities are considered separate (Cronon 1995). The organization can trace its origins back to the establishment of the Ecological Society of America in 1915, a professional organization founded by leading American natural scientists of the day (Smith and Mark 2009). Not satisfied solely with academic research, some of these scientists formed an activist wing that eventually split from the society in the 1940s, resolving to take "direct action" to save threatened natural areas, not just study their demise. This group incorporated as TNC in 1951.
For its direct action, TNC took full advantage of the dominant land tenure system in the United States, that of private property (Freyfogle 2010). This strategy was unique among U.S. conservation groups in those days. Before this, protected areas were established exclusively through government programs, although often under pressure from conservation activists through political processes. The organization purchased private tracts of undeveloped land containing endangered species and managed them as strict nature reserves. Land acquisition was its dominant strategy for three decades, and it is the one for which it is best known today in the United States. But that view is twenty years out of date. Two developments in conservation science during the 1980s forced TNC and others to recognize that conserving biodiversity would necessarily involve working more broadly across land- and waterscapes. First was the recognition of an early bias toward terrestrial ecosystems. Some of the most imperiled forms of life on Earth occur in freshwater, and, except for game fish, aquatic biodiversity was largely ignored by conservationists (Master 1990). The second major realization was that isolated protected areas could not conserve all endangered elements of the biosphere (Noss 1987).
These compelling scientific trends forced TNC to look beyond a simple land-purchase strategy to suites of conservation approaches across watersheds and larger landscapes that included networks of reserves embedded within considerable human enterprise. In other words, it became clear that working at the local scale would never be enough to accomplish the group's conservation mission. While strategic local action is still a hallmark of TNC, the organization also began to work across many geographic scales and sociopolitical realms. There was also a more pragmatic reason for TNC's move beyond land acquisition. The organization expanded into the international conservation arena in the early 1980s, often to places that have larger populations and land tenure systems that are different from the U.S. system. With the move from isolated nature reserves to landscapes and a geographic expansion beyond the United States, it quickly became obvious that accommodating sustainable human use in conservation strategies would be critical to effectively conserving biodiversity.
THE NATURE CONSERVANCY COMES TO CHINA
In 1995, after fifteen years of international experience in Latin America and the Pacific, TNC was presented with its first opportunity to conserve biodiversity in mainland Asia. It was invited to work with the Chinese government on new conservation initiatives in the mountains of northwest Yunnan. While the global biodiversity importance of the area was well documented (Myers et al. 2000), unfamiliar political terrain triggered a cautious analysis by TNC's governing board, which eventually authorized a project. Formal partnership with the Yunnan provincial government began in June 1998 and became known as the Yunnan Great Rivers Project (see map 2). Right from the beginning, TNC recognized and embraced the extraordinarily complex cultural and sustainable-livelihood context of its conservation work in northwest Yunnan: three million rural inhabitants governed by a strong centralized authority and belonging to more than ten official ethnic groups, although represented by considerably greater cultural diversity than these administrative ethnic categories indicate.
This invitation was not the only move China made toward increasing conservation activity during this period. Not least was a nearly logarithmic increase in the government's designation of nature reserves across the country following the Cultural Revolution (Coggins 2003, 14). Soon after TNC's entry into Yunnan, the central government also launched several broad-scale development and conservation initiatives. Foremost among them was the Great Western Development strategy in 2000 (Tian 2004), a long-term central government program aimed at raising economic standards in western China to levels created in the east during the previous quarter century. In Yunnan, the initial manifestations were rapid infrastructure expansion and industrial tourism development. At the same time, the central government launched two large conservation programs, a ban on state-run commercial logging in 1998 (Zhang Peichang et al. 2000) and reforestation of steep-slope cropland through the Sloping Land Conversion Program, initiated in 1999 (Xu Zhigang et al. 2004). At the provincial level, most of northwest Yunnan was listed as a natural World Heritage site in 2003 (Ives 2004). Rapid shifts in the economy, with exposure to regional and global economic pressures caused by these and other programs, were predicted to have a sizable impact on both people and landscapes in Yunnan.
ESTABLISHING REGIONAL CONSERVATION PRIORITIES
Given the context of extraordinary biological and human diversity combined with mounting development pressure and new, often overlapping government programs, both the Yunnan government and TNC agreed that there was an urgent need to establish regional conservation priorities for the Yunnan Great Rivers Project (Groves 2003, 389). In fact, TNC, or any NGO, faces this situation wherever it works and whatever its mission: how to prioritize investment in the face of urgent need and limited funds. During this period, the organization used a combination of biodiversity value, urgency, and feasibility (often having to do with sociopolitical conditions) to prioritize places identified for specific local action and the broad-scale strategies required to support those actions (Groves 2003).3
While biodiversity was the primary focus of TNC's work in Yunnan, partnership with the provincial government brought the people of northwest Yunnan to the fore. Biodiversity and the development of social goals related to cultural diversity and sustainable livelihoods were given equal consideration in setting priorities for regional conservation. Well-connected Yunnan social scientists advising the project drove the cultural focus of provincial sponsors, which TNC embraced from the start. The resulting "Conservation and Development Action Plan for Northwest Yunnan" (JPO 2001), developed between late 1999 and early 2001, outlined cultural, economic development, and biodiversity priorities for the region (see ch. 4 in this volume for a review of the "Action Plan"). The overall objective of the "Action Plan" was to assess broad-scale patterns of biological and cultural diversity in the region in order to identify areas of cultural and biodiversity significance, regionwide or multisite threats to biocultural diversity, and the appropriate conservation and sustainable economic development activities for maintaining and enhancing this diversity (Ou 2002).
For TNC's China program, the regional planning process had two equal objectives: (1) produce a credible first iteration of biodiversity and cultural conservation priorities, as described above, and (2) introduce to China a transparent, systematic approach to setting priorities that includes interdisciplinary collaboration. These dual objectives of outcome and process, along with cultural conservation, were unique in the organization at the time. Most of TNC's regional priority setting focused only on the biodiversity part of the first objective (Groves 2003). In fact, an internal review of the biodiversity component of this plan was rather negative. The peer reviewers assessed the Yunnan project against standards developed in the United States, where social welfare and capacity-building objectives were generally not considered (although they are now). TNC's Yunnan team defended its approach and the extra effort needed to establish a transparent, interdisciplinary process with cultural and sustainable livelihood objectives, even if it distracted somewhat from a more rigorous biodiversity assessment. In the context of China at the time, a systematic approach to designing conservation actions was new, as was interdisciplinary collaboration. In the end, more than eighty Chinese experts from thirty-five institutions contributed to the "Action Plan," including biological and cultural scientists, economists, and development planners, with TNC playing a facilitating role.
Unfortunately, at the end of the priority-setting process for the Yunnan Great Rivers Project, the cultural module and the biodiversity module stood as independent tracks, with no integration of analysis and recommendations. Several factors appear to have contributed to this lack of integration. One was the very short time frame the provincial government established for production of the plan. Communication barriers also inhibited full integration of the two modules, including persistent communication obstacles between social and biological scientists and between Chinese experts and TNC expatriate facilitators. As Ou Xiaokun, a Yunnan University ecologist and one of the government leaders, put it, "[T]he larger and perhaps more difficult challenge to efficient idea exchange and cooperation are the different methods the Chinese and American partners have in conceptualizing and solving problems" (2002, 75). For example, in finding solutions to institutional barriers that slowed progress, Chinese participants most often tried to solve these problems within existing administrative channels. If the barriers persisted, TNC expatriates would readily attempt to create new pathways for resolving them. Proposals for circumventing established norms regularly created friction. As a result, recommended cultural actions were related largely to tangible culture (e.g., architecture and dance), with only general recommendations regarding cultural interactions with species and ecosystems (e.g., traditional knowledge applied to sustainable resource use). Specialist groups from the cultural team produced ethnographic and ethno-biological assessments from short field sessions; these narrow case studies of a few select villages were not broadly applicable or useful in assessing natural resource use patterns of ethnic groups at a regional scale.4
Another unfortunate outcome was that the cultural conservation recommendations languished after the "Action Plan" was complete. The cultural portion of the plan was developed largely by academics from research institutes and universities who did not have the institutional mandate or capacity to advocate for turning the recommendations into actions, as TNC did for biodiversity. On the positive side, the planning process did introduce biologists to social scientists, which led to later collaborations. The ethnographic case studies were important to implementing programs in specific conservation areas, such as in the Khawa Karpo (Ch. Meili) Snow Mountains (Guo 2000a). Also, the Yunnan NGO Center for Biodiversity and Indigenous Knowledge built on this earlier work to implement biocultural and livelihood programs with Tibetans at Bahang, Gongshan County (Wilkes 2006), and Jisha, Shangrila County (Xu Jianchu, Li, and Waltner-Toews 2004).
LOCAL ENGAGEMENT WITH TIBETAN COMMUNITIES
The "Action Plan" was completed during the first half of 2001 and received final approval from the provincial government in May. Many of the biodiversity priorities, however, were known by mid-2000, when the second phase of the Yunnan Great Rivers Project began: implementing conservation actions in areas of high biodiversity significance. Assessing its internal capacity and invitations received from county governments, TNC chose to assist conservation at five of the nineteen priority sites identified by the biodiversity module of the "Action Plan" (Ou 2002). The Khawa Karpo massif, in an ethnically Tibetan area along Yunnan's border with the Tibet Autonomous Region (see map 2), was one of those sites (Salick and Moseley 2012). TNC's work at this site exemplifies interactions with villagers and local officials in designing and implementing conservation strategies that go beyond a singular focus on biodiversity and incorporate cultural sensitivity, traditional knowledge, and sustainable human use.
Following broad-scale priority setting, the primary analytical tool that TNC uses to achieve place-based conservation is the Conservation Action Plan (Poiani et al. 1998). In brief, the plan identifies focal biodiversity targets at a site, prioritizes current and future stressors to target viability, and identifies strategies that maintain species viability and ecological health. Concurrently, the organization conducts an analysis of sociopolitical conditions that assesses the linkages between proximate stressors (e.g., overharvesting of snow lotus by villagers) and the more distal drivers of those stressors (e.g., global commercial demand for natural medicines), which aids in designing strategies. A Conservation Action Plan is collaborative and dynamic and can be adjusted to accommodate new information and changing situations. The methodology has been tested and refined at many sites around the world.5
The Deqin County government initiated the process at Khawa Karpo by hosting a conference in October 2000. Among the eighty participants were villagers, local and provincial officials, ethnographic researchers, local religious leaders, domestic and international NGOs, and international tourism and park experts. The primary outcome of the conference was a set of recommendations from three breakout sessions: Policy and Public Participation, Cultural Preservation, and Biodiversity Conservation (Deqin County and The Nature Conservancy 2000). These recommendations provided clear direction for beginning development of a comprehensive conservation program. (Another prominent issue at the conference, a ban on mountaineering on Khawa Karpo Peak, is described in Litzinger 2004 and in the introduction to this volume.)
The conference set in motion a hectic schedule of information gathering. First, Yunnan scientists conducted biodiversity field inventories that cataloged and mapped the vegetation, flora, and fauna of the site (e.g., Ou et al. 2006). This basic biological information is fundamental to making competent decisions about conservation programs. Second, the planning team gathered expert opinion on priorities from a wide range of groups with knowledge or interest in Khawa Karpo conservation. TNC insisted that broad public input be integral to conservation decision making, reflected in the importance given this topic at the Deqin conference. Much of the early public input was gathered in a series of workshops, which followed the basic Conservation Action Plan process outlined by Moseley (2000). Several workshops were held with local officials, a local conservation NGO, and Kunming-based biological scientists. In addition, workshops, in the form of modified Participatory Rural Appraisals, were held in villages to gather their views on conservation priorities (fig. 5.1). With Photovoice, another participatory tool, villagers used cameras to independently document their priorities and interactions with the environment (China MAB 2005). This photo-novella technique was first developed for a rural reproductive health project in southern Yunnan, and its goals were to "empower rural women to record and reflect their lives, especially health needs, from their own point of view . . . and to inform policymakers and the broader society about health and community issues that are of greatest concern to rural women" (Wang, Burris, and Xiang 1996, 1391). TNC's use of the Photovoice technique in northwest Yunnan had similar general goals, with environment replacing reproductive health as the subject of interest and an expansion to other segments of the village population that included a balance of age, gender, and economic status. At Khawa Karpo, forty-three photographers from seven villages took part in the project, producing fourteen thousand photos and accompanying stories (Salick and Moseley 2012, 29).
Although the Conservation Action Plan process is logical to follow, and TNC used it successfully to gather local information and implement conservation at the five Yunnan Great River Project sites, it still represented a top-down process driven by outside technicians, both Chinese and expatriate. It is now clear that TNC did not fully comprehend villagers' perceptions and values related to nature, conservation, the organization itself, and its affiliation with the Chinese government. Later synthesis of opinions from all the workshops, in combination with employment of biodiversity data and sophisticated information technologies, further created a power differential between villagers (and county resource managers) and outsiders. Even Photovoice, whose aim was to enable villagers to be heard and to equalize power relations by having them drive the documentation and dissemination of knowledge, was not well integrated into the standardized Conservation Action Plan process. Photovoice was somewhat experimental then, this being the first time the technique had been used for conservation planning, and there was a significant lag between the availability of information and the Conservation Action Plan timeline. The sheer volume of information collected by Photovoice also presented analysis and synthesis challenges. TNC later developed a cultural Conservation Action Plan process in Central America after Yunnan planning was complete. All of these efforts to incorporate local perspectives in conservation, however, will probably never fully equalize the conservation discourse in China between villagers and powerful outsiders, be they government agencies or NGOs.
Another disadvantage of the standard Conservation Action Plan process is its near-exclusive focus on threats to biodiversity as the basis for developing conservation strategies. While it became clear over time that culturally driven attributes at Khawa Karpo could overlap with conservation objectives, they did not fit well into the existing process. In fact, a summary of the early Conservation Action Plan at Khawa Karpo (Moseley et al. 2004) did not mention any cultural opportunities. Only strategies directly related to stressors on biodiversity were taken seriously. Despite this, TNC staff decided to step outside of the formalized process and engage ethnographers and ethnoecologists in an effort to explore new ways of integrating cultural knowledge into the design and implementation of conservation strategies (Salick and Moseley 2012). This propensity of local staff to buck top-down organizational standards that overlook cultural knowledge has been observed elsewhere (Alcorn 2005).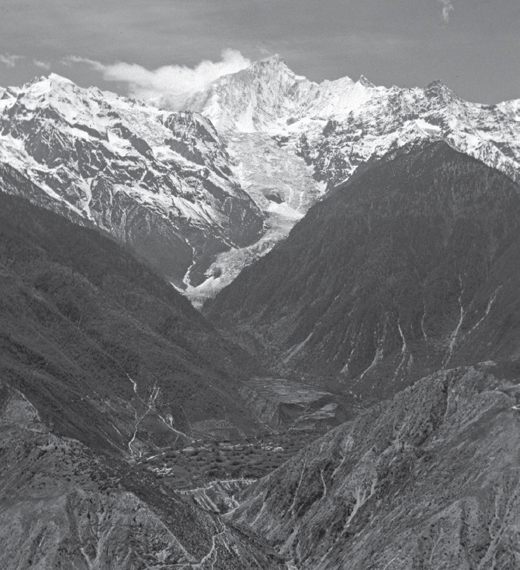 Here we describe two examples of local staff using cultural knowledge in designing conservation programs at Khawa Karpo. The first example involves the sacred geography of Tibetan Buddhism. The status of Khawa Karpo Peak (fig. 5.2) as a holy mountain to Tibetans is well known and is reviewed in the introduction to this volume. Still more widely known is the contribution that sacred landscapes, such as holy mountains, make to conservation worldwide (Verschuuren et al. 2011), in eastern Tibet (Studley 2011), and in Yunnan (Pei 2011; Xu Jianchu et al. 2005). At the regional level, supporting practices that maintain sacred landscapes was one of the conservation strategies recommended by the cultural module of the "Action Plan" (JPO 2001). Cultural geographies were initially outside the experience of most TNC staff, who found them difficult to understand. Luckily, an ethnographer from the Yunnan Academy of Social Sciences, Guo Jing, a passionate advocate for local knowledge and rights, helped the organization explore the spatial relationships of sacred mountain worship around Khawa Karpo (Guo 2000b). Guo later handed off the ethnographic work to two colleagues from the academy and Yunnan University, both local Tibetans. Fully recognizing from the beginning that it is spiritually based and does not depend on the principles of ecological science, they documented a spiritually driven zoning system on Khawa Karpo that nevertheless makes significant contributions to biodiversity conservation (Anderson et al. 2005; Salick et al. 2007). This work later evolved under the direction of Tibetan TNC staff members and was integrated into the strategies that the organization was implementing at Khawa Karpo (Salick and Moseley 2012), although it still did not flow from the threat-based Conservation Action Plan process.
A second example involves the traditional ecological knowledge of local Tibetans. One of the more absurd aspects of the standard process at the time was that local conservation staff were compelled to tell villagers that they were a threat to biodiversity (e.g., in relying on fuelwood as a primary energy source), and this was often treated as a type of transaction cost on the way to effective conservation (e.g., reduce their fuelwood use in order to save primary forest). At best, this was an awkward way to begin collaboration, and, at worst, it was morally and sometimes factually wrong (Moseley 2006, 2011). Another way to approach this, again outside the formal process, is to recognize that Tibetans have been stewards of biological diversity at Khawa Karpo for centuries and that they possess knowledge about sustainable management that is outside the usual threat-based information gathering (Ou 2002). Essentially, TNC staff took a humble approach, recognizing that Tibetans need not simply wait for top-down "enlightened intervention by the ecological scientific community" (Litzinger 2006, 75). Beginning in 2001, TNC teamed up with ethnoecologists from the Missouri Botanical Garden to explore the relevance of traditional Tibetan land management to conservation at Khawa Karpo. Botanical Garden researchers were highly successful in identifying Tibetan practices that contribute to conservation at many scales, from the agrodiversity of village crops to climate change adaptation across landscapes (Byg and Salick 2009; Gunn et al. 2010). Their prolific findings do not, however, valorize all Tibetan land uses. For example, the commercial harvest of some high-elevation medicinal plants for national and international markets was clearly unsustainable (Law and Salick 2005).
Missouri Botanical Garden research provided new models that allowed us as TNC staff members to learn from and reinforce these traditional practices and help equalize power relations in the biopolitics of sustainable development and conservation. For example, the models incorporate the perspectives of diverse groups of experts in setting research and conservation priorities for Tibetan medicinal plants; locally trained and Lhasa-trained Tibetan doctors were consulted, along with professional botanists (Law and Salick 2007). At another level, the research team quantified the conservation contribution of intangible elements of Tibetan culture, such as sacred forest groves in villages (Salick et al. 2007). This collaboration between ethnoecology researchers and conservation practitioners from the beginning of the project created a Tibetan-community-centered approach to conservation at Khawa Karpo, especially compared to the central-government-driven initiatives and regulations that largely ignored local knowledge and traditions (Salick and Moseley 2012). Put another way, local Tibetan knowledge and traditions were not treated as simply transaction costs on the way to conservation outcomes (West and Brockington 2006).
POSTSCRIPT ON THE NATURE CONSERVANCY IN YUNNAN
The events described above occurred during 2000–2005 (see ch. 4 in this volume for a discussion of TNC in Yunnan after 2005). Expatriate staff started and directed the Khawa Karpo program for TNC during 2000–2002, and Tibetan staff led the project until 2009. Two dramatic events occurred in late 2008 and early 2009 that decreased TNC's presence at Khawa Karpo. The first was the global economic recession that began in late 2008 and dramatically reduced the private philanthropy that supports the organization's programs throughout the world. TNC reduced its staff 10 percent worldwide in 2009, and this included major program cutbacks in China. At the same time, a leadership change in TNC China led to a different vision for the program, especially in light of dramatically tightened budgets. The difficulty foreign NGOs encounter while operating in Tibetan areas of China after 2008 was an additional factor in decisions about the Khawa Karpo project. Consequently, TNC's presence in Yunnan and at Khawa Karpo was reduced. The center of gravity for the organization in China shifted from Yunnan to Beijing and was reoriented toward place-based work in other provinces and engagement with national and regional initiatives.
TNC's Deqin office closed in 2010, although it continued to be engaged in the Meili Snow Mountains National Park project. Nearly from the beginning of its work in China, TNC recognized that the Chinese "nature reserve" designation was not appropriate for all situations and that another type of conservation area was needed that allowed a greater level of human use and occupation. This idea originated in the IUCN classification scheme of global conservation areas but also stemmed from the intense need for local officials to generate income as part of the Great Western Development strategy. Starting with Yunnan, TNC worked to expand the suite of conservation designations to include what became known as "national parks," a conservation area that accommodates greater human use compared to nature reserves (Grumbine 2010, 60). First applied at Pudacuo, Shangrila County (Zinda 2012a) (also see ch. 4 in this volume), the model is now being implemented at Laojun Mountain in Yulong County (Zhou and Grumbine 2011) and in the Meili/Khawa Karpo mountains of Deqin County (Zinda 2012b) (see also ch. 4 in this volume). Tensions between conservation and economic development were apparent at Pudacuo and Meili, as well as between TNC as a conservation advocate, local governments as the primary "owners" of parks, and their tourism development companies, whose mission is to maximize income (Zinda 2012a, 2012b). In late 2011, TNC ended its involvement in the Meili park project because these differences could not be reconciled to its satisfaction. TNC remains involved in the Laojun Mountain National Park project, where local community participation and benefit goals are stronger.
WESTERN SOCIAL SCIENTISTS CRITIQUE THE NATURE CONSERVANCY
Almost from the inception of the Yunnan Great Rivers Project, a corps of Western social scientists has studied, written, and presented on how TNC engaged and interacted with different elements of Chinese and Tibetan society. The organization provided an attractive research objective: one of the biggest transnational conservation NGOs in partnership with the largest Communist government working with an ethnically diverse and economically impoverished population inhabiting a beautiful mountain region. We left China in 2005, and up to that time, seven Western social scientists had studied various parts of TNC's work.6 A new wave of Western researchers has taken up where these scholars left off.7
Their critiques span the range of geographic and social scales and involve different facets of social science research. They touch on global conservation financing, partnership with the Chinese government, national conservation programs, regional conservation planning, site-level conservation approaches, tourism sustainability, and interactions with domestic experts and local communities, among others. Three thematic areas emerged from our examination of these critiques that yield insights on how to improve conservation practice, such as the weaknesses discussed above, and, more generally, suggest ways that social scientists can better engage conservationists in helping them negotiate the transition from a legacy of seeing people only as threats to nature to an approach that is culturally just and sustainable.8
Scales of Engagement
Effective modern conservation requires action at all scales. Addressing environmental stressors at the local scale (e.g., climate warming impacts on medicinal plant populations and yak butter production) will solve only part of the problem and must be addressed simultaneously at the national (e.g., governmental policies that hinder local climate adaptation) or even global scale (e.g., reducing greenhouse gas emissions). While much of the critique of TNC and other international NGOs focuses on their size, extent of geographic and political reach, and embeddedness in global capitalism, conservation investments made at the local scale can be wasted if larger scales are not addressed. For instance, an investment made in fuel-efficient stoves that reduce reliance on fuelwood can be wiped out (literally) by ignorance of river-damming hydropower development plans at the broader policy level. All social scientists who studied TNC in the early years (1999–2002) seemed from our perspective to misunderstand its motivations in setting regional conservation priorities with the provincial government at one scale and place-based conservation in villages at the other. This may be due to poor communication. To be clear, TNC's approach holds that conservation strategies are most effective when integrated across scales and, while priority setting is best done across biophysical units such as river basins, that conservation will always be implemented by political entities, be they villages, counties, provinces, or nations.
Related to this is the criticism that describes TNC as naive or even having ulterior motives in engaging higher levels of the Chinese government. This plays out in most critiques with regard to TNC's interactions with local cultures. While the organization gets some credit for trying to empower villagers, most critiques point out (with some validity) that TNC failed to understand the nuanced complexity of local culture and misrepresented this at higher political levels. The organization's cooperation with the Chinese government is represented as bad, either explicitly or implicitly, and is generally thought to have been motivated by the desire for more power and the ability to raise more money. The reality is that engaging higher political levels is a conscious choice made with the stakes for local places in mind. In fact, Brosius and Russell (2003, 52) recommend this focusing-up approach, in which "effective conservation must be grounded in the effort to change wider structures." As they put it, persistent structural problems favor ruling elites and their allies by maintaining perverse incentives that local communities alone cannot resist. But the cards are stacked against this struggle to change perverse structural inertia. In our view, TNC and all conservation NGOs combined are but a speck compared to the truly hegemonic economic and development forces that are homogenizing global diversity, both biological and cultural (Redford and Brosius 2006).
Whose Knowledge Counts?
Social scientists vigorously debate the meanings of apparently simple adjectives, such as "traditional," "indigenous," "native," "local," and "community-based," arguing that they are in fact enormously complex and demonstrating the political implications of their use. In critiques of TNC in Yunnan, this debate seems to us to be over who is the authentic voice for culture and conservation. While some argue that all voices, in all their complexity, should count, most critiques explicitly or implicitly suggest that one group or another represents the true interests and identities of a particular polity in a specific time and place. This crisscrossing discourse, inconsistent across the various critiques, is confusing and difficult for conservation practitioners, and practical guidance from social theorists on how to negotiate this tricky realm would be welcome.
Much has been written about TNC's attempt to use Tibetan spiritual beliefs, specifically, sacred landscapes, as a foundation for conservation. This effort has been subjected to a wide range of critique, from simple naïveté about the effectiveness of these landscapes for protecting nature to appropriation of Tibetan sacred geography for sinister marketing motives. The common thread that links these criticisms appears to be the question of who can legitimately speak for and about local sacred landscapes. In retrospect, the project did not adequately take into account the fact that the concept of nature originates in Western knowledge traditions and has little meaning in Tibetan societies (Huber and Pedersen 1997). It became more evident over time that maintenance of culture was the primary motivation for Tibetans who engaged with the project and that this concern for culture means that a biodiversity component cannot be easily compartmentalized (Yeh 2007).
Nevertheless, TNC's decision to promote the use of Tibetan sacred landscapes as a foundation for conservation was informed by a broader global discourse. The relationship between conservation and spiritual beliefs, generally, and sacred natural lands, specifically, has been widely acknowledged in the literature (e.g., Berkes 2008; Verschuuren et al. 2011). Scientists and activists have documented Tibetan case studies of sacred landscapes and environmental protection (e.g., Guo 2000b; Huber 2004; Studley 2011). The Central Tibetan Administration also expresses this view, though social scientists have pointed out both the rationales for and the problems with these representations (Huber 1997; Lopez 1998, 199; Yeh 2009a).
Similarly, Chinese ethnographers have pleaded for recognition of local cultural landscapes in an otherwise centralized, top-down conservation hierarchy. Their entreaties came through loud and clear from Chinese social scientists with whom TNC worked to create the regional "Action Plan." In order to assure that this momentum continued at Khawa Karpo, the project relied on Chinese as well as local Tibetan ethnographers to design the program. Tibetan staff members collaborated with a local NGO, the Khawa Karpo Culture Society (see ch. 1 in this volume), to continue this work. Throughout these collaborations, local religious leaders and guides interpreted the sacred landscape around villages. The documentation of sacred geographies convinced some TNC staff that a Chinese nature reserve was not appropriate for Khawa Karpo due to the possibility that onerous, centralized regulations would supplant conservation traditions that, in some cases, are centuries old. In fact, if Tibetan spiritual beliefs are maintained, no modern protected area designation may be needed at all. It remains to be seen whether the new national park concept being rolled out at Khawa Karpo will do that. The current prognosis for success is mixed (see ch. 4 in this volume).
It is instructive to note the contrast between Western and Chinese social scientists in terms of the threats on which they focus. On the one hand, Chinese ethnographers (both TNC collaborators and those outside the project) have recently begun advocating for ways to legitimize local traditions, beliefs, and knowledge in a strongly centralized governance system that has suppressed them in the past (Hathaway 2010a). On the other hand, Western social scientists expressed concerns about authenticity and authority that did not appear to recognize or acknowledge the known threats to Tibetan culture emanating from the state and the broader political context that were the concern of the Chinese specialists. Other commentators questioned TNC's attempts to legitimize local traditions within the larger Chinese government system, suggesting that this arrangement was fraught with the threat of appropriation.9
These differences in approach between Western and Chinese social scientists may stem from historical baggage in both Western (Brosius 2006) and Chinese (Litzinger 2000) social science. Just as early natural scientists witnessed the loss of biological richness in places where they lived and became conservationists, Yunnan social scientists are witnessing the loss of a rich cultural diversity and are desperate to find ways of stemming that loss. At Khawa Karpo, for example, it was these scholars who persistently pointed out the unseen sacred geographies of Tibetan Buddhism that were outside the biophysical geographies TNC ordinarily maps for conservation. Rightly or wrongly, these Chinese social scientists seem less hung up on theoretical deconstruction than their Western counterparts and take a much more practical approach to culture and conservation. And because conservationists are nothing if not applied scientists, they tend to listen to practical solutions.
Several Western social scientists raised another issue about authority and representation, this one involving TNC staff in China. During the organization's early years in Yunnan (ca. 1999–2002), expatriate American staff were the most visible and possibly the most approachable for Western researchers. As a result, some of the critiques allude to an international NGO staffed by foreigners, apparently implying questionable legitimacy. While this was never the case (even in its early years, TNC had an even mix of expatriates and Chinese), it definitely was not the case by 2005, when the China Program staff of more than fifty included very few expatriates. Further, ethnic minorities from northwest Yunnan have always been part of TNC's staff, including its first employee in China. Until the Yunnan office was downsized in 2009, they filled positions at all levels of the organization, including leadership (see the introduction to this volume). These staff members, as ethnic "elite," are often considered contaminated, inauthentic, and corrupted and are ignored, as was found in a study of the Yao in Guangxi (Litzinger 2000). While some Western anthropologists seem to dismiss anyone who is not a villager as incapable of authentically representing minority ethnic interests and identities, these ethnic elite also represent legitimate voices in the biopolitics of northwest Yunnan and are uniquely and productively working across the necessary scales of conservation.
Application
TNC uses an adaptive management framework whereby it adjusts strategies based on new knowledge and changed situations. With peer review as an integral part of the process, the organization is constantly learning from multiple disciplines and adjusting strategies in response to new knowledge. Although easily stated, learning across disciplines is much more difficult in practice, especially between the social sciences and biological sciences (Fox et al. 2006). One of the major factors inhibiting meaningful collaboration between these disciplinary realms is that conservation biology is, at its core, an applied science, and it appears that much of Western social science tends not to be, at least in our Yunnan experience. While examining theoretical dimensions is fundamental to any discipline, we believe that in conservation, particularly, it is important to translate theory and rhetoric into practice.
In the case of Yunnan critiques, this would mean reaching beyond the social science academy and offering more than the simple deconstruction of environmental discourse. Anthropologists and social theorists could take up the challenge by communicating their critiques "in and through a process of meaningful engagement with those whose practices they are examining. Rather than standing on the outside, we need to work with conservation practitioners and offer our analyses in ways that subject our own critiques to examination" (Brosius 2006, 685).
This sort of engagement may help social scientists eliminate the high number of factual errors observed in the Yunnan critiques, some passed along from one journal article to another. The conservationists studied by social scientists may be less dismissive of critiques of their practices if such errors were reduced. It would also help to place research in a temporal context. Although the studies sometimes state the dates of research, the narratives often come across as confidently timeless. To us, the events covered by these narratives seemed like ancient history by the time the research results became publicly available. Economic and development trends in China are changing at blinding speed. Conservation is no different, and TNC programs in Yunnan had to rapidly evolve and adjust to changing situations and new knowledge that were not reflected in the critiques. Related to this, research excursions on which the Western critiques were based were of short duration, ranging from one meeting to two years. Although usually not acknowledged as such, these were just snapshots in time, especially compared to the longer residency of subjects and programs being studied. These and other factors created walls between social scientists and conservation practitioners and unnecessarily inhibited acceptance of valid criticisms.
One outcome of an engagement between academic social science and practicing conservationists would be translation of the critical perspective of modern social theory into understandable language and applications that challenge conservationists to think differently about their interactions with society. The natural sciences teach us that turning theory and data into application takes time and is not easy. At the least, it means altering vocabulary and communication style. Much more difficult to redress is the lack of rewards given to application in current academic social science. In the past, these and other factors have been barriers to cross-discipline collaboration (Mascia et al. 2003), but conservation now appears ready to collaborate with social scientists as never before.
CONCLUSION
Like most NGOs and many government agencies involved in conservation these days, TNC is trying to integrate appropriate human use and social goals into actions that maintain and restore the Earth's biosphere. But there are social costs and social benefits to conservation programs. Conservation organizations have tended to emphasize the benefits (e.g., clean air and water, sustainable water supply, maintenance of nature-based ways of life) and downplayed or been silent about the costs (e.g., disruption of social systems, economic limitations on resource use) (Springer 2009). So it was with conservation in the Yunnan Great Rivers Project: TNC and its government partners were focused on social benefits, and Western social scientists pointed out the social costs incurred in implementing biodiversity conservation strategies that routinely involve decisions about land use and access to natural resources. As reviewed above, TNC was ill prepared in many ways to deal with the cultural setting into which it stepped in northwest Yunnan in 1998. Reliance on Chinese social scientists helped incorporate social benefits at the local level, but, possibly because the scientists were aligned with government institutions, the project did not place enough stress on the social costs. In the end, TNC made mistakes, learned lessons, and adjusted conservation strategies based on contributions from all disciplines, including the social sciences.
Encouragingly, the integration of social science into applied conservation problem solving is becoming more common among both academics and practitioners. TNC now has several social science disciplines represented among its program leaders, from human ecology to indigenous rights to resource economics. This is part of a larger trend among conservation organizations, most notably the International Union for Conservation of Nature, which has the longest history in this endeavor. It has integrated social science and culture into several of its commissions; for example, the Commission on Environmental, Economic and Social Policy is organized into a number of thematic discussion groups that include social scientists, biologists, and conservation practitioners, and the World Commission on Protected Areas has a Cultural and Spiritual Values Specialists Group. Cross-discipline collaboration is taking place in professional societies, including the Society for Conservation Biology, which formed a Social Science Working Group in 2003 with the mission, among other things, of building social science capacity among conservation practitioners. Academic social scientists are also bringing their intellects to bear on this, with case studies by anthropologists and geographers that explicitly acknowledge the stakes of ecological degradation on both natural and social systems (Stevens 1997). Recent case studies reconciling conservation action with its social costs include unsustainable timber harvest in Finland (Berglund 2006) and wildlife conservation in southeastern China (Coggins 2003).
These hopeful trends toward integration and cross-discipline collaboration bode well for the future of conservation in Shangrila. These theoretical underpinnings and social science applications, which were not readily available at the time TNC launched its Yunnan project, will allow future conservation practitioners to better discover and explain the social context in which they work, similar to what conservationists have done biophysically for decades. Integrating social sciences into conservation will not be a panacea. Many issues will still be extraordinarily challenging, for example, addressing multi-scale stressors on cultural integrity and the environment and the chronically unequal power relations in conservation. But the consistent and persistent focus of early conservationists on preserving remnants of primeval nature is now untenable. While it succeeded in elevating biodiversity conservation in the global consciousness, that single-mindedness is no longer beneficial. It is now time to blend social science seamlessly into the many disciplines of conservation to create the best outcomes for a sustainable planet that allows all life to flourish.
5.
THE NATURE CONSERVANCY IN SHANGRILA
1See Stephenson and Chaves 2006 for a critical analysis of the Washington Post coverage and TNC's response in the aftermath.
2Moseley was among the handful of Chinese and expatriates who established TNC in northwest Yunnan beginning in 2000. Mullen came to China in 2003 as part of a central science team, to test and refine conservation planning methods in new places around the world. We both worked for TNC operating units before coming to China and after we left in 2005.
3TNC now uses sociocultural outcomes, including human well-being, along with biodiversity in prioritizing conservation action and measure success.
4Xu and Wilkes (2004) later put the ethnobiology case studies in a regional context.
5For a review of the initial process for Khawa Karpo, which took place from 2000 to 2003, see Moseley et al. 2004.
6Pre-2005 social scientists who studied TNC in Yunnan are Erlet Cater, professor at University of Reading (Cater 2000); Ralph Litzinger, professor at Duke University (Litzinger, 2004, 2006, 2007); Giovanni da Col, then a PhD candidate at the University of Cambridge (da Col 2006a, 2006b); Kenneth Bauer, then a PhD candidate at the University of Oxford (Bauer 2006); Justin Zackey, then a PhD candidate at the University of California, Los Angeles (Blaikie and Muldavin 2004; Zackey 2005); Michael Hathaway, then a PhD candidate at the University of Michigan (Hathaway 2004, 2006, 2007, 2009, 2010a); and Setsuko Matsuzawa, then a PhD candidate at the University of California, San Diego (Matsuzawa 2007). We would like to thank Giovanni da Col and Ralph Litzinger for many long discussions about this body of research.
7Post-2005 social scientists who studied TNC in Yunnan are not included in our analysis because we were not personally involved in some of the programs they critique: Jennifer Dinaburg, master's candidate at Prescott College (Dinaburg 2008); Katherine Fritz, undergraduate student at New York University (Fritz 2009); Edward Grumbine, professor at Prescott College (Grumbine 2010; Zhou and Grumbine 2011); Juhyung (Jenny) Cho, master's candidate at the University of Oslo (Cho 2011); John Zinda, a PhD candidate at the University of Wisconsin (Zinda 2012a, 2012b).
8Our analysis includes the fifteen references cited in note 6. Our objective is not a point-by-point rebuttal of individual critiques but a synthesis of what they collectively tell us about conservation practice and the interaction of Western social scientists with conservationists.
9There are numerous examples of Western society conflating indigenous peoples with nature, maybe most famously the Western romance with Tibetans (Lopez 1998).