2 / Religious Sites and the Practice of Religion
Monasteries commonly are understood as the repositories of Tibetan culture, and Tibetan Buddhism has come to define a widely shared notion of Tibetan culture. This is not just a product of Western fascination with the otherworldliness of Tibet, or the Tibetan Diaspora's way of re-creating Tibetan culture in exile. It is an understanding that is often expressed by Tibetans and other inhabitants of the region, including members of the Chinese Communist Party (CCP) and the Chinese authorities. This notion of Tibetan culture has clearly dominated the thinking of Party leaders and cadres at least since the Cultural Revolution, when religious practice became the primary target of the Red Guard in the Tibetan areas.
In recent years, the CCP has attempted, for ideological purposes, to redefine Tibetan culture as non-Buddhist, declaring that Buddhism is foreign to Tibet and that its influence on Tibetans should be countered.1 Official statements from the government also contend that monasticism had a negative impact on Tibetan society and culture before Tibetans were "liberated" by the People's Liberation Army (PLA). For instance, the Chinese government's white paper on Tibetan culture claims that theocracy was detrimental: "The long reign of feudal serfdom under theocracy not only severely fettered the growth of the productive forces in Tibet, but also resulted in a hermetically sealed and moribund traditional Tibetan culture, including cultural relics, historic sites, and sites for Buddhist worship."2
Contrary to these assertions, the Tibetan government-in-exile argues that Tibetan culture is in essence a spiritual culture that should be promoted not only for the sake of Tibetans but for the benefit of humanity at large: "Our freedom struggle is not merely to serve the interests of Tibetans; it is to preserve the tradition of inner wisdom and unique Tibetan culture for the benefit of the whole world. Therefore, I do not see our movement as a political struggle; rather I see it as a spiritual practice."3
Before the establishment of the People's Republic of China, the larger Gelugpa monasteries functioned as political and administrative as well as religious centers. Monasteries were the corporate owners of a large number of agricultural estates and also held rights of taxation on communities of farmers and herders. In the 1950s and 1960s, Chinese authorities introduced far-reaching land reform in the Tibetan areas, and in this process the clergy and other influential landowners such as the landed gentry were regarded as "exploiters" and "enemies of the people." The monasteries and eventually religious practice in general thus came under attack.
This chapter describes the destruction of monasteries in Tibetan areas outside the Tibet Autonomous Region (TAR) and their subsequent reconstruction after 1978. It also discusses the conditions under which Tibetans have been allowed to revive their monasteries, religious sites, and religious practices in general and explores the current limitations to religious freedom in the areas under study.
DESTRUCTION OF MONASTERIES IN TIBETAN AREAS
Although Chinese authorities frequently blame the Cultural Revolution for the destruction of Tibetan monasteries, in fact the Red Army first inflicted damage on Tibetan monasteries as early as 1934–35 during the Long March through Ngaba (Aba) and Kandze (Ganzi) Prefectures.4 We visited one monastery in Tashiling (Lixian) County, where local sources explained that evidence of these events was still visible. This monastery had not been fully restored and was in poor condition. According to an old monk, the monastery's wall frescoes were destroyed in the 1930s when the Red Army marched through the area. We were told that the monastery was uninhabited for several years and that the frescoes were damaged by rainwater because the building's roof was not maintained. Not until several years later did the monks return to the site to repair it.
CCP policy on religion in Tibetan areas has gone through several stages since the inception of the People's Republic of China. In the early 1950s, the CCP used religious leaders in an effort to influence Tibetans to accept the PLA intrusion. The strategy, according to Melvyn Goldstein, was to separate support for the Tibetan government from support for religion just before the PLA advanced into eastern Tibet.5 PLA units under the leadership of the Southwest Military Command were therefore instructed to respect religious practice, and a proclamation was issued stating that the PLA would "protect religious freedom; respect local customs and practices; protect all monasteries and temples; the soldiers will not stay in monasteries without permission of the abbot, and the army will not destroy monastery buildings or destroy any religious items in the monasteries; it is not permitted to interfere or harm the monastic prayers of monks or religious achievements and if there are any violators of this they will be severely punished."6
After this initial attempt to appear as the new protectors of religion, the government abruptly changed its policies and announced the onset of "democratic reforms" in early 1956. Monastic properties were then confiscated, and religious leaders were persecuted. The campaign targeted monasteries as "feudal oppressors," and monastic estates were redistributed along with the estates of other "feudal lords." In the revolts that followed, monks often joined the lay population in armed resistance. Among the most famous resistance forces was Four Rivers Six Ranges. These forces first organized in Kham and Amdo, but the movement eventually spread into central Tibet as well. As a result of their activities, monasteries came under further attack and in a few cases were bombed by the Chinese air force.
By 1958, Democratic Reforms had been initiated in all Tibetan areas outside the borders of the present-day TAR as well as in areas of western Kham administered by the Chamdo Liberation Committee. It seems that monasteries in the remaining parts of the TAR were left undisturbed until 1959, but after the Lhasa Uprising in March of that year, monks and nuns could no longer stay in monasteries and nunneries, owing to persecution by Chinese authorities. Religious leaders received the same harsh treatment as had noble families and former government officials.
The Democratic Reforms campaign was the first massive land redistribution program implemented by the Communist regime in Tibetan areas outside the TAR and the first wave of destruction affecting monasteries in these areas.7 According to one study, there were 722 Tibetan monasteries in Qinghai before 1958, with approximately 57,647 monks, 2,500 nuns, and 1,240 tulkus, but after the reforms campaign, only 11 monasteries were left intact. The same source states that of the 369 monasteries in Gansu, all but 8 were closed down in 1958; furthermore, of a total of 16,900 monks in Gansu before the campaign, only 571 remained afterward.8 Most of the monks were forced to relinquish their status because of the persecution.
Further details on the effects of the Democratic Reforms campaign on Tibetan monasteries are difficult to find in the Chinese literature; however, Tibetan refugees have provided firsthand accounts of what happened during the campaign. According to one such account, in 1958 the CCP issued a communiqué stating that "all monks and lamas are exploiters and enemies of the people," adding that the "clergy and the aristocracy (the Red and the Black enemies) must be exterminated." The account provides the following description of events at Dzogchen (Zokchen) and Shechen (Shichen) monasteries in Kandze: "[The Chinese] demanded that the monks of Zokchen and Shichen attend a special meeting. The Chinese then proceeded to occupy the best quarters in the monastery, which was the residence of the chief lama, Zokchen Rinpoche. They kept the Zokchen Rinpoche and all other prominent lamas as hostages with them. At the meeting, the Chinese informed the assembled monks that henceforth all monks were to defrock and marry."9
After this meeting, the monks of the two monasteries were forced to work and attend criticism sessions for about two months. Sacred images and scriptures were torn down, and the monks were forced at gunpoint to walk on them. Finally, it was announced that the monks would have to criticize their abbots and lamas in "struggle sessions." This led to a revolt against the Chinese forces in which all the Chinese and about fifty monks were killed. After the battle, the surviving monks fled, and many joined Khampa guerrilla forces.10 Revolts such as this took place in many Tibetan areas, in both Amdo and Kham.
In 1962, the Chinese government reevaluated its policies toward the monasteries. Chinese sources associate these changes with the Northwest Nationality Work Meeting and state that the policy shift led to the reconstruction of a number of monasteries.11 In Qinghai, 137 monasteries were reopened, about 107 monasteries were rebuilt in Gansu, and the number of monks in Tibetan areas of Qinghai and Gansu rose to about 4,000 in 1966.12 Despite the more lenient policy in effect for a few years in the early 1960s, the Cultural Revolution soon brought further destruction of monasteries. Members of the clergy who were not already in prison or labor camps were in many cases subject to additional struggle sessions and public humiliation. A number of monks and nuns were forced to break their vows of celibacy by marrying.
During the height of the Cultural Revolution, official persecution in Tibetan areas extended to religious practices observed in the homes of ordinary Tibetans. People were forced to denounce the Dalai Lama during public struggle sessions. Religious scriptures and pictures of the Dalai Lama were burned in the streets. Prayer beads, prayer wheels, and amulets were confiscated. Private altars and prayer flags were destroyed. According to the former cadre Dhondub Choedon: "The Red Guards had the goal of destroying the Four Olds and establishing the Four News. The Four Olds: old thoughts, old culture, old habits, and old customs. The Four News: new thoughts, new culture, new habits, and new customs. The Four Olds are the things Tibetan and the Four News are whatever the Chinese say. . . . The Chinese and the Red Guards charged that all Tibetans keeping old objects were guilty of trying to resurrect the past, that they were the enemy within."13 The Four Olds not only were the "things Tibetan" but also were closely related to religious beliefs and practices.
The worst destruction of religious sites occurred during this period, when Red Guards destroyed monasteries, temples, and shrines all over the Tibetan Plateau. According to estimates by Tibetan exiles, of the approximately 6,000 monasteries, temples, and shrines that they claim existed in Tibetan areas, only about a dozen were undamaged.14 In interviews with Chinese government officials, we received confirmation of monasteries destroyed in all the areas under study. We were told that all monasteries were partially or completely destroyed in Dechen (Diqing) Tibetan Autonomous Prefecture (TAP) in Yunnan and in Kandze TAP in Sichuan. Although we were unable to get any such confirmation from Ngaba Tibetan and Qiang Autonomous Prefecture, we do not know of any undamaged monasteries there. Pu Wencheng claims that in Gansu and Qinghai, four Tibetan monasteries were left undamaged after the Cultural Revolution. The most well known of these are Labrang Tashikhyil and Kumbum, which were among the largest monasteries and constituted political and economic as well as religious centers in the region. Pu also states that Kanlho (Gannan) TAP in Gansu had one surviving monastery, Labrang Tashikhyil, and that Pari (Tianzhu) Tibetan Autonomous County (TAC) had another, Tethung Dorje Chang (Ch: Miaoyin).15 In Qinghai, most monasteries were completely destroyed, and only Kumbum and Jotshang (Ch: Qutan) allegedly survived.16 This is what Chinese sources say, but according to several other accounts, both Labrang and Kumbum were partially or largely destroyed during the Cultural Revolution.17 Regarding the remaining two monasteries, we have no further information.
During the Cultural Revolution, many monastery buildings were torn down, others were simply abandoned and left to deteriorate, and some were put to other uses, for example, as schools, storehouses, or even living quarters. A county official described in detail the fate of one monastery in Malho (Huangnan) TAP, the largest monastery in the county, with more than 500 monks before the onset of the Democratic Reforms campaign. In 1958, all the monks were forced to leave, and villagers moved in. The monastery was restored in 1963, but the monks did not return, although monks who had married lived in the monastery. Then came the Cultural Revolution, when all monasteries in the county were destroyed. The monastery had owned fields and grasslands, which the villagers started to use, and eventually the monastery became a commune. In 1981, the commune's land was redistributed to individual families, and a year later, the villagers moved out. Some monks returned to the monastery, but the married monks departed along with the villagers and did not resume the monastic life.18
RECONSTRUCTION OF MONASTERIES AND RETURN OF THE TIBETAN CLERGY
The official attitude toward religion began to relax as early as 1972. Funds were set aside for repairing Potala Palace, Jokhang Temple, and Drepung Monastery in Lhasa.19 In 1974, a group of forty Tibetans was allowed to attend a sermon given by the Dalai Lama in Bihar, in northern India.20 The major policy shift occurred in 1978, after the Third Plenary Session of the Eleventh Party Congress. Beginning in the early 1980s, the CCP drew up new guidelines to reform its policy on religion, and religious freedom was officially restored in the 1982 revision of the constitution. Many Tibetans were eager to begin rebuilding their local shrines and monasteries, and an impressive amount of voluntary work and donations has since been devoted to monastic reconstruction.
As described in the introduction, we reviewed information from a variety of sources on the numbers of monasteries and monks before 1958 and since the religious reforms took hold in the early 1980s. Appendix 3 contains detailed information on certain areas and our methods of determining total figures for each province. Rebuilt monasteries have not necessarily been completely reconstructed.
Combined estimates for the four provinces under study are 1,886 monasteries and 177,583 monks prior to 1958. This includes all Tibetan-designated prefectures and counties in Gansu, Sichuan, and Yunnan and the entire province of Qinghai. Recent figures for the same areas are based primarily on interviews with provincial, prefectural, and county authorities, although we had to rely on literary sources for areas on which government authorities could provide no information. The literary sources date from the late 1980s and early 1990s and therefore are not as recent as the information obtained from interviews. Figures for the same areas in the 1990s are 1,550 monasteries and 99,694 monks.21 These totals are broken down by province in table 1.22

* Figures are for entire province.
As table 1 shows, the rates of monastic reconstruction in the four provinces vary between 60 percent and 92 percent. Gansu, which has the lowest rate, is very similar to neighboring areas of Sichuan. For example, Ngaba Prefecture also has a reconstruction rate of about 60 percent, according to what we regard as our most reliable sources.
Comparing the share of monks in the 1990s in each province and the share of Tibetans by province as of the 1990 census, we find that Sichuan, which has the largest population of Tibetans outside the TAR, has by far the highest number of monks. Yunnan, with the smallest Tibetan population, has the smallest monk population.23 Within Tibetan-designated prefectures in Sichuan and Qinghai, there seems to be a higher rate of monks in prefectures with higher percentages of Tibetans in the population. Thus, the areas where Tibetans are in the minority may have a disproportionately lower percentage of monks.
The sources we used are based entirely on available Chinese records. If we compare these with the records of the Department of Religion and Culture of the Tibetan government-in-exile, we find large discrepancies. Tibetan records indicate that there were as many as 5,542 monasteries on the Tibetan Plateau before 1958. Of these, 3,897 were located outside the present-day borders of the TAR.24 The total monk population was 565,478 according to the same source, of which 449,596 were living outside the present-day borders of the TAR. In comparison, for all areas outside the TAR (including areas that are not designated Tibetan), we found references to a total of 2,068 monasteries and 190,500 monks in the Chinese sources mentioned above. It is impossible to explain the discrepancies between these figures without more detailed information from Chinese and Tibetan records that were unavailable to us during our research, and for the time being we can only note the differences.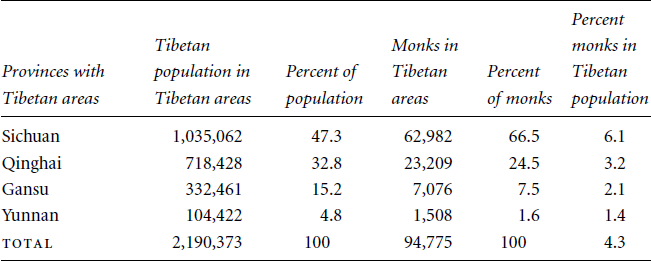 MONASTERIES AND FUNDING
During the Democratic Reforms campaign and the Cultural Revolution, the state confiscated monastic property and the personal property of monks. We have detailed information from one county in Ngaba Prefecture about the return of property during the implementation of new religious policies in the early 1980s. An unpublished document states that the local government conducted a thorough investigation of confiscated property and found twenty-three misjudged cases.25 According to this document, the government subsequently paid ¥8,762 (US$1,070) to the people who had lost property worth a total of ¥988,303 (US$120,000). In other words, the compensation was merely symbolic. In addition to individual monetary compensation, the government returned landholdings to monastic communities. The same document claims that in Dzoge (Ruo'ergai) County, the government returned 1,630 mu of land (15 mu equal 1 hectare) to the monasteries, although monastic land totaled 1,856 mu prior to the Democratic Reforms. According to the document, this work ended in 1986.
The redistribution of land has been a complicated issue for a number of monasteries. It appears that the authorities may be reluctant to return the fields because they fear that monasteries will again become too powerful. At the same time, the monasteries must be self-sufficient, and in many cases it may be necessary to cultivate fields in order to generate income and provide for the monks. For example, Rabgya Monastery, located on the border between two TAPs—Golok and Tsolho (Hainan)—was one of the major Gelugpa monasteries in the Amdo region, with 50 tulkus and 2,700 monks before 1958. It was a rich monastery, with large agricultural estates, but all the fields were confiscated when Democratic Reforms were implemented in the area. Since it reopened in 1980, Rabgya has been a poor monastery. We were told that the government decided to return the monastic fields, but since the borders of two counties and prefectures now cut across the land, it has been impossible to reach an agreement on ownership. At the time of our visit, Rabgya Monastery was considered to be on the Machen (Maqin) County side of the border, in Golok TAP, although it traditionally belonged to Gepa Sumdo (Tongde) County, in Tsolho TAP. Caught in the middle of this dispute, the monastery is considering seeking a legal solution through the courts.
Chinese authorities claim that the government channeled financial support for rebuilding monasteries through county religious affairs departments during the 1980s and early 1990s; however, our interviews on-site indicate that local people and pilgrims provided the vast majority of funding. In most monasteries, the monks we interviewed, who were often senior monks or were working for management committees, denied receiving government funds for rebuilding. While it may of course be in the interests of monasteries to plead poverty to foreign visitors, we also suspect that government claims about its funding of monastic reconstruction are often exaggerated. We are therefore convinced that local people and pilgrims indeed provided the majority of reconstruction funds and the government contribution has been comparatively insignificant. For instance, according to the Kandze TAP Religious Affairs Department, 374 out of a total of 515 monasteries received financial support for repairs or reconstruction. This support appears to have been granted during the 1980s.26 Nonetheless, during visits to several of the larger monasteries along the Northern Road in Kandze TAP, we asked about government support for restoration and in most cases were told that support had been nonexistent or only of symbolic amounts.
A study surveying eighteen monasteries (including Derge Sutra Printing Academy) was published in the United States in 1992 and gives exact amounts of government support.27 The information differs from that obtained in our interviews, which states, in general, that the reconstruction and restoration of monasteries were financed by local volunteers as a form of "religious work" (Ch: zongjiao yiwu), for merit, at the monasteries. Lhagang Monastery (Ch: Tagong Si), a Sakyapa monastery in Dartsedo (Kangding) County, reportedly received ¥260,000 (US$33,000) altogether,28 while our information indicates that it received no support for restoration work. Similarly, we were informed that Kandze Monastery, one of the important Gelugpa monasteries located in Kandze County, received only ¥10,000–20,000 (US$1,270–2,500), although the report claims it received ¥440,000 (US$55,000).29 Dzogchen Monastery (Ch: Zhuqing Si), in Derge (Dege) County, is an important Nyingmapa mother monastery for approximately 300 Nyingmapa monasteries throughout the Tibetan areas and even in Nepal. The study reports that the monastery received ¥20,000 (US$2,500), which was "hardly enough," given the fact that it spent ¥300,000 (US$38,000) to make a gold-covered stupa (chörten),30 but according to our information, the monastery received nothing. It was still in a rather dilapidated state in 2000. The cost of rebuilding these monasteries was covered mostly by the village population and pilgrims, especially in the forms of unpaid labor and donated building materials, funds for basic construction work, and woodcarving and interior decoration.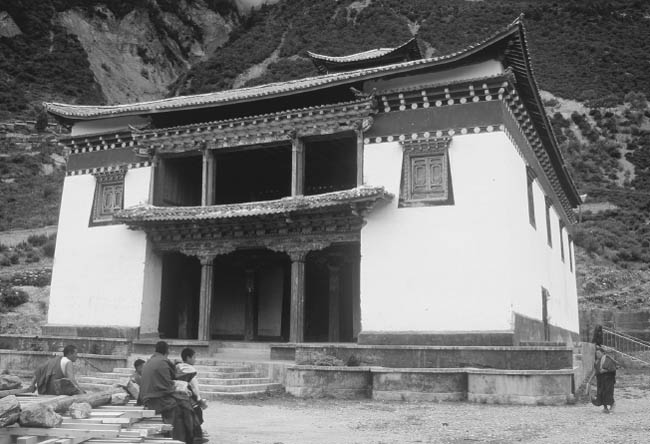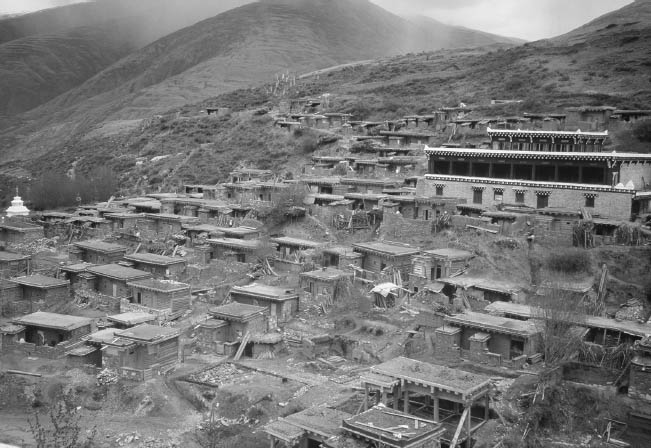 In Qinghai, we received numerous similar reports that the expense of rebuilding monasteries was borne almost entirely by local communities. In Malho TAP, for instance, government officials reported that local people did all construction work themselves. Funding and materials were provided by the local people, while the government supplied only trees for the beams. As in the other areas we visited, enormous amounts of voluntary work, donations of building materials, and local funding were necessary for rebuilding monasteries. When we consider the standard of living and average income levels in these areas, the resources spent on reconstructing monasteries are quite incredible. One county government in Tsochang (Haibei) TAP claimed that local people spent more than ¥10,000,000 (US$1,220,000) on rebuilding monasteries in that county alone. In addition to the funds, unpaid labor represents a very large contribution toward the rebuilding of monasteries and religious sites.
Although local people and pilgrims supplied the great majority of funds, in a few cases benefactors from outside the community also donated large sums of money to help rebuild monasteries and provide facilities for monks and nuns. Government funding accounts for a very small percentage of total costs, with the exception of a few select monasteries singled out as tourist attractions and cultural relic sites. Kumbum Monastery is one of these exceptions. Because it has been a high-profile tourist destination since the early 1980s, government agencies as well as private donors have supported its reconstruction. According to information from the Kumbum Monastery management and renovation committees, available at the monastery, the State Council in March 1962 listed Kumbum as one of China's foremost national, cultural, and historical sites. The committees further state that, in response to the proposal of the Qinghai provincial government, the State Council apportioned ¥37,000,000 (US$4,700,000) for the renovation of Kumbum for the period 1991–95. The provincial government reportedly allocated an additional ¥2,730,000 (US$340,000), while the Hong Kong businessman Shao Yifu (known outside China as Run Run Shaw) donated HK$3,000,000, equivalent to ¥3,180,000 (US$390,000). Renovation began in 1992 and continued until 1996. The management and renovation committees report that total expenditures on renovation work amounted to ¥43,000,000 (US$5,400,000). Nevertheless, daily maintenance of the monastery appears to be funded by contributions from visitors. According to our interviews, the most important sources of income in 1999 were ticket sales and parking fees.
In Tsolho and Jyekundo TAPs, we heard about several temples that had also received government funding: Jojo Lhakhang in Thriga (Guide) County, the Panchen Lama Memorial Stupa, and Wencheng Temple in Jyekundo County. We discovered that these three sites were somehow closely connected to the history of Chinese-Tibetan relations. None was classified as a monastery, and all had less than a handful of resident monks, who were living there as caretakers. All received pilgrims but were also considered tourist attractions. From the perspective of the authorities, we believe that these sites are considered significant because they exemplify the close historical ties between China and Tibet. Wencheng Temple, for instance, evokes the memory of the Chinese princess Wencheng, who married the Tibetan king Songtsan Gampo in the seventh century. Official Chinese histories often claim that this marriage marks the beginning of Chinese reign in Tibet.
We also found indications that monasteries with special connections to the lineage of the Panchen Lama may have had relatively easy access to government funding. Dzoge Monastery in Ngaba Prefecture is a good example. This is a branch monastery of Tashilhunpo Monastery in Shigatse, the seat of the Panchen Lama. According to the monks with whom we talked, the monastery had obtained ¥300,000 (US$38,000) for reconstruction from the prefectural government. We suspect that in the mid-1980s, before Chinese authorities started to fear the spread of separatism in Tibetan monasteries, the tenth Panchen Lama was able to generate financial support for certain monasteries. During this period, Chinese authorities were willing to aid in rebuilding a number of important monasteries and religious sites, and it was explicit government policy to gain the confidence of high-ranking religious figures as a means of promoting patriotism among the clergy and the Tibetan population at large. As the highest-ranking Gelugpa tulku who still lived in China, the tenth Panchen Lama played a very important role in this strategy.
By the late 1990s, authorities no longer sponsored the reconstruction of monasteries. During interviews, government officials stated that the current policy calls for monasteries to be self-sufficient. Government funding is granted only to repair damage caused by natural catastrophes such as earthquakes. According to the Sichuan Province Religious Affairs Department, monasteries were regarded by the authorities as "belonging to themselves, in charge of themselves, and responsible for their own repairs" (Ch: shuyu ziji, fuze ziji, xiu ziji fu).
The monks' needs are met through the monastery's common funds and contributions from their families. The monasteries have their own businesses and finances, and they also support each monk. We encountered various enterprises. One monastery had bought a small car for rental, others kept herds of yak and sold the butter by the jin (equivalent to a half-kilo), and several were operating small shops, where they sold everyday goods not related to religious life. One monastery we visited had its own clinic, which provided both income for the monastery and medical services for the community. Monks also earned money by conducting religious services at important events such as births, marriages, and deaths.31
Only a handful of the monasteries we visited or heard about charged entrance fees. Among these were Labrang Monastery, Kumbum Monastery, Gaden Songtseling Monastery in Gyelthang (Zhongdian) County, and Lhagang Monastery in Kandze TAP. The entrance fees were usually only ¥3–10 (US$0.35–1.25). Lhagang Monastery began charging entrance fees in March 2000, but the monks emphasized that the fee was for tourists, and pilgrims did not pay. Kumbum and Labrang Monasteries have charged fees for a number of years and were among the first monasteries to attract tourists, starting in the early 1980s. The fee introduced at Lhagang Monastery seems to be connected with recent plans to develop international tourism in Kandze TAP.
Another income source for monasteries is selling butter candles for pilgrims, who pay for the lighting of a prepared candle. In the monasteries we visited, the candles were generally ¥1 (US$0.12) each. At the Panchen Lama Memorial Stupa in Chabcha (Gonghe) County in Tsolho TAP, we were told that the sale of candles generated an income of ¥10–50 (US$1.25–6.35) per day. The butter candles were produced in Kumbum.
One interesting case is Jojo Lhakhang in Thriga County, also known as Little Jokhang. "Jo" in Tibetan refers to Sakyamuni Buddha, and Great Jokhang is the famous Jokhang Temple in Lhasa. The pilgrims, mainly from Amdo, come first to this site, stay for a while, and then continue on to Jokhang in Lhasa. They usually stay for three months and make a pilgrimage circuit every day. Jojo Lhakhang is administered by what locals consider its mother monastery, the nearby Gongba Monastery. Two or three monks from Gongba look after the temple and take care of the pilgrims. Every morning, the monks conduct a prayer ceremony and perform special recitations at the temple at the request of pilgrims or locals. Pilgrims paid ¥1 (US$0.12) per person per night for lodging. An average of 20–30 pilgrims stayed at the temple at any one time, and the monthly income is said to have been ¥700–800 (US$88–100). This money was spent on temple restoration work, new images, and butter for the lamps. We were informed that the total cost of the restoration was ¥1,000,000 (US$125,000), and that Qinghai Province had provided ¥11,000 (US$1,375) while villagers and pilgrims supplied the rest.
Monasteries are regarded as belonging to a particular village or group of villages, but nunneries do not have this kind of affiliation. The nunnery in Chentsa County, described as one of the largest in all the Tibetan areas, demonstrates one approach to funding. According to some of the nuns, they rebuilt the nunnery without help from the villagers or the government. The nuns' families helped, and the nuns went to the village to recite sutras or beg for food for the workers they hired. The nunnery had 50 mu of fields, which the women cultivated themselves. It was enough to ensure their survival, although they complained that they could not afford to invite outside scholars on such a limited budget.32
RELIGIOUS PRACTICE
The revival of monastic life in Tibetan areas is not just a question of how many temples and prayer halls have been rebuilt and how many monks and nuns have been admitted. The qualitative aspects of religious revival are more important than these quantifiable conditions. What are the conditions for the revival of ceremonies and rituals, arts and crafts, medical practice, printing, the transmission of teachings, and study programs within the various branches of Buddhism and Bön, the Tibetan religion that predates Buddhism?
During our visits to Tibetan areas, we witnessed a variety of aspects of religious practice that are connected to monastic life as well as to the popular beliefs of lay Tibetans. On numerous occasions, we observed lay Tibetans making offerings at sites inside and outside of temples and monasteries. These included offerings of barley wine, khata (scarves), fruit, grain, and money; lighting butter lamps; and burning juniper and incense sticks. We saw Tibetans on pilgrimage and visiting the temples of the yul lha (territorial deities) to pray for a good harvest, burn incense, and offer grain and barley wine.33 As we drove over mountain passes, we saw pilgrims and travelers throw lungta, small pieces of cloth or paper printed with "wind horse" symbols, onto the roadside as prayers for good luck along the way. Prayer flags and piles of mani stones, inscribed with mantras or prayers, placed at mountain passes or sacred sites, were seen along the roads. In several places in Qinghai, we saw large inscriptions (one of them reading "Om bodhisatva") nicely spelled out in white stones on the mountainside. Tibetan dwellings, including the brown, woven yak-wool tents of the nomads on the open grasslands, also regularly have prayer flags on the roofs. We observed a large number of stupas along the roads and visited some of them. In almost every area we visited, we saw labtse, special sites, usually on a mountain pass, marked by branches with prayer flags and set on a foundation of stones. In many places, we also found offering sites for tsa-tsa (religious images made of clay). In a village in Dartsedo County, Kandze TAP, we were able to observe the production of tsa-tsa figures, with young and old, men and women, all participating in the work.
There are close ties between the monasteries and local villages. For instance, we were told in several places that monks from local monasteries go to neighboring villages to read scriptures at funerals and weddings and perform divination for people in their homes. During fieldwork, we also heard about public religious teachings held by tulkus or famous lamas. In Tawu (Daofu) County, Kandze, we saw a throne that had been newly built in an open space for public religious teachings near the town center. Workers at the site had just finished the cement platform and were decorating the throne in bright colors. We were told that the construction was sponsored by local Buddhists.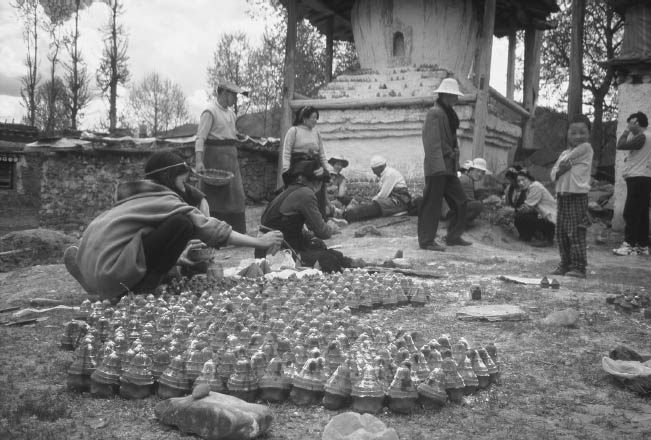 We also observed the use of religious sites by lay practitioners. Most of these worshipers were Tibetans, but some were members of other minorities or were Han. On a hillside above Gyelthang (Zhongdian) Town, in Dechen TAP, for example, we visited a temple that was being used as a place of worship by both Tibetans and other local Buddhists, although it was dedicated to the local mountain god.34 Inside the temple, images and wall paintings in Chinese Buddhist style shared space with Tibetan-style frescoes. We arrived in the middle of an offering ceremony conducted by a Han family. Lit cigarettes and small bowls of food had been placed in a square formation on the porch of the temple, and one of the worshipers was performing recitations. At the end of the ceremony, everybody sat down to eat the dishes they had prepared and invited us to join them.
Nechung Dorjeling Monastery (Ch: Anjue Si) in Dartsedo, a Tibetan Buddhist monastery that belongs to the Gelugpa school, was undergoing heavy reconstruction during our visit in May 2000 and appeared to be popular among both Tibetans and Han. We saw elderly women spinning the large prayer wheel near its entrance. Inside, in a side chapel, an ancestral altar with black-and-white photos and offerings had been arranged according to Han ancestral worship practice. In another part of Dartsedo, across the street from the Khampa university, we found a small Chinese Guanyin temple with a local Han caretaker.35 We were told that this temple had to close down during exam periods because too many students from across the street ran over to the temple to pray for good luck.
As we have seen, the monasteries and temples in these cultural border areas—such as in Gyelthang County in Dechen TAP, Dartsedo County in Kandze TAP, and Chabcha and Thriga Counties in Tsolho TAP—are places of worship for more than one local ethnic group. For example, Jojo Lhakhang, in Thriga County, is called Zhenzhu Si (Pure Pearl Temple) in Chinese. The names of the temple are connected to the different mythologies linked to the site. The "pure pearl" in its Chinese name relates to its construction, when ground pearl powder is said to have been mixed with clay to make its first images.36 The Tibetan name Jojo links the temple with the Jokhang Temple in Lhasa, the most holy of the Gelugpa sites. Jojo Lhakhang is also classified as a Gelugpa site by local authorities. Nevertheless, during our visit in August 1999, plans for its altar, which was still under construction, called for representations from the four main branches of Tibetan Buddhism: Nyingmapa (represented by the Indian guru Padmasambhava), Kagyupa (represented by Atisha), Sakyapa (represented by Saban), and Gelugpa (represented by its founder Tsongkhapa).
"Sky burial" (Ch: tianzang)37 still takes place at many locations, and Chinese burial customs are also practiced by Tibetans in some areas. For instance, in Tawu County, Kandze, we visited a graveyard known locally as the Tibetan graveyard, which is next to the Chinese martyrs' memorial site. Several of the Tibetan tombs had no inscriptions on the stones except for bilingual inscriptions of Chinese and Tibetan names. We saw the tomb of a Tibetan woman, buried in 1992, who had probably been married to a Han man. The Chinese inscription on her grave contained both her Chinese and her Tibetan name, the latter in brackets. The tombstone had been sponsored by her five children one year after her death, and their Chinese names were also inscribed on the stone.
We visited local villages at the feet of two important sacred mountains during our fieldtrips: Amnye Machen (Ch: Animaqing Shan or Maji Xueshan; T: a mye rma chen) in Qinghai and Kawa Kharpo (Ch: Meili Xueshan) in Yunnan. Every year, many pilgrims circumambulate these mountains. We were told by locals that 5,000–6,000 pilgrims from all over Tibet visit Kawa Kharpo every year. Amnye Machen, which stretches across central Golok, receives 1,000–2,000 pilgrims annually. It was officially reopened as a pilgrimage site in 1979. In an interview with the local tourist agency, we were told that about 100 foreign tourists also make the circuit every year.38 The nine-day circumambulation of the mountain may be conducted clockwise (Tibetan Buddhist) or counterclockwise (Bön). The pilgrimage is especially important in a year of the horse, which occurs every twelve years, because, according to legend, the mountain first appeared in a horse year.
In a small village near the Amnye Machen pilgrimage trail, we visited an old man in his seventies, living in a simple house with his wife and their grandchildren. From this house, they had a view to the snow-capped ridge of Amnye Machen. He was the oldest man in the village. He could not write and knew no Chinese words, but he knew the local names of the mountain peaks and all the local myths. He told us that he had made several pilgrimages around the mountain before 1949, "perhaps twenty to thirty times," according to his own estimate. During the "closed" years before its reopening in 1978, nobody dared to go around the mountain. After 1978, he considered himself too old to make the pilgrimage again. In 1999, there were many pilgrims, and he thought the reason might have been that two local tulkus had recently passed away and their incarnations had not yet been found, so the locals did the pilgrimage to secure blessings for this process.
In addition to pilgrimage, traditional festivals have also been revived. We attended five such festivals during the summer of 1999, and three of them had a religious foundation. The most popular festival in Tsolho TAP is the Sixth Month Festival (Ch: Liuyuehui), which lasts for a week and takes place every summer during the sixth month of the traditional lunar calendar. Originally, people offered sacrifices to the local mountain gods and yul lha, seeking blessings for the harvest. Images of yul lha were made and brought (and thereby invited) to each home to give blessings. During the festival, the throne of the yul lha was brought out of the shrine to receive offerings and respect. This is still being done in the yul lha temple in Thriga, where we participated in the festival. Local Tibetans and Han gathered in the temple to give offerings and receive divinations.
In the past, the Sixth Month Festival in Thriga included horse races, song contests, and picnics as well as a trade fair. Song and dance contests are still part of the Thriga festival. Two singing spots were popular at the festival we visited. One was equipped with a stage and a microphone, as for karaoke, and all songs were in Chinese. The other, on the outskirts of the festival grounds, was obviously more popular among the young local Tibetans, who were dressed in their best outfits. Singers sat on the ground, surrounded by onlookers. Pepsi-Cola and local beer had replaced the traditional barley wine, and a bottle of each was passed from one singer to the next, alternating between men and women. Traditionally, this was a popular way for young Tibetan farmers to flirt and perhaps meet someone to marry, and the songs are both romantic and humorous.
Athough the yul lha tradition persists and singing contests are still held, the Thriga festival is now mainly a weeklong trade fair. In neighboring Malho, however, a Sixth Month Festival, the Lurol (T: klu rol)39 Festival, is celebrated in a traditional manner in all the villages in the Rebkong (Tongren) area.40 As in the Thriga festival, the yul lha is brought out to receive offerings, and all the young men and women of the village perform elaborate dances. Lurol ceremonies in Rebkong take place in special community houses called lu khang (T: klu khang), which are managed by the elder men in the village. We were told that opinions on whether the ceremonies are for the mountain (i.e., the mountain god), the dragon (T: klu),41 or the army differ from village to village.
According to participants at the festival in Sagyel village, the ceremonies are Bön because they used to include blood (i.e., animal) sacrifices. Nowadays, no animals are sacrificed, but young men still participate in traditional body piercing during dancing sessions. They pierce themselves with small spears: twelve on each shoulder, one through both cheeks, and one on top of the head. A medium, who is believed to be possessed by the yul lha, plays a central part in the ceremonies. The role of medium is hereditary. During the three-day ceremonies, the medium goes into a trance several times a day, directing the dancers and making offerings of liquor, grain, milk, flowers, and fire. The medium in Sagyel was a young man in his twenties.
In addition to such popular religious festivals, often associated with territorial deities, a number of religious festivals also take place within the monasteries. In several of the monasteries we visited, we received lists in Tibetan of the religious festivals celebrated during the year according to the traditional lunar calendar. We attended one such festival in Kumbum Monastery, where we saw a giant thanka—an embroidered or painted silk image of a deity—at the gyegu (ceremonial display of thanka on a slope or a hillside) and 'cham (masked ritual dances performed by monks).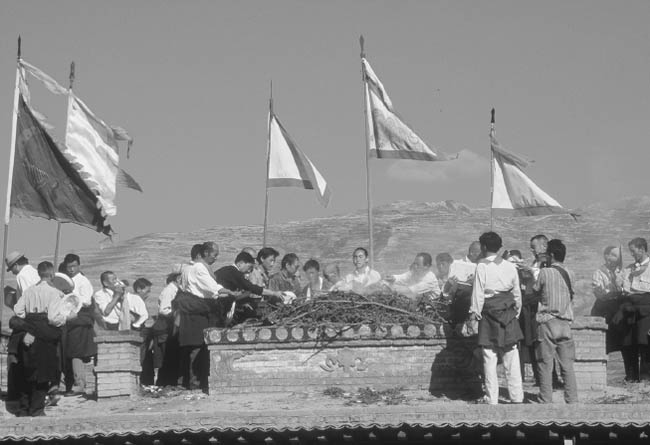 Most monasteries appeared to keep a strict yearly schedule of festivals, although several mentioned that they did not have enough monks to conduct the ceremonies in the correct manner. Still, we observed and received information about a number of revived monastic traditions, including the making of butter sculpture, torma (small barley-flour figures for religious rituals), and mandalas. We even observed a senior monk performing divination in one monastery.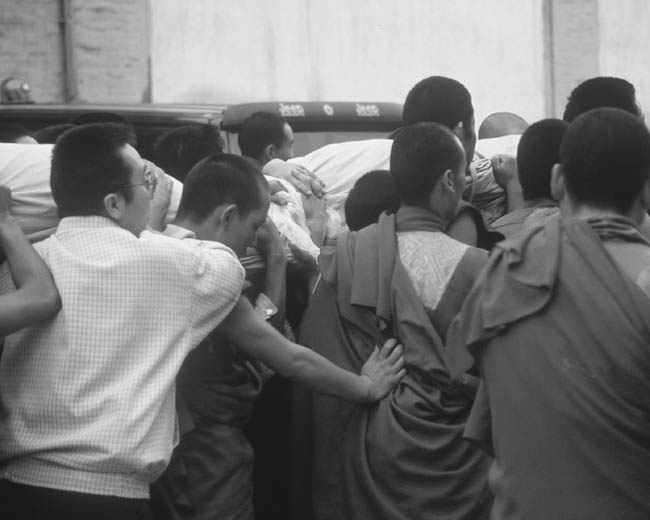 Monasteries play a significant role in the preservation of ancient texts. For instance, Kumbum Monastery in Qinghai has a large collection of Tibetan religious texts, one of the most comprehensive in the Tibetan areas.42 Another large collection of ancient texts can be found in Labrang Tashikhyil Monastery. In 1982, the State Council declared Labrang Tashikhyil a national center for the preservation of antiquities. According to a Xinhua news report, since 1984 the government has spent more than ¥1,000,000 (US$125,000) building a new storehouse for Buddhist scriptures in Labrang. Xinhua also stated that a researcher with the Kanlho Prefecture archives bureau reported a total of 65,000 scriptures at Labrang, the largest collection of its kind in China.43 The collection includes Buddhist teachings and books on medicine, craftsmanship, history, biography, astrology, and numerics.
Woodblock printing has been revived in a number of monasteries. We observed monks printing sutras and other Buddhist texts, and traditional scroll texts were being sold in bookstores and markets. There are large printing academies for religious texts in Lhasa, Labrang, and Derge. The Derge Sutra Printing Academy in Derge County, Kandze TAP, is the largest. Derge also has the largest collection of traditional printing blocks (270,000) and more than 1,000 woodblocks of Buddhist images and mandalas.44 We visited the academy in May 2000 and were informed that 70 percent of traditional Tibetan literature was available there. The printing academy survived the Cultural Revolution, but a large number of woodblocks were lost or destroyed. Since the mid-1990s, however, large private donations have funded the recarving of several of the missing blocks.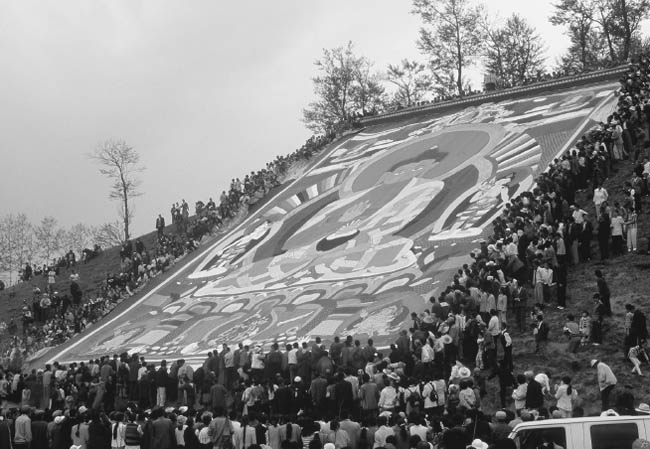 The complete Kangyur and Tengyur have been printed in recent versions in China, yet some monasteries had received their version of the texts as donations from overseas Buddhist societies. In Golok TAP, we visited a monastery where the monks did not dare to use the precious gift, a gold-edged Nyingmapa version in 118 volumes (produced in the United States and printed in 1980), and kept the texts wrapped in red silk and in their original boxes on the shelves of the main assembly hall. Instead, they used a cheaper factory-produced edition for their ceremonies.45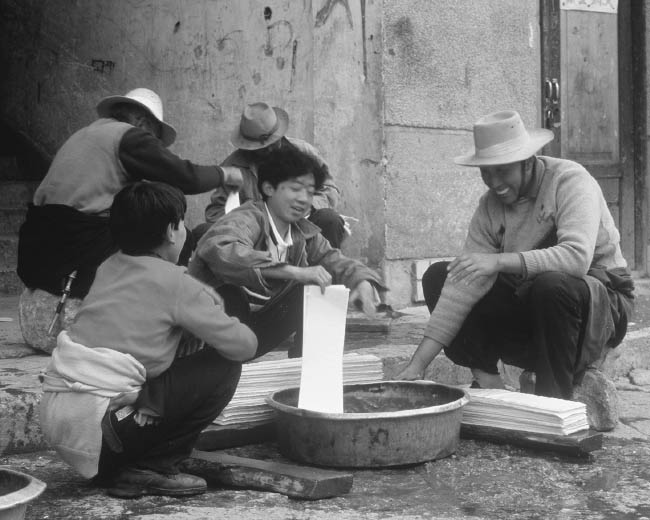 Several of the monasteries we visited displayed mainly new thanka paintings in their assembly halls, since most of their old ones had been destroyed. In other monasteries, old thanka had been hidden away during the persecutions and were being returned to their original sites. For instance, in Taling, also known as Tashi Chodanling (Ch: Chalang), Monastery in Dari County, Golok TAP, we counted ninety old thanka in the main assembly hall as well as an interesting collection of old gilded deities and Buddhas inlaid with precious stones. Rebkong-area artists had created all the new frescoes and thanka paintings. At the time of our visit, a group of monks was preparing scriptures to be inserted and sealed in newly produced images, to consecrate them. The images had not been made in the monastery.
When we visited monasteries, we tried to find out who was responsible for the decorations and carpentry work. We learned that skilled artists and workers were concentrated in a few areas and that some areas did not have local workers who could reconstruct monasteries. For example, all the monasteries we visited in Kandze TAP were rebuilt by local carpenters and decorated by local artists. Kandze is rich in timber resources, so wooden construction appears to be a common craft in the area, and it was unusual to import workers from outside the prefecture. Derge County was considered a cultural center in Kham.46 Artists from Derge were sometimes hired by villagers in other areas to create decorations for monasteries. In Nechung Dorjeling, located in the center of Dartsedo Town, we talked with one such artist from Derge. He had been hired to make clay models, later to be carved in wood, for the heads of new pillars.
Other areas imported skilled labor. In Ngaba Prefecture, artists were brought in from Rebkong in Malho TAP, Qinghai. Most of the Qinghai monasteries we visited had invited artists from Rebkong or from Labrang in Gansu. In general, most monasteries reported that artists from one of these two places, and in particular from Rebkong, had done the artwork, although local villagers usually took care of construction. Interestingly, we were told in several places that Han craftsmen from neighboring provinces such as Gansu and Shaanxi had supplied the woodcarving.
One village we visited in Golok had hired a Rebkong-educated artist to supervise the construction work.47 This artist told us that it would take less than two months to construct and decorate the small temple. The artist masterminded the decoration and selected the images for the temple, and workers would then make the building and do the woodcarving. When we visited the site, artist and villagers were in the process of deciding which religious images to place in the temple. The villagers said that if they used clay figures, they could produce them locally, but if they wanted images in bronze or other materials, they would have to import them from Derge County.
Golok and Jyekundo TAPs in Qinghai have close connections with Ngaba and Kandze Prefectures in Sichuan. Printed Buddhist texts and gilded metal images were often imported to this region of Qinghai from Derge County. Gilded images apparently were difficult to make in many areas and were often transported for long distances. Along the main road near Matö (Maduo) County in Golok, we saw a whole truckload of brass gilded images, enough to decorate several altars, that had overturned, and all the images and roof decorations were spread out on the ground.
MONASTIC EDUCATION
Monasteries were the academies of the former Tibetan world, and monastic education was the traditional type of education available in Tibetan areas. The first Buddhist monastery in Tibet, Samye (T: bsam yas), was established in 779. With the development of the Gelugpa school in the fifteenth century, monastic education was formalized and scholasticism was revitalized within the older traditions as well as in Bön monasteries.
Before the 1950s, monks made up an estimated 25 percent of the male population.48 A young boy usually entered the monastery under the guidance of a senior monk, often a relative. At first, he was a genyen (T: dge bsnyen), or candidate monk, but after a period of instruction in reading, writing, and recitation, he could advance to the level of getsul (T: dge tshul), or novice. At this stage, the monk took a vow of celibacy and commitment to a religious life. Further training, usually at one of the larger monasteries, led to the level of gelong (T: dge slong), or fully ordained monk. Within the Gelugpa tradition, monks could undertake higher studies leading to the degree associated with the title of geshe, or master.
Nunneries (T: ani dgonpa) were organized in much the same way as monasteries (T: dgonpa), but they were often subordinate branches of a head monastery led by a khenpo (abbot). Nuns could engage in studies, but they could not become fully ordained, and the higher stages of religious training were inaccessible to them.
Although monastic education was in theory accessible to most monks, not every monk chose to become a "reader" (pechawa)49 and follow a study program. In the three great Gelugpa monasteries of Lhasa (Sera, Drepung, and Ganden), approximately 25 percent of the monks were formerly engaged in the philosophical study program, a curriculum that usually took about twenty years.50 In Sera Me (T: sera med) College, 29 percent of the monks were readers.51 These great centers of learning attracted monks from the entire Tibetan Plateau as well as other areas influenced by Tibetan Buddhism, including Ladakh, Nepal, Mongolia, and the Mongolian areas of the Soviet Union such as Buryat and Kalmuck. Outside of Ü-Tsang, only Kumbum and Labrang Tashikhyil Monasteries were comparable in size and importance as scholarly centers within the Gelugpa tradition. Nevertheless, many of the smaller monasteries also offered study programs in philosophy and logic and served as centers for the study of literature, grammar, handwriting, and traditions such as painting, sculpture, ritual music, 'cham, chanting, astronomy, calendar calculation, and medicine.
Tibetan language is still taught as a basic subject in the monasteries, and all further studies are conducted in Tibetan. At present, some parents prefer to send their children, particularly sons, to study in a monastery rather than in a school, for several reasons. For many devout believers, sending a son to the monastery is a form of offering that will bring merit to the entire family. People also value the traditional knowledge upheld by monasteries. In addition, a student's future is economically secure due to common monastic funds, although most monks rely on financial support from their families as well. Compared with monastic schooling, public education represents a heavy financial burden, and the returns in terms of employment opportunity are often questionable.
Reports from nongovernmental organizations (NGOs) on religious repression in Tibet suggest that there have been restrictions on the reestablishment of "monastic colleges" (T: dratsang), the study centers of larger monasteries.52 During interviews, we received general comments about problems with the authorities and specific information about limitations on the number of students in monastic colleges. Still, according to monks and monastic leaders we interviewed, many traditional colleges have been reestablished in major monasteries over the past twenty years.
In Dechen TAP, for instance, at least two Gelugpa monasteries—Gaden Songtseling,53 the largest in the prefecture, and Dhondrupling, the largest in Dechen County—provided some kind of monastic education. We were informed that both these monasteries taught logic, debate, and writing. We visited Gaden Songtseling, which, according to the information we received there, has eight monastic colleges, with three of the teachers holding geshe degrees.
The largest monastery in Malho TAP, Qinghai, is Rogwo Gönba Dechen Chökorling (T: rong bo dgon chen bde chen chos 'khor gling), situated in the county seat of Rebkong County.54 At the time of our visit, it had about 430 monks and 10 tulkus.55 Grammar, Buddhist logic, philosophy, and medicine were taught in three monastic colleges: Thösam Nampar Gyalbeling56 (350 monks), Sangnga Dargyeling57 (60 monks), and Eba Chökhorling58 (20 monks).
At the time of our visit, Kumbum Monastery had four monastic colleges, for the study of philosophy, kalachakra (wheel of time), medicine, and tantra. We were informed that 30 geshe stayed in the monastery, teaching about 200 monks. Arts taught in Kumbum included 'cham performance and butter sculpture. In Rabgya Monastery, another large Gelugpa monastery in Qinghai, we were informed that six monastic colleges had been reopened.
Labrang Tashikhyil in Kanlho TAP also offers monastic studies leading to a geshe degree. According to Li An-che's study, from 1938 to 1941 there were six monastic colleges in Labrang.59 The largest was the college of Exoteric Buddhism, Thösamling (T: thos bsam gling), with 3,000 monks. At the time of our visit, approximately 1,000 monks attended this college, while in the other five colleges, there were no great changes in the numbers of monks compared to Li An-che's study.60 In 1999, Labrang had about 1,200 monks and 28 tulkus. In addition, 48 tulkus from other monasteries in Kanlho were staying at Labrang to study. Studies currently available include the five main doctrines within the sutra61 and the four tantric scriptures, on action, behavior, meditation, and supreme meditation. There were 20 monks in Labrang who held the title of geshe, and about two new monks obtained a geshe degree annually. According to local sources, about 120 monks in Labrang were studying for a degree in 1999.
The monasteries mentioned so far are all Gelugpa monasteries. We have less data on the other branches of Tibetan Buddhism and Bön religion. In Golok, however, we received some interesting information about the Jonangpa tradition, a rare branch of Buddhism that originally had its seat in the Jonang Monastery in central Tibet. Golok is the only place in Qinghai where one can find Jonangpa monasteries. According to written sources, there were seven Jonangpa monasteries and 549 Jonangpa monks in the prefecture in 1994.62 The Qinghai Ethnic Affairs Commission reported that as of 1996 the province had nine Jonangpa monasteries and 872 monks. In an interview with Jonangpa monks in 1999, we were told that there were a total of forty-four Jonangpa monasteries, including monasteries in all the Tibetan areas and even some abroad.63 One of the monasteries in Gade runs a Buddhist school for Jonangpa religious practice. We were told that as of 1999, this monastery had given sixteen three-year courses. Between 30 and 108 monks participated in each course, and the monastery had trained about 1,000 monks so far. Some monks stay on for additional courses, while some continue their practice as hermits in the mountains. The students may attend up to five courses (fifteen years of study).
In Malho TAP, we visited a Bön monastery and were told that the monks regularly practice debate and also have a printing house where they keep woodblocks for the Dzogchen text. Four of the monks had studied at a major Bön monastery in Ngaba Prefecture and returned to act as teachers. Another two monks from this monastery were studying at a private school in a neighboring prefecture, where the students had access to computers. The two monks were planning to use the school's scanner to scan all the monastery's ancient texts, which could then be printed by computer.
In Kandze TAP, we were given surprisingly detailed information on the number of educated monks in the prefecture. In the prefecture's 515 monasteries, the religious affairs department had registered 7,663 lamas who had studied for at least six years in one of the three big Lhasa monasteries and another 35 geshe or khenpo who had studied for nine years or more. If this information is reliable, Kandze has quite a few educated teachers.
In Kandze we were also informed about a number of newly established Buddhist institutes. The Kandze Prefecture Religious Affairs Department provided details about nine such institutes, mainly established by local tulkus or khenpo. The list of names and locations indicates that these institutes are often located next to monasteries. Through interviews, we learned that they accept as students monks from all Buddhist branches, even Bönpo monks, as long as they are at least eighteen years old. We visited two of the institutes, which were located apart from monasteries and were referred to locally as Nyingmapa institutes. We were told, however, that these institutes taught basic Buddhism without sectarian biases, which meant that monks from all traditions were accepted as students. Classifying an institute by a particular Buddhist order identifies the order of the founder. The two institutes were both sponsored by Nyingmapa religious leaders and therefore were classified as Nyingmapa. We confirmed through interviews that those who adhered to other traditions also studied there—one of the institutes even reported 10 percent Bön students—but in both monasteries, 60–70 percent of the students were Nyingmapa. Students came from all over the Tibetan areas, including the TAR and a few from Hong Kong. Study and lodging were usually free, but students supplied their own clothes and food. The subjects taught included Tibetan language and grammar, poetry, Buddhist logic, Sanskrit, astrology, and Tibetan medicine. One of the institutes we visited also taught Chinese language on a voluntary basis. None of the schools we visited reported that they taught politics, as do provincial Buddhist colleges (described later in this chapter).
It is difficult to say why Buddhist institutes such as these are becoming so popular, but we assume that it is probably much more difficult to obtain permission to establish a monastery than an institute. It may be impossible to set up a new monastery where none existed before the Democratic Reforms campaign.
Although a great effort has been made to revive religious traditions, many monasteries today suffer from the lack of competent teachers. Monks and nuns mentioned this problem in many of our interviews. We were informed that there was a shortage of teachers, especially in tantric studies, even in larger Gelugpa monasteries, while elderly monks in smaller monasteries complained that they were not sufficiently knowledgeable to act as teachers for the young monks. We were frequently told that teachers had to be invited from other monasteries, or that the monks engaged only in self-study.64 We encountered cases in which the reconstruction of buildings and monuments was impressive but debating yards were locked up and reportedly used only on special occasions, when a geshe visited the monastery. Students did not have the opportunity to practice debate on a regular basis.
During the late 1950s and 1960s, the educated monastic elites experienced serious persecution that often led to imprisonment in labor camps and penitentiaries. The death toll was high. Among those who were not imprisoned, a large number escaped to India and Nepal. During the years from about 1957 to the early 1980s, monastic education was unavailable, and in the meantime, a generation of teachers died of old age. The combination of all these factors has led to a serious lack of teachers in Tibetan monastic institutions. The less populated branches of Buddhism and Bön may have experienced particular difficulty in keeping religious traditions alive and transmitting oral teachings that were known only by a few masters in each generation.
Tibetan refugees in India reestablished some of the more important monasteries in India, such as the three great monasteries Sera, Drepung, and Ganden; Nechung, the seat of the state oracle; and Namgyal, formerly located at the Potala Palace. Prominent lamas and religious leaders within the Kagyupa, Nyingmapa, and Sakyapa traditions also established monasteries in India.65 These have become centers of learning attracting Tibetans in India, Buddhists in general, and, to an even greater extent, monks and nuns from the Tibetan side of the border. These Tibetans have been crossing the Himalayas in substantial numbers, not only because of political persecution but because they believe their chances to study and gain access to qualified teachers are much better in India than in their native Tibetan areas. In fact, during the 1990s, the majority of monks in Tibetan monasteries in India were recent arrivals from Tibet.66
It is difficult, if not impossible, to make a valid comparison of the quality of monastic education in Tibetan monasteries prior to 1958 and during the 1980s and 1990s. The best we can do is to discuss the available information about the differences between monastic education in monasteries in Tibetan areas and in Tibetan settlements in India, where monasticism has had a chance to flourish. According to a study of Tibetan monasteries in India conducted in the early 1990s, many of the monks who escaped from Tibet stated that their main motivation for studying at a monastery in India was to return to Tibet in order to teach in their local monasteries after graduation.67 These monks further expressed the need to restore or develop their monasteries in Tibet and heighten the level of education. Many also explained that the monasteries and their traditions were in danger of being eradicated in Tibet in the present situation and that they wished to contribute toward maintaining and strengthening these traditions.68 This information indicates that the monastic education available in Tibetan monasteries in India is of a higher quality than the education available in Tibetan monasteries in China. Other reports make the same point, claiming that the new arrivals from Tibet have a much lower level of knowledge compared to the monks who have grown up in exile and received their monastic education in Tibetan monasteries in India.69
As noted above, during the 1990s, new arrivals from Tibet constituted the majority of monks in Tibetan monasteries in India. However, there are indications that in major Nyingmapa monasteries in India such as Namdrölling, compared to Sakyapa and Gelugpa monasteries, newcomers from Tibet are far fewer in number. The explanation offered is that large numbers of Nyingmapa monks were being recruited into the Serthar Buddhist Institute (Ch: Wuming Foxueyuan) in Kandze.70 The crackdown on this institution in 2001 presumably changed this situation.
CONTROLLING THE TULKUS
Tulkus play a key role in Tibetan society as informal leaders, not only in the monasteries but in society at large. As in earlier times, many Tibetans have great respect for tulkus, which is why they are often called upon to settle disputes in the community. People generally follow the advice of tulkus and look up to them with reverence as spiritual and secular guides and masters.
In the late 1950s, the recognition of tulkus was prohibited, but in the 1980s, tulkus who had been recognized before the Cultural Revolution were again acknowledged and new tulkus eventually were recognized. Chinese authorities also started to give tulkus official titles and positions in the People's Congresses and Chinese People's Political Consultative Committees (CPPCC) at all administrative levels, as leaders of the local Buddhist Associations, and sometimes even as government officials. It appears that these positions have been granted in a very controlled manner. For instance, in Dzoge County in Ngaba, a number of local religious figures were appointed to various official posts, apparently all in 1987.71 Many tulkus now earn government salaries through their various official positions. As a result, a number of tulkus no longer stay in their monasteries but live in townships in order to fulfill their political obligations.
In 1992, the seventeenth Karmapa, Ugyen Trinley, in exile in India since January 2000, became the first tulku to be officially approved by both the Chinese central government and the Dalai Lama. The Karmapa is the highest-ranking tulku of the Karma Kagyupa, a separate order of Tibetan Buddhism. The Kagyupas have always settled the matter of finding new tulkus themselves, and the Dalai Lama or other leaders of the Gelugpa apparently were never involved in discovering a new Karmapa. The Dalai Lama's acceptance of Ugyen Trinley therefore was not a requirement for the Kagyupas. Recognition of a new Panchen Lama is different, however, as he is considered the second most important tulku of the Gelugpa order. Traditionally, the Dalai Lama is responsible for confirming each reincarnation of the Panchen Lama and vice versa. The current Panchen Lama will thus presumably play an important role in the recognition of the next Dalai Lama. Since the eighteenth century, the Chinese have promoted the Panchen Lama as a rival of the Dalai Lama and used him to advance Chinese interests in Tibet.
Since the Dalai Lama went into exile in 1959, no tulku in Tibet has been more important than the tenth Panchen Lama. After spending more than a decade under house arrest, the tenth Panchen Lama reappeared in the 1980s as an advocate of religious revival and a great source of inspiration for those who sought to rebuild monasteries and religious sites. The importance of the Panchen Lama became clear to us during fieldwork when we were told repeatedly that local monasteries were rebuilt after being visited in 1986 by the tenth Panchen Lama or on his advice. After the death of the tenth Panchen Lama in 1989, recognition of his successor became a major conflict between the Dalai Lama and his government-in-exile and the Chinese leadership. The search for a new Panchen Lama was conducted by a party from his monastery, Tashilhunpo, in Shigatse, according to tradition. However, the State Council soon announced the following criteria: "First, the principle of patriotism; second, the principle that the Tashilhunpo Monastery is in charge; third, the principle that the search must be carried out in China; fourth, the principle of approval by the central authorities; and fifth, the principle that the installation ceremony and training take place in Tashilhunpo Monastery."72
In the initial stages, Chinese authorities agreed that the search party could communicate with the Dalai Lama. However, when the Dalai Lama announced in May 1995 the recognition of Gedhun Chökyi Nyima as the eleventh Panchen Lama, Chinese authorities rejected the candidate and arrested a number of those involved in the search, including the leader of the party, the high-ranking tulku Chadrel Rinpoche. Six-year-old Gedhun Chökyi Nyima and his parents were also taken into custody and kept under house arrest at an unidentified location. Amnesty International and Tibet support groups have described the boy as the youngest political prisoner in the world. His fate has been brought up in bilateral discussions by a number of foreign delegations to China. Despite this, nobody has been allowed to meet the boy or his parents, and there have even been rumors that he may have died in a prison in Lanzhou, the capital of Gansu.73
In November 1995, a golden urn ceremony was conducted at Jokhang Temple in Lhasa, recognizing another candidate, Gyaltsen Norbu, as the Chinese-sanctioned eleventh Panchen Lama. According to Chinese authorities, the golden urn ceremony was supervised in the past by the amban, the representative of imperial China in Lhasa, for the purpose of selecting the new reincarnations of the Dalai Lama and the Panchen Lama. The Chinese cite this "historical fact," which is denied by Tibetan historians, as the most important evidence of imperial Chinese sovereignty in Tibet. The political intent of using the golden urn ceremony to identify the eleventh Panchen Lama is thus clear: to reaffirm Chinese authority in Tibet.
The search for a new tulku in present-day Tibetan areas is similarly conducted by a team of monks from the monastery where the tulku originated. However, all new tulkus must be approved by government authorities, usually at the provincial level. After the tulku is identified, the county religious affairs department applies to the prefectural government, provincial Ethnic Affairs Commission, and provincial government. The provincial government then confirms that the tulku is in accordance with tradition and that the determination conforms to the government's reincarnation policy, which includes detailed regulations on the methods of finding tulkus. We were informed in Qinghai that the Buddhist Association has agreed to these methods of approving tulkus.
Policy guidelines issued by the central government in 1991 state that "there can be reincarnates, but not all can reincarnate; these issues must be handled strictly."74 According to one source, the provincial government in Qinghai has a committee that provides recommendations to the government on the approval of new tulkus and whether a particular tulku lineage is traditional. This committee consists of scholars and experts on Tibetan Buddhism, including several tulkus. This type of committee exists in several Tibetan areas. In some cases, the committee is administered directly by the provincial government or supervised by the Ethnic Affairs Commission, and in other cases, it is managed by the United Front (Ch: Tongzhanbu) department of the CCP. After the committee makes its recommendation, the government eventually grants its "approval" (Ch: pizhun) of the new tulku. This process may take several years.
A report from Ngaba Prefecture confirms the existence of explicit policies that aim to limit the number of tulkus. It states that during the 1990s, Sichuan Province authorities instructed the prefectural governments to decide on quotas for tulkus. Detailed information was collected on the number of monasteries that historically had tulkus. This source also states that the government policy to restrict the number of tulkus was implemented locally. In Ngaba Prefecture, authorities decided to allow only 149 tulkus in total: 3 for large monasteries, 2 for medium-size monasteries, and 1 for small monasteries.75 During our interviews with prefecture-level religious affairs departments, we were never informed of monasteries with more than 3 tulkus in any area. As described by the prefectural officials we interviewed, the number of tulkus always ranged from 1 to 3. Only in a very few interviews, and always at the county level, did we receive information about more than 3 tulkus at any single monastery. Yet, in several cases, monks and other local sources we interviewed told us about larger numbers of tulkus, including tulkus living secular lives and holding political positions or even residing abroad.
The number of officially approved tulkus in Qinghai today appears to be less than half the number of the early 1950s. The Qinghai Province Ethnic Affairs Commission claims that there were 497 tulkus in the province as of 1996, whereas Pu Wencheng reports that there were 1,240 prior to 1958.76 Local interviews indicated that many applications for approval of new tulkus were awaiting decisions from higher authorities. There is therefore reason to believe that the number of tulkus in both Qinghai and Sichuan is being tightly controlled. During our interviews, several local officials spoke of the need to control the recognition of new tulkus and the problem of having too many tulkus. According to government officials in one county in Qinghai, too many tulkus negatively affects economic development: "In the past there were too many tulkus. Religion has obstructed the development of Tibetan areas because the monasteries have no role to play in the development of the communities; they just use the resources of the local people. In addition large numbers of celibate monks impede population growth." This last statement is interesting, since it contradicts the idea that population growth needs to be limited, even in the minority areas.
In another interview, we were told that the quality of tulkus is more important than the quantity. According to yet another account, owing to the disorder of the Cultural Revolution, some people were incorrectly claimed as tulkus after their deaths. After 1980, the tenth Panchen Lama became aware of this problem, and one reason for the establishment of the Beijing Buddhist college, formally known as the High-Level Tibetan Buddhist Institute of China (Ch: Zhongguo Zangyuxi Gaoji Foxueyuan),77 was to set up a clear rule of tulku lineages. The college was founded in 1987 and was headed by the tenth Panchen Lama until his death.
Government approval is not extended to all recognized tulkus. In Golok, for example, we learned that 9 tulkus were accepted, 18 awaited approval, and 101 were denied. We do not know anything about the fate of these so-called self-appointed tulkus,78 but many are probably living in their monasteries and are recognized by their local communities.
The most important policy guideline on religion is Document 19, The Basic Viewpoint and Policy on the Religious Question during Our Country's Socialist Period, issued in March 1982, which states that CCP policy is to "foster a large number of fervent patriots in every religion who accept the leadership of the Party and government, firmly support the Socialist path, and safeguard national and ethnic unity." The document calls for establishing schools or seminaries to educate a new generation of clergy that "fervently love their homeland and support the Party's leadership and the Socialist system." These young patriotic religious professionals are meant to become the "mainstay ensuring that religious institutions follow the correct direction in their activities."79
In Tibetan areas, this policy has led to the establishment of one central and five province-level Buddhist colleges for the education of future monastic leaders, in particular the education of tulkus. Three colleges were established in 1985, at Nechung Monastery, in Lhasa (TAR); Labrang Tashikyil Monastery, in Sangchu County, Gansu; and Kumbum Monastery, in Huangzhong County, Qinghai. Since 1985, similar institutions have also been established in Kandze County, Sichuan, and at Gaden Songtseling Monastery, in Gyelthang County, Yunnan, although Sichuan Province Buddhist College has been without students since 1998. These institutions are all funded and managed by provincial and state-level religious affairs departments, which also regulate their "study method" (Ch: xuexi fangshi) and "teaching method" (Ch: jiaoshi fangwei).
The political education of tulkus and other monastic leaders in Buddhist colleges is a very important tool for controlling religious life in the Tibetan areas. This became clear to us after interviewing administrators and former staff of Gansu Province Buddhist College, Qinghai Province Buddhist College, and the High-Level Buddhist Institute of China, in Beijing. The scope of this program is quite ambitious. For instance, at the time of our visit to Gansu, 30–40 students were graduating from the Gansu Buddhist college each year to become leaders of their home monasteries. In comparison, only 2 students per year were obtaining the geshe degree at Labrang Monastery. Whereas the Gansu Buddhist college had 134 students, only about 120 monks were studying toward a degree at Labrang Monastery. In Qinghai, we learned that graduates from the Qinghai Buddhist college are now in most of the monasteries in the province and play an important role in the development of their monasteries. Qinghai Province Buddhist College previously had two types of classes, one for monks who were to become monastic administrators in their local monasteries and one for tulkus. Since 1999, the college has had only a tulku class. According to our sources, this is because government policy since 1998 has been to educate all new tulkus in these schools, which teach only basic Buddhism, regardless of the branch of Tibetan Buddhism to which they belong. However, in interviews with experts from the different branches, we were told that Jonangpa, Kagyupa, and Sakyapa monks and tulkus prefer to be educated within the monasteries of their own tradition rather than sent to a Gelugpa monastery for basic education. The Beijing Buddhist college also aspires to educate tulkus from all branches. As of 1999, nearly 300 tulkus had graduated from this institution, and we were told that the long-term goal was to educate all 1,700 tulkus in China here.
Curriculum is another important aspect of this educational program. In several cases, we were told explicitly that the purpose of the Buddhist college is to teach the monks to love their country and religion. In another interview, we heard that the colleges were set up according to the guidelines of Document 19. The curriculum includes Buddhist sutras and Tibetan language but also Chinese language and history, politics, and science. In the Qinghai Buddhist college, we were told that sutras and traditional culture constitute 70 percent of the curriculum; modernization and science, 15 percent; and politics, 15 percent. A new 1999 policy calls for the creation of a common curriculum in politics for all five province-level Buddhist colleges.
The Beijing Buddhist college provided the following description of its objectives in an introductory booklet: to safeguard the unity of the motherland, to strengthen national unity, and to advance Tibetan Buddhism. Politics reportedly makes up 10 percent of the curriculum. According to the staff, the students have realized that the activities of the Dalai Lama contradict the traditions of their religion, which gives a clear indication of the political purpose of educating tulkus in this institution. The Beijing Buddhist college plays a key role in the education of tulkus, publishing a number of textbooks that are used in province-level institutions and, as stated in one report, deciding which subjects are to be taught at province-level colleges. As mentioned above, the college appears to be involved in establishing clear rules determining which tulku lineages are eligible to receive government approval.
At the Sichuan Province Religious Affairs Department, we received information that Sichuan Province Buddhist College was currently not active due to lack of students. Although it was not considered closed, it had not functioned since 1998. The authorities were looking for a way to change this and suggested during our interview that perhaps the location—in Kandze County, Tuoba Township, Si'e Village—was not right.80 We were also told that the Buddhist college might have been closed because "historical traditions" (Ch: lishi xiguan) place monastic colleges within monasteries rather than in separate institutes. Independent sources provided yet another explanation, that the Buddhist college was closed under pressure from the large Buddhist community in Serthar (Seda) County. With no province-level Buddhist college in Sichuan, students were permitted to attend a college in another province, such as Qinghai or Gansu.
During interviews in 1998, government officials in the Dechen Prefecture Religious Affairs Department reported that the central government had given permission to set up a Buddhist college at Gaden Songtseling Monastery near the prefecture seat of Dechen and that the Yunnan provincial government had allocated funds for the building. Information from interviews we conducted in August 1999 indicates that the Yunnan Province Buddhist College was then in the process of being set up at the monastery. Interestingly, Gaden Songtseling previously ran its own private school for monks in the prefecture. Monks from all Tibetan Buddhist traditions could join the school, which taught history, poetry, grammar, uchen and ume (printed and calligraphic Tibetan scripts), and lamrim, the study method introduced by Tsongkhapa, founder of the Gelugpa tradition. We were told that the school was open for three to four years only and received about ¥10,000 (US$1,250) annually from the government, but eventually it had to close because of insufficient funding.
The Buddhist college in Beijing admits tulkus from all the Tibetan areas and Inner Mongolia to two-year courses. Students receive financial support from the government. The staff reported that the standard of living is high, since this school is also a place for demonstrating a favorable policy toward tulkus. It was emphasized, however, that the tulkus must develop a new view of themselves as ordinary students and are expected to manage their own food and clothing rather than rely on caretakers. Visitors were also restricted. The headmaster explained that many villagers used to travel on pilgrimage to Beijing while the tulku from their local monastery attended the school. This could be quite problematic for school administrators, since the pilgrims expected to stay near their tulkus and the school did not have the facilities to house them. Consequently, they issued a regulation prohibiting villagers from following their local tulkus to Beijing.
MONASTIC CONTROL
While the late 1970s and early 1980s were marked by a sharp break in CCP religious policies and a relatively high degree of official tolerance for religious expressions, by 1987 this situation was changing. The year 1987 was in many respects a momentous one for the revival of religion in Tibetan areas. It may well characterize the peak of the tenth Panchen Lama's efforts to promote the reconstruction of monasteries and the revival of monastic education, as well as the teaching of Tibetan in schools, throughout the Tibetan areas. During 1986, he undertook extensive visits throughout the entire Tibetan Plateau, and in 1987, as his experiences were being evaluated, he was elected head of the newly opened Buddhist college in Beijing.
Meanwhile, in September 1987, the Dalai Lama made his first official visit to the United States, where he addressed the Congressional Human Rights Caucus and proposed a five-point peace plan for Tibet. The Dalai Lama's aim was to set the stage for negotiations with the Chinese government on the future status of Tibet. In response to Chinese authorities' angry denunciation of the Dalai Lama's proposal, twenty-one monks from Drepung Monastery near Lhasa initiated a demonstration in the Barkhor area of Lhasa. Police mistreatment of the monks during and after their arrest led to two large-scale demonstrations that became violent when authorities shot at the demonstrators and caused a number of casualties.
Under the conditions of Communist rule, religion has increasingly provided the symbols of a Tibetan collective identity.81 Since the initial pro-independence demonstration in Barkhor, there have been a large number of protests. Although most occurred in Lhasa, other parts of the Tibetan Plateau were also affected, and monks and nuns were often actively involved in these events.82 The authorities reacted by inaugurating a series of anti-splittist campaigns and imposed a one-year period of martial law in the TAR in March 1989.83
CCP leaders were alarmed by the large numbers of young monks and nuns entering monastic communities and the political protests in which some of them were involved. At the Third Work Forum on Tibet in 1994, leaders drew up a strategy to combat what was perceived as growing "split-tism" (Ch: fen lie zhuyi). Since 1996, a campaign known as Patriotic Education has sought to extinguish all forms of political activism in the monasteries throughout the Tibetan areas. According to Tibetan exile sources, by the end of 1999, about twenty monasteries and nunneries had been closed down and 11,400 monks and nuns expelled as a result of this campaign, which focuses on condemning the Dalai Lama and educating monks and nuns in political ideology and patriotism. A number of monks and nuns were also arrested and imprisoned.
The Patriotic Education campaign has decreased the level of religious freedom in monasteries and nunneries. Of particular concern are reports that monks and nuns have been detained when they refuse to follow the Patriotic Education program, remove pictures of the Dalai Lama, or sign papers denouncing the Dalai Lama as a religious and political leader. The Chinese constitution protects freedom of belief but stipulates that religious practice must not lead to the splitting of ethnic minorities. Interpretation of this stipulation, however, is controlled completely by the CCP.
Because it is a politically sensitive issue, we did not explicitly study political education in monasteries and nunneries. However, government officials confirmed that political education was still taking place in Qinghai during the summer of 1999 as part of the Patriotic Education campaign. The content of the campaign in Qinghai was described as primarily the study of laws and regulations on religious practice and minority policy, but, as in the TAR, it also included denouncing the Dalai Lama.84 During such campaigns, the enforcement of age limits seems to constitute a major source of dissension, and monks and nuns under eighteen years of age were ordered to leave the monasteries and nunneries. This has particularly affected the largest monasteries, such as Labrang and Kumbum. In April 1998, the campaign was initiated at Labrang, leading to the confinement of Gungthang Rinpoche, Labrang's second most senior lama.85 At Kumbum, the campaign was one of the factors that led Agya Rinpoche, the former leader of Kumbum, to go into exile in 1998.86
It is difficult to know how many of those who were expelled during these campaigns have actually left their monasteries or nunneries, whether some have been able to return at a later date or join another monastery or nunnery, and what has happened to those who are unable to return. We do know, however, that being expelled is a traumatic experience. As one of our sources described it: "Once they have cut their hair it is very difficult, maybe impossible, to return to secular life." Many of those expelled find their situation so difficult that they choose to cross the Himalayas and join one of the monasteries or nunneries in the Tibetan refugee communities in India.
The authorities have sought to control the reconstruction of monasteries and the return of the clergy through various regulations. Document 19 states that religious sites in cities and famous historical sites should be restored, but indiscriminate building and repair of temples in rural villages must be guarded against, "lest we consume large sums of money, materials and manpower and thus obstruct the building up of material and spiritual Socialist civilization." Specific regulations on the management of religious sites were issued in 1994 (no. 145 Decree of the State Council). These declare that registration is necessary in order to establish a religious site, and those who plan to renovate buildings and set up enterprises must obtain permits. The regulations also state that every religious site should establish a management committee that will maintain the property and oversee its income.
In principle, all former monasteries and temples may reopen after applying for permission. Sometimes, prefectural and provincial authorities take years to process applications from county religious affairs departments. In the meantime, many sites are rebuilt without permission. Many officials we interviewed acknowledged this situation and informed us of unofficially reopened monasteries. For instance, in Jyekundo we were told that 30 out of a total of 169 monasteries had reopened illegally. Local officials appeared to have accepted the situation, and we did not hear of any cases in which they had taken action against these monasteries; however, the illegal reopenings could become problematic if there is a future campaign.
We likewise did not hear of any cases in which people were forced to stop rebuilding monasteries, or of regulations forbidding reconstruction, but we were informed in one county of a regulation that forbids the construction of two mosques in the same village. This prohibition was meant to prevent conflict between Muslims of different sects. Nevertheless, we saw several villages in the area with at least two mosques, and local authorities admitted that they were unable to enforce the regulation.
Every monastery that once existed may apply for permission to reopen. We were told of only a few places where the local people did not want to reopen a monastery, such as in Derge County, Kandze TAP, and in Gepa Sumdo County, Tsolho TAP. We also heard about monasteries that had been rebuilt in new locations. For example, several monasteries in Dechen County were rebuilt closer to the town and the main road between Dechen and Gyelthang Counties. The famous Sakyapa monastery Gönchen Gompa (Ch: Genqing Si)87 in Derge County, Kandze TAP, has been completely rebuilt in the same area, a few hundred meters away from its original site near the Derge Sutra Printing Academy.
Other monasteries were rebuilt some distance away from their original sites, closer to the towns. We visited Drango Monastery (Ch: Shouling Si), in Drango (Luhuo) County, Kandze TAP, which is now located near the county seat, overlooking the town. A local Tibetan government official told us that the former location was outside the town. The new monastery was built closer to the town for two reasons: it was more accessible for the city people and, more important, the old location was considered inauspicious and to have bad fengshui.88 In support of the latter reason, we were told that the old monastery had been leveled. It is interesting to note that a local Tibetan cadre explained the unfortunate destiny of this monastery in terms of fengshui.
In other places, the local population wanted to construct religious sites in completely new locations, a complicated proposition. We talked with locals who complained about the very slow process of obtaining permission, and if the site could not be related to a pre-destruction-period religious site, chances of being granted permission were considered small. Some communities had given up waiting for permission and started construction. For example, in one village with a view to the magnificent Amnye Machen range, the villagers wanted to erect their own temple. They had applied repeatedly to the local religious affairs department and received no reply. After years of what they called "bureaucratic waiting," they decided to construct a temple without permission.
A report from Dzoge County gives a detailed description of the current regulations concerning monastic revival.89 It states that any reconstruction must follow the government guidelines and rules regulating everything from construction to farmland cultivation. Most important, any building or rebuilding of monasteries has to be approved by the local Buddhist Association and religious affairs department.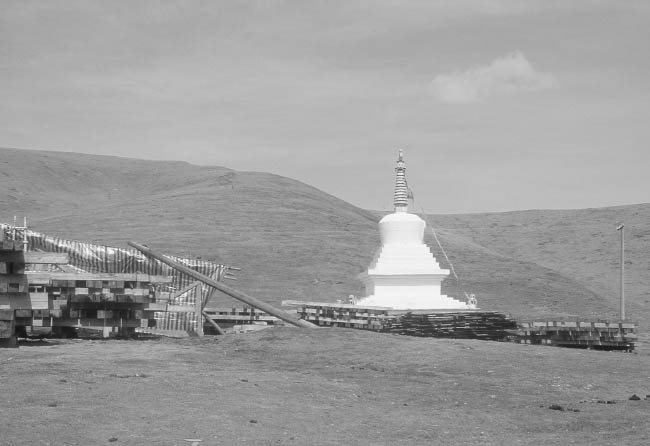 In Ngaba Prefecture, the authorities decided in 1986 that any monastery seeking permission to rebuild must have sufficient resources and provide a yearly plan for the proposed reconstruction, including a schedule and a list of personnel. The plan must first be thoroughly discussed by a "monastic control team" (Ch: siyuan guanli jiegou) made up of religious experts, lay believers, and district government representatives.90 The team's responsibilities are to review the plan, survey the monastery's original location, investigate the monastery's history, and consider the number of monks it should accept and the resources required for reconstruction. The plan must then be approved by the district government before it is submitted to the county religious affairs department and then to authorities at higher levels for approval before any construction begins.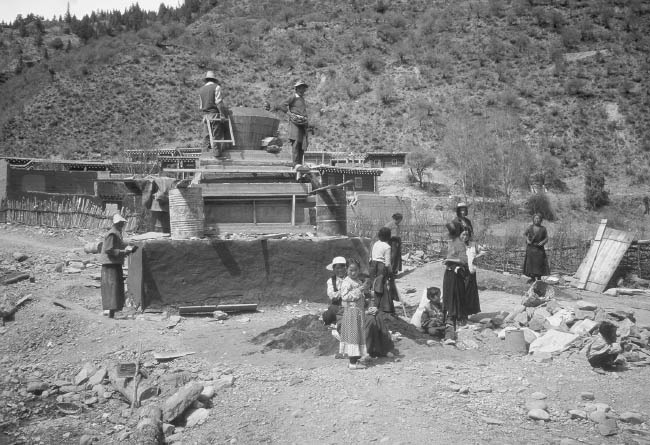 FIG. 2.9. Villagers in Drango County, Kandze, working on a new stupa.
The Dzoge County report also mentions several requirements for monks and nuns joining religious institutions: they must be more than eighteen years old as documented by official ID, must be law-abiding and love the nation and religion, must have parental consent, must be healthy, and must be sufficiently educated (equivalent to the sixth grade of primary school). The state set the minimum age for monks and nuns at eighteen years in the 1982 revision of the constitution.
Since the mid-1990s, the authorities have also regulated the number of monks and nuns allowed in each monastery and nunnery. County religious affairs departments were asked to prepare quotas for monks and nuns in each monastery. Several sources told us that this took place in 1996. The quotas were to be fixed on the basis of such conditions as the number of monks in a monastery in the 1950s and, after the reopening of monasteries in the 1980s, the number of monks there at present, the size of the monastery, and how many people it could house. Another factor was the number of Buddhists in the county compared to the total population. According to a government official we interviewed in 1999, prefectural officials were conducting an investigation that year in order to establish new quotas for monks based on the needs of the population and conditions in the monasteries.
Today, the local religious affairs departments keep detailed lists of monks. An official in Kandze informed us that these records are checked by local officials as often as every third year. There are at least two sets of records, one listing the officially accepted quota for each monastery and another indicating the actual number of monks believed to be residing permanently in each monastery at the time of the latest visit by local officials. When we were given access to both sets of lists, we found that in general the quotas were smaller than the true numbers of monks, although there were exceptional cases in which quotas were larger than the actual numbers. In one county, the records that were shown to us indicated fewer monks than were allowed by quota in all but one of the county's monasteries.
In Golok TAP, county officials produced a document containing a detailed list of monasteries, actual numbers and official quotas of monks, and the numbers of tulkus, retired or deceased monks, monks residing outside of the monasteries, and monks who had "returned to secular life" (Ch: zixing huansu). The list included 12 tulkus between the ages of nineteen and sixty. This document offers a good example of the different categories used in registering monks. The religious affairs department emphasized that the number of monks in the county was lower than the allowed quota. The quota for monks was 200, but in 1998 there were only 148, whereas there were 178 in 1996. On closer inspection, however, it became clear that the number of monks was almost unchanged from 1996 to 1998. When a monk retired but continued to live in the monastery, he was reclassified, hence lowering the figure.
County religious affairs departments also keep detailed accounts of tulkus and their lineages. Tulkus living abroad are not included in the statistics, although officials in the religious affairs departments often have a comprehensive knowledge about how many tulkus originally belonged to the different monasteries and the countries in which they are currently residing. We received a complete list of details of more than 100 monasteries and nunneries within three counties in Kandze TAP and a list of the most important monasteries in a fourth county. The information includes their exact location by village, Buddhist order, 1999 numbers of monks and nuns, the accepted quota (often lower than the actual figures), numbers of tulkus, and sometimes more detailed information about the tulkus. We found that figures at the local departments sometimes corresponded with figures acquired at the monasteries and nunneries, but in several cases the numbers of monks or nuns given in on-site reports were substantially higher.
It is interesting to note the comparatively sparse information available on nuns and nunneries. When we requested statistics on nuns, we often received rather vague replies about the insignificance of nuns, and in several prefectures we were told that there were no nuns at all or that there were a few nuns but no nunneries.91 Many officials appeared to know little about nuns and nunneries, and we have the impression that some may have felt there was little reason to keep records on nuns. In fact, in 1999, we learned that even the province-level Ethnic Affairs Commission had not been collecting statistical information on nuns and nunneries. One interview elicited the rather remarkable comment that the state does not want nuns. Several of the officials we interviewed revealed quite unsympathetic attitudes toward nuns. For instance, officials gave us the following information about the nuns in their prefecture: "They are all quite old, over fifty years old. They become nuns because their husbands are dead and all their children have grown up and left home. To become a nun is just a way to make a living, and this is one way of feeding themselves."
Except during the implementation of a political campaign, restrictions on the numbers of monks and nuns did not seem to be strictly enforced at the local level. Quotas were usually exceeded, but we also found that some monasteries and nunneries had more monks and nuns than reported by authorities. It is unlikely that local officials were unaware of the actual number of monks and nuns. We suspect that monks and nuns under eighteen and those who have retired are sometimes left out of the statistics so as to comply with quotas. If this is true, the real number of monks and nuns may sometimes be higher than that reported by the authorities.
We were told by one monastery's management committee that the monastery had 100 monks more than the quota allowed. The extra 100 monks were described as either retired or below the age of eighteen and hence were not included in the count. In another case, a local official seemed almost to apologize that the age limit was not enforced in his county. The official reported that there were 72 monks under the age of eighteen in his county, explaining that the underage monks were there to care for the old monks who needed help and to learn a handicraft.
Local religious affairs departments have detailed knowledge of the monasteries under their jurisdiction. They not only keep track of the number of monks but also register their income and all their ritual activities. During one interview in Qinghai, the county official opened a large brown envelope and revealed that his office registered the name of every monk in the county.
Monks who attend a Buddhist institute are registered at their home monasteries, although the authorities certainly keep records of the monks attending such institutes, particularly the large ones. At the time of our fieldwork, one of the largest communities of Tibetan Buddhist monks and nuns in all the areas under study was the Serthar Buddhist Institute, established in the early 1980s by the Nyingmapa spiritual master Khenpo Jigme Phuntsok. As of 1999, there were 7,716 monks and nuns registered at the site, and the associated nunnery was probably the largest nunnery in all the Tibetan areas, with about 4,000 nuns.92 Because this community of monks and nuns was defined as an institute rather than a monastery, it did not have to comply with all the regulations pertaining to monasteries. Nevertheless, it did have admittance quotas, and in the late 1990s, these quotas were being seriously violated. In 2000, people who had visited the site over the previous few years told us that during important religious ceremonies the number of participants sometimes reached 100,000. According to the prefectural religious affairs department, monks were permitted to come for religious ceremonies but could not stay for a longer period or permanently. The site was allowed to have 1,000 monks and 400 nuns as permanent residents, while another 400 monks were permitted to live permanently in a nearby monastery. In an interview, local government officials informed us that "it is a problem for the local community in the village that thousands of people go to stay there, because there is not enough food or water. It is too big now. Most monks live there permanently, and some are also over sixty years old. They pray all the time to go to heaven!"
We were told during the interview that the authorities had no immediate plan to drive away people who had already settled there, although they were working on finding a "means to make it more difficult to enter." However, in June 2001, only about a year after our interview was conducted, CCP officials from the United Front in Beijing and Sichuan, troops of armed police, and work teams descended on the institute. According to reports, they tore down living quarters, set up roadblocks manned by the PLA, and removed Khenpo Jigme Phuntsok from the complex against his will. As of August 2001, he was supposedly being held in a military hospital, although he was not formally detained. At the time of the crackdown, the institute was believed to have between 7,000 and 8,000 monks and nuns, of whom nearly 1,000 were Han and the majority were nuns.93
All monasteries are now governed by a "management committee" (Ch: guanli weiyuanhui), which is supervised by the religious affairs department. The management committee is responsible for the finances and most of the activities of the monastery, including study programs and religious ceremonies. In the larger monasteries, management committees may be divided into several departments responsible for finances, cultural relic preservation, study, and internal propaganda work. For instance, the management committee of Labrang Monastery has several departments, including a bureau for the protection of cultural relics, a bureau of study and propaganda, and a production department. In addition to the management committee, an assembly of monks with its own elected leader takes care of monastic affairs. Management committees in the smaller monasteries are made up of ordinary monks and nuns, elected for a three- to five-year period, who are responsible primarily for running the monastery or nunnery on a day-to-day basis. They are also sometimes forced to implement government regulations, however, and in such cases they function as extensions of government or party organs within their institutions.
Before conducting religious ceremonies or other activities, a monastery must obtain permission from the religious affairs department.94 However, the numerous guidelines and directives that regulate the activities of monasteries are not consistently applied. In some remote rural areas, there is little or no interference in the affairs of monasteries, while officials exercise very tight control in the larger, more prominent monastic institutions. For instance, reports indicate that in the larger monasteries there may be regulations on the number of monks allowed to pursue studies and the regimens of examination. Restrictions seem to be taken more seriously in the larger Gelugpa monasteries, but it is difficult to say whether this is solely because of their size or because the branch is the largest and politically most important.
The study of Bön is a priority area in research on Tibetan religion. Although Bön is often regarded as a branch of Tibetan Buddhism, it is frequently discussed in Chinese publications in more positive terms than is Buddhism.95 While Tibetan Buddhism has become closely associated with Tibetan national identity, and the Gelugpas in particular held secular authority in Tibet in recent history, the Bön clergy has not been politically powerful in Tibet and represents less of a threat to Chinese authority today. This may explain why officials impose fewer restrictions on Bön monasteries. At the same time, whereas religion is permitted, superstition is often under attack, and some local officials may treat Bön and Nyingmapa monasteries and religious sites as centers of superstitious rather than religious activities.
Mechanisms of control are in place in almost all monasteries and nunneries, but the degree of control that is actually exercised fluctuates according to the political climate and campaigns directed by higher-level authorities. Permits that are processed quickly may become difficult or even impossible to obtain.96 Local authorities may also enforce policies differently. Therefore it is difficult to predict the consequences of a policy guideline in any particular area. Our impression is that some local authorities simply do not have the will or the power to enforce regulations unless a campaign makes it necessary to take some kind of action. County government officials informed us on several occasions that they "don't enforce that regulation here" or that "there is a regulation, but we are incapable of enforcing it." At the county level, the religious affairs departments usually lack the authority to issue permits for the rebuilding of monasteries or to set quotas for monks and nuns. Such permits and quotas are generally issued by prefecture—or province—level departments, especially for important issues such as the recognition of new tulkus.
As with Patriotic Education, most campaigns are clearly conducted according to directives from the central authorities. One such case is a campaign implemented in all Tibetan areas in 1996 involving the removal of photos of the Dalai Lama from religious sites. In 1998 and 1999, such photos could be found in only a few sites, although prior to 1996, they could be seen almost everywhere. A less publicized campaign to register all religious sites was also conducted in the mid-1990s.97 A document from Dechen TAP describes the local implementation of this campaign. All religious sites were registered in detail, including monasteries, churches, mosques, temples (T: lha khang), tulku residences (T: bla brang), sacred mountains and holy places, Buddhist stupas, and incense-offering sites. Although the religious affairs department was directly responsible for registering the sites, work teams included members from the CPPCC, the CCP propaganda office, the police department, the land distribution department, the urban development department, and the forestry department.
Internal government documents we have obtained expose practices that can only be characterized as repressive. One such document reveals that work teams were sent to monasteries to conduct propaganda work, even during religious events. The document states that in 1982, the police department, CCP propaganda office, religious affairs department, CPPCC, and armed forces organized a work team to establish monastic control in the area. According to an official document, this team entered villages and monasteries three times to conduct investigations under the guiding principles of "efficient control of religion, unity of all ethnic minorities, and stability in frontier regions." The document further states that the aim of such investigations was to demonstrate the policies, laws, and rules for establishing monasteries and temples.
Monastic leaders in particular were under pressure to attend meetings and conferences, where they might be confronted with problems that had occurred in the process of reconstructing monasteries. According to our sources, some tulkus were further accused of forging their identities (maybe because they had been denied official recognition as tulkus) and collecting money under false pretenses. Monks and nuns were also subjected to various methods of propaganda education aimed at "raising their level of thinking and consciousness, improving patriotic feeling and discipline, protecting socialism, and safeguarding the unity of all ethnic minorities within one motherland." On religious occasions, government representatives reportedly held talks and directed propaganda at monks and nuns.
At the lower administrative levels, religious affairs departments are staffed mainly by Tibetans, usually supervised by a Han Party cadre. Leading members of Buddhist associations and staff of provincial and national Buddhist colleges are also Tibetans, and some are monks or tulkus. These cadres and officials have the difficult job of serving as mediators between local Tibetan communities and representatives of the CCP, who sometimes ask them to carry out policies that offend the sensibilities of Tibetan believers. Regardless of their personal opinions, they are required to support every Party policy or campaign, whether they think it is sensible or not. Some of the dilemmas these Tibetans face became evident in our interviews and discussions with them and made us rethink the notion of government authorities as belonging to a unitary and faceless entity. It also brought to our attention the need to distinguish clearly between policy and implementation and the importance of focusing future research on the complexities of implementation as well as on campaigns and policies as such.
The implementation of religious policies is unpredictable, and religious leaders identify as a major problem the lack of laws protecting the religious freedom provided by the constitution. As described by the former leader of Kumbum Monastery, Agya Rinpoche, this creates a climate of uncertainty among religious leaders: "Since there is no law, the policy makers can dictate whatever they like, and when religious freedoms are crushed there is no avenue for appeal. . . . Sometimes certain practices would be permitted, and then there would be a change of policy which made the same practices prohibited and punishable with no recourse at all."98
The many sporadic changes in policies and the differences in implementation over time and from one area to the next make it difficult to summarize conditions for religion in Tibetan areas today. This irregularity also creates a climate of doubt and suspicion that is a significant problem for Tibetans. It is evident, however, that there has been an ongoing process of tightening government control over religious practice, particularly after 1987 and again after 1996. State intervention in religious affairs represents an enormous obstacle to local forces that are trying to protect and promote religion.
Although Tibetans have been able to revive a great number of monasteries and religious sites in the areas under study, we found that monks and nuns, and especially tulkus and religious leaders, were under great pressure from the authorities. Their situation was made particularly difficult by inconsistent and often contradictory indications from the authorities on what is permitted and by a system that forces individual monks and nuns to take responsibility for the actions of others. The tightening of political control over monasteries and members of the clergy clearly represents a serious impediment to religious practice and causes considerable tension within monasteries and nunneries. With the crackdown in June 2001 on the Serthar Buddhist Institute, one of the major centers of Buddhist teaching in all the Tibetan areas, the situation appears to have deteriorated further.
CCP policy makers evidently see religious practice as an obstacle to the development of Tibetan society and culture and regard the revival of monasteries with considerable suspicion. They fear monasteries not only because they suspect the religious sites may harbor separatists. More important, since the devastation of the Cultural Revolution, monasteries have become the focal points for Tibetans' efforts to preserve and maintain what they consider to be the core of Tibetan culture. As such, monasteries have become the primary symbols of the determination of Tibetans to reinforce their national identity and resist Chinese domination. The methods by which the authorities have tried to control Tibetan monasteries have only made religion more significant as a marker of Tibetan identity and toughened resistance.