7
Entrepreneurs and Ethnic Relations

How does ethnic entrepreneurship affect ethnic boundaries, concepts of ethnicity, new patterns of segregation, and ethnic competition? Our concern is not with the larger concept of ethnicity as used in ethnic mobilization but with an everyday concept of ethnicity; not with a group consciousness based on objective factors such as language and descent, but with ethnicity that is formed through contacts with other groups. How does a group think about itself? How do members of that group differentiate themselves from others? What do others think about them?
Scholars have devised both essentialist and constructivist concepts to address the question of ethnicity. In the essentialist vein, Bernhard Waldenfels writes, "Strangeness means not being affiliated with an us-group" (1997: 22). This "us-group" exists only in relation to the "others" from whom its members are considered naturally different, although the cultural characteristics that determine the lines of division may change or be changed over time. Members of us-groups are considered to have certain essential characteristics that mark them as insiders. However, because we are interested in everyday ethnicity, in our study of the effect of entrepreneurship on ethnic relations, we will use a constructivist concept of ethnicity, in which attribution is key to ethnic group formation. The concept of ethnicity we use does not, or does not only, emerge from objective factors, such as language and descent, and a group consciousness based on those, but rather from "social processes of attribution," which are formed through contact with others. Individuals attribute certain characteristics to themselves and other characteristics to others in order to identify members of their ethnic group, although the particular cultural characteristics used as dividing lines may change. An interactive process separates one person's ethnic group members from others. Frederik Barth has argued that socially relevant factors are more critical for membership than "objective" differences. Irrespective of how "objectively" similar or different one group is from another, if its members concertedly separate themselves from the other group, then they understand themselves to be members of a common group, different from the members of the other, and wish to be perceived as such (Barth 1981: 204).
EVERYDAY ETHNICITY AND ETHNIC BOUNDARIES
Statements made by Han and Nuosu entrepreneurs about each other demonstrate this "us-versus-them" mentality. However, Nuosu and Han entrepreneurs do not have uniform or homogeneous perceptions of their own or the other ethnic group, although stereotypes and prejudices are to be found among all the ethnic groups. Because of the differences between and among the ethnic groups, open contradictions and conflicts between the Han and the Nuosu are not easily recognizable to outsiders. Further, the Nuosu language partially serves as a medium of separation because it is not understood by the Han. Our interviews, therefore, focused on the question of identity as expressed through ethnic stereotypes. Many Nuosu believe that excessive alcohol consumption is an "ethnic characteristic" (minzu tese) that divides Nuosu and Han. The feeling of Nuosu ethnic solidarity intensifies notably with alcohol consumption, which also increases their self-confidence. When drinking, Nuosu more clearly formulate differences between themselves and the Han, more loudly criticize discrimination, and question the official view of history. The perceived differences between Han and Nuosu may be summarized as follows:
Han Perceptions of Yi Entrepreneurs
NEGATIVE

POSITIVE

Uneducated

Some are hardworking

Lazy

Prone to heavy drinking

Aggressive under the influence of alcohol

Lack an understanding of the market

Inefficient at business management

Inconsistent commitment to business

Nepotistic

Ignorant of the law

Closed-minded toward the outside world

Competitive only in drinking

Influenced by slave-owner social origins

Uncultured

Corrupt
Yi Perceptions of Han Entrepreneurs
NEGATIVE

POSITIVE

Concerned only with making money

Good management skills

Unconcerned with others' interests

Disloyal

Unwilling to spend for social purposes

Most are bad

More interested in reinvesting profits than in supporting lineage

Less courageous and openhearted than Yi

Less attentive to kinship (tracing ancestry to only the sixth generation, versus up to the twelfth generation for Yi)

Selfish

Mean

Lacking compassion and concern for the poor
Yi Perceptions of Yi Entrepreneurs
POSITIVE

NEGATIVE

Hardworking

Slow to adopt new practices

Patient

Responsible toward family and lineage

Upright and outspoken

Attentive to "face"

Courageous and brave

Willing to spend for social purposes

Willing to use profits to support lineage

Paying taxes regularly

Attentive to customer service

Neglect themselves while caring for others

Hindered in accumulating wealth by the emphasis on lineage

Wasteful
Han Perceptions of Han Entrepreneurs
POSITIVE

NEGATIVE

More highly educated

Technologically superior

Future-oriented

Innovative

Exercise better judgment

More market-oriented
Entrepreneurs in most counties made similar statements about the kind of imagined differences between the two groups. They were asked how they would characterize entrepreneurs of the opposite group and/or of the same group. The stereotypes apply only to entrepreneurs of the opposite group but it seems that both groups have many of the same stereotypes about each other. As Barth has argued, the issue here is not determining objective differences; it is determining which differences "the actors themselves regard as significant" (1981: 203). We could also argue, as Stuart Hall does, that identity is always a structured representation of positive characteristics discerned through the narrow eye of the other's negative attributes (1994: 45). But it would be one-sided and incorrect to examine Nuosu and Han relations only from the perspective of boundaries. Various forms of mutually productive and supportive interrelationships must be analyzed in order to understand local ethnic interactions.
The entrepreneurs' statements also illuminate different Han and Nuosu worldviews concerning their economic interpretations of society. One such difference is in terms of kinship. There is no difference of opinion about the fact that local Nuosu are more kin oriented than local Han; however, Nuosu evaluate this attribute positively, while Han evaluate it negatively. Furthermore, while Nuosu feel that the Han focus on economics is immoral, Han feel that Nuosu non-economic obligations are anti-business. The Han economic focus can be understood as a form of ethnocentrism (in Bourdieu's sense of the word, 1999: 206). Although non-economic interests and obligatory social behaviors are also significant to Han Chinese communities, whether in villages or clans, Han entrepreneurs criticize Nuosu economic attitudes because they do not correspond to their ideals of "modern" market relations and conditions. In this context, Han entrepreneurs define modern markets as being open, cosmopolitan, purely economically directed, and having standard business practices. It is significant that the Han entrepreneurs in Liangshan are mostly immigrants from outside Liangshan (or their offspring) and are now separated from their original communities.
However, the economically rational and calculating ability that Han entrepreneurs ascribe to themselves (and which many Nuosu entrepreneurs confirm) is an imaginary construct; Han entrepreneurs do not always behave in a manner governed by economic rationality. A good example is the issue of social relations and donations. As we discussed in chapter 6, more than half of the surveyed Han find social connections advantageous, even indispensable for their business lives, and most of them also fulfill social obligations by donating money primarily for social purposes but also to the government administration. Some Han entrepreneurs also send money to clan members from their native areas. This demonstrates that the boundary between Han and Nuosu on the grounds that Nuosu behave in non-rational, non-economic ways is maintained simply by prejudice. Since economic and social benefits are closely tied to each other, people strive not only for material profit but also for social recognition, prestige, status, and power. Striving to make a profit without considering the community promotes resentment and exclusion. Thus, both Nuosu and Han entrepreneurs attempt to acquire social capital in addition to generating economic capital. The difference is only in the intensity of the social element, and this is determined less by ethnic factors than by local factors; this means that the difference between Nuosu and Han entrepreneurs' ability to obtain economic and social capital is connected to the degree to which they are embedded in local social structures. As we have emphasized already, the Nuosu are more strongly embedded in their local environments.
Our concept of ethnicity includes an additional element, namely, critical self-reflection on the part of the ethnic minority. When distinguishing themselves from the Nuosu, Han express positive self-images, whereas many Nuosu entrepreneurs critically analyze their own ethnicity (see list above). The essentialist "us" of the Nuosu is conditional, and its homogeneity is therefore questionable. This self-critical reflection is one component of a process of political and social change that has required the Nuosu to adapt economically. Such criticism may also reflect the negative evaluation of the Nuosu in the Communist historiography.
Although both entrepreneur groups' statements exhibit prejudices and stereotypes, there are no unbridgeable contradictions between the two groups that could lead to violent conflict. This is because the private sector offers alternative options for employment and social ascent for both ethnic groups. In contrast, before the beginning of the economic reforms, the available jobs were predominantly in the state sector and careers as officials were available to Han but not to Nuosu.
Ethnicity is a form of interaction between cultural groups operating in a common context. As an organizational tool, ethnicity enables groups to maintain boundaries "despite an exchange of persons and information with other groups and individual social contacts between [the groups] . . . The maintenance of boundaries is the true marker of ethnicity" (Huschen and Richter 1991: 29; see also Cohen 1974: xiiff.; Jäggi 1993: 96ff.). Ethnicity also provides the potential for organizing and for marking boundaries, which contributes to maintaining ethnic group consciousness in spite of economic, social, and political cooperation that may transcend ethnic boundaries.
As noted previously, one of the key aspects of "everyday ethnicity" is marking boundaries between oneself and others. One of the larger Nuosu entrepreneurs talked to us in some detail about characteristics that distinguish the Nuosu from the Han. His statement is typical of wealthier entrepreneurs, who think in larger contexts. He elaborated at length on self-evaluation and the evaluation of others:
Most of the Han entrepreneurs around here come from places outside of Liangshan and bring their own workforce with them. Their workers have specialized knowledge and learn very quickly; they have an iron determination, and work with great precision. Amongst the Yi, these psychological characteristics are rather weak.
About 80 percent of Yi, but only 20 percent of the Han are not aware of important problems. On the other hand, Yi are courageous—they dare to do anything and let nothing worry them. Of course, this has to do with tradition, but it also has to do with the Yi entrepreneurs' low level of education. However, Han also know from a very early age what they want in life; Yi do not.
I would also say about 90 percent of the Han are sly and unscrupulous, whereas Yi are open and honest. Another thing about the Han is that ever since the Qing dynasty, they kow-tow when they are down, but when their status rises again, they forget those who have smoothed their path for them. Our county deputy director is a very good example. At every opportunity he crawls to the prefectural Party Secretary and flatters him with honey-sweet words. Nauseating ! We Yi don't do that! We have a saying that in everything we do, we look 1,000 meters ahead. Han on the other hand, are always looking many kilometers ahead.
There is a difference in Yi and Han attitudes toward work as well. Yi are relatively quickly satisfied with what they have attained and then wish to sit back and relax. Han are restless, and they continuously desire to strive for more. Han are frugal; Yi throw their money out of the window with both hands. We all know that nothing works in China without social connections (Ch: guanxi). Han are the masters of this art. Since the Yi are not as well versed in this, Yi influence stops at the prefectural level.
To be quite frank, the Yi are only a small ethnic minority; Liangshan has an official Nuosu population of about 3 million. If we subtract those who, for whatever reason, have had themselves registered as Yi, but are actually not or no longer Yi, we reach a figure of about 2.5 million. Then they have to be subdivided into Black and White Yi as well as into various strata of slaves, into clans and lineages. What are the Yi, but just a loose pile of sand? To achieve unity amongst all Yi is very difficult; Yi have little power and strength, are dissimilar and without influence.
The Yi have lived in a closed-off world for a long time and know little about what goes on outside of it. Historically, a slave owner controlled a township at the most. What went on outside of that place was unknown to him. After the founding of the People's Republic, the Yi had the Han culture poured down their throats. Nowadays Yi don't even possess their own industry. Admittedly, Yi have their own script but its use is not widespread. Realistically, the future prospects are extremely gloomy.1
This entrepreneur expresses sentiments that many other larger and more educated entrepreneurs confirm. Although the Nuosu are courageous, open, and honest, their existence is in question, because they are backward in economic and educational terms, do not form an organized social unit, and have not been able to oppose the crushing superiority of the Han. Entrepreneurs think that the development of Nuosu entrepreneurship is important for these very reasons.
MARKET COMPETITION AND ECONOMIC SEGREGATION
Processes of social change, including the modernization process, promote competition based on ethnic boundaries, which stimulates ethnic mobilization. Rather than creating a social hierarchy between Han and Nuosu entrepreneurs, developing the private sector has led to ethnic competition. Thus, instead of creating a hierarchical cultural division of labor, competition has created a segmented cultural division of labor.2
In counties with a significant Nuosu majority, Han entrepreneurs feel themselves to be disadvantaged and discriminated against. Only 10 percent of the Han entrepreneurs in our survey feel that the local government respects their interests; some believe that the authorities protect Nuosu entrepreneurs and only further Nuosu interests. Some also declared that they suffer from fiscal discrimination. These perceptions affect Han entrepreneurs' business lives and commercial contacts, and further intensify Han feelings of resentment toward Nuosu.
On the other hand, twice as many Nuosu expressed ethnic resentment. For example, Nuosu entrepreneurs complained that Han entrepreneurs obtained credit more easily because the banks generally do not give loans to Nuosu. These kinds of conflicts arise when different ethnicities compete for cultural and economic hegemony within a particular space, and when a distinct difference in power exists between them. In this sense, Nuosu discrimination against the Han enhances Nuosu group identity and self-esteem.
Patterns of cultural, geographic, and economic segregation are created when social groups grow apart because of ethnic phenomena. For example, ethnic groups may create their own business networks (ethnic economies) or only employ members of their own ethnic communities. Although there are varying patterns of segregation in Liangshan Prefecture, we see two main trends. In some areas, ethnic segregation in employment is currently increasing. However, segregation is also decreasing due to prevailing market factors. Patterns of segregation exist in the spheres of employment, organization, and entrepreneurship.
State and large collective businesses generally employ Nuosu rather than Han personnel. However, in private companies, Han employ Nuosu workers only for performing secondary or "inferior" tasks. Nuosu entrepreneurs, in contrast, employ Han, if at all, in technical and professional positions; management and security positions, or those involving physical labor, are mostly reserved for Nuosu.
Table 7.1 illustrates the level of segregation in employment. Nuosu entrepreneurs appear to have a stronger preference for employing members of their own ethnic group for several reasons. Nuosu entrepreneurs are morally obliged to employ people from their own clan or village. Because trusting relationships exist between entrepreneurs and their clan or village members, the employees will accept situations that Han laborers would not stand for, for instance, poor working conditions or delays in payment when the company is in financial difficulty. Nuosu workers can be paid lower wages and are willing to perform physically demanding, dirty, or dangerous tasks that the Han regard as "inferior" and are unwilling to do. Nuosu entrepreneurs also believe that shared ethnicity with their employees will allow them to get along better. Moreover, Han do not like to work for Nuosu entrepreneurs, which leads to employer–employee conflicts based on mutual prejudice. Finally, though to a lesser extent, Nuosu entrepreneurs also feel a social and ethnic obligation to employ disadvantaged people of their own ethnicity who may not be members of their own clans.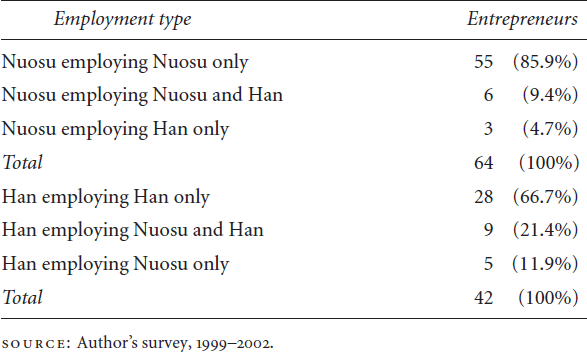 In counties in which Nuosu are the majority, local cadres exert pressure on Han entrepreneurs to employ Nuosu. A Han mine owner in Zhaojue noted that this has some positive effects: "Employing a large number of Yi brings me official recognition and many advantages. The local officials and the local population cause me fewer difficulties."3 In areas where Nuosu are the majority, Han who will not put any Nuosu on their payroll are "punished" by being charged higher taxes and levies. Nuosu end up being hired to carry out the "inferior" work that Han are often not prepared to do themselves. A large percentage of the Han entrepreneurs whom we interviewed did not want to hire Nuosu because they felt Nuosu were lazy and rebellious, frequently did not show up for work, and, worst of all, possessed a low level of education and training. What made matters even worse in the opinion of the Han entrepreneurs was that Nuosu did not work harmoniously together and conflicts continually arose among them. However, in one case, a Han businesswoman in Butuo employed mostly young Nuosu, partly because there were few Han personnel available (in both Butuo and Meigu) and partly because Nuosu made fewer demands than Han workers. As a precaution, however, she hired all of her Nuosu staff on a temporary basis, not for the long term.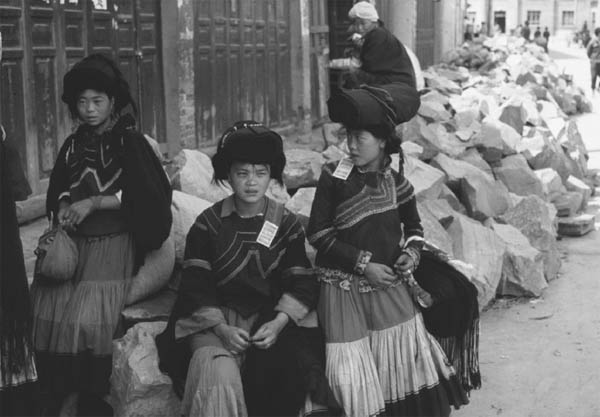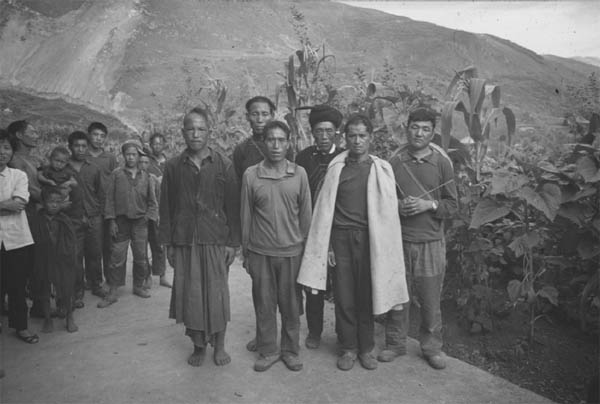 There were also differences in hiring preference depending on the type of business and the level of specialized knowledge and technical capabilities required. For example, a Nuosu entrepreneur in Meigu told us that he employed mostly Han workers in building construction because they were technically more competent and worked with greater precision. He employed Nuosu in his brickworks business, where simpler skills were required. The Nuosu owner of a large restaurant in Xide argued that she preferred to employ Han waitstaff, because she found that they were friendlier to the customers.
Segregation in the employment sector is thus not of an absolute nature. Ethnic or kinship relations alone may not be the decisive factor. Nevertheless, hiring patterns are dominated by ethnic boundaries.
Nuosu and Han also showed a preference for segregating the interest organizations that represent the entrepreneurs. Although almost two-thirds of the Nuosu (65.4%) and more than four-fifths of the Han (85.4%) would like to see the formation of an autonomous, non-state interest organization for entrepreneurs, more than a fourth of both respondent groups (Nuosu 29.0%, Han 26.2%) are in favor of segregating the organizations along ethnic lines. Respondents in both ethnic groups apparently assume that they have divergent interests that can only be formulated and represented through separated associations. In the more developed counties of Mianning and Ganluo, over 80 percent were in favor of forming an independent association and almost half wished for separate Nuosu and Han associations. Increasing economic development may be responsible for the demand to establish separate organizations; however, this view can also be interpreted as an expression of ethnic competition within a segmented cultural division of labor.
On the other hand, despite seemingly rigid ethnic boundaries, business relations can transcend ethnic lines (see Olzak 1983: 356). Existing entrepreneur organizations bring business people of both ethnic groups together, enabling them to network and increasing their cooperation with each other. This somewhat weakens the segregation between different communities and lines of business. Ethnic relations that transcend clan divisions may also arise from this process.
Opportunities for the two ethnic groups to interact are more common in urban county towns than in rural areas, which means that ethnic boundaries are more fluid in these areas. More than two-thirds of both ethnic groups in urban county town rejected the idea of establishing entrepreneurial interest associations along ethnic lines, which may be an additional indication of flexible ethnic boundaries. However, there may be multiple reasons for this opinion: people may have had mixed feelings, they may have been confused regarding government policies, or perhaps they did not perceive their statements to be contradictory.
In the commercial sphere, there is also structural segregation, especially in more developed counties, such as Ganluo and Mianning. In these counties, 60 percent of the suppliers to Han entrepreneurs were Han, and 90 percent of the purchasers were state-owned, Han-managed companies. For the Nuosu, rural and Nuosu companies made up 45.5 percent of their suppliers, and Han firms made up an additional third (31.8%). However, irrespective of the ethnicity of their suppliers, half of the Nuosu companies sold their products to Han or to state companies. In less developed counties, this trend was less conspicuous. For Han enterprises in all counties, primary suppliers and customers were mainly private Han companies and included some state enterprises that were managed by Han. For Nuosu companies, the primary suppliers and customers were mostly private Nuosu companies, but the percentage of Nuosu suppliers and customers was close to the percentage of Han suppliers and customers. However, it is important to keep in mind that the limited selection of suppliers and customers in the less developed areas can affect these choices. Our figures demonstrate that market limitations and constraints bring entrepreneurs of both ethnic groups together on the market, thus diminishing segregation in business. They also reveal that the difficulty of accumulating capital perpetuates structural inequalities and that the more the market is developed, the more segregation becomes irrelevant.
Entrepreneurs have varying levels of social interaction with each other. Large percentages of both groups (Nuosu 42.0%, Han 42.9%) regularly have contact with other entrepreneurs, which may indicate that communication between entrepreneurs of both ethnic groups has increased, presumably initially among larger and better-educated business people. Entrepreneurial organizations also foster inter-ethnic interaction of Nuosu and Han entrepreneurs.
On the other hand, nearly half of the Nuosu (41.7%) and one-third of the Han (33.3%) never or rarely have any form of contact with other entrepreneurs, regardless of ethnicity. Still, 66.7 percent of the Han and 58.3 percent of the Nuosu stated that they had regular business or other types of relations with entrepreneurs from both groups. Such high percentages indicate that the spheres of business, ethnic, and kinship relationships are increasingly overlapping each other. More and more entrepreneurs have realized that contacts with entrepreneurs of other ethnic groups can give them access to information and networks otherwise unavailable to them in their own surroundings. However, there are still exceptions. In Ganluo and Mianning, not a single Han entrepreneur regularly communicated with Nuosu entrepreneurs. In contrast, Nuosu entrepreneurs had regular exchanges with both groups; 31 percent of the Han only interacted with other Han, while only 23.5 percent of the Nuosu had exclusively Nuosu business dealings. At the other extreme, only a single Han entrepreneur primarily interacted with Nuosu colleagues, in contrast to 19.8 percent of Nuosu entrepreneurs who primarily interacted with Han. This either indicates that Nuosu are more open-minded than a large percentage of Han, who are not interested in fostering contacts with Nuosu entrepreneurs, or that Nuosu simply have to interact with Han if they want to form business networks.
ETHNIC BOUNDARIES AND ETHNIC COMPETITION
In the past, the Nuosu were economically disadvantaged compared to the Han. In this respect, nothing has changed; the higher the percentage of Nuosu in a county population, the greater the poverty and the lower the incomes in that county. This is true even in Meigu, which has the highest percentage of Nuosu and had a higher economic performance than Butuo or Jinyang in recent years. Although it has been two decades since the government first authorized the establishment of private businesses, it has still not been possible to significantly increase the proportion of Nuosu who own companies in the private sector. They amounted to merely 9.2 percent in 1999. While the percentage of Nuosu in the private sector is higher in counties with a Nuosu majority, it is still much lower than the percentage of Nuosu within the population. For instance, in Zhaojue, where 97 percent of the population is Nuosu, only 45 percent of the individual firm owners are Nuosu. Since Han mostly employ other Han, in counties with a Nuosu majority, only a small percentage of Nuosu employees have found work in the private sector.
In Liangshan Prefecture, what we have termed a "cultural division of labor" is clearly recognizable. This term refers to the fact that businesses in the larger sectors of private industry are almost always run by Han, whereas Nuosu are more limited to businesses in the tertiary sector. In some areas, the percentage of Nuosu in the larger business sectors (construction, mining, and manufacturing) is significantly below 5 percent; in the tertiary sector (trade, catering, and services) it is a little over 10 percent. This suggests that Han entrepreneurs mostly run lines of business that require larger investments, more human capital and skills, and also generate larger profits. A larger percentage of Nuosu run small firms in the tertiary sector, which require fewer resources.
Ethnic competition is expressed in the close cooperation between certain Nuosu cadres and Nuosu entrepreneurs, who are attempting to utilize ethnic resources to counterbalance discrimination. This cooperation takes different forms; for example, the local authorities may give preference to Nuosu entrepreneurs by granting them advantages or by imposing special levies on Han entrepreneurs, especially on those who have migrated into the area.
One of the Nuosu entrepreneurs' most important resources is their home court advantage. Clan relationships, networks, and shared ethnicity facilitate company management and business relations—at least up to the prefectural level. Nuosu entrepreneurs also use any advantage they have in the competition for rights, privileges, and resources. These include Party membership, previous cadre positions, and activities such as serving as deputies of the People's Congresses or of the Political Consultative Conferences. Correspondingly, Nuosu participate differently in politics than Han do. Nuosu entrepreneurs try to solve problems by using their relationships and networks, whereas Han will use other methods such as making donations to officials. Because Han are the ethnic majority in China, open and direct discrimination against Han entrepreneurs might lead to intervention from the prefectural or provincial authorities. Nuosu entrepreneurs and cadres thus use subtle strategies for exerting political pressure or securing advantages over the Han. That Han entrepreneurs are more involved in the Sichuan Trade Union Association may be connected with this set of problems; if they are discriminated against in local areas, Han entrepreneurs may exert direct political pressure through the trade union.
Differing economic behaviors and different concepts of social and local obligations thus maintain ethnic boundaries despite the effects of social transformations. Many of the Nuosu entrepreneurs choose to become entrepreneurs due to blocked prospects of upward mobility because of their family status; as members of the former upper strata their path to social ascent was blocked or impeded due to political and cultural changes. This continues to create social barriers for Nuosu. Han and Nuosu entrepreneurs also have completely different collective memories and images. To the Han entrepreneurs, the Nuosu have risen from a backward-looking, slave-owning society and are primitive; most of the Nuosu entrepreneurs feel the Han are egocentric and ignorant and take no interest in Nuosu culture and development. Such sentiments arise partly due to the fact that many Han entrepreneurs only go to Liangshan to take advantage of the market opportunities there.
Ethnic boundaries are by no means only defined by actual or perceived cultural characteristics. Frederik Barth has stated that the ethnic boundaries that define a group are, ". . . of course social boundaries" (1981: 204). Very often, social differences merge with ethnic differences within people's consciousness to create ethnic boundaries. Some examples of social differences are disparities in educational level, differences in degrees of poverty and in living standards, or even differences in the motivations for becoming self-employed. The main motivation for Nuosu is the desire to increase their income and standard of living; Han, in contrast, aim for self-fulfillment. However, some differences undoubtedly have a social background and not an ethnic one, such as Han entrepreneurs' generally higher qualifications and level of specialized skills or knowledge. Thus, ethnic boundaries are caused by the perception of inequality in the Nuosu consciousness and by the perception of superiority in the consciousness of the Han.
In many respects, Nuosu and Han entrepreneurs develop the same or similar attitudes due to their focus on entrepreneurship; their thinking is not always ethnically influenced. Both groups desire a greater degree of economic and entrepreneurial liberty, both are of the opinion that entrepreneurs have to cooperate with each other and take part in politics in order to further their own interests, and both believe that a non-state organization is necessary for representing their interests. Both are dissatisfied with local government behavior toward their firms, albeit to differing degrees. In addition, there are major similarities in their life goals and attitudes as well as in their assessments of entrepreneurs' economic, social, and political positions in society. Both groups feel guanxi are important for economic success.
The market, in an economic sense, and activities in urban areas place entrepreneurs in situations with stronger communication contexts. The state has also promoted a form of integration that transcends ethnicity by making membership in the associations for entrepreneurs compulsory. This endeavor is emphasized by the fact that the most important entrepreneurial association, the Federation of Industry and Commerce, is subordinated to the Party's United Front Departments, which are responsible for integrating social, economic, and intellectual elites outside the Party. Of course, in counties officially below the poverty line, the ability of these associations to fulfill these tasks adequately is limited.
Though many entrepreneurs admit that the Federation of Industry and Commerce brings Nuosu and Han entrepreneurs into closer contact, in particular, business contacts appear to be developing in areas where Han and Nuosu live intermingled. However, only a few entrepreneurs were able to provide examples of close and trusting cooperation. This is also true for relationships between Han entrepreneurs and Nuosu officials. One of the exceptions is a Han owner of a copper mine in Zhaojue who has developed a close relationship with the local authorities. He primarily employs Nuosu workers, his vice-director is a Nuosu who has close contacts to local cadres, and he regularly invites a bimo to clear his factory of evil spirits. The Chairman of the Federation of Industry and Commerce of Zhaojue commented on his business, "Employing mainly Yi workers and respecting local Yi customs has given him recognition as well as many advantages from local officials and among the local Yi. Neither local cadres nor the local people give him any trouble."4
In summary, there exists a distinct "us-and-them" dichotomy between Nuosu and Han, as well as barriers based on prejudices and stereotypes. A cultural division of labor between Nuosu and Han entrepreneurs creates new ethnic tensions due to market competition. Han entrepreneurs believe they are locally disadvantaged and discriminated against; such negative perceptions affect their business lives and commercial contacts, thus intensifying their resentment of Nuosu. Among Nuosu entrepreneurs, ethnic resentments have developed along different lines. Nuosu feel they are discriminated against in translocal markets. They do not perceive discrimination by locally established (Han) industrial enterprises, in employment practices, in appointment procedures for Nuosu officials, or on the basis of cultural activities or ethnic customs. Although Yi entrepreneurship undoubtedly contributes to increased equality, the increasing ethnic resentment over access to markets, acquisition of local resources, economic competition, and various forms of segregation are significant factors affecting entrepreneurship.