4
MIGRATION FROM THE MARGINS

Increasing Outward Migration for Work
Export one person and pull one household out of poverty. Export a team of people and pull an entire region forward. [Shuchu yi ren, tuopin yi hu, shuchu yi pi, daidong yi fang.]
—Quoted in Yang Yuhua, Nujiang News, October 26, 2006
The move was not only in space, but in time and mind as well.
—Weber 2007 (1976): 218
The treacherous road that connects the Gongshan county town with Dulongjiang, Gongshan's poorest and most isolated township, was completed only in 1999 and at significant cost: approximately ¥120 million. Prior to the road's construction, Dulongjiang was very difficult to access and could be reached only by trekking for two to three days along dangerous mountain paths. According to the Nujiang Prefecture Labor and Social Guarantee Bureau (Nujiang Zhou Laodong He Shehui Baozhang Ju) (2008), in September 2008, nineteen farmers from Dulongjiang were among a group of twenty-one Gongshan farmers who participated in a formal labor export (laowu shuchu) program to Dongguan City, Guangdong Province. This appears to have been one of the first reported cases of labor export from Dulongjiang.
One mode of labor export in China involves rural governments actively organizing the export of teams of surplus rural workers to off-farm work assignments in urban and other rural areas. Dongguan is one of the biggest economic success stories of China's reform era. As one of China's largest centers for manufacturing, it is a key destination for rural migrants seeking better work and income opportunities in China's coastal region. These migrants generally take up low-skilled production-line work in highly regimented factory environments, very different from the work of Dulongjiang's subsistence farmers. The new road is not only improving the transportation of goods and services into and out of Dulongjiang; in conjunction with education, land reform, and labor programs, it is also facilitating the insertion of Dulongjiang's surplus rural labor into the coastal, low-skilled industrial work regimes that sustain China's economy.
Temporary rural-to-urban migration for work has been a defining feature of China's reform era. China's rapid economic development has been fueled largely by the tens of millions of surplus rural workers who migrate to urban areas each year to undertake low-skilled industrial work. Importantly, these workers have not only helped to stimulate urban industrial expansion; they have also contributed to the social and economic transformation of China's rural hinterlands (Murphy 2002). Nevertheless, until recently, the Gongshan population has been excluded from the outward migration phenomenon. Obstacles included poorly developed transport and communication infrastructure and low levels of education and fluency in standard Chinese among Gongshan's ethnic minority population. The subsistence-based livelihoods of Gongshan's local population also presented a major obstacle to outward migration.
This situation is beginning to change. The example of the nineteen Dulongjiang farmers who temporarily migrated to Dongguan suggests that local livelihoods are becoming increasingly defined by external economic forces associated with the encroaching market economy. As the opening epigraph from the Nujiang News (Nujiang bao) illustrates, in recent years, the Gongshan and Nujiang governments have identified outward migration for work via labor export as a key vehicle for developing the local economy. These governing authorities argue that labor export will raise rural incomes, improve the skill set and psychological disposition of the local population, and contribute to the development of the local economy. In other parts of rural China, the financial remittances made by urban-based rural migrants have become critically important to the development of local rural economies. In this regard, labor export has been recognized as a factor that will contribute to resolving the "Nujiang issue." While labor export participation rates were very low at the beginning of the 2000s, participation has expanded in recent years. Participation rates will increase even further in the next five to ten years as government development programs, such as strict enforcement of free nine-year compulsory education, expand the proportion of the population that is eligible for labor export. Labor export also presents local governing authorities with an enticing mechanism for dealing with the significant population displacement that will result from dam construction along the Nu River.
Increasing outward migration from communities such as Gongshan represents the culmination of a much larger social engineering project of China's central governing authorities, to which the schooling programs also contribute: the transformation of so-called low-quality, unproductive subsistence farmers into higher-quality, productive industrial workers who can contribute to the development of the national economy. The everyday reality of migration, however, will present new and complex challenges for the Gongshan population. Rural-to-urban migration promises rural youth an opportunity to "see the outside world," improve their skills and knowledge, and alleviate household poverty. However, the dreams and aspirations of these young people are often dashed by the realities of exploitative urban work regimes that are premised upon the devaluation of rural life.
CHINA
'
S RURAL MIGRANTS
During the reform era, the increased flow of economic migrants within and among China's provinces has been a major economic and social phenomenon. This relatively free flow of surplus rural labor has provided state and nonstate enterprises with an abundant source of cheap, flexible labor and has been a key factor behind China's highly successful manufacturing economy. Furthermore, both central and local governments regard migration as a strategic mechanism for raising the overall skill level and suzhi of the rural population and for stimulating development in otherwise economically underdeveloped rural areas (Murphy 2002).
According to one official estimate, by 2010 the total rural migrant population had reached 160 million (Xinhua News Agency, March 1, 2011). These rural migrants make up the majority of a larger demographic group officially known as the "mobile population" (liudong renkou). By 2010, the size of this mobile population had reached an estimated 221 million, whereas in 1993 this group had numbered 80 million (ibid.; Sun 2000).1
The mobile population is, as noted, a phenomenon of the reform era. During the Maoist era (1949–76), particularly after the establishment of the household registration (hukou) system in 1958, internal population mobility was severely restricted through rigorously enforced central government policy. Any movements that took place during the Maoist era were generally enforced by the state. In contrast, the large population movements of the reform era have been largely voluntary. That is, individual households have decided that there are better work and income opportunities in urban areas. There are many factors that motivate rural residents to move; they can be broadly summarized as "push" and "pull" factors. Push factors include high unemployment, poor income opportunities, excessive fees and taxes, government appropriation of agricultural land for local development, the implementation of conservation programs such as the Sloping Land Conversion Program in rural areas, and the desire, particularly among young people, to see the world outside the farm. Pull factors include the increasing autonomy of urban firms, the partial dismantling of household registration and grain-rationing systems, and the growing economic and employment opportunities in towns and cities, particularly along China's coast.
During the Maoist era, the household registration policy virtually eliminated voluntary rural-to-urban migration.2 Household registration is assigned at birth. Those living in rural areas are assigned rural registration, while those in cities are assigned urban registration. Registration traditionally has been very difficult to change, and rural migrants were unable to survive in the city without urban registration. A strict state-controlled rationing regime, the "fixed labor system" (which virtually guaranteed state employment for all urbanites and urbanites only), and an absence of open food markets (food was procured by work unit–issued ration tickets) meant that only those with urban registration were able to access state-allocated work, housing, medical care, education, and food. Rural communities were expected to be self-sufficient.
However, during the reform era, this situation changed. Two key changes meant that rural migrants could find work in urban areas and purchase the goods needed for daily sustenance, even if they were unable to acquire urban registration and its associated fringe benefits. These changes were the emergence of produce markets at which farmers could sell surplus produce, and changes to urban labor allocation.
In 1986, the State Council introduced a new contract labor system, issuing regulations that allowed urban firms to be responsible for whom they hired. This brought an end to China's long-standing fixed labor system (Lei 2001: 484–85). The new system was intended to end the historically inefficient "iron rice bowl" system and to create greater efficiency in state industry. By the mid-1990s, state managers had attained close to full autonomy regarding the employment of workers (ibid.).
These changes to state labor allocation presented employers with a new and lucrative source of cheap labor: rural migrants wanting to enter the urban job market. Rural migrants were far cheaper to employ than urban residents. Their rural household registration meant that they were not entitled to the same fringe benefits historically received by urban employees (Solinger 1999: 199). Understandably, managers from the state-owned, private, and emerging foreign sectors were keen to employ rural migrants. During the 1990s, the private sector became a significant employer of rural migrants, particularly in the boom areas along the coast (Cheng 1996: 1131). Foreign-owned companies and joint ventures in particular have been major employers of rural migrants.
China's phenomenal economic growth over the past three and a half decades has been enabled largely by the cheap, abundant, and flexible labor provided by China's rural population. As indicated, surplus rural workers are an attractive source of labor for urban employers because they are paid significantly lower wages and are allocated fewer fringe benefits than urban employees. Although rural migrant workers earn much less than their urban counterparts, they still tend to earn more than they would if they were engaged in farmwork.
The governments of poor rural areas also play a decisive role in facilitating rural-to-urban migration. Temporary rural migration to prosperous urban areas such as Shanghai and Shenzhen is actively promoted by governments at all levels as an instrument for alleviating household poverty, unleashing economic development, and raising the suzhi of the population in rural areas (Murphy 2002; Yan 2003a).3 Indeed, in response to inadequate education provision in rural China, "prosperous and bustling cities are seen as a 'comprehensive social university' [shehui zonghe daxue] in which millions of peasants can go to develop their suzhi at no cost to the state" (Yan 2003a: 501). The recent decision to provide free nine-year compulsory education in rural China suggests an adjustment to this equation, namely, the cultivation of a new generation of enhanced rural migrant workers for China's urban work regimes.
Paradoxically, whereas school-based texts, as well as official and popular population-quality narratives, represent urban China as a place where rural people can raise their quality and achieve upward social and economic mobility, rural-to-urban migration is premised to a large degree upon the devaluation of rural people (Anagnost 2004). The reality of urban life for the majority of rural migrant workers is characterized by social discrimination, anxiety, and economic exploitation (Gaetano and Jacka 2004; Pun 2005). Even when physically displaced from rural China, migrants are still regarded as low-quality subjects. Rural migrants take the jobs deemed undesirable by urbanites and are not accorded equal social status.
We would expect the experience of ethnic minority migrants to be even more difficult. China's ethnic minorities are among the most devalued members of Chinese society, with official narratives continuing to present them as less advanced and of lower quality than the Han population.4 Ethnic minority rural migrants are also likely to come from more economically disadvantaged areas of the country and to have lower levels of education than do Han rural migrants. Here a case study undertaken in 2007 of the migration experience of Yi rural migrants who temporarily traveled to work assignments both within and beyond their native Sichuan adds some much-needed texture to our understanding of the experience of ethnic minority rural migrants (Monteil and Vermander n.d.). The Yi migrants involved in the study were generally undertaking menial, comparatively low-paid work assignments. Nevertheless, they did not perceive themselves to be discriminated against while temporarily living and working in an urban context. Furthermore, they often held a positive view of the Han people with whom they engaged.
The Impacts of Rural-to-Urban Migration on Migrant-Sending Areas
The mobile population has had a dramatic effect on China's social and economic landscape, not only providing urban industry with a continuing source of cheap, flexible labor, but also helping to raise income levels and stimulate economic activity in rural areas. Official labor export programs constitute a core element of the rural-to-urban migration phenomenon. Labor export is particularly valued by poor inland areas, where it has at times been identified as the main vehicle for local economic development (Lei 2005: 360).
Migration is not solely an economic phenomenon, and research from other parts of rural China provides some indicators of how Gongshan's social fabric may be affected by increasing rural-to-urban migration in the years ahead (see Lee 1998; Murphy 2002; Gaetano 2004).5 For example, some evidence suggests that a transforming rural habitus also affects the decision to migrate.6 That is to say, migration has altered the rural social environment and has contributed to instilling a new set of values and dispositions among the population: "The culture of migration means that children grow up expecting to spend part of their lives in the cities, and young villagers who do not migrate are derided by their peers for being unadventurous and without ability" (Murphy 2002: 21).7 In a similar vein, the romanticized stories of urban life told by fellow villagers returning from Shenzhen in the 1990s powerfully influenced the desires of younger cohorts of women to temporarily migrate to southern China (Lee 1998: 81). Factory work in Shenzhen not only promised rural youth high wages; it also offered them "an expanded horizon of modernity" whereby they had the opportunity to enjoy reprieve from familial obligations in a clean, modern, and exciting urban environment that was the antithesis of rural life (ibid.: 8). Even though young female migrants were subject to a high degree of discrimination in Shenzhen's factory-based work regimes, factory life still offered an attractive alternative to a life of rural idleness and boredom (ibid.).
However, much of the literature on migration focuses on the experience of Han rural migrants and Han migrant-sending areas. The realities for ethnic minority migrants who return to their community following a migration experience can be somewhat different. The case study of the outward migration experience of Yi farmers from Liangshan Prefecture in Sichuan suggests that the skills and knowledge attained through migration were not always transferable back to migrants' native rural context, and that migration served primarily as a means to see the outside world and satisfy short-term needs rather than as a long-term strategy to ensure future economic prosperity. A notable exception to this trend was parents or relatives who migrated so they could earn money to pay the education costs of children and relatives back home (Monteil and Vermander n.d.). One possible explanation for this is that ethnic minorities tend to live in more remote, mountainous areas of the country, areas that are less enmeshed in the broader industrial economy and have lower demand for nonagricultural skills and knowledge. Thus, when an ethnic minority migrant returns to a rural context, the skills and knowledge attained during the outward migration experience would tend to offer less utility to him or her than they would to a Han migrant.
THE STORY OF OUTWARD MIGRATION FOR WORK IN GONGSHAN
:
OLD BARRIERS AND NEW GATEWAYS
In recent years, temporary migration for work out of Gongshan has expanded, and the county is now at the precipice of a significant transformation, wherein a much higher proportion of the local population will engage in temporary outward migration for work.
Old Barriers
Although rural-to-urban migration has been a major phenomenon of the reform era, temporary outward migration for work from Gongshan has been very limited.8 Gongshan was relatively cut off from the rest of the economy, and community members had no external benchmarks against which to measure their own standards of living. Indeed, even in 2006, it was not uncommon to meet people who had not traveled beyond Gong-shan's county border. Most of the population have lived as subsistence farmers, relying on local natural resources for survival. There have been limited reasons to undertake travel.
Transport costs for travel out of Nujiang is one of the main barriers to potential migrants. The cost of travel from Gongshan to a major migrant-receiving area is at least ¥500.9 This is a major financial expense in an area where the 2008 average rural per capita cash income was only ¥1,064. A recently returned female migrant informed me that she had paid a total of approximately ¥1,400—equivalent to more than 130 percent of Gongshan's rural per capita cash income—for the return journey to Gongshan from Jiangsu Province (in China's east). She was able to pay these expenses with money given to her by her father (field notes, October 3, 2006).
Interviews conducted with local farmers in 2005–06 suggest that a more significant factor affecting their decision to migrate out of Nujiang for work, as well as to engage in local off-farm work, is the way that they have been treated by former employers both within and outside Gongshan. These farmers reported that they often were not paid by employers after engaging in off-farm activities such as working on road-building teams. According to their accounts, it was common practice for local contracts to be awarded to outside construction contractors. Once the contract was completed, however, the contractor would often flee Gongshan without paying the workers. Informants also said that they knew of people who had suffered a similar fate outside Nujiang. A local farmer remarked: "It's not easy for us to go out. It seems like all of the bosses [outside] are cheats [pianren]. It's pretty much the same in the county town. The bosses that come in from outside are cheats" (ibid.). These experiences appeared to play a powerful role in shaping local attitudes toward outward migration for work, even among those people not engaged in outward migration. A local village leader explained: "Some people go out to work, but they come back without being paid. The boss didn't pay them. This is why [other] people don't go out to work" (ibid.).
These experiences also demonstrate the financial risks associated with outward migration for work for members of the local population. If farmers go unpaid after engaging in work either within or outside Gongshan, they forego income that could have been earned by undertaking other activities, such as farming. Furthermore, the migration experience is a considerable financial loss if farmers go unpaid after engaging in off-farm work but have also paid for transport costs out of Gongshan or Nujiang. Local work activities might not be very lucrative, but they are low cost and low risk. Many of Gongshan's subsistence-based rural households have very low, unstable cash incomes; they are therefore unable to risk absorbing a large financial loss. In this regard, government-organized labor export programs are presented to the local population as a less risky method of migration. However, even these organized programs can expose Gongshan residents to a high degree of financial risk.
The greatest barriers to migration out of Gongshan are low educational levels and the inability to converse fluently in standard Chinese. The literacy rate among the local rural adult population is low; in some villagers visited by the author, few, if any, of the local farmers spoke standard Chinese. Without standard Chinese, finding and successfully engaging in off-farm work are virtually impossible, particularly outside Gongshan.
New Gateways
The Nujiang and Gongshan governments have recently identified temporary rural-to-urban migration as a means to alleviate household poverty, unleash economic development, and socially reengineer the local population. Local governing authorities in Nujiang and Gongshan are encouraging farmers to reduce their dependence on subsistence agriculture and to actively engage with the off-farm work economy. A 2006 household survey suggests that most parents recognize the utility of education, particularly its role in improving their children's prospects in the off-farm work market.10 These parents identified education and the ability to converse in standard Chinese as important prerequisites for engaging in off-farm work. Education was viewed as a platform for not only accessing better off-farm work opportunities, such as entry into the comparatively well-paid local public service, but also for performing the day-to-day practical tasks associated with the commercial economy, such as calculating business transactions and reading signs and advertisements.
The SLCP is another factor affecting labor mobility in Gongshan. While 83 percent of Gongshan's population is officially classified as engaging in agriculture, the amount of household labor actually allocated to agricultural production declined dramatically following the implementation of the SLCP in 2002.
Recent improvements to transport and communication infrastructure also facilitate labor mobility out of Gongshan. The central government has invested heavily in transport and communication infrastructure in Gongshan, as exemplified by the Dulongjiang Road, which was not built until 1999 but now connects Dulongjiang to the rest of the county, and to China.
In recent years, several new labor-oriented government development programs have provided a formal vehicle for migration out of Gongshan. Labor export and "work-study" are prominent among these programs.
Labor Export Programs
Nujiang Prefecture's Eleventh Five-Year Plan for Economic and Social Development, published in the Nujiang News (cited in He Daguang, January 24, 2006), states: "By 2010 one quarter of the prefecture's rural labor force will be engaging in labor export programs . . . this will contribute to the promotion of rural enterprises [daidong xiangzhen qiye] and the development of small towns [in Nujiang]." Labor export has been highlighted as a key driver for resolving the "Nujiang issue" (He Shizhong, July 4, 2007). At the same time, labor export is a major component of a larger social engineering policy known as rural labor transfer (nongcun laodongli zhuanyi). As the name suggests, rural labor transfer involves shifting surplus rural labor into off-farm work. This transfer can take place locally or can involve temporary migration to work assignments in other provinces and countries. It offers significant financial incentives. For example, information provided by officials at the Gongshan County Labor Bureau (Gongshan Xian Renshi Laodong Ju) indicated that local farmers participating in a 2006 labor export program to Shenzhen were earning more than ¥900 per month (field notes, October 9, 2006), which was roughly equivalent to what they would have normally earned over an entire year back in Gongshan.
Gongshan's rural labor transfer participation rate is gradually increasing, according to official policy documents and anecdotal accounts. However, participation is advancing from a very low base due to relatively low levels of literacy and capacity to converse in standard Chinese. It is difficult to verify an accurate figure for the total number of Gongshan residents currently taking part in rural labor transfer programs, including labor export. What is clear is that the participation rate is significantly lower in Gongshan than in Nujiang's other three counties, Fugong, Lanping, and Lushui. According to the Gongshan County Labor Bureau (ibid.), they have been organizing teams of Gongshan farmers for local off-farm work assignments since at least 1998. Participation rates in labor export programs have been increasing steadily since 2004. In that year, the Gongshan County Labor Bureau assisted with the export of more than twenty farmers to work assignments beyond the prefectural border. Official statistics published in the Nujiang News suggest that at least 469 Gongshan residents took part in formal rural labor transfer programs in 2006, although it is unclear how many of these farmers were exported to work assignments outside Gongshan (Yang Yuhua, October 26, 2006). In April 2007, an article in the Nujiang News described how a rural migrant working in a factory in Fujian transferred ¥500 back to his hometown relatives in Puladi township so they would have money for Chinese New Year celebrations (Yang Yuhua, April 2, 2007). Puladi is one of the five townships that constitute Gongshan, and the rural migrant was one of fifty-six villagers whom the Puladi township government had sent to a Fujian factory as part of a formal labor export program. According to the article, the Puladi township government has identified labor export to provinces such as Fujian as an avenue for raising local household incomes. According to officials at the Gongshan County Labor Bureau, in 2007 they assisted with the export of 142 locals to workplaces in Fujian, Guangdong, Kunming, and Shenzhen.
An official report published by the Gongshan Agricultural Bureau (Gongshan Xian Nongye Ju) (2009) indicates that in 2008 Gongshan organized the export of 1,624 people, which represented 54 percent of the target set for that year. Of these, 199 were working outside Yunnan (shengwai shuchu) and 254 were working in other areas of Yunnan (shengnei shuchu), while 1,171 were transferred to off-farm work assignments within their home township (kuaxiang shuchu). These figures do not account for migration that has taken place outside official channels.
An official from the Gongshan County Labor Bureau outlined the following selection criteria that applicants were required to meet in order to be accepted into labor export programs: they had to (1) hold a junior high school diploma; (2) pass a health examination; and (3) be between eighteen and twenty-five years of age. Official compliance with these criteria was not always rigorously enforced, and the same official indicated that some of the labor export program participants had completed only a primary school education. Nevertheless, the official emphasized that literacy and the ability to speak standard Chinese were still essential prerequisites for engaging in labor export and that participants still had to satisfy these selection criteria to gain acceptance into the programs (field interview, October 9, 2006).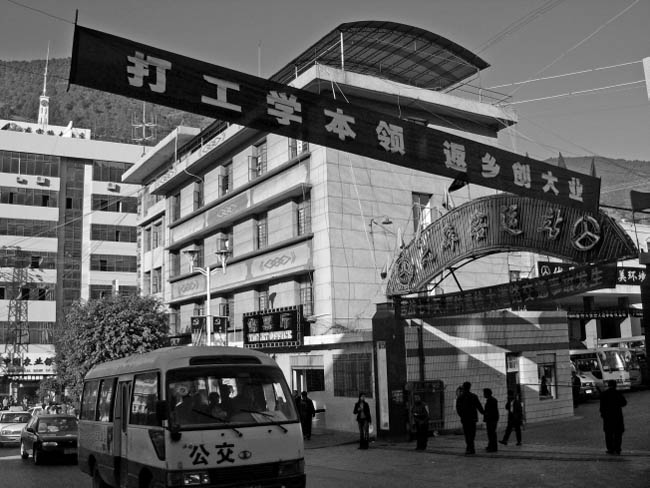 While the proportion of Gongshan residents currently taking part in outward migration for work is still low, it is likely to grow significantly in the coming years as increased high school retention rates expand the pool of residents eligible for labor export programs.
In Nujiang, government-organized labor export is as much about social engineering as it is about economics. Aside from generating higher incomes, the governing authorities clearly want to foster values such as competition and self-discipline among the rural population.11 These values are regarded as essential attributes for successful engagement with China's increasingly marketized economy, as demonstrated by a 2006 Nujiang News article, "Labor Export Becomes a Bright New Platform for Increasing the Income of the Prefecture's Rural Population" (Yang Yuhua, October 26, 2006): "Exporting rural labor will not only move more of the prefecture's surplus rural labor into employment, increase rural incomes, and speed up poverty alleviation; it will raise the quality of rural migrants, expand their minds, and change their outlook." Furthermore, according to a Nujiang government draft discussion paper, the export of rural labor out of Nujiang is "a way of increasing farmer income, promoting local economic development, [and] maintaining social stability . . . [and is] a major scheme for creating a harmonious society" (Anonymous 2006: 1).12 This paper outlines some of the principles that personnel should adhere to when implementing the scheme among the local population: "Promote a change of thinking, establish a new career-minded consciousness [shuli xin de zeye yishi], strengthen the concept of the market [qianghua shichang guannian], [and] nurture a hardworking spirit [peiyang chiku naidong jingshen]." This last principle is significant in the context of Nujiang's largely ethnic minority population. Among China's majority Han population's stereotypes about the ethnic minority population is the belief that ethnic minority people are lazy and unproductive. To this end, labor export is seen by governing authorities as another means to remedy these perceived negative traits.
Official statements such as this do not account for the trauma and dislocation often associated with rural-to-urban migration. For example, one of its consequences is that one or both parents are away from the rural family home for an extended period of time, leaving children in the care of a single parent or grandparents. This can place tremendous physical and psychological strain on household members who remain in the countryside. Women who stay behind often suffer the greatest burden, having to single-handedly manage farmwork, raise children, and care for the husband's parents.
Several high-profile local government officials have made public comments that reflect the new expectations projected upon the Nujiang population. These comments imply that local parents and government officials increasingly recognize the utility of education and its role in improving population quality and improving off-farm employment prospects. Yang Yunhui, a China Education News (Zhongguo jiaoyu bao) journalist, asked a Dulongjiang township official: "Why must compulsory education be introduced?" The official replied: "The Dulong ethnic minority group is one of China's fifty-six ethnic groups. If the Dulong do not develop, do not increase their quality, then we will trail further behind other ethnic minority groups" (Yang, July 9, 2007). Similarly, Wang Lixin, Dulongjiang township leader, states: "If children do not study, then when they go to work for a boss in the future, they will earn less money. The Dulong people believe this; thereupon they have brought their children to school" (ibid.). These comments gesture toward the transformation of local life in Gongshan. Local farmers are no longer regarded by officials as subsistence farmers reliant on government subsidies and cut off from the broader economy. Rather, they are increasingly regarded as "autonomous," "neoliberal" subjects, expected to respond and adapt to the value system that underpins this economy. Central to this system is the privileging of formal Chinese language–based education and nonagricultural skills and knowledge and the devaluing of agricultural livelihoods, with the traditional subsistence-based agricultural livelihoods of ethnic minority people living in marginal mountainous areas such as Nujiang being particularly devalued. Of course, not all Dulong parents subscribe to this value system, but the Nujiang and Gongshan governments are very keen to push the local population away from traditional agricultural livelihoods and toward off-farm work, and they recognize that out-migration both requires and will instill a new value system.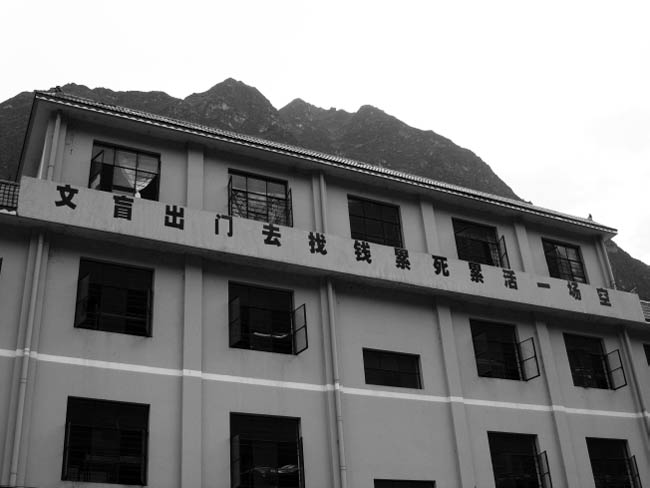 The Work-Study Poverty Alleviation Program
A new migration initiative, the Work-Study Poverty Alleviation Program (Gongxue Fupin Xingdong), was launched in the late 2000s. This program runs parallel to the labor export program. Rather than simply exporting surplus rural labor to urban-based job assignments, the new Beijing-based program is designed to augment the vocational skills of participants while they undertake urban-based work assignments. A Gongshan County Labor Bureau official described the program as a "vocational qualification expansion project" (zige kaifa de yi ge xiangmu) (field notes, January 23, 2008). Upon graduation, students are awarded two qualifications: a National Adult Education Graduation Certificate (Guojia Chengren Xueli de Biye Zhengshu) and a National Vocational Qualification Certificate (Guojia Zhiye Zige Zhengshu). According to the program flyer, these qualifications will greatly improve participants' competitiveness in the rural migrant employment market in urban areas. There is some legitimacy to these claims: the technical qualifications attained through the program will reduce the likelihood of rural migrants from areas such as Gongshan working in the very low-skilled, and particularly exploitative, work assignments at the lowest end of the off-farm work market.
According to the Gongshan County Labor Bureau, those accepted into the program study for three to four years at the Beijing Western-Region High-Level Vocational Institute (Beijing Xibu Gaoji Zhiye Xueyuan). Although students do not pay any fees, they are required to work while they study (as is indicated by the program's name). Following graduation, they can seek full-time work in Beijing based upon the recommendation (tuijian jiuye) of the institute.
In September 2007, the Gongshan County Labor Bureau sent eighty-five students to the institute. Students were between sixteen and twenty-five years. Prior to commencing the program, some of the students had graduated from senior high school, whereas others had only graduated from junior high school. An official from the Gongshan County Labor Bureau explained that young people from Gongshan are taking part in the program because their parents cannot afford to pay their higher education costs. The flyer highlights the program's goals: "Poor students who participate in this program will (1) learn what society requires of them; (2) find their position within society; (3) learn how to apply their knowledge; and (4) become human talent that fully meets the requirements of society. Once they receive their work-study qualifications, they will be much more competitive in the job market. Upon their graduation, their organizing work unit will allocate them a work position or assist them in starting their own business back in their village" (Yunnan Representative Office of the China Work-Study Agency n.d.).
Here we see further evidence of the social engineering agenda underpinning the central government's developmental goals for western China and ethnic minorities. Like educational programs, this program is designed to transform "lazy," "backward," "unproductive," and "low-quality" ethnic minority farmers into human talent useful to the development of the national economy. The program is intended to instill a particular set of dispositions among participants. These include competitiveness and greater self-awareness of the role they are expected to play in developing the national economy. Simultaneously, programs such as this are deeply implicated in the devaluing of rural livelihoods, reminding participants that valued members of the national economy are competitive and productive and undertake work in the off-farm sector.
STORIES BEHIND MIGRATION
I met several young people in Gongshan who had participated in outward migration for work. Some had joined officially organized labor export programs; others were involved in unofficial chain migration with relatives. Their experiences underscore the financial hazards, social dislocation, and discrimination sometimes associated with outward migration from Gongshan. At the same time, migration provides Gongshan youth with unprecedented levels of agency to achieve specific personal and family goals, such as paying for family medical expenses, attaining higher educational qualifications, building a more comfortable house, and improving marriage prospects.13 The experience of two young women, Chen and Zhang, provides insight into the motivations of those who decide to migrate out of Gongshan for work.
Chen
In October 2006, Chen was twenty-six years old and had recently returned from an outward migration for work experience to China's coastal regions. She had not participated in a formal labor export program (field notes, October 3, 2006). She had completed only four years of primary school and described herself as "illiterate" (wenmang). She was the only person in her village of ninety-eight people who had engaged in outward migration for work in recent years. In March 2006, she traveled to Jiangsu with a number of other locals, including her cousin, to work in a bag-making factory. She was able to find work in this factory because another cousin already worked there.
However, after six months, in September 2006, Chen and the cousin with whom she had left Gongshan returned to their homes because the ¥600 per month salary they were earning in the factory was too low. She spent all of this salary on living expenses while she was living in Jiangsu, and she returned to Gongshan without any money. Chen appeared to be quite ambivalent about her outward migration experience. On the one hand, she had felt the salary she was earning was too low and so she decided to return to Gongshan. On the other hand, she said that if she had the opportunity to again migrate out for work, she would do so as long as she had friends to go with her. The opportunity to earn a higher income appeared to be the main motivation behind her decision to migrate out and work. Her impression of the "outside" as compared to Nujiang was that "outside is better. There are no factories here [in Nujiang]. We can work in the factories [outside Nujiang] and make money" (ibid.).
Chen was very reluctant to speak about her outward migration experience. She was still unmarried, and it appeared that her family had pressured her to return to Gongshan. Nevertheless, this example demonstrates that although low educational levels and poverty generally act as significant barriers to outward migration for work, this is not always the case. China's migration phenomenon is not a uniform process, and it is therefore problematic to predict migration patterns based on educational level, ethnic minority status, or household income alone. Chen was from a very poor household and was illiterate, yet she was still able to engage in a cross-country migratory network. However, a key factor distinguishing her from most other members of her village was that she had a relative already working in a factory who was able to hook her into a migratory network. Without this connection, it is highly unlikely that she would have been able to migrate out of Gongshan for work. At the same time, Chen's migration experience was relatively unsuccessful, for she returned home in fewer than six months. Her low level of education would have placed her at the bottom end of the labor market, where working conditions and wages are low and insecure. If she had had a higher level of education, her outward migration experience might have been more successful.
Zhang
We encountered Zhang earlier, in chapter 3, as she headed back out to Fujian for work and in so doing circumvented the strictly enforced compulsory education program. Her first outward migration experience was in August 2006 when she left Gongshan with thirty-three other young people to undertake employment in Fujian as part of an official labor export program organized by the Puladi township government. Zhang was one of seven young female migrant workers (dagongmei) who took part in this particular program. Their experience contrasts dramatically with the positive newspaper report cited earlier, which lauded labor export programs for providing "ready-cash" with which to celebrate the Chinese New Year.
Zhang took part in the labor export program to make money to pay for her family's mounting medical costs. However, the work in Fujian did not prove to be as financially lucrative as she and the other young women had been promised, and six of the seven returned to Gongshan in October 2006. Before they had left for Fujian, they had been told by government officials that they would receive ¥1,000 per month while working in the factory. Once they arrived, they realized that the piece rate they were being paid meant that they could earn only ¥192 per month. Moreover, although the company paid for transportation to Fujian, these costs were to come out of their pay once they started working. They also would have to pay their transport fees home themselves. Rent in the factory dorms was free. But food costs (¥60 per month) were to come out of their pay. Zhang described conditions in the factory: "In the dormitory we were only provided with a straw mat to sleep on. Even though we are from the countryside, we were not used to these living conditions. . . . Surveillance cameras were also used in the factory to monitor our movements into and out of the factory. We had very little freedom" (field notes, November 9, 2006). Zhang worked in the factory for only one week. She was not paid for the work. The women were told by the factory manager that they needed to work for two months before they could receive their salary. They were not allowed to take luggage or personal items with them when they left the factory outside work hours, in order to prevent them from absconding.
According to Zhang, when she and several other female members of the Gongshan cohort told the factory manager that they wanted to leave their jobs, the manager told them that it was not possible and refused to let them access their luggage. Their only recourse was to "steal" their luggage from their rooms and throw it over the factory wall. They then walked out of the factory and collected their luggage. Their families sent them money to pay for their travel costs back to Gongshan. Thus, for Zhang and her family, outward migration for work represented a significant financial loss. This outcome was completely at odds with the positive outcomes propagated by local government and newspaper reports.
Despite what appeared to be a very negative experience, Zhang still described Fujian as a "fun" place to visit. She felt it had provided her with an opportunity to "see the outside world" and experience a life quite different from the one she experienced in Gongshan, which she described as a "very backward" (tai luohou) place. She said she would strongly consider engaging in outward migration for work again (ibid.). Consistent with research findings from other parts of China on ethnic minority labor migration (Monteil and Vermander n.d.), she also held a positive view of the Han people she had met in Fujian, stating, "Fujian people, apart from the bosses, are very nice" (field notes, November 9, 2006).
Zhang's experience highlights the psychological tensions associated with rural subjectification in contemporary China. Her experience and comments reflect the assertion that "post-Mao development has robbed the countryside of its ability to serve as a locus for rural youth to construct a meaningful identity" (Yan 2003b: 579). The devaluing of rural China through official and popular narratives, and the concomitant failure to invest in infrastructure and public services during much of the reform era, has rendered places such as Gongshan as lacking and undesirable for young people. Zhang's comment above about the difficult living conditions in the factory revealed the instability and ambivalence she felt. She stated: "Even though we are from the countryside, we were not used to these living conditions," revealing both her internalization of the dominant narrative about rural China and her ability to place her own experience of rural life "above" that narrative. But ultimately her comments revealed that she valued urban life above rural life.
THE MOBILE POPULATION AND ITS IMPACTS ON ECONOMICALLY MARGINALIZED COMMUNITIES
The free flow of labor around China has been a boon for the Chinese manufacturing economy. It also has provided much-needed income for rural households and stimulated economic activity in otherwise economically underdeveloped rural areas. However, in economically marginalized areas, a much lesser-known phenomenon—the inward migration of business migrants and workers—can displace locals from markets and jobs. Gongshan's experience with inward migration has not been entirely positive.
Increased Competition for Locals
Since the creation of the nature reserve and the subsequent logging ban, selling vegetables in the Gongshan county town has become the main source of income for many farmers. However, during household surveys conducted by the author in 2005, many local farmers complained that in recent years it had become harder for them to sell their vegetables in the local market. This was because higher-quality and competitively priced vegetables from Nujiang's neighboring prefectures (Baoshan and Xiaguan) were being supplied to outside migrants who had established themselves in Gongshan's markets. Baoshan and Xiaguan have more fertile and productive land than Gongshan. When farmers were asked what it was like to sell their homegrown produce in the local market compared to five years ago, a common response was "It was better before. We can't compete with the outsiders who [now] come in and sell" (household surveys, July 2005).
High start-up costs and limited networks with businesses and relatives outside the prefecture appear to be preventing local farmers from taking advantage of Nujiang's gradual economic expansion. A survey conducted in Gongshan's main vegetable and meat market in October 2006 found that at least 72 percent of permanent market sellers were from outside Nujiang (market surveys, October 2006). While local farmers can sell their vegetables at temporary stalls within the market, high start-up and ongoing management costs prevent them from establishing permanent stalls.
New Opportunities for Outsiders with the Right Skills and Resources
When compared to business start-up costs in more economically developed areas of the country, those in Gongshan are much lower. This factor, combined with the relatively underdeveloped and "untapped" nature of the local economy, makes Gongshan an attractive destination for some outside business migrants. A family from Zhejiang (a wealthy province on China's east coast) runs a print shop on the county town's main street. By their own account, these migrants were attracted to Gongshan for the above-mentioned reasons, and their experience provides a useful insight into the motivations of outside migrants doing business in Gongshan. A member of the family explained why they had made the decision to migrate to Gongshan: "The people here are very backward. They don't understand this type of technology [printing]. In Zhejiang, this type of business is already very backward. You can't make money back there doing this type of business. . . . The people here don't have an economic mind [jingji naozi]. They are very lazy. If it wasn't for the 'mobile population,' this place wouldn't have developed. . . . You look, the government gives the people here so much!" (field notes, October 1, 2006).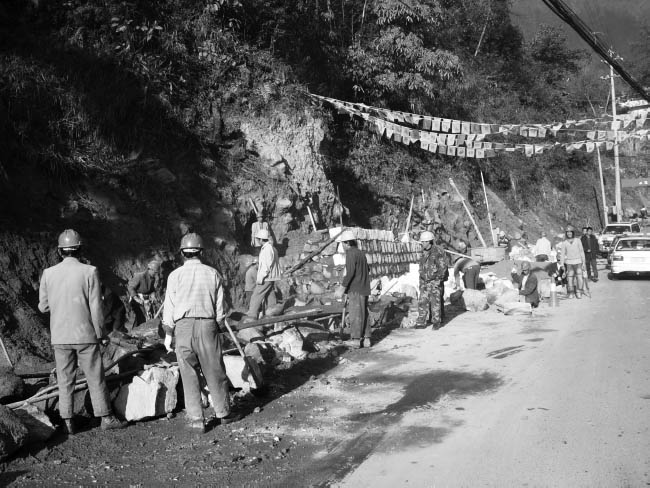 The informant said that doing business in Gongshan was quite good—"zheli hai keyi." Like the female informant introduced in the previous section who had migrated to Jiangsu for work, this family's migratory experience demonstrates that in China migration is a nuanced and individual phenomenon. While for many locals Gongshan offers little in the way of work or business opportunities, there are attractive opportunities for those outside migrants who are able to offer the right niche skill or product.
Despite government efforts to move the local population away from agricultural work and toward off-farm work assignments, the local ethnic minority population still faces a high degree of discrimination in the local off-farm work environment, as is demonstrated by my interview with a construction team leader supervising a project in Gongshan in December 2006. The construction team, which was composed of fifty-six workers, including the team leader, was constructing a large retaining wall beside the road that dissects the county town (see fig. 4.3). The wall was intended to prevent landslides. All of the workers, including the team leader, were farmers who had temporarily migrated from Xiangyun County, Dali Prefecture. They arrived in Gongshan on November 1, 2006, and planned to stay until Chinese New Year (early 2007). According to the team leader, the workers were paid more than ¥20 per day, but the amount varied according to their positions. The team leader explained why he did not employ local farmers to undertake this type of work: "They are Lisu and Nu. They like drinking and don't work. If they are drunk and then work, they will fall over. You go to any of their houses and it's always the same. They're always drinking. Haven't you been to their houses [and seen for yourself]?" (field notes, December 6, 2006).
The team leader was not making a blanket claim about ethnic minorities, but was referring specifically to local ethnic minority groups. According to my research assistant, another reason bosses prefer to employ outsiders is that many of Gongshan's locals are Christian and rest on Sundays. If a boss wants a job finished quickly, he or she will expect workers to work seven days a week.14
CONCLUSION
Until quite recently, the Gongshan population was largely removed from the rural-to-urban migration phenomenon. Geographical isolation combined with low levels of education and proficiency in standard Chinese were formidable barriers to outward migration. Furthermore, livelihoods in Gongshan were defined largely by local conditions. The local population historically have subsisted via a combination of farming, hunting, small-scale logging, and collecting nontimber forest products, and were not as dependent upon the cash economy as rural communities in other parts of China were. As a consequence, outward migration for work was not a prominent feature of the local economy.
In recent years, the confluence of several wide-scale government programs and major improvements to transport and communication infrastructure has rendered outward migration for work an increasingly accessible option for Gongshan's farmers. These programs include labor export, the Sloping Land Conversion Program, free nine-year compulsory education, and the increased policing of the Gaoligongshan Nature Reserve. Underlying these programs is a broad social engineering agenda designed to shift the agricultural population away from agricultural work and to insert them within what governing authorities consider to be more productive off-farm work regimes. The labor export and work-study programs detailed in this chapter are regarded by governing authorities as particularly useful instruments for nurturing the psychological attributes and technical skills necessary for engaging with the expanding market economy. Paradoxically, even though these programs appear to be creating neoliberal subjects who will take increasing responsibility for developing their own capacities in an expanding market economy, they signal the local community's increasing dependence upon government.