3
ALL IS NOT AS IT APPEARS

Education Reform
Chinese state education attempts to achieve a high degree of cultural and political homogenization for several reasons: to make communication possible among different parts of the country, to ensure the integration of peripheral areas into the Chinese state, to promote patriotism and loyalty to the CCP, and, in a broader sense, to "improve the quality" of or to "civilize" the presumably more "backward" parts of the population.
—Hansen 1999: xii
In comparison to provincial and prefectural averages, in Gongshan basic education is still lagging behind [zhihou]. . . . Backwardness in education has created low-quality workers, produced scientific and cultural backwardness, and seriously held back the development of the economy and society.
—Nujiang News, November 16, 2005
Until recently, school completion rates among Gongshan's ethnic minority population were very low. The high costs of participating in formal education, combined with a perception that it offers limited utility, caused many ethnic minority students to drop out of school and return to the family farm before completing the standard nine years of compulsory education. However, beginning in 2004, Gongshan implemented a series of wide-scale national reforms aimed at enforcing participation in the mainstream education system: the consolidation of schools (jizhong banxue) and free nine-year compulsory education (puji jiunian yiwu jiaoyu). Local governing authorities regard the low educational levels of the Gongshan population as a major stumbling block to the county's development. These same authorities have outwardly embraced these education reforms as the key to unlocking the "potential" of this population, preparing them for insertion into China's industrializing economy and stimulating local economic development. The reforms have reduced the financial burden of education for Gongshan's households and will most likely contribute to improved economic livelihoods in the long term. However, in socializing Gongshan's ethnic minority population to the institutions and rationalities of state education, the reforms also will tighten their integration into the political fabric of the Chinese Party-state.
In contemporary China, the formal education system is a crucial tool for governing the population and reinforcing national unity, with the education of ethnic minorities a major priority of the CCP (see Hansen 1999; Lin 2007; Mackerras 1995). The Chinese education system not only manifests as a physical site where students are provided with technical instruction in areas such as mathematics, standard Chinese, and science; it also is a strategic government technology for influencing the conduct and aspirations of the population (see Kipnis 2011). Some analysts suggest that China's transition from a socialist command economy to a more open and market-based economy weakened the Party-state's influence over some aspects of the public domain. While the Chinese Party-state has fully embraced modernization and rapid economic development, it is also sensitive to the potential social and political instability associated with modernity. In response, central government authorities in China have become "obsessed with a kind of 'moral planning,' trying to regulate and control the changing behaviours, norms, and values that follow in the wake of modernization" (Bakken 2000: 19). The formal education system represents a strategic and enduring site for this type of moral planning. No other formal state institution captures such a large slice of society within a relatively regimented and uniform social and political sphere for such a long period of time.
Moral planning is entwined within a larger "human quality" (ren de suzhi) discourse. During the reform era, China's central governing authorities have become fixated on improving population quality, regarding human quality as not only central to China's material and spiritual development, but also as "a core element in attempts to control the Juggernaut" of modernity (ibid.: 5). Reference to population quality is a conspicuous feature of official and popular discourses; moreover, it has provided the Party-state with a useful mechanism to deflect liability for the serious social and economic inequalities that have emerged during China's reform era (Murphy 2004). The poverty and inferior educational outcomes that persist in peripheral rural areas such as Gongshan tend to be attributed to the "low quality" and "cultural backwardness" of the local population rather than to geographical isolation and structural inequalities associated with CCP policy. In Gongshan, a generally demeaning population-quality discourse targeted at the local ethnic minority population features prominently in official speeches, newspaper articles (such as the one quoted in this chapter's epigraphs), school textbooks, and the slogans painted in bright red characters on the whitewashed walls of official buildings. It serves as a constant reminder to Gongshan's ethnic minority people that, from the government's perspective, they are poor, backward, of low quality, and a hurdle to China's economic development. Within this context, government development programs, such as the strict enforcement of compulsory education, are presented as opportunities for Gongshan's ethnic minority people to raise their quality and strengthen the nation.
CHINA AND EDUCATION IN HISTORICAL CONTEXT
Born in 551 BCE, Confucius had a profound influence on the Chinese education system. He developed a philosophy that extolled the virtues of harmonious kinship and emphasized self-cultivation and unquestioned acquiescence to a strictly defined social hierarchy (see Cleverley 1991 [1985]: 4–12). Today Confucianism is still popularly cited as the glue holding Chinese society together.1 Chinese philosophy and culture assume that "all persons are potentially perfectible through education," that "the educational environment determines whether or not an individual will be good or evil, and [that] educational reform is a key to solving urgent social and political problems" (Bakken 2000: 85). Nevertheless, although Chinese society has placed strong emphasis on education and self-cultivation for several millennia, universal access to cost-effective, formal, comprehensive education in both rural and urban China was not achieved until 2007.2
In imperial China, the civil service examination system (keju) dominated the educational terrain. Although attempts were made during the late Qing and Republican eras to provide a more comprehensive and politicized school system, formal comprehensive education remained out of reach of the majority of the population. Wealthy clans and villages were able to provide schooling for their boys and young men; however, the bulk of China's rural population and urban poor were cut off from formal education.3 Economic mismanagement, corruption, and civil and national wars during the Republican era severely impeded the development of a comprehensive and effective education system. According to some estimates, in 1949, only 25 percent of the elementary school–aged population was attending school, and the illiteracy rate for the entire population was more than 85 percent and was particularly high among women and the rural population (Cleverley 1991 [1985]: 69).
Educational provision improved dramatically after the CCP gained political control of China in 1949. China's predominantly illiterate rural population presented an enticing prospect for the CCP, which was determined to inscribe a new ideology of national political unity and social cohesion upon China's fragmented population. Indeed, the CCP saw beyond the functional role of education, and sought to utilize it as a key political tool to promote its socialist ideology. Nonetheless, the CCP has also struggled to effectively implement formal comprehensive education, particularly in rural areas.
THE EDUCATION SYSTEM UNDER CCP RULE
Apart from their other characteristics, the outstanding thing about China's six hundred million people is that they are "poor and blank." This may seem a bad thing, but in reality it is a good thing. Poverty gives rise to the desire for change, the desire for action and the desire for revolution. On a blank sheet of paper free from any mark, the freshest and most beautiful characters can be written, the freshest and most beautiful pictures can be painted.
—Mao 1966 [1958]: 36
When the CCP took control in 1949, the country was still economically, socially, and ideologically fractured. The goal of the CCP was to construct a "Communist state populated by a new Communist man [sic]" (Ridley, Godwin, and Doolin 1971: 24). The construction of modern socialist society was the first step toward achieving this goal. However, it was not only a material process; it also involved attempts to cultivate a "spiritual" sense of socialism in the hearts and minds of the people living within the borders of the Chinese state (ibid.). Formal education was seen as a particularly useful vehicle for socializing the Chinese people to CCP ideology and policy. The young in particular were considered ideal candidates for ideological conversion, and the primary school became a strategic site to cultivate the "successors to the revolution" (ibid.: 25–26). This social engineering agenda continues to echo loudly across China's education landscape (see fig. 3.2).
A feature of CCP educational policy in the first couple of years after Liberation was the extension of "eliminating illiteracy classes," or saomangban (Thøgersen 2002: 152–56). These classes were delivered on a part-time basis via nighttime and winter sessions, offering the rural adult population an opportunity to attain a functional level of literacy in standard Chinese. The classes still exist and are an important feature of Gongshan's education system.
Nevertheless, it was not until 1956 that serious efforts were made to eliminate illiteracy in rural areas.4 These efforts were precipitated by Mao's transformative economic agenda for rural China. In July 1955, Mao initiated a dramatic shift in policy direction by calling for the mass, rapid collectivization of agriculture. A literate rural populace was identified as an important precondition for the effective collectivization of agriculture.
Thus, in March 1956, "China's most ambitious national literacy campaign" was introduced (Peterson 1994: 113). The Central Committee and State Council adopted a new anti-illiteracy decree that "called for complete elimination of illiteracy among rural fourteen- to fifty-year-olds in China within seven years" (ibid.). Education for the rural population was delivered via collectively organized "people-run" (minban) schools, while education for the urban population was delivered via government-sponsored state-run (gongban) schools (ibid.: 116). There was a clear demarcation in the content and quality of education delivered via these different forms of schooling. Whereas a state-run education provided a comprehensive educational base, people-run schooling focused on expanding literacy and providing the educational knowledge necessary to work as a member of the newly formed production teams. The "Two Basics" anti-illiteracy policy, introduced by the CCP in the 1990s at the height of the economic reform period, closely resembles this early campaign. The Two Basics refer to the universalization of nine years of basic compulsory education and the elimination of illiteracy among youth and adults between fifteen and forty-five years of age (Zhang and Zhao 2006: 262–63). Thus, although the first concrete attempt made by the CCP to eliminate illiteracy in rural areas was made in 1956, fifty years later illiteracy continued to be a serious policy problem in some areas for China's central governing authorities.
Like other sectors of the formal economy, the education system deteriorated significantly during the Cultural Revolution period (1966–76). Across the country, class struggle took precedence over all other aspects of public life. Teachers were accused of being "bourgeoisie" and often were subjected to violent persecution. Many schools were closed during this period, and those that remained open were converted to people-run schools (Peterson 1994: 116). It was also during this chaotic period that urban youth were sent down to the countryside to learn from what Mao perceived to be the more ideologically "clean" rural population.
THE REFORM ERA
In the reform era, we see a return to a more instrumentalist role for education. Political education still forms a key pillar of the Chinese education system. However, in the wake of the Cultural Revolution, education policy shifted toward the training of experts, with education increasingly utilized as a critical government technology to instill discipline and morality among the population and to mold high-quality human subjects who could contribute to the "material and spiritual development" of the Chinese Party-state (see Ministry of Education of the People's Republic of China 1995: Article 1; Bakken 2000; Murphy 2004). Although children are exposed to less political propaganda than they were in the past, "the Party is always there," reminding them that it "is the organizing principle and supreme power that makes it possible for China to make scientific and economic progress and win international glory" (Thøgersen 2002: 225).
In 1986, China unveiled the Compulsory Education Law, which stipulated standard nine-year compulsory education for all Chinese children. Nine-year compulsory education consists of six years of primary school and three years of junior high school. However, the new law was calibrated to local conditions, with less economically developed areas of the country given more time to achieve compliance. Gongshan did not achieve compliance with the compulsory education law until October 2007, and even then its compliance was questionable.
The education of the rural population has received particular attention during the reform era, with governing authorities perceiving the task of transforming rural children into Chinese citizens as particularly challenging (Murphy 2004: 15). This reflects a broader sense of ambivalence: on the one hand, the rural population is represented as a reason for China's failure to achieve modernity, a hurdle to economic development, and a threat to stability; on the other hand, its abundant, cheap, flexible labor has been a critical ingredient in China's rapid economic and industrial expansion. In this context, the CCP sees itself as playing a decisive role in harnessing the productive forces of the rural population and engendering social and economic stability, with formal education at the center of these efforts (Anagnost 1997b: 86–87).
ETHNIC MINORITY EDUCATION
Accessing full and effective education is particularly difficult for ethnic minority people living in China's less economically developed western peripheral regions, and school completion and literacy rates among the ethnic minority population have been much lower than among the Han population (Xue and Shi 2001). This has made access to off-farm work opportunities and upward economic mobility difficult (Postiglione 2006: 3–5). Many ethnic minority populations are in isolated, less economically developed parts of the country, rendering the provision of quality comprehensive education difficult.5
Ethnic minorities continue to present a particular policy problem for the CCP. Historically, education has been regarded as a critical mechanism for modernizing and integrating ethnic minorities living in China's peripheral regions (see Mackerras 1995), and "it is an acknowledged aim of minority education to confirm the unity of the PRC and patriotism towards it" (Dilger 1984: 156). Policy documents indicate that the CCP still considers ethnic minorities to be a threat to national strength and cohesion. These same policy documents promote increased investment in education in ethnic minority areas and the transmission of scientific knowledge and moral education to ethnic minority people as essential to building national cohesion and economic strength (Ministry of Education of the People's Republic of China 2002).
Since 1949, ethnic minorities have been subject to state-sponsored preferential treatment policies (youhui zhengce) in education (Sautman 1999). The formal education of ethnic minority cadres was one of the strategies used to integrate the ethnic minority population into the CCP. Formal education was regarded as a particularly useful vehicle for transmitting scientific knowledge to "less-developed" ethnic minority communities. At the same time, the CCP emphasized the need to take local conditions and cultural characteristics into account when carrying out education work in ethnic minority areas. On June 8, 1950, Premier Zhou Enlai declared to a national education conference: "Our education is national education, and must take the form of the nationalities. . . . Our country is a multinationality country, and we must pay attention to our brother nationality characteristics and form. The brother nationalities should study each other's good qualities. Only then will scientific knowledge be transmitted down to the nationality people" (quoted in Teng and Wang 2001: 294).
Following the Second National Nationality Education Conference, held in Beijing in June 1956, there were also calls to bring education in ethnic minority areas to the same level as that enjoyed by the Han by eliminating illiteracy and implementing compulsory primary school education in ethnic minority areas (Teng and Wang 2001: 297). During the economic reform period, ethnic minorities have paid lower school fees, have had access to subsidized boarding fees and remedial classes, and have had bonus points allocated to their raw entrance score (gaokao) when applying for university (Sautman 1999: 173–77).
At the beginning of the twenty-first century, ethnic minority education remained a key policy problem for the central government, with illiteracy and dropout rates among the ethnic minority population much higher than among the Han population (Lin 2007: 935). Lin explores the ways in which inferior educational outcomes among the ethnic minority population are articulated by Chinese officials and researchers (2007). For example, during a speech at the conclusion of the Fifth National Minority Education Working Conference, in March 2003, Chairman of the State Ethnic Affairs Commission Li Dezhu stated: "The 'three backwards' [san ge luohou] divide ethnic minority areas from the rest of the country, particularly eastern coastal areas. The 'three backwards' refer to a backward level of production development, a backward level of cultural development, and a backward level of livelihood. . . . The three backwards are intimately related to backward development of education in ethnic minority areas" (2003). While central governing authorities are justifiably concerned that low levels of educational attainment in ethnic minority areas will extend poverty and that efforts must be made to address this deficit, Li Dezhu's speech conflates poverty with minority culture and devalues ethnic minority people and their role in Chinese society (Lin 2007: 947–48).
Until recently, school attendance rates in Gongshan were low, particularly at the high school level. Although high financial costs associated with education were a major factor that contributed to low attendance, they were not the only one. Gongshan is geographically and economically isolated, and local economic conditions are depressed, so there are few off-farm work opportunities. As a consequence, parents often regard education as offering limited utility to the household economy and keep their children out of school. Aside from the local government's own accounts, information on Gongshan's educational environment prior to 1949 is very limited. Official accounts need to be treated with a degree of caution. Like the comments by the chairman of the State Ethnic Affairs Commission quoted above, they are deeply influenced by the historical materialist narrative. Reflecting official representations of other aspects of Gongshan society, the accounts contrast the primitive and unsophisticated cultural attributes of the local ethnic minority groups to the superiority of CCP policy.
THE HISTORY OF EDUCATION IN GONGSHAN
According to the Gongshan Education Bureau's (GEB) report (2006), prior to Liberation there were very limited formal education opportunities in Gongshan, and the local population was illiterate in standard Chinese.6 The GEB's account states that the Dulong, Nu, Tibetan, and Lisu minorities in Gongshan did not have their own written languages.7 In the absence of a formal writing and numerical system, their system for recording and counting things consisted of "notching sticks and tying knots" (kemu jishi, jiesheng jishu).8 We see the first signs of official education in the summer of 1910, when two Chinese-language schools were established in Cikai and Geputong. However, it seems that these schools were accessed by only a very small section of the population. During the Republican period, the government established four primary schools in Gongshan. According to the GEB account, these schools were "unsuccessful in cultivating any talent" (ibid.: 2) despite attracting more than 290 students. By the time the Republic fell from power in 1949, all of these schools had already closed down and school materials had been looted. Prior to 1949, Gongshan did not have a standard school education system, and there were no high school or university students among the ethnic minority population (ibid.). The GEB report summarizes the situation as follows:
Due to historical, natural, and regional reasons, prior to Liberation there was no formal conception of education [in Gongshan], and the nationality countrymen living within the county never received a real education. Following Liberation, our education progressed directly from a primitive stage to a socialist [system of] education. The starting point for education was very primitive. However, under the strong leadership and radiant nationality policy of the CCP, as well as the hard work of several generations of workers over fifty years, educational facilities have been established and widened, resulting in an outstanding achievement. (Ibid.: 3)
Accounts such as this one fail to acknowledge the sophisticated indigenous knowledge developed and transmitted by the local population prior to Liberation. This knowledge was essential for engaging in agricultural production and sustaining a livelihood in extremely difficult environmental conditions; in many cases, it has proved superior to the "modern" and "scientific" agricultural techniques introduced to the area by the CCP after 1949.
Despite "not having any funds or teachers" (ibid.: 2), the People's government established one primary school in Cikai in 1950. In 1958, Gongshan also established a junior high school and nursery school. By 1970, Gongshan had a senior high school, and a complete high school system was established. The official account states that prior to the Third Plenum of the Eleventh Party Congress (1978), Gongshan's education was divorced from the realities of local rapid economic development. Following the Congress, there appears to have been a move toward major educational reform with the introduction of a policy calling for "adjustment, reform, consolidation, improvement" (tiaozheng, gaige, zhengdun, tigao) (ibid.: 3).
The official GEB account does not provide attendance rates prior to 1990. However, by 1990, the official primary school attendance rate was 82.6 percent. In the same year, the county had a combined secondary school population of 737 students, with 624 in junior high school and 113 in senior high school. Since 2000, a number of campaigns have been implemented at the local level to try to reduce illiteracy and to improve primary and high school attendance rates. For example, a 2003 program to "sweep away illiteracy" (saomang) shows continuity with education interventions launched by the CCP in the 1950s. These campaigns appear to have had some degree of success. According to official accounts, between 1995 and 2005, the number of students attending junior and senior high school nearly doubled, even though the county's overall population increased only marginally. By 2006, attendance rates for primary school, junior high school, and senior high school were 96.8 percent, 65 percent, and 35 percent, respectively (ibid.). Nevertheless, based upon the household surveys I conducted in "Menke" and "Ali" hamlets (see below), these figures, too, need to be treated with caution.9 Even if we accept that in 1990 the attendance rate for primary school was 82.6 percent, it is unlikely that these students completed primary school and/or were taught by qualified teachers in standard Chinese.
In 1950, Gongshan did not have any formal teachers. By 2006, the county had 115 secondary teachers and 315 primary school teachers. All junior and senior high school teachers and more than 50 percent of primary school teachers held at least a technical college qualification (zhuanke biye), and most senior high school teachers held an undergraduate qualification (ibid.).
Even though formal educational levels in Gongshan have improved significantly over the past sixty years, illiteracy remains widespread among the rural adult population, with illiterate members of the community having few opportunities for upward economic mobility. In December 2006, I surveyed educational levels among adults (whose ages ranged from twenty-one to eighty years) in a sample group of nine households in Ali hamlet (total number of hamlet households = twenty-five) and another sample group of thirteen households in Menke hamlet (total number of hamlet households = thirty-two). These surveys were carried out between December 18 and 24, 2006, using random household selection. Both hamlets are close to the county town and schools (see map 4).
Among the sample groups from the Ali and Menke adult populations, the average number of years of school attendance was 4.5 years and 2.8 years, respectively. In Ali, nearly one-quarter of adults surveyed had never attended school, while approximately one-third had completed more than six years of schooling. In Menke, nearly half of the sample adult population had never attended school, and slightly less than 10 percent had completed more than six years of schooling. Furthermore, in both hamlets, just over half of the sample from the adult populations said that they were unable to communicate using standard Chinese. Among those who said that they could communicate using standard Chinese, half indicated that their ability was limited.
RECENT CHANGES: FREE NINE-YEAR COMPULSORY EDUCATION FOR RURAL CHINA
In 2004, Gongshan's education environment began to undergo a major adjustment following the implementation of the consolidation of schools and free nine-year compulsory education policies. These policies have reduced the financial burden of education while also increasing the capacity of China's governing authorities to act upon and through the conduct and aspirations of Gongshan's ethnic minority population.
Since 2001, central government authorities have invested heavily in a major educational reform known as the Two Basics—the universalization of nine years of basic compulsory education and the elimination of illiteracy among youth and adults between fifteen and forty-five years of age (Zhang and Zhao 2006: 262–63). Nonetheless, until recently, in many poor rural areas this policy existed in name only due to inadequate levels of the funding required for effective implementation. Fiscal decentralization and inadequate funding in rural areas prevented millions of rural children from attaining full education, even though nine years of compulsory basic education has been explicit in Chinese law since 1986 (ibid.: 263).
Thus, when China's central governing authorities announced in December 2005 that there would be free nine-year compulsory education for all of rural China by 2007, this was one of the most revolutionary changes to education policy of the reform era (National Compulsory Education Fee Reform Leading Office n.d.). China's less economically developed western areas have been the initial target of this policy, which will facilitate the successful implementation of the Two Basics in rural areas, since school fees and medical fees often are the most substantial financial burdens for poor rural households. The importance that the central government attaches to education reform in rural areas such as Gongshan is captured in a statement made by State Councilor Chen Zhili to an education conference on November 30, 2006: "Only when rural schools are reformed and the quality of education is increased will: (1) the 'Build a New [Socialist] Countryside [policy]' provide high-quality workers [gao suzhi de laodongzhe]; (2) the educational problems of hundreds of millions of rural children be solved; and (3) rural society become stable" (quoted in China Education News [Zhongguo jiaoyu bao], November 30, 2006).
The implementation of free nine-year compulsory education in rural areas is underpinned by the New Rural Compulsory Education Assured Funding Mechanism (Nongcun Yiwu Jiaoyu Jingfei Baozhang Xin Jizhi) (National Compulsory Education Fee Reform Leading Office n.d.; Wang 2008). This reform has seen the central government direct unprecedented levels of funding toward educational services in rural areas, particularly those in less economically developed western regions. Associated with this reform is the "two exemptions, one subsidy" (liang mian yi bu) policy measure. It aims to ensure that students from poor households receive exemption from textbook fees (exemption one) and tuition and miscellaneous fees (exemption two), and are allocated a monthly subsidy to cover their living expenses while boarding at school (subsidy).10
Another feature of increased funding for education in China's less economically developed western regions is the consolidation of the local school system. Between 2004 and 2007, the central government contributed ¥10 billion to the building and rebuilding of boarding schools for rural students (Zhang and Zhao 2006: 267). This increase in funding has enabled the closure or downsizing of small village-based schools and the relocation of students to central boarding schools. The shift to centralized schools is a principal strategy for governing and acting upon the conduct of the school-aged population. The "enclosed method of schooling" (guanbi shi) characteristic of these centralized schools intensifies the capacity of the state to act upon the conduct of the rural school-aged population. This method of schooling is particularly regimented, "with time, space and relations among individuals structured so that children learn to regulate their conduct in ways that 'turn them into material' (chengcai) for modernization" (Murphy 2004: 11).
Compulsory education reform in rural areas is enforced through grassroots campaigns targeted at measuring results and ensuring compliance. Compliance is achieved through a combination of coercion and surveillance that extends from the National People's Congress down to the village level (Zhang and Zhao 2006: 264–65). The central government's administration and funding of the Two Basics program are strengthened through an accreditation and inspection system, first established in 1993, which is summarized as follows: "Inspection and accreditation is conducted once a year to assess educational expenditures, school enrollment and facilities, teachers' qualifications, and educational quality. The inspection procedure normally begins with a county's self-evaluation. The county then applies to the provincial inspection authority for a field inspection. Once the province reaffirms the county's accomplishment of the goals of universal basic education and literacy (measured by specific criteria), a certificate is granted to the county. In addition, the National Education Inspection Office also conducts field trips to re-evaluate the counties randomly" (ibid.).
THE SCHOOL STRUCTURE AND ITS CONSOLIDATION
Historically, the equitable provision of school-based education across Gongshan has been challenged by a number of factors, including the extreme topography, a widely dispersed population, and limited government fiscal capacity. Beginning in 2004, Gongshan's schools were consolidated in order to try to redress this imbalance. Increased funding for school infrastructure and student care is associated with this consolidation. The school consolidation policy is being implemented nationwide, as it is intended to reduce educational costs and standardize the delivery of education across the country (see Chan and Harrell 2009; Kipnis 2006b). Consolidation has had a big impact on Gongshan's social fabric and has intensified the government of everyday life. Again, this brings to light the paradoxes associated with China's reform process and the hazards of applying concepts such as neoliberalism to the changes that are taking place. While the market economic reforms pursued by the CCP gesture toward greater freedom and the withdrawal of the state from society, we actually see evidence of more government intervention in the everyday life of the population, particularly among those sections of it who are regarded as underdeveloped and a threat to national stability.
The consolidation of primary schools is one of the biggest and most controversial changes affecting Gongshan's educational environment in recent years. It has gone some way toward solving Gongshan's considerable educational shortfalls, but it has also created a new set of social challenges, as we will see in the case study of consolidation in Cikai township, the location of the Gongshan county town.
Until September 2005, there was a wide distribution of primary schools in Gongshan. In 2000, there were more than one hundred of them scattered across the county. Many of these primary schools were single-teacher schools (yishi yixiao), which sometimes served a single hamlet and sometimes served a cluster of hamlets. By July 2006, close to thirty single-teacher schools had been closed across the county, in line with the school consolidation policy. Many other schools were downsized as part of the policy (GEB 2006: 7).
In Cikai township, students from either closed or downsized schools were sent to board and study at Niulangdang, a newly expanded central boarding primary school. Niulangdang Primary is on the eastern bank of the Nu River, about two or three kilometers south of the county town. Most rural students living in Cikai township now study and board at Niulangdang Primary for grades two to four. Some village-based schools have been maintained for grade one students.
When they reach the end of grade four, the Niulangdang students transfer to Cikai Primary, where they study and board for grades five to six. Cikai Primary is the county's best primary school and is in the county town. At the time of my research, Niulangdang Primary and Cikai Primary were receiving an additional ¥45 per rural student per month from the central government to cover boarding expenses. The schools are a long distance from the village homes of most of their students. For instance, even when traveling by vehicle, students from Shuanglawa village have to travel for up to one hour from home to school.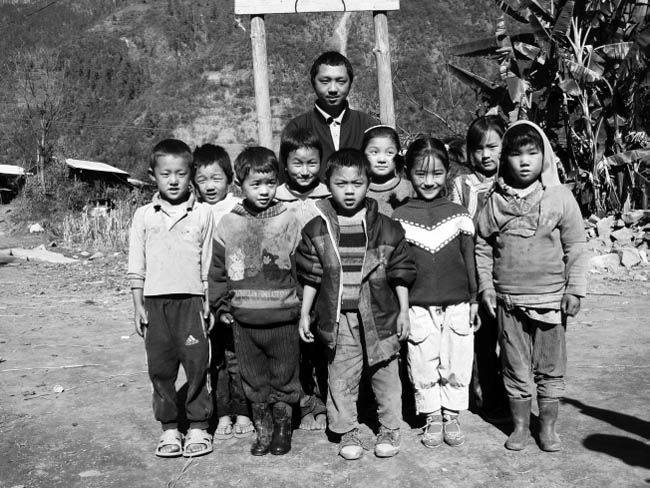 In general, children living in the county town with an urban/town household registration (chengzhen hukou) study at Cikai Primary for grades one to six. Cikai Primary also has a special nationality class (minzu ban) for grades five to six, consisting of talented rural ethnic minority children who have been hand-picked by the school from across the county.
One exception to the consolidation policy is Manzi Primary School, a nonboarding rural school that teaches grades one to four for children living in Manzi village. This school is on the other side of the Nu River from the county town (see map 4). Prior to the consolidation, Manzi Primary taught grades one to six. However, Manzi's students now transfer to Cikai Primary at the end of grade four to complete their primary schooling. Despite its close proximity to the county town, Manzi is classified as a rural school and does not receive as much financial support from the county government as schools based in the county town do. For example, although teachers at Cikai Primary receive financial bonuses from the County Finance Bureau, Manzi teachers receive none. Teachers at Manzi are also less likely to have full-fledged teaching qualifications, and they receive little ongoing training. According to my research assistant, local teachers do not consider Manzi a desirable place to work; teachers based at Cikai Primary tend to look down upon the Manzi teachers; and Manzi teachers aspire to transfer to Cikai Primary. Nevertheless, student results at Manzi are only slightly lower than those at Cikai.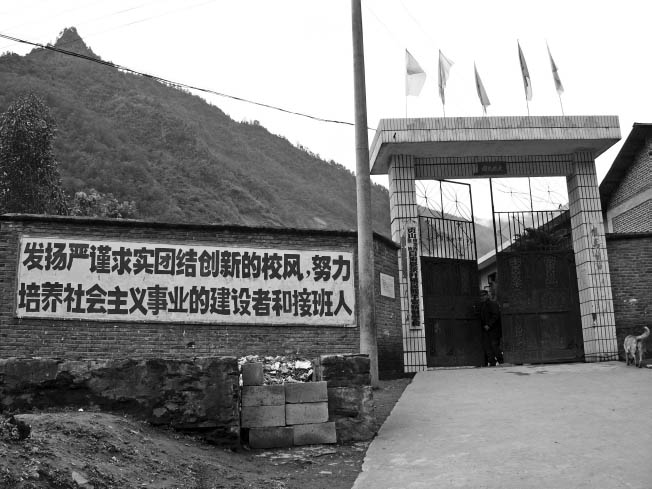 Gongshan's educational terrain is in a state of constant flux. When I conducted follow-up fieldwork in Gongshan in January 2008, the situation at Manzi Primary had again changed. During the 2007–08 school year, its student population contracted further as students beginning the grade-four school year were shifted to Cikai Primary. As a consequence, Manzi was providing education only for grades one to three, and the number of teachers had contracted from eight to six. The reason Manzi had not been closed down and consolidated along with other schools was that it provided educational services for a particularly large student population drawn from thirteen hamlets, and the county school authorities did not have the financial capacity or physical space to accommodate these students at the new centralized boarding school.
Reasons for the Consolidation
According to the GEB, the scattering of schools in Gongshan created a number of problems, including low-quality teaching, an uneven distribution of resources, and poor educational outcomes (2006: 7). Indeed, many of Gongshan's single-teacher schools catered to more than one grade level in the same classroom. As teachers had to divide their teaching and preparation time among students from different grade levels who studied in the same classroom, they were often under considerable stress, and the overall efficacy of their teaching was reduced.
Problems associated with single-teacher schools appear widespread. Some of these problems were outlined by Xu Jialu, vice-chairman of the National People's Congress, in an interview with CCTV's Policymakers Speak (Juece zhe shuo) program in 2006. He related an experience from several years previously when he had visited schools in Yunnan. At that time it was reported to him that there were more than ten thousand single-teacher schools in the province. He indicated that the teachers working in these schools had considerable burdens. For instance, they often had to teach a group of students spread across four separate grades: there might be two students from each of the four grades in a single classroom. Furthermore, the teachers' role extended beyond teaching in the classroom; they also had to cook, boil water, and grow vegetables for the students.
In Gongshan, evidence suggests that prior to the consolidation, teachers often had to devote considerable amounts of their own time and energy to developing creative strategies to overcome the lack of effective government support. The experience of a teacher based at a single-teacher school in Ali hamlet prior to the consolidation provides a good example. Before the consolidation, this interviewee taught grades one to two in one classroom to students from Ali and Menke hamlets. The school is a special case because it was built with funds provided by a Hong Kong magazine group. His salary of ¥800 per month was also paid for by the group. The teacher did not have formal qualifications.
During an informal discussion, the teacher told me that the school had little or no money: "We do not receive one cent from the local government and do not even have money to buy a broom" (field notes, June 3, 2005). He then explained that he and the local community had to employ creative methods to deal with the school's poor financial situation. One involved climbing to the top of the mountain above the school to gather medicinal plants, which they would then sell in the county town, earning ¥20 to ¥30 per day, which was used to buy shoes for the students, at ¥5 per pair. Toward the end of our discussion, the teacher lamented: "[The officials] spend several hundred yuan on meals every night and drive around in very expensive cars. Why can't they buy less expensive cars? We don't even have enough money here to pay for electricity. We used to pay ¥6 per year; now we are expected to pay ¥100. We only have two light bulbs! So we told them [the electricity company] that we don't want to be supplied with electricity anymore. We don't receive any money from the government. They won't even buy us a basketball" (ibid.).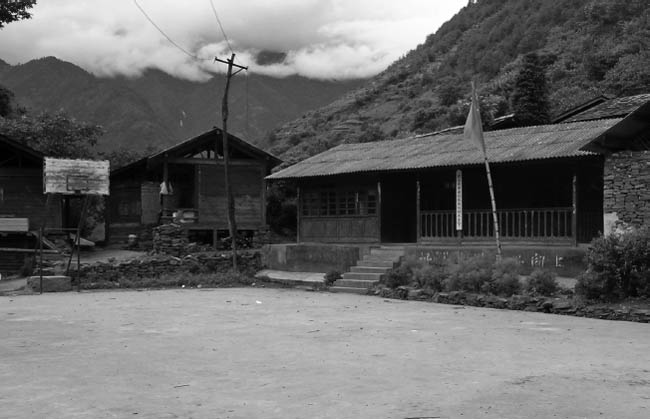 Official privilege is a conspicuous feature of Gongshan's political economy. The county government office parking lot is filled with expensive four-wheel-drive vehicles that are used mainly to ferry government officials around the county for government work. While such vehicles are essential for traversing Gongshan's rugged terrain, they serve more than this practical function. On one occasion, a senior local government official had his private driver provide me with a lift back to the county town in his government vehicle. The vehicle's interior was particularly luxurious, and a DVD player and television screen recently had been installed to keep its occupants entertained during long journeys.
As well as being poorly funded and resourced, village-based primary schools posed travel problems for those children living a long distance from the village. A case in point is Dasuo Primary (see map 4), a village-based school that previously had taught grades one to six for local rural students. Following the consolidation, this school provides classes only for grade one. Dasuo's teacher stated that prior to the consolidation, some students were spending a total of six hours walking to and from school each day. This was because the school serviced a group of widely distributed hamlets, some of which were a very long way from the school. Now that these students are boarding at Niulangdang Primary and Cikai Primary, they no longer have to cover this distance on a daily basis. He also stated that prior to consolidation, the school's performance had been below average and there were not enough teachers.
Problems Associated with Consolidation
Nevertheless, consolidation has created a new set of challenges for rural communities and schools. The consolidation policy is having a serious impact on Gongshan's social fabric, and many parents fear that it is failing to adequately provide for their children's needs. Two main consequences are the demolition of an important training bridge between rural communities and the formal Chinese language–based education system by the closure of small village–based schools, and the fact that primary school–aged children now board at a central primary school, shifting many parental duties and responsibilities to teachers.
Transition to Schooling
Although village-based schools often lacked sufficient support and staffing to adequately provide for the needs of local children, these schools served as a bridge between rural communities and the formal Chinese language–based education system for preprimary and grade one and two students. In Gongshan, non-village-based primary schools use standard Chinese for instruction. However, most children have little or no exposure to standard Chinese until they begin primary school. This is because ethnic minority languages are the ordinary means of communication within Gongshan's rural communities. Traditionally, to compensate for this, teachers at village-based schools used both the local language and standard Chinese during their teaching. For instance, teachers used the local language to introduce new words in standard Chinese. Bilingual teaching in village-based schools made the transition to primary school much easier for ethnic minority children.
Village-based schools also provided an opportunity for preprimary-aged children to sit in on classes and to gain exposure to standard Chinese and the formal teaching environment. According to the former Ali Primary teacher, prior to consolidation, it had been normal practice for parents in Menke and Ali hamlets to send their four- to six-year-olds to Ali's single-teacher school. In the 2004–05 school year, the school consisted of seven informal students (aged four to six) and six formal students (of primary school age) (field notes, December 22, 2006). After a large number of village-based schools were closed, many of Gongshan's rural students no longer had this opportunity. Ali Primary's former teacher, now working at Manzi Primary, commented that seven- to eight-year-olds now start schooling without any exposure to standard Chinese or formal education, and teaching grade one and two students is now particularly difficult: "They don't even know how to use pencils. We have to teach them how to use them. They don't speak any standard Chinese" (ibid.).
Student Care
Interviewees also suggested that in some cases, parents feel a strong sense of unease at having their very young children living away from home. A teacher working at one of the remaining village-based schools for grade one students commented: "Parents feel that the school [Niulangdang] is very far away and that it is difficult [kelian] for their children. Being at school is not like being at home. The food at school is very basic. The children are very small, and the parents can't quit worrying [bu fang xin]. Students also feel quite lonely at Niulangdang. They can't speak in-depth with their teachers about their problems. The students also aren't receiving a sufficient diet at the school" (field notes, December 13, 2006). A retired teacher discussed his concerns about consolidation, particularly the perceived inability of the Niulangdang boarding school to substitute for effective parenting and nutrition provided in the home:
I'm worried that the diet the students receive at the [Niulangdang] school may affect their development. Students [also] don't wash properly at Niulangdang [referring mainly to grades two to three]. They wash once a month when they go home. They come home with nits in their hair. [At school] they wash their faces, but not their hair or bodies. . . . Students also don't know how to wipe their bottoms properly, and some of them don't wipe their bottoms at all. They also don't have toilet paper, and use torn-up paper [from newspapers]. . . . The students aren't getting enough nutrition in their diet [at the school]. (Ibid.)
These comments were based partly on a visit we had made together to Niulangdang Primary the day before, during which an administrator and other teachers highlighted problems the school was having regarding the current funding arrangements.
At the time of our visit to Niulangdang, in December 2006, 205 students were living at the school (field notes, December 12, 2006). The school received ¥45 per month per student from the government to cover the students' boarding expenses. Most of this money was used to buy food. Table 1 illustrates how this ¥45 was being divided.
According to the administrator and his teachers, after they bought rice and wood for the students, there were only 3 to 4 mao left over per student per day to purchase oil, salt, MSG, vegetables, and meat for the students' diet.11 As a result, meals consisted of one bowl of rice and one bowl of vegetable soup. Students were eating meat only once a week, although this would have been similar to the quantity they ate at home. One of the teachers stated that 3 to 4 mao per day was not enough to provide for the students' needs.
The administrator outlined some of the other problems the school was having regarding the consolidation: students living a long way from the school were paying a large sum of money to travel to and from school on their visits home; there was an increased workload for teachers and an absence of demarcation between their private and working lives; and parents did not feel at ease because their children were living far from home.
Rice (25 jin, or 12.5 kilograms)

¥31.25

Food (oil, salt, MSG, vegetables and meat)

¥11.15

Firewood

  ¥2.6

Total

¥45.0
The administrator informed us that four students had recently dropped out of school, one reason being that their parents did not feel comfortable about their children living so far away. One of these students had since returned. Commenting on the lack of appropriate boundaries between teachers' private and working lives, the administrator stated: "The students and teachers live side by side. This is bad for the teachers. There is no separation from the students" (ibid.). He also noted that teachers were using their own wages to cover the cost of medicine for any students who fell ill.
A Cikai Primary School administrator raised the same issue of increased teacher burden following the consolidation. Cikai Primary is the main feeder school for Gongshan High School. The school is in the middle of the county town, just below Gongshan High School. Following consolidation, the number of students boarding at the school has increased significantly.
Prior to consolidation, the school had approximately five hundred students. This included approximately eighty specially selected minority students from across the county who boarded on campus. The rest of the students were from the county town and lived off campus. Following consolidation, the number of students boarding on campus has increased to approximately 270 and the total student population is now about 765. Most of these boarders are in grades four and six, although a small number of grade four students who could not be accommodated at Niulangdang Primary also board on campus. As with Niulangdang Primary, Cikai Primary was at the time of research receiving ¥45 per month per student from government for students living on campus. The students in the special nationality classes are able to further supplement their diet and income by growing vegetables on land allocated to them by the school.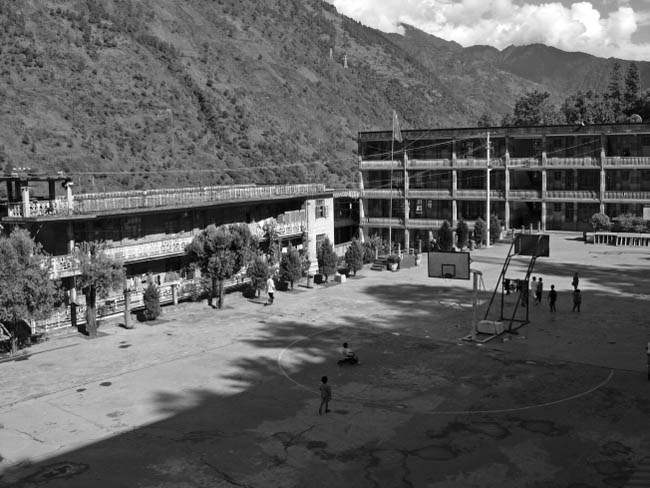 The administrator explained that teachers are suffering from greater workloads following the consolidation because "students also need to be supervised outside of class." She stated: "Teachers are working twice as hard as they did before and are under more pressure" (field notes, December 13, 2006). She acknowledged that the government had invested a large amount of money in the program, but indicated that the funds are insufficient to cover the school's needs.
This funding shortfall has translated into the school and its teachers taking on care and responsibilities outside their official realm. Echoing the concerns of the Niulangdang administrator, the Cikai administrator noted that teachers often pay for students' medical fees out of their own pockets because neither the school nor the students' parents have any money.
The transition to a more centralized schooling system will create challenges for Gongshan's primary school–aged population in the short term. Nevertheless, over the long term, the new system will enable efficient utilization of resources, providing Gongshan children with a uniform education that will better prepare them for the transition to high school than the old local schools did. Crucially, compared to poorly resourced village-based schools, the new boarding schools associated with the consolidation provide governing authorities with a more controlled space for acting upon the conduct and aspirations of the school-aged population. Children will spend considerably more time under the gaze and influence of the state and less time under the influence of their parents in their home environment. To this end, I will shine light on the "hidden curricula" that Gongshan children will be increasingly exposed to under these education reforms.
HIDDEN CURRICULA
In China, school grounds are an important site for the potential "capture," measurement, and cultivation of the child subject. The child subject enters a new physical and psychological space in which knowledge is transmitted through the prism of the Chinese Party-state's uniform educational apparatus and political ideology with the goal of producing patriotic, high-quality, and productive citizens. Schoolyard activities play a particularly important role in instilling discipline within students in China. Fig. 3.5 shows children lined up in rows in the school courtyard, taking part in a series of exercise drills. After completing the drills, these students cleaned their classrooms and the school grounds. The teachers and principal closely scrutinized the students while they undertook these activities. The conduct promoted through these activities is reinforced through textbook lessons that remind students to keep their classroom, bedrooms, and the greater environment clean and tidy.
In China, textbooks and additional media, among other things, devalue rural livelihoods by conflating modernity with cleanliness, hygiene, and urban identity (Yan 2003b: 587). As a consequence, children in rural areas such as Gongshan learn that they are dirty, poor, backward, and of low quality; further, they are portrayed as being of less value to the nation than children living in modern urban environments such as Shenzhen and Shanghai. Fig. 3.7 shows two pages from the textbook Moral Character and Life (Pinde yu shenghuo) (Chen 2005: 44–45), used in a grade one morality class. Students study this textbook for two periods each week in semester one. This section of the book is called "I am very clean and tidy" (Wo hen zhengjie). On the left page, a small rabbit named Beibei asks the student: "Look at the mirror. Are you clean and tidy?" A cartoon of five very clean and tidy children can be seen looking at their clean and tidy reflections in a mirror. On the right page, Beibei then asks: "How can you become a clean and tidy child?" Below Beibei are a series of cartoons depicting a young girl brushing her teeth and washing her face, hands, and feet. The student is told that these activities should be carried out every day. To Beibei's right, another series of cartoons depicts a young boy having his hair cut, showering, changing his clothes, and clipping his fingernails. The student is told that these activities should be carried out regularly.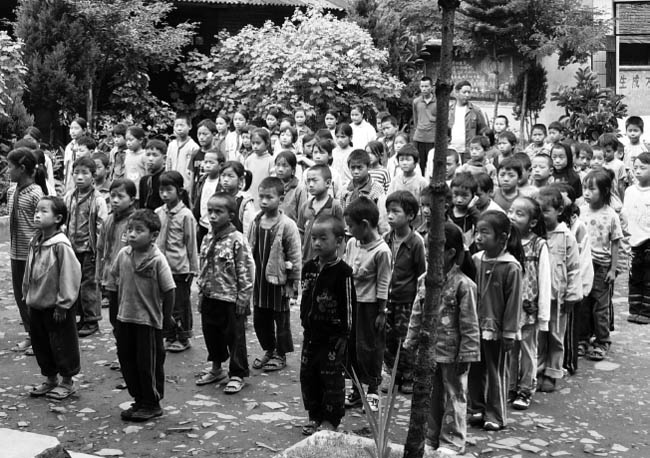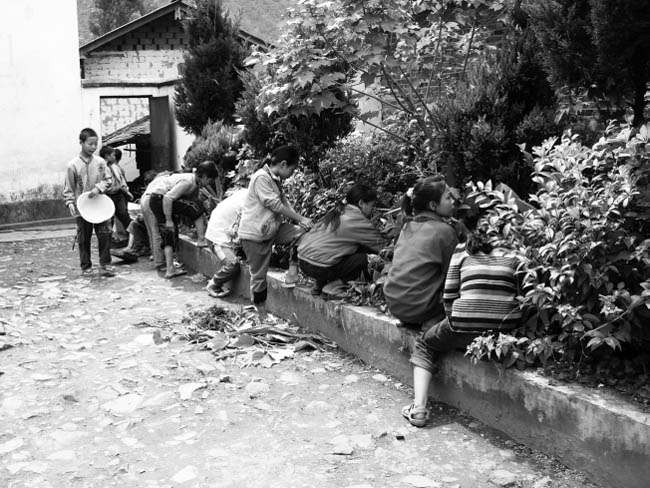 For the vast majority of Gongshan's children, these are unrealistic depictions of appropriate hygiene. Most houses are wooden huts with one to three rooms. Students certainly do not have access to showers, and they have very few clothes. Some villages still do not have running water. It is not uncommon for some children to never change out of the same set of clothes. These images simultaneously present children with the modern ideal and remind them that they are much poorer and less developed than the children depicted in the cartoon, each of whom has access to free-flowing water in a clean sink, clean sets of clothes, and a shower.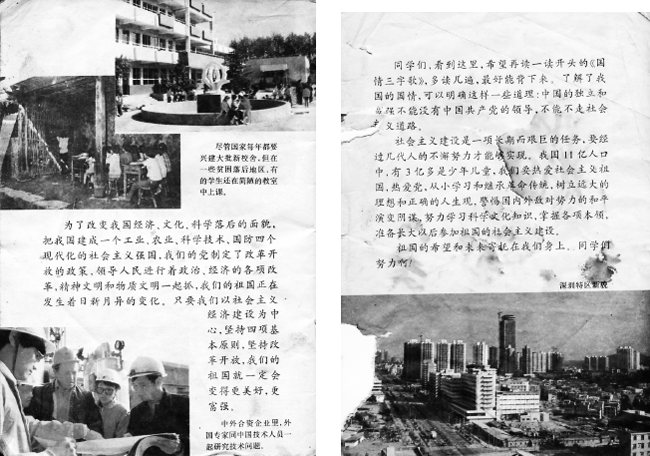 Fig. 3.8 shows the last two pages from a 1995 primary school textbook designed for grade six students that teachers still used as a study aid in Gongshan in 2007. The text, The Ten Things Primary School Children Should Know about National Conditions (Xiaoxuesheng guoqing shi zhidao), explicitly informs rural students living in places such as Gongshan that they are "poor and backward" as compared to students living in modern urban environments such as Shanghai and Shenzhen (Wu and Wang 1995: 70–71).
For instance, in the top right corner of the left page is a color photograph of a modern school courtyard. A group of children in brightly colored uniforms can be seen sitting and playing around a pond in the center of the courtyard. Juxtaposed against this image is a black-and-white photograph of a rural classroom that is typical of the classrooms found in Gongshan's village-based schools: students are sitting in a dimly lit, unpainted room where a teacher is writing on a blackboard attached to a bamboo screen. The text accompanying these two photographs informs students: "Even though the country wants to build large numbers of new school buildings every year, in some poor, backward areas some students still attend class in simple and crude classrooms." At the bottom of the right page is a picture captioned "Shenzhen Special Economic Zone's New Appearance," showing a modern metropolis with tall apartment buildings and an ordered urban grid. This image would be quite alien to many rural children who had spent all of their lives in unindustrialized rural environments such as Gongshan. The last sentence of the body of text above this photograph informs students: "The motherland's hope and future rest on our shoulders. Classmates, study hard!"
These texts conflate modernity with urban identity, and in so doing, remind the children of Gongshan that their rural lives are the antithesis of modernity: valued, high-quality members of the Chinese population do not engage in unproductive rural work in poor, backward rural environments such as Gongshan. High-quality human subjects are well educated and productive. Moreover, they live in modern, ordered urban environments, such as Shanghai and Shenzhen.
These texts are intended to indirectly act upon the dreams and aspirations of Chinese children, but they also offer a false promise to most rural children. While Shanghai and Shenzhen are powerful psychological attractions for Chinese rural youth seeking escape from a monotonous and insular rural life, their dreams and aspirations are often dashed once they begin work on the production lines of urban factories.
Out-of-class activities such as ceremonies also play an important role in shaping student conduct and patriotism (see Thøgersen 2002: 223–26). In June 2005, I was invited to attend a National Children's Day ceremony at a primary school in Gongshan (field notes, June 1, 2005). The ceremony took place on the school's basketball court. The students sat on rows of benches in front of a group of about twenty local exemplars: current and retired government officials, work unit leaders, and senior army officers, who all sat at one end of the court below a large red banner declaring, "Celebrating the June 1 Meeting" (see fig. 3.9). The students' parents and other villagers stood at the opposite end of the court, behind the students. Sitting toward the front of the student group was a group of five young army officers from the local barracks.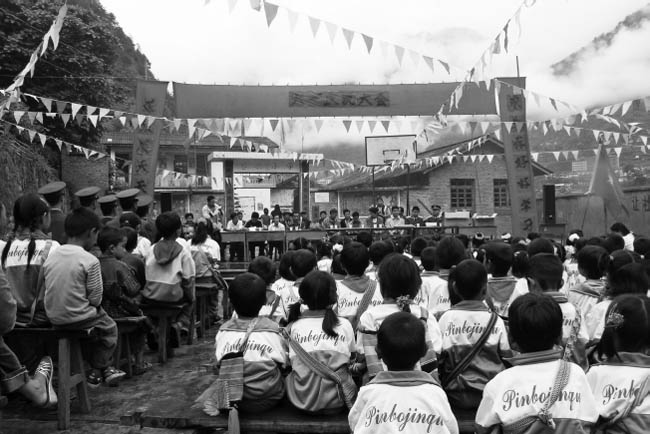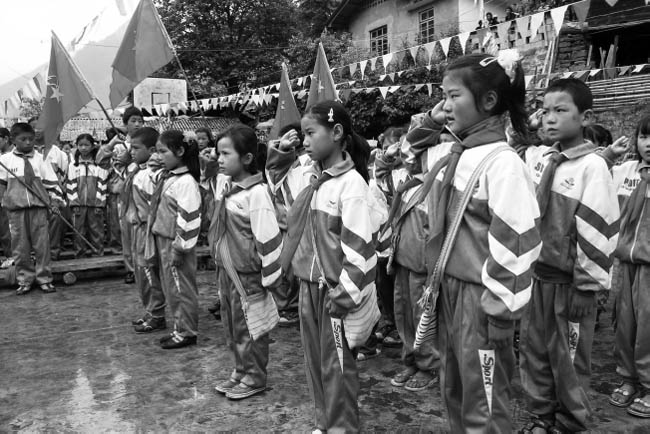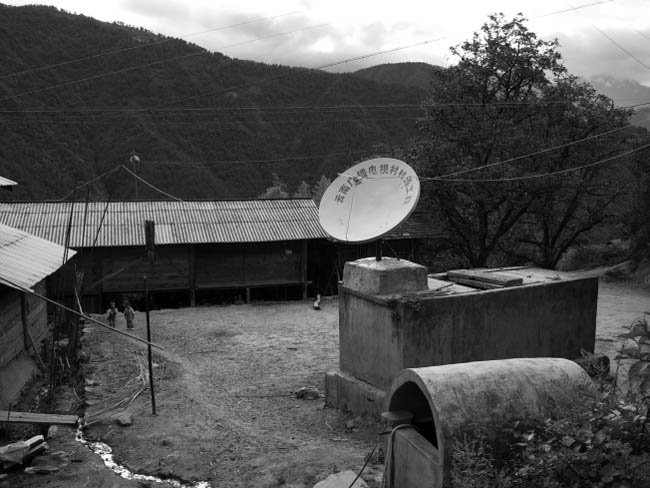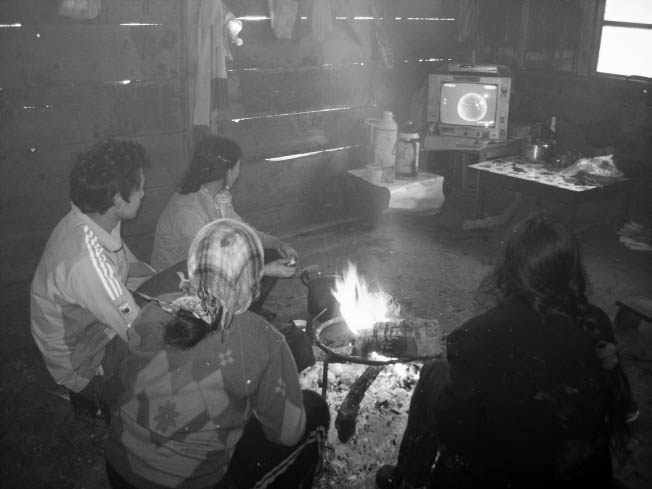 The official ceremony began with a group of about twenty Young Pioneer members swearing a pledge to the CCP (see fig. 3.10). The students pledged "to wholeheartedly comply with the Communist Party's instruction, study hard, work hard, labor hard, prepare for the Communist cause, and contribute all my strength." The Young Pioneers is operated by the CCP via the school system and caters to children between the ages of seven and fourteen. The organization is a very explicit technique to integrate the students into the CCP and its doctrines and to inculcate discipline among the student body.
The Young Pioneers ceremony was followed by a series of speeches by the exemplars that placed strong emphasis on the critical role of education in developing the local people. Students received the message that if they studied hard, were disciplined, and obeyed the Communist cause, then they could succeed and emulate the exemplars sitting before them.
Following the speeches, students were awarded prizes for their educational achievement. Several exemplars were also presented with plaques in recognition of their contributions to education. These events were followed by several hours of student singing and dancing performances, as well as a comedy skit performed by the group of young army officers.
Gongshan villagers are now also increasingly engaged with China's mediascape via satellite television (see figs. 3.11 and 3.12). This particular hamlet started receiving Chinese satellite reception in 2006 after residents pooled their finances and purchased a government-subsidized satellite dish. Like modern schooling, the images and messages received via television contribute to the collapse of spatial and temporal boundaries between Gongshan and the world beyond the county border, and they remind local youth that they are not living up to the standards expected of a modern Chinese citizen.
IMPLEMENTATION AND ENFORCEMENT OF FREE NINE-YEAR COMPULSORY EDUCATION POLICY
Gongshan began implementing free nine-year compulsory education in 2006. Apart from abolishing tuition fees, boarding fees have been waived, children boarding at school are now provided with living subsidies, and children from poor households are provided with free textbooks. Despite considerable community resistance and continued high dropout rates during the 2006–07 school year, provincial-level officials inspected and approved Gongshan's compliance with nine-year compulsory education in October 2007. According to a senior official at the Gongshan Education Bureau, junior high schools and primary schools must maintain attendance rates of 97 percent and 98 percent, respectively, to continue to comply with compulsory education policy (field notes, January 28, 2008).
The case studies of Gongshan High School and a vocational school for dropouts illustrate the challenges associated with implementing and enforcing nine-year compulsory education in Gongshan. Achieving compliance is not a neat and precise process, and it requires an array of contingent strategies. Even though Gongshan officially complied with the compulsory education policy in 2007, this does not mean that all of the children drawn back into the education system in 2006 and 2007 received a full and effective education. There was a significant disparity between national development policies and the social terrain upon which those policies were implemented, and there were hazards associated with rapidly imposing a strict educational regime upon a population that has historically regarded formal education as offering limited utility. The Chinese Party-state bureaucratic apparatus has been able, however, to detect and respond to resistance at the local level, while local-level governments have used innovative strategies to manage unrealistic policies implemented from above.
Gongshan High School
Gongshan High School is composed of both a junior high school (grades seven to nine) and a senior high school (grades ten to twelve), with the former the target of the free compulsory education policy. When the policy was first implemented in Gongshan in 2006, the school authorities faced a range of challenges in ensuring compliance. One of the key challenges was to draw students back into the school system and prevent them from dropping out. At the beginning of the 2006 school year, Gongshan High School had a junior high school population of approximately 580 students. By January 2007, this number had dropped to about 466: nearly one-fifth had dropped out in fewer than six months. Among the dropouts, all but one were from Gongshan's rural areas.
A school administrator provided examples of the problems associated with keeping students in the school system. He stated: "One teacher has been to one household fourteen times to try to convince the student to come back." The student still had not returned to school at the time of our interview. Furthermore, "Another student says that they can't understand anything in class and refuses to come back." He also revealed that the school knew little about the circumstances of many of the students who had dropped out: "We don't know where some of the students have gone. They may have been sold [into prostitution or marriage] or may have gone to Burma. We don't know" (field notes, December 13, 2006). He said that two female dropouts had run away to Fugong, the county directly south of Gongshan. Both students were brought back by police, but they immediately ran away again. By January 2007, only eleven out of more than one hundred dropouts had returned to Gongshan High School. The administrator estimated that twenty out of the thirty students from Dulongjiang township who had dropped out of Gongshan High School were attending high school back in Dulongjiang, while around eight remained out of school entirely.
The administrator outlined some of the main reasons why students dropped out, among which was the inability of rural primary schools to properly prepare ethnic minority students for the transition to secondary school. For example, eighty of the 2006–07 grade one junior high school students achieved only seventy points in their final primary school exams. Students are expected to achieve at least three hundred points before entering junior high school. This meant that among the grade one junior high school population of around 210 students, nearly 40 percent had educational levels well below those required for this level of schooling. Some of these students actually had the equivalent of grade three primary school educational levels. According to the administrator, about sixty students had language problems and did not understand what the teachers were saying in class: "They attend class but don't understand. They don't do their homework. They have no interest in school" (ibid.). The information provided by the senior administrator about low educational levels among a large proportion of high school students underscores the frustrations many rural students must experience at school. In a follow-up interview, he expressed sympathy for the students in this predicament: "[They] don't understand what's being said. For them it's like being in jail; of course they don't want to be here!" (field notes, January 19, 2007).
Another reason for the high number of dropouts was student isolation from their home villages. This problem was especially acute for students from Dulongjiang township, thirty of whom were among the recent cohort of dropouts. Students from Dulongjiang in particular do not like living in the county town, partly because during the Chinese New Year winter break the road to Dulongjiang becomes snowed in and they are unable to return home to see their families.
However, these structural factors were not the only explanation provided by local educators for the high number of dropouts. Reflecting official perceptions that the Gongshan population is inherently backward and of low quality, local educators conflated the high dropout rate and poor educational outcomes with the psychological and social attributes of the Gongshan population. For example, the administrator and two other teachers isolated "poor parenting" as a major cause for the high number of dropouts. The administrator explained that some of the students have "psychological problems" because they do not receive proper care at home: "Their parents are irresponsible and gamble and drink and don't pay attention to their children's schooling" (field notes, December 13, 2006). Similarly, the two teachers, both of whom were from outside Nujiang, attributed much of the blame for poor educational outcomes to the behavior of local parents:
Teacher One: One of the biggest problems here is the money wasted on alcohol. I've been to a student's house to speak to his parents about their son. As soon as I entered the house, they encouraged me to drink. But I refused. Because I refused, the father would not talk to me and just sat there staring. He didn't seem to care about his son. He just wanted to drink. . . . The education level of the parents is also very low. A lot of parents don't even know their children's birth dates. . . . The parents are really bad. You can't rely on parents to look out for their children's interests. The parents don't care about their children's education. The parents don't watch television or listen to radio and don't know anything of the outside world. The students themselves would rather be in the mountains raising cows and goats and doing farmwork. (Field notes, December 7, 2006)
Teacher Two: A teacher from Bingzhongluo went to visit the parents of one of his students. When he entered the student's house, the parents didn't even offer him a cup of tea. They sat drinking alcohol and ate and offered him nothing. He couldn't believe their behavior. He'd come a long way to speak to them about their child's education, and they didn't even seem to care. Their quality [suzhi] is very low. (Ibid.)
One of the teachers also told the story of a student whom he had managed to stop from dropping out of school. The student's father tried to pressure the student to discontinue his studies so he could start earning money on the family farm instead. The father said that if the son stayed in school, he would use up the family's money.
During my interview with these two teachers, it became apparent that they shared a degree of contempt for the local ethnic minority population. For instance, Teacher One emphasized the amount of financial support the local farmers, particularly the Dulong nationality, received from the central government as compared to the rest of the population. He suggested that this government support has engendered community dependence upon government:
The local farmers receive a lot of finance and subsidies from the central government. They don't need to work. The Dulong population is only six thousand people, and the government wants to protect them. Therefore they give them a lot of support. They give them cows, goats, etc. . . . [But] the locals are very lazy. If locals are employed, they work for a couple of days, then demand to be paid. They then use that money to buy alcohol. Then they don't return to work. The Dulong people were given some goats to raise as part of a poverty alleviation program. But they ended up eating them instead. (Ibid.)
Two Gongshan High School Dropouts
The stories of students who had recently dropped out of school provide a different view. Contrary to some of the teachers' statements, the decision to drop out is often made for very rational and practical reasons.
Zhang
Zhang is sixteen and Lisu and lives in a hamlet that is a thirty-minute walk north of the county town, along the road to Pengdang and Bingzhongluo townships. When I first visited Zhang, in November 2006, she was living in a small hut by the roadside with her parents, brother, and two grandparents. Her father makes ¥5,000 to ¥6,000 per year by collecting and selling recyclable glass bottles around the county town.
In August 2006, Zhang dropped out of school to go with a number of other young women from her hamlet to undertake employment in Fujian as part of a labor export program. However, the work did not prove to be as financially lucrative as promised, and most of them returned to Gongshan in October 2006.
When I visited her house again in December, she still had not returned to school, nor had she found any local work. Zhang said that she was legally required to return to school due to the enforcement of the nine-year compulsory education policy, but she was still not sure if she would go back. Her mother explained to me that a group of officials, including a county education department official, the village committee leader, and Zhang's class leader, had visited the house three or four times and yelled at her and her husband, demanding that they send Zhang back to school. The mother appeared to be very dissatisfied with the school environment Zhang had been exposed to, stating: "The education here is very bad. The management is also very bad" (field notes, December 23, 2006). Nevertheless, she told me that if Zhang did not return to school, they would be fined ¥500.
When I returned to Zhang's house, in January 2007, she was not at home. Her mother explained that she had returned to Fujian to work and would not be returning to Gongshan for three years. I was quite surprised, as in previous interviews Zhang had told me that the conditions she had experienced during her previous migration experience to Fujian had not been particularly good: she felt that she had been tricked by the boss, and she had earned far less money than she originally had been promised.
Zhang's mother asked me to stay for dinner, and not long after I sat down, Zhang's father returned home. This was the first time I had met him, and our conversation revealed that Zhang's original decision to drop out of school and travel to Fujian to work, and her recent decision to return there, was actually made in response to quite desperate conditions within her household.
The father told me that the household's economic situation was very difficult. Zhang's mother and brother were both ill, and Zhang had gone out to work to make money to help pay for their medical costs.
In September 2006, the family received ¥4,000 in poverty alleviation funds from the civil affairs bureau because of their difficult circumstances, and the following month they received an additional ¥1,500 from an insurance company for the brother's illness. All of these funds were immediately used to pay medical fees. The father also paid ¥300 of his own money toward medical costs, and the local village committee had given his wife ¥200 for Chinese New Year because of her circumstances. The mother's illness would cost over ¥10,000 to treat at a hospital in Liuku. The money Zhang makes in Fujian would be used to pay for this treatment, and the main reason Zhang had gone out to work the previous year was to make money to pay for her mother's medical expenses.
He explained that after Chinese New Year the family would borrow money from the bank and go to Liuku, the prefectural seat, for the mother's treatment. They would use the money Zhang sent back to repay the bank.
I questioned the father about the compulsory education policy and whether officials had recently returned to try to force Zhang back to school. He explained that the village leader and secretary, as well as township officials, had visited the household. But after learning why Zhang had to go out to work, the township and village governments had decided not to force her back to school. He said that Zhang had been in tears as she explained the situation.
According to Zhang's father, the local village committee ultimately sympathized with her case, and before she left for Fujian, she was provided with a letter of introduction (jieshao xin) from her village committee, allowing her to leave the prefecture without any problems. Being provided with this letter was quite unusual (and probably technically illegal) because Zhang was officially required to return to school in compliance with the compulsory education policy. According to the father, without this letter, his daughter would have had trouble crossing the prefecture border check near Liuku (field notes, January 22, 2007).
Zhang's situation provides an important insight into the other side of the compulsory education policy story. Her dropping out of school appears to be a rational response to desperate financial circumstances within her immediate family. Zhang's case demonstrates that even when education is free, it can actually be a burden for rural families experiencing a financial crisis. This is the opportunity cost of education: it is often important in rural farming areas, and it is rarely (if ever) calculated when development planners examine how to deal with poor rural people's access to educational opportunity.
Wang
The experience of a dropout named Wang provides a further illustration of the complex and often rational reasons behind a student's decision to leave school. Wang is seventeen and Lisu. He dropped out of grade three (junior high school) at Gongshan High School in September 2006 after attending just two to three weeks of the new school year. During my interview with Wang's parents, his mother explained that her son's school results actually had been very good prior to his leaving school and that at home he was well behaved.
His mother was particularly vocal in expressing her dissatisfaction about the way her son had been treated by the school. She explained that after he dropped out the first time, two teachers came to the house and took him back to school. Once he was back at the school, the teachers berated and bullied him for a whole day. He then immediately dropped out again and came back home. He had not returned to school since. She told me that the teachers were always shouting at students, whether they had dropped out of school or not, and that they seemed to show little concern for the students' well-being: "Even if the students are sick, they don't pay attention to them" (field notes, December 21, 2006). When I asked her why the teachers shouted at the students, she replied that "[the teachers'] temperament [piqi] isn't good."
The parents then explained that fifteen other students from Wang's class of fifty-three had also dropped out. I asked why so many students had dropped out. Their explanation was that the "school's management wasn't good." They said that the richer students from the county town would get drunk and then intimidate other students, such as their son. The school was unable to control these rich students, who were not afraid of the teachers. There was another, more serious indication of violence at the school: earlier that month a student had been stabbed in the neck with a knife by another student.
A degree of peer pressure may also have influenced their son's decision to drop out, as three of Wang's good friends from a nearby hamlet and in the same class had also left. Wang's father said that the three good friends were among the four to six classmates who all dropped out with him at the same time. During my conversation with his parents, Wang was inside their house listening to dance music with another young friend who had also dropped out of school.
I asked how they had felt when their son dropped out. The mother replied that she was "very sad and cried." She said she cried "because his results were very good, but he dropped out."
These parents said that they hoped their son could still go on to senior high school and university: "We hope he can go back to school, but he doesn't agree. Three weeks ago we yelled at him to go back to school, but he hasn't. If he stays at home too long, he'll get too used to having fun at home and not studying" (ibid.).
The father explained that two teachers had come together twice to speak to them and their son. These teachers told the parents that their son's school results were good and that he should continue studying. The Cikai township leader had also come to their house three times to "yell" at the son to try to encourage him to return to school.
My research assistant indicated that the dropout rate in Wang's hamlet was particularly high. I asked the father why this was so. Initially he said it was because the school was a long way from the hamlet. He then went on to tell me that their hamlet had never had a member attain a highly coveted appointment to the local government bureaucracy and that therefore there were no local role models for young people like his son.
The information presented by this family provides a more nuanced account of why some students drop out. Although the teachers I spoke with essentially blamed parents for students dropping out, saying that they were lazy and did not care about their children's education, the story provided by this family suggests that this is not always the case and that the reasons for dropping out can be far more complex. The parents also appeared to be quite torn regarding their son's predicament. While they were upset and angry at him for dropping out, they also expressed anger at the school for not providing an appropriate learning environment for him. The family clearly placed high value upon formal education, even though their child was not complying with the compulsory education policy.
The Campaign to Return Dropouts to School
Despite the high degree of initial resistance to strict enforcement of the compulsory education policy, local authorities eventually succeed in returning most dropouts to school. These authorities employ an array of strategies to ensure compliance. While a high degree of coercion is required in some cases, it also appears that local parents increasingly recognize the value of nine-year compulsory education and autonomously comply with the policy guidelines.
I interviewed a senior official at the Gongshan Education Bureau on my follow-up field trip in January 2008. She outlined the techniques employed by the county government and the Gongshan Education Bureau to ensure compliance with the compulsory education policy. First, the Gongshan government undertook wide-scale propaganda campaigns during the implementation process that emphasized that it was parents' responsibility to keep their children in school. According to the senior official, the campaign contributed to engendering a change in parents' attitude toward the value of education for their children. A key feature of the campaign was to place responsibility on parents to keep their children in school. She explained: "Parents have a responsibility [zhize] and obligation [yiwu] to ensure their children attend school" (field notes, January 28, 2008).
However, relying upon the self-governance of the local population was not enough to ensure compliance with compulsory education. Consequently, local governing authorities also employed coercive strategies to ensure compliance. One of the most important strategies was the detection and reporting of dropouts. According to the senior official, leading up to the scheduled official inspection in October 2007, schools had to report nonattendance on a daily basis. Follow-up inspection reports would be made on a weekly basis. Schools reported nonattendance to the township governments. Township governments reported nonattending students to their respective village committees. Village committees then coordinated with hamlet leaders to visit the households of dropouts. According to the official, the Gongshan Education Bureau does not fine households that do not comply. This is only because the majority of households are very poor and do not have the money to pay fines. Nevertheless, she explained that local businesses that are found employing people below the age of sixteen face fines enforced through the Gongshan County Business Bureau (ibid.). This coercive device is not unique to Gongshan and has been applied in other parts of China to ensure compliance with compulsory education policy (see Thøgersen 2002: 214).
While the Gongshan Education Bureau does not impose fines directly upon households to ensure compliance with compulsory education, it does have other, less direct coercive devices at its disposal. A local hamlet leader explained:
The majority of households support the compulsory education policy. For the small number of households that don't support the policy, we can employ certain threats to ensure that they comply. For example, if government or NGO poverty alleviation projects are implemented, they will be the last to receive support. For example, the government recently provided the village with free sheets of roofing [shimianwa]. Families not complying with compulsory education would be the last to receive free roofing. The punishments are similar to family planning: if households don't comply, then they'll receive fewer poverty alleviation benefits from government. (Field notes, January 26, 2008)
Initially, the campaign appears to have had mixed success and to have placed major stress upon officials, teachers, students, and parents. Even though the vast majority of school dropouts were eventually returned to school, it is unlikely that schooling will provide them with substantial long-term educational benefits. Commenting on the predicament of these students, my research assistant stated: "While they may have physically returned to school, their hearts are not there" (Ren zai na ge difang, xin bu zai na ge difang) (ibid.). One of the main reasons for the high number of dropouts in Gongshan is the overall failure of the school system to effectively prepare students for the transition to high school. Nonetheless, the recent consolidation of the primary school system should ameliorate this situation for future cohorts of students entering high school.
Special Vocational Schools for Dropouts
The creation of three special vocational schools (zhiye xuexiao) providing vocational and political education to long-term dropouts was another contingent response by local governing authorities to the strict enforcement of the nine-year compulsory education policy in Gongshan. From late 2006 onward, Gongshan teenagers who had not attended school for more than one year and who fell within the age range of the compulsory education policy were rounded up by village committee officials and taken to the special vocational schools. A head teacher from one of the schools described this process as "casting out a net and concentrating the fish" (Biandi sawang, zhongdian laoyu) (field notes, January 24, 2007). From the outside, these schools appeared to be strategic sites for cultivating and integrating members of the population who had fallen outside the formal education system and the reach of the state apparatus. However, upon closer inspection, the reality was somewhat different. In fact, the schools were established by the local governing authorities as a short-term practical measure to ensure compliance with the compulsory education policy and to meet bureaucratic quotas, rather than as a genuine long-term strategy to provide full and effective education for teenage dropouts. Most of the students who attended the schools were awarded the equivalent of a junior high school "leaving" certificate. However, based upon the very short length of time the students ultimately spent at the schools, as well as the conduct of the teachers charged with delivering education, it was unlikely that the schools provided students with an effective education.
On January 24, 2007, I visited the Cikai Township Vocational School, which had officially opened a month earlier. At the time of my visit, the school had ninety-three students. The school was set up by the Gongshan Education Bureau and Cikai township government, with the latter taking responsibility for managing the school.
The school's students met official criteria: (1) they were between fourteen and seventeen years of age (although I met one student who claimed he was thirteen and another who claimed he was eighteen); and (2) they had either dropped out of school before the end of grade two junior high school or had never attended school. The student population was divided into two classes of fifty-eight and thirty-five students, respectively, although the curriculum for each class was the same. The students at this particular school were all drawn from Cikai township and came from the Lisu, Dulong, Nu, Tibetan, and Han ethnic groups. Students were not required to pay any tuition, and all of their food was provided by the school. A quilt (bedding) was the only item the students were required to supply themselves. The students were brought to the school by officials from their respective village committees. During our discussion, the head teacher explained that in two days' time (the official end of the school semester), the same village committee officials would return to the school to take the students back to their villages. Students appeared to be unaware of this particular tactic, and it was most likely put in place to prevent them from running away once the semester finished.
All of the students lived in dormitories in former classroom buildings. They were strictly forbidden to return home while studying at the school. The boys' and girls' dormitories were segregated. There were also two officers from the police station living on campus to prevent the students from running away and to stop outsiders from entering the school grounds.
On the surface, the school served as an ideological and vocational training ground for undereducated and politically nonintegrated teenagers. The head teacher explained that one of the school's main goals was to increase the students' suzhi. Referring to the students, he stated: "They are society's garbage. The school provides them with an opportunity to change that." At another point during our conversation, he stated: "These students don't have any refinement [wenhua]. From a young age they drank, smoked, and got into fights" (ibid.). He said that one of the school's key responsibilities was to reacquaint the students with society (chongxin renshi shehui). Regimentation appeared to be an important part of the school curriculum.
While one of the stated goals of this school was to provide basic vocational and language skills for undereducated teenagers, it also served to instill social and political conformity among the student body. Because none of the students attending the school had undertaken or completed a formal education, they also had not received the social and political education normally instilled via China's national school curriculum. When the head teacher outlined the details of the school curriculum, the first area he listed was political education. Later in the interview, when he was discussing the content of political education, he told me: "We are a border area; it's important to have unity among the nationalities" (ibid.).
The school's curriculum was taught in three languages—standard Chinese, the local dialect (fangyan), and Lisu—and it covered the following areas: (1) political education; (2) farming practices and skills, including "scientific farming techniques"; (3) Chinese medicine, including knowledge about the economic value and health properties of local medicinal plants; (4) tourism; (5) language, with an emphasis on practical Chinese language terms (e.g., "contract" [hetong]); (6) mathematics; (7) local music; (8) art/painting; (9) sports; (10) basic army training; and (11) safety. The head teacher also emphasized that a major part of the school's role was teaching the students appropriate etiquette (limao). Alongside the school's two permanent teachers, specialists from different government work units also visited the school to teach in specific areas. On the day I visited, an agricultural specialist was at the school to deliver lessons.
The students finished their exams on the day I visited and would return home for a month of Chinese New Year holidays in two days. The head teacher said the program would continue until July 2007. Some of the students I spoke with appeared to be under the impression that they had now finished the program. But based upon what the head teacher said, it appeared that all of the students would be continuing the program the following semester. After the holidays, some students would undertake just two more one-month training programs. After completing these programs, they would receive a junior high school vocational leaving certificate (Zhiye Chuzhong Zige), which is technically equivalent to a junior high school leaving certificate (Chuzhong Zige).
Other students, considered by their teachers to have greater ability and potential than their peers, would be encouraged to return to formal schooling to complete their education. The head teacher explained that students under seventeen years of age who had dropped out of junior high school in either grade one or two had the opportunity to formally complete their junior high school studies in full at Gongshan High School, their former school. He stated: "Some students asked me if they could join the army if they continue their studies. I said, 'Yes, you can, and you can protect the country'" (ibid.).
The junior high school leaving qualification awarded via the school potentially offered very practical economic benefits for students. According to the head teacher, students who received graduation certificates would be able to use it to apply for "labor export programs, local work, and work in tourism." He also told me: "We tell the students that although this is a poor place, it has beautiful scenery and attractive folk culture [Shan qing shui xiu, min feng chun pu], and it isn't polluted. Therefore, people want to come here for travel. If the students have the right skills, they can take advantage of it. We also tell them that outsiders are coming here and becoming rich, while we are still poor" (ibid.). There is a degree of veracity to these comments. The Nujiang and Gongshan governments have identified tourism as one of several avenues for developing the economy in the years ahead (see fig. I.2). The ability to speak standard Chinese will be a particularly important skill for gaining employment in any tourism-related work assignments.
Contrary to outward appearances, the quality of teaching at the vocational schools was clearly not a priority of the local governing authorities. The head teacher and other male teachers I met during my visit appeared to be particularly poor role models for the students. For example, when I arrived at the school, I found the head teacher and two other male teachers drinking rice wine and playing drinking games in the staff room. They also poured some beer for me when I sat down with them. Because I was in a school environment and carrying out a formal interview, I said that I would prefer not to drink. The head teacher poured my beer anyway and said: "Have a little bit; this is nationality culture" (ibid.). This took place in full view of students who were walking in and out of the room.
The head teachers asked one of the students to take me for a tour of the school. When I returned to the staff room approximately twenty minutes later, one of the teachers proudly exclaimed: "Look, we finished the bottle [of rice wine] while you were away." The head teacher appeared to be conscious that drinking in front of the students on school grounds was officially frowned upon, telling me that they did not drink during the semester. He told me the reason they were drinking on the day I visited was that the students had just finished their exams. However, based on my experiences at many other local schools, drinking in front of students during school hours is common practice.
After my visit to the school, the head teacher and I walked together to the main road in order to catch a taxi back to the county town. During our walk, he told me, in a rather inebriated state, that "the ethnic minorities drink, are lazy, and sleep. We try to inspire them" (ibid.). The head teacher was a member of the Bai ethnic minority group.
By the time of my follow-up fieldwork trip to Gongshan, in January 2008, the vocational school had been closed down. As discussed earlier, it would appear that the schools were created by local governing authorities as a short-term, stop-gap measure that enabled them to comply with the nationally mandated compulsory education policy, rather than as a genuine attempt on their part to provide a comprehensive education for teenagers who had fallen out of the school system. Many of the dropouts who were drawn into the schools had been absent from the formal school system for a long period of time and had low literacy levels. Thus, it would have been difficult to place them directly back into a mainstream educational environment such as Gongshan High School. By placing dropouts within these special schools, the local authorities were able to demonstrate compliance with the compulsory education policy, even though many of the students who attended these schools ultimately received a very limited education.
SPECIAL NATIONALITY CLASS
Gongshan's education system also plays a central role in selecting and cultivating future ethnic minority government officials and leaders, for work in both local and higher levels of government. Because Gongshan is an official autonomous county of the Dulong and Nu ethnic groups, a large proportion of local government officials must be drawn from these same ethnic groups. As the administrator at Cikai Primary School explained: "The county leader must be either Nu or Dulong, and we need to cultivate [peiyang] them from an early age" (field notes, January 22, 2007). In line with central government policy, both Cikai Primary School and Gongshan High School have a separate nationality class (minzu ban) designed to cultivate future nationality officials (peiyang minzu ganbu). The vast majority of students selected for these classes are Dulong or Nu, with a small number of Lisu and Tibetan students also selected to reflect Gongshan's ethnic diversity. Also, at the end of grade six primary school, a very small group of high-performing students is selected for transfer to a special ethnic minority high school in Kunming to complete their schooling.
In Gongshan, the streaming of students into special nationality classes begins at the end of grade four. Teachers from Cikai Primary visit rural schools across the county to identify academic high achievers. Suitable candidates transfer to Cikai Primary's nationality class for grades five and six. In 2006, these classes consisted of approximately thirty-five students each. The academic performance of the students in these classes is comparatively high: in the 2005–06 school year, one of Cikai Primary's nationality classes was the top class in the county. Because Cikai Primary is the best primary school in the county, students selected for these classes receive a higher-quality education than they would have received in their home townships.
At Gongshan High School, grades one to three of junior high school each have a special nationality class. In 2006, these classes were composed of approximately fifty students each. Most of the students from the special nationality class at Cikai Primary are accepted into the special nationality class at Gongshan High School. As noted, the top students from Cikai Primary transfer to a special ethnic minority high school in Kunming.
Students selected for the nationality classes are taught by the schools' best teachers and receive superior levels of teaching compared to other students. They are also allocated land on the school grounds that they can use to grow vegetables to subsidize their living expenses.
CONCLUSION
The reform of the school system in an ethnic minority community reflects the broader governance strategy of the current Chinese Party-state. China's transition from a socialist command economy to a more open and market-based economy has weakened the Party-state's influence over many aspects of society. With the proliferation of mass media, the Internet, and overseas education and travel, the Chinese population is exposed to a range of ideas and opinions that have not been subjected to the strict political filters of China's governing authorities. While these authorities maintain a tight grip over national media and deploy significant resources to police the boundaries within which public discussion takes place, their capacity to influence the views and opinions of the Chinese population has declined dramatically over the past three decades. In this milieu, the formal education system remains a strategic and enduring site to shape the values and dispositions of the Chinese population. The education of ethnic minorities is a particular concern of China's governing authorities. China's rapid economic development has created significant social and economic disparity between the coastal regions and the western peripheral regions where the ethnic minority population is concentrated; today standards of living and educational outcomes among the ethnic minority population are lower compared to most of the majority Han population. This disparity has heightened Chinese leaders' concerns about social stability and national unity. This has in turn precipitated a series of large-scale developmental campaigns for western China. The implementation and strict enforcement of nine-year compulsory education and the consolidation of the school system are key manifestations of these campaigns.
While I have shown clear evidence of the capacity of local governing authorities and the community to resist and, in some cases, to circumvent education reforms imposed from above, in the long term the central government's strategies will succeed in drawing the vast majority of the school-aged population into the formal education system. Although the reform era has witnessed the retreat of the state from many aspects of Chinese society, the people of Gongshan actually experience it as an intensification of the state's influence over their lives and a closer integration into the Chinese Party-state.