2
NATURE RESERVES AND REFORESTATION

The Impacts of Conservation Programs upon Livelihoods
China is now experiencing many pollution hazards that only emerged during the middle or late stages of industrialization in developed countries, and no more sustainable environmental capacity is left to sustain the current pattern of economic growth. In the next 15 years, China's population will reach 1.46 billion and the GDP will quadruple. The expansive growth of the economy and population will bring huge pressures on resources and the environment.
—Yang Dongping 2007: xxxvii
When officials view situations such as that in the Dulongjiang, they mostly see extreme poverty, "backward" ethnic culture and the environmental destruction caused by creating swidden fields. Meeting "rights to subsistence" and "rights to development" are prioritized, and the focus of officials' efforts is on ensuring that basic food needs are met while introducing "advanced" and "scientific" agricultural production technologies. In this view, Dulong culture has nothing to offer the future.
—Wilkes and Shen 2007: 80
The CCP's legitimacy hinges upon its capacity to deliver sustained economic growth, social stability, and better livelihoods for the people of China. The continuing deterioration of China's natural environment is a serious challenge to these aspirations. Indeed, it is estimated that the economic costs associated with air pollution alone account for between 3 and 8 percent of China's GDP (Yang Dongping 2007: xxxviii). In an attempt to balance conservation with development, the CCP has implemented a series of large-scale conservation programs. Poor, marginal rural communities such as Gongshan are the most likely to be adversely affected by these programs.
The concept of governmentality, which provides us with a particularly useful tool for excavating the ways in which modern societies are governed, may be applied to conservation programs recently implemented in Gongshan, which not only are intended to conserve physical natural resources, but also are implicated within the broader social engineering agenda of China's governing authorities. In Gongshan, this agenda involves transferring so-called backward, low-quality, and unproductive farmers away from agricultural work and toward off-farm work in cities and towns, and, in doing so, facilitating the integration of a formerly peripheral ethnic minority community into the national economy and Party-state. These conservation programs are legitimized by a government narrative that represents the local rural population as the most serious threat to the natural environment and as being incapable of maintaining sustainable livelihoods without government intervention. Although this phenomenon is not unique to China, the techniques and practices associated with conservation programs in Gongshan are relatively blunt, and in some cases ineffective, instruments for influencing the conduct and aspirations of the local population.1 Furthermore, it appears that these programs have had limited success in terms of conservation.
Three major conservation programs affect agricultural practices and access to resources in Gongshan: the Natural Forest Protection Program (NFPP), the Sloping Land Conversion Program (SLCP, also known as "Grain for Green"), and the creation of the Gaoligongshan Nature Reserve. These programs have significantly redefined local livelihoods. Despite Gongshan's geographical isolation and economic underdevelopment, its people find themselves increasingly detached from their local context and grappling with fundamental changes to their livelihoods and agricultural practices that are beyond their control. Policy goals also appear to be incongruent with the economic and social realities of the communities targeted by these programs. While conservation programs promise long-term benefits for China's environment, they can also contribute to increased economic marginalization and welfare dependence among those community members ill-equipped to deal with these changes. For example, whereas conservation programs such as the SLCP are designed to move farmers toward off-farm work in cities and towns, in poor ethnic minority rural communities such as Gongshan, members of the local adult population often do not have the skills and knowledge necessary to engage in off-farm work. These programs do not always result in improved conservation outcomes, either: in many cases, the tree species selected for conservation programs are not suited to local conditions. As a consequence, many areas nominally reported to authorities as forested are in fact barren wasteland, significantly undermining the promised environmental benefits of these conservation efforts.
This scenario also reflects the contradictory demands placed upon the local community. On the one hand, government constantly dictates to local parents that they must keep their children in school. They are told that a full education will ensure that future generations will not experience a life of poverty. However, in imposing strict conservation policies, the government has severely affected the capacity of households to generate the income required to support their children's education-related costs. The household economic burden associated with the first nine years of education has decreased substantially in recent years; nevertheless, education still is the largest economic outlay for many household economies.
The programs demonstrate the Party-state's present dilemma of trying to balance rapid economic development with environmental conservation. During the first two decades of the reform period, China's natural environment was often neglected as governing authorities pursued swift industrial development. The central government appeared to be pursuing a policy of "get rich first, clean up later." However, by the end of the 1990s, the central government realized that the ongoing damage to China's environment was not sustainable and that it threatened the long-term prosperity of the nation. As a consequence, over the past decade and a half we have witnessed a big shift in the Party-state's attitude toward environmental conservation.
Nevertheless, conservation programs have exacerbated ecological destruction in some cases (see Harkness 1998). The first case study presented in this chapter, "Zala" hamlet, demonstrates that the creation of the Gaoligongshan Nature Reserve has actually escalated the exploitation of ecological resources.2 The boundaries and codes of conduct outlined in official conservation policy are not rigorously enforced and are easily circumvented at the hamlet level. Our second case study, focusing on the isolated hamlet of "Talaka," demonstrates the ways in which geographical isolation and inadequately resourced monitoring agencies can render conservation programs ineffective. The Talaka example highlights the coercive limits of the Chinese Party-state as well as the contradictory policies associated with development in poor rural communities.
The recent promotion of hydroelectricity production provides further evidence of the contradictory development policies being pursued by the governing authorities in Nujiang. The prefectural government has strongly endorsed plans to construct a series of large-scale cascading dams down the Nu River as a vehicle for generating income and stimulating Nujiang's underdeveloped economy. However, the construction of these dams is likely to have a severe impact upon Nujiang's unique and fragile ecology as well as the livelihoods of the local population.
CHINA'S DEVELOPMENT DILEMMA: BALANCING CONSERVATION AND ECONOMIC GROWTH
China has a critical shortage of naturally forested areas, and its biodiversity is seriously threatened. One of the major challenges to the conservation of naturally forested areas and biodiversity is the large, generally poor populations living in and around China's forested areas. While China's population as a whole has increased approximately two and a half times since 1953 (the year of the first official census), the population living in forested areas has increased five times. Increased population pressure combined with wide-scale industrial logging in forested areas has resulted in significant reductions in natural forest cover and serious soil erosion problems (Zhang et al. 2000: 2135). The areas with the densest concentration of biodiversity are also home to some of China's poorest rural communities. On the one hand, these communities find themselves subject to popular and government discourse telling them that they are poor and backward and must develop. On the other, they are confronting conservation programs that have removed their access to the resources necessary for household economic development.
China's current development dilemma stems from a history of unbridled environmental destruction. China is home to one of the world's oldest continuous civilizations, and its natural environment has been under pressure from human habitation for several thousand years. In recent times, an extremely large populace, coupled with rapid industrial development, has placed severe strains on the fragile natural environment. Although China has a large land area, more than half of it is highly mountainous. China also has one of the world's lowest ratios of arable land per person. One-third of China's land is at altitudes over 2,000 meters above sea level (Smil 1984: 5). As Smil notes, "No other large populous nation has so much of its territory in high mountains" (ibid.: 4–5). China's forest volume per person is approximately one-eighth of the world average (Elvin 2004: 20).
Since dynastic times, China's forests have provided the fuel for economic development and have been subject to wide-scale human intervention. Forests were not only cleared for new farmland and settlements; they also provided fuelwood for households and industry and timber for the construction of houses, ships, boats, and bridges (ibid.). As early as the eleventh century, there was an awareness of fuel shortages associated with deforestation in central eastern China (ibid.: 20–21).
Deforestation escalated during the Maoist period as the Party-state engaged in a "war against nature" to fuel rapid industrial expansion and increase agricultural production (see Shapiro 2001). Although China's first nature reserve was officially created in 1956 and efforts were made to reforest vast areas of the country, environmental conservation was not a government priority during the Maoist period, and reforestation efforts were largely ineffective (Harkness 1998: 913–14; Murray and Cook 2002: 48–53).
China's rapid economic growth over the past three decades has translated into increased pressure on the country's forestry resources and biodiversity. For example, average annual timber consumption nearly doubled between the mid-1970s and early 1980s (Harkness 1998: 914). The increased pressure on China's forest resources is attributable to the "recommodification of the natural world since 1978," whereby resources that had been strictly controlled under state monopolies became subject to market forces (ibid.: 915). Nontimber forest products (NTFPs), including wild medicinal plants, flowers, and mushrooms, have become highly com-modified during the reform era and now are an important source of cash income for rural communities living in or near natural forests. In some cases, the commodification of these resources has exposed peripheral rural communities to powerful economic forces beyond their local realm. For example, exposure to lucrative foreign markets resulted in the sudden commodification of matsutake mushrooms in northwestern Yunnan in the mid-1980s (see Yeh 2000). Previously, matsutake mushrooms had held little economic value for local rural communities, but from the mid-1980s onward, improved local transport infrastructure and rising demand among wealthy Japanese consumers have induced wide-scale, and sometimes unsustainable, exploitation of these mushrooms.3
From the early 1980s onward, increasing concerns about forest destruction and the loss of biodiversity within China has led to efforts to preserve existing forests and promote reforestation. For example, by 1993 the number of nature reserves had increased to more than 760, and they covered 6 percent of national territory (Harkness 1998: 917). Furthermore, official restrictions were placed on timber use. For example, starting in 1983, timber was officially prohibited from being used as industrial fuel or floorboards or to build coffins, stairs, or bridges (ibid.: 916).
Today nature reserves form the backbone of China's efforts to prevent biodiversity loss (McBeath and Leng 2006: 106). These are areas of land with artificial boundaries that limit human activity and prevent the exploitation of resources. Areas are generally nominated as nature reserves because of their unique biological characteristics. By 2005, China had close to 2,200 nature reserves, covering 14.8 percent of its land area. There are plans to increase the number to 2,500 by 2050, which will cover 18 percent of the land area (Xu and Melick 2007: 320).
In western China in particular, poor rural communities have experienced major changes to their livelihoods because of nature reserves. While western areas such as Yunnan, Guizhou, and western Sichuan are home to China's densest concentration of plant and animal species, they are also home to China's poorest people.
China's efforts to reforest and promote environmental conservation appear impressive on paper. However, these efforts have not been accompanied by effective management, financial support, or enforcement (Harkness 1998; Xu and Melick 2007). Most of China's nature reserves are in poor, isolated areas of the country. The local governments in charge of managing and policing reserves generally do not have the financial and human resources to effectively undertake these activities (Harkness 1998: 918). These poorly funded provincial and county governments are expected to shoulder the burden of managing and policing reserves without a concomitant increase in financial support or training from higher-level governments (Xu and Melick 2007: 321). Consequently, local governments often regard reserves as an administrative burden (Harkness 1998: 918). The inability of underfunded nature reserve offices to effectively police and manage reserve resources often results in reserves becoming "paper parks," so that their resources continue to be plundered. This can actually cause further harm to protected areas because the newly prescribed management and policing associated with nature reserve protection are not as effective as traditional, more inclusive community forestry conservation and management practices (Harkness 1998; Xu and Melick 2007).4
CHINA'S REFORESTATION PROGRAMS
China's nature conservation efforts have been augmented by the Natural Forest Protection Program (NFPP; Tianran Lin Ziyuan Baohu Gongcheng) and the Sloping Land Conversion Program (SLCP; Tui Geng Huan Lin Huan Cao Gongcheng). These programs are designed to protect old-growth forests, to forest barren wasteland, and to convert agricultural land to forest, and China's western areas are a major focus of their work. Central to both of these programs is their reliance on nominal reporting of increased forest coverage as a proxy for progress (Trac et al. 2007: 277). A number of case studies suggest that these programs' effectiveness as conservation measures has been highly uneven and that, in some cases, they have been a complete failure, challenging official accounts that the programs have led to widespread increases in forest coverage (Trac et al. 2007; Weyerhaeuser, Wilkes, and Kahrl 2005).
The Natural Forest Protection Program
Two major conservation activities underpin the NFPP: a national logging ban and reforestation. The program can be traced back to central government reforestation efforts of the late 1970s. However, it was not until late 1998 that the central government began investing heavily in the NFPP in an attempt to systematically restore China's forested areas and to protect water and soil resources in the watershed areas of its major rivers (Mallee 2001: 6–7).
In 1998, the middle reaches of the Yangzi River experienced severe flooding, resulting in the loss of more than three thousand lives and serious environmental and economic damage. The flooding was officially attributed to high levels of silt in the river system, linked to soil erosion resulting from deforestation in the Yangzi's upriver catchment areas. The major culprits for the high levels of erosion and river silting were said to be farmers in the upland watershed areas of western China, who over the past decades had opened up agricultural land on slopes with a gradient of greater than 25 degrees (ibid.: 7). Recent research challenges this attribution, suggesting that while deforestation in upriver catchment areas did lead to localized erosion and buildup of silt, this silt did not flow downstream and cannot be directly correlated with the flooding of the middle reaches of the Yangzi (see Henck 2010).
In late 1998, in response to this crisis, a number of provinces, including Yunnan and Sichuan, placed a blanket ban on logging in natural forests in accordance with the NFPP; over the ensuing two years, the central government invested heavily in the program. In December 2000, the central government announced that it would invest nearly ¥100 billion (approximately US$12.5 billion) over the following ten years in an effort to both protect existing forests and expand China's forestry coverage. Eighty percent of this funding would come directly from the central government (Mallee 2001: 6).
This policy has had a substantial impact on livelihoods in areas where households and governments had relied heavily on logging for income. Indeed, in southwestern China, some county governments had relied on logging for 80 percent of their tax revenue (ibid.: 7).
The NFPP has been incorporated within the Open Up the West policy. There are five central tasks in this policy; the second of these emphasizes the need to "earnestly strengthen the protection and construction of the ecological environment" (Qieshi jiaqiang shengtai huanjing baohu he jianshe) (China.com, August 19, 2007).5
The Sloping Land Conversion Program
Closely affiliated with the NFPP is the Sloping Land Conversion Program. The SLCP is one of the biggest changes to agricultural life since the founding of the PRC. Essentially, the SLCP provides subsidies to farmers in return for converting their steep, sloping agricultural land into ecological forests, economic forests, or grasslands. According to the State Forestry Administration definition, ecological forest comprises timber-producing forests, while economic forest comprises orchards or plantations of trees with medicinal value (Xu et al. 2004). Farmers receive grain subsidies, cash payments, and free seedlings for converting their land. If farmers convert to economic forests, they receive subsidies for five years. If they convert to ecological forests, they receive subsidies for eight years. In the Yangzi River Basin, farmers receive 150 kilograms of grain per mu (0.0667 hectares) per year as compensation. In the Yellow River Basin, farmers receive 100 kilograms of grain per mu per year. Farmers also receive ¥20 (approximately US$2.50) cash per mu per year. In recent years, farmers in some areas have received cash instead of grain as compensation. The SLCP is taking place on a massive scale and is one of the world's largest ecological conservation projects. The program was originally targeted to affect nearly fifteen million hectares of land and forty to sixty million households (Uchida, Xu, and Rozelle 2005: 247).
Although the SLCP is targeted at restoring soil and water systems in fragile ecological areas, it also has a social engineering agenda. According to a State Forestry Administration report, the program aims to shift farmers away from environmentally damaging agricultural practices and toward what governing authorities regard as more sustainable and productive activities, such as raising livestock and engaging in off-farm work (Xu Zhigang et al. 2004: 318).6 Thus, for millions of farmers the program is a fundamental transformation of their way of life and potentially means closer integration into China's industrial economy.
The SLCP has had the greatest impact in western provinces such as Sichuan and Yunnan, which have a high concentration of farmers cultivating land on slopes with a gradient of greater than 25 degrees.7 Farmers participating in the program are particularly concerned about how they will generate income and sustain their households when they stop receiving government subsidies in five to eight years. This scenario will begin to change in the years ahead, as implementation and strict enforcement of nine-year compulsory education in China's western peripheral regions expand the pool of farmers eligible for off-farm work in the long term. For now, though, the future for adult farmers remains open.
THE IMPACTS OF CONSERVATION PROGRAMS IN NUJIANG AND GONGSHAN
Until the early 1980s, Nujiang's forest resources, including those in Gongshan, were targeted as lucrative fuel for local economic growth. During the 1960s, government policy declared, "Take forest as the key, and fully develop forestry and grain" (Yi lin wei zhu, lin liang bing ju, quanmian fazhan). In the 1970s, new government policy declared, "Take forest as the key, and fully develop forestry, grain, livestock, and medicinal plants" (Yi lin wei zhu, lin, liang, mu, yao quanmian fazhan) (Gongshan County Annals 2006: 262).
Since the early 1980s, a series of programs has been put in place to preserve Gongshan's ecological resources. However, it was not until the late 1990s that the county government, in alignment with national conservation policies, made serious efforts to preserve Gongshan's local ecology. According to contemporary official sources, the county government still views Gongshan's ecological assets as one of its greatest potential resources; however, the county government is now promoting conservation rather than exploitation. The importance that the county government now attributes to ecological preservation is summarized by Gongshan County Secretary Zhu Yuhua: "Gongshan's advantage lies in its ecology. Gongshan's development relies on its ecology. Increasing farmers' revenue relies on ecology. Therefore the protection of Gongshan's ecology is the key to opening up its development" (Yunnan Daily Online, January 23, 2007).
According to official figures, Gongshan's forest coverage has increased significantly over the past two decades due to reforestation efforts. These figures declare that forest coverage has increased from 48.2 percent in 1984 to 77.2 percent today and claim that over the past fifty years, more than 410,000 mu (27,347 hectares) of land has been reforested, over 1,700,000 trees have been planted, 3,935,000 mu (262,464.5 hectares) of forestry resources have been protected under the NFPP, 180,000 mu (12,006 hectares) of collective forest have been created, and 47,000 mu (3,134.9 hectares) of agricultural land have been converted to forest in accordance with the SLCP (Xinhuanet, September 26, 2006). Associated with these policies are government efforts to move villagers down to lower altitudes from upland villages. These official figures need to be treated with a high degree of caution, however. Although notionally, large areas of former agricultural land have been converted back to "forest," in many cases the tree species that have been planted have not thrived. In fact, many of the areas that have been "reforested" actually resemble barren wasteland (see figs. 2.1, 2.3, and 2.4).
Moreover, conservation development policies in Gongshan are often highly contradictory, and they unfairly attribute environmental problems to the agricultural practices of the local population. For example, government officials have identified the development of hydroelectricity via both small- and large-scale dams as a key vehicle to ensure ecological preservation in Nujiang. The Nujiang Prefecture party secretary, Jie Yi—the most powerful person in the prefecture—made the following statement to reporters: "Nujiang's fragile ecological environment unsustainably supports a large population. Nujiang is not facing an ecological protection problem, [but] rather an ecological rehabilitation problem. Ecological restoration forces people to relocate. Converting land to forest and restoring ecology requires people to invest money. It is urgent to develop hydroelectricity to protect Nujiang's ecology. Why are we so determined? Because there is no other way out" (Yunnan Daily Online, quoted in Wang et al., January 13, 2006). The party secretary essentially is arguing that the production of hydroelectricity via large-scale dam projects is the only mechanism that will provide Nujiang with the high level of income necessary to effectively restore the local ecology. These sentiments were echoed by Shi Lishan, deputy director of the new energy department under the National Energy Administration, at a meeting in Beijing in early 2011 following an official announcement that the central government was resuming plans to build a series of large cascading dams down the Nu River (China Daily, February 1, 2011). In response to suggestions that the dams would damage Nujiang's ecology, he said that the ecology along the Nu River had already been damaged by local farmers who cultivated the steep slopes above the river, and he implied that these farmers were responsible for depleting all of Nujiang's forests below 1,500 meters and increasing its susceptibility to natural disasters. He stated: "Some people say that Nujiang people are not growing grain, but brewing disasters. . . . So proper development of the river is crucial to improving local people's lives and protecting the environment" (ibid.).
These official statements, one by a central government official and one by a lower-level prefectural official, are further articulations of the "Nujiang issue" narrative that ascribes Nujiang's low level of economic development and its environmental problems mainly to the livelihoods and agricultural practices of the local ethnic minority population. This narrative not only serves to legitimize government intervention; it also deflects attention from the highly deleterious environmental impacts associated with the government's development policies. Governing authorities point to Nujiang's ethnic minority farmers as the single biggest threat to local ecology, even though it was these same governing authorities who began efforts to exploit the prefecture's natural resources in a damaging way and who continue to do so today.
Based on experiences in other parts of China, it is highly unlikely that these so-called conservation development policies, particularly the development of hydroelectricity via the construction of dams, will translate into positive outcomes for the people of Gongshan and the local environment. As noted earlier, according to nongovernmental assessments, the nearby Mekong River hydroelectric dam projects have done little to improve local livelihoods and in some cases have exacerbated poverty (Xue and Wang 2007: 81–83). Furthermore, according to some estimates, of the sixteen million people who have been displaced by hydropower projects in China since 1949, more than 60 percent now live below the poverty line (ibid.: 82).
Although the Chinese government has not publicly released the results of the Environmental Impact Assessment performed for the proposed dams project, there can be little doubt that the construction of these dams would have a devastating impact upon local ecology. Even if these dams are built at altitudes below those at which Nujiang's unique ecological resources are found, they will submerge prime agricultural land and, in so doing, push farmers farther up the mountain slopes and toward these resources. An independent investigation conducted by the International Union for Conservation of Nature (IUCN) in conjunction with UNESCO also suggests that the proposed dams will negatively impact local ecology (Lopoukhine and Jayakumar 2006).
The Gaoligongshan Nature Reserve
In the decades following Gongshan's Liberation, forestry resources were regarded as fuel for economic growth (Wilkes 2000). Forestry products, including medicinal plants, were specifically targeted for economic exploitation. However, due to poor transport infrastructure and logistical constraints, it was not until 1979 that forestry industry began to take off. By the 1990s, forestry resources were the bedrock of the Gongshan economy, providing a large revenue stream for local government, income for local households, and profits for local and outside businesses (ibid.).
Nevertheless, although forests were targeted for economic exploitation, there was also evidence of increasing conservation concerns starting in the mid-1980s. In 1986, the Gaoligongshan National-Level Nature Reserve (Gaoligongshan Guojia Ji Ziran Baohu Qu) was created. The reserve covers more than 50 percent of Gongshan's territory and is one of China's richest repositories of plant and animal species. A number of stations were established by the County Nature Reserve Bureau to police the nature reserve and prevent villagers from accessing its resources. The creation of the reserve imposed an artificial barrier; the threat of legal punishment was used to deter villagers from accessing forestry resources, hunting, and grazing livestock (ibid.). However, it was not until the late 1990s that the policing of the reserve's resources began in earnest. More effective surveillance contributed to a considerable decline in household income in communities within or near the reserve. At the same time, evidence suggests that increased surveillance has done little to deter outsiders from exploiting the reserve's resources. The reasons for this are explained below.
The Three Parallel Rivers UNESCO World Heritage Area has been inscribed on top of the Gaoligongshan Nature Reserve area. In accordance with a request from the Yunnan provincial government, the World Heritage Area is above 2,000 meters in elevation and, as a consequence, does not encompass the Nu River's fast-flowing waters, which are coveted by provincial authorities as a key resource for economic development via dam construction and hydroelectric power generation (Brown and Xu 2010: 779). The UNESCO World Heritage Area system convention "seeks to encourage the identification, protection and preservation of cultural and natural heritage around the world considered to be of outstanding value to humanity" (UNESCO 2007). The Three Parallel Rivers Area was officially inscribed in July 2003; it covers nearly 1.7 million hectares of northwestern Yunnan and includes the watersheds of three of China's major rivers, the Nu (Salween), Lancang (Mekong), and Jinsha (Yangzi). The World Heritage Nomination report notes the unique biological criteria that formed the basis upon which the Three Parallel Rivers Area was nominated and accepted:
Northwest Yunnan is the area of richest biodiversity in China and may be the most biologically diverse temperate region on earth. The site encompasses most of the natural habitats in the Hengduan Mountains, one of the world's most important remaining areas for the conservation of the earth's biodiversity. The outstanding topographic and climatic diversity of the site, coupled with its location at the juncture of the East Asia, Southeast Asia, and Tibetan Plateau biogeographical realms and its function as a N-S corridor for the movement of plants and animals (especially during the ice ages), marks it as a truly unique landscape, which still retains a high degree of natural character despite thousands of years of human habitation. As the last remaining stronghold for an extensive suite of rare and endangered plants and animals, the site is of outstanding universal value. (IUCN n.d.: 10)
The World Heritage Area is believed to contain more than 25 percent of China's animal species (IUCN n.d.: 2–3). Many of these species are classified as endangered. The World Heritage Area is also home to more than six thousand species of plants, six hundred of them endemic to northwest Yunnan (ibid.). The Gaoligongshan Nature Reserve is one of many protected areas included in the World Heritage Area. The conservation strategy associated with the World Heritage listing emphasizes the need to balance conservation with economic development. We see clear evidence that this program not only is aimed at protecting natural resources, but also is influencing the conduct and aspirations of the communities affected: "The guiding principles are ecological equilibrium, between man and nature, ecological conservation and conformity to existing laws. The plan is to preserve the ethnic cultures, focusing on certain villages, retaining their biological, cultural and landscape diversity while developing their economic potential in environmentally friendly ways. Staff training and public awareness programs are planned, and programs for monitoring by satellite and aerial photography, and on site [monitoring] of the hydrology, ecology, fires, pollution, forest disease and tourist movements" (UNEP/WCMC 2003).
The World Heritage listing does not provide direct financial funding to the protected area, and it relies on existing governing institutions to ensure ongoing protection. Nevertheless, at present it remains unclear whether the listing translates into better protection for plant and animal species and sustainable outcomes for people living in or near the World Heritage Area. Indeed, the listing appears to provide further justification for local government efforts to relocate poor rural communities out of the area.
UNESCO and the IUCN have been concerned about the lack of transparency and openness regarding hydroelectric dam construction in the Three Parallel Rivers Area (see Lopoukhine and Jayakumar 2006). As noted earlier, the provincial government has identified hydroelectricity production as a key driver of economic development. Local governments are pursuing hydroelectric dam construction projects in the Three Parallel Rivers Area even though these projects would severely compromise the biological and cultural assets of this region.
In Gongshan, the creation of the Gaoligongshan Nature Reserve and its subsequent inclusion in the World Heritage Area have resulted in poorer outcomes for local communities and ongoing unsustainable exploitation of nature reserve resources. Similar to the situation in other reserves, the Gaoligongshan Nature Reserve has suffered from insufficient financial support, and its resources are still being exploited by local villagers as well as outsiders (Wilkes and Yang 2000a, 2000b).
The creation of the Gaoligongshan Nature Reserve has also marginalized communities living in or near the reserve by prohibiting access to income-generating resources such as timber and medicinal plants. In Gongshan, anecdotal evidence suggests that nature reserve resources continue to be harvested despite intermittent policing by the Nature Reserve Bureau staff and village-based forest guards. One reason for ineffective surveillance and policing is a lack of incentive for locals to report people who are illegally extracting resources from the reserve.8
While it was difficult to find informants who would openly admit to the ongoing exploitation of nature reserve resources, some informants did disclose that people from their hamlet continued to access the nature reserve to collect medicinal plants and other NTFPs. Furthermore, along the main thoroughfares of the county town it is common to see locals and outsiders openly selling orchids, medicinal plants, and protected animal species extracted from the reserve.
Exposure to market economic conditions appears to be one of the main factors that have contributed to the overexploitation of local natural resources in Gongshan. Under the command economy, NTFPs and timber offered households limited financial utility. However, under market economic conditions, these resources are transformed into lucrative generators of household cash income (also see Hoang 2009). During the reform era, households have become increasingly reliant upon cash income, not only to meet government obligations such as education costs for children, but also to purchase the growing array of goods and services available under the market economy. According to a village-based informant in Gongshan, in 2001 the price paid for wild orchids reached ¥100 (approximately US$12.50) per plant. This is a very large sum of money in a community where the average rural per capita cash income in 2008 was ¥1,064 (China Nujiang Gorge Network 2011). The sudden increase in orchid price resulted in the wide-scale stripping of orchids from the nature reserve by local farmers. Consequently, today it is very difficult to find orchids there. The stripping was driven by increased demand for orchids from outside collectors. According to the informant, locals sold orchids to middlemen, who took them back to cities such as Kunming, Shanghai, and Beijing to sell at much higher prices (field notes, July 6, 2005).
In some cases, the ongoing exploitation of medicinal plants and other NTFPs by local households also reflects their practical response to the high-priced goods and services delivered through government institutions and the market economy. For example, apart from providing villagers with a valuable source of cash income, medicinal plants are an important substitute for expensive medical treatment at local hospitals and medical clinics (ibid.).
CASE STUDY ONE:
"
ZALA
"
The Gongshan hamlet of Zala is an example of the impacts of the Gaoligongshan Nature Reserve on the area. The creation and increased policing of the reserve have affected some communities more than others, and poor rural communities such as Zala that relied heavily on the reserve's resources have suffered. The importance of the reserve to poor households cannot be overstated. In earlier times of hardship, the resources there provided insurance against starvation.
Zala is a poor, isolated hamlet in the west of Cikai township, approximately three hours' walk up the Pula River from the county town (see map 4). No roads directly link it with the rest of Gongshan. The hamlet sits at 1,900 meters, approximately 475 meters above the Pula River. Zala sits directly on the border of the Gaoligongshan Nature Reserve. Production and income levels are low (Wilkes and Yang 2000a: 2). In 1999, Zala had 41 households, which is approximately a sixfold increase in the number of households since 1949. In 1999, average income was ¥629, approximately 75 percent of the Cikai township average and ¥170 below the national poverty line (Wilkes and Yang 2000b: 36). The NFPP has strengthened restrictions on logging. Prior to 1999, 80 percent of Zala households were engaged in logging. One family could make ¥2,000 to ¥3,000 from logging each year. However, following the construction of the Dulongjiang Road, the Nature Reserve Bureau built an inspection station next to the county town. Timber being brought out of Zala and surrounding areas had to be taken through this inspection station. From that time onward, villagers have been unable to sell timber (Wilkes and Yang 2000a: 8).
One newspaper report suggests that the logging ban has actually exacerbated environmental destruction in Nujiang, as the ban induced farmers to open up more agricultural land in order to compensate for the income loss associated with the logging ban (Wang et al., January 13, 2006). There is veracity to such reports. However, they also reflect local government prejudice against the rural ethnic minority population, which is perceived not only as poor, backward, and engaging in a method of agricultural production that does not contribute to economic development, but also as dependent upon the "advanced," "scientific" intervention of government if it is to interact with the local environment in a sustainable manner (also see Hoang 2009).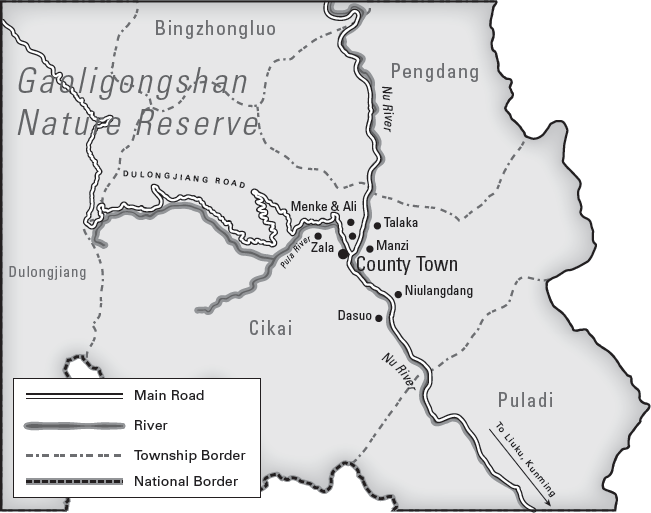 According to an investigation conducted by Andreas Wilkes and Yang Xuefei in 2000 (2000b), most households were reliant on the nature reserve's natural resources. NTFPs collected within the reserve contributed between 10 and 60 percent of household income (ibid.: 43). Resources that could be sold for cash included matsutake mushrooms, fragrant mushrooms (xiangjun), and sanqi, as well as more than twenty types of wild vegetables and wild honey (ibid.: 37). These resources provided both cash income that villages could use to compensate for their insufficient grain levels and wild vegetables to eat during times of grain shortage. Importantly, household cash income generated through the sale of NTFPs such as these was used to pay for government-imposed services, including education (ibid.: 43).
Despite the creation of the nature reserve in 1986, resources continue to be exploited by local villagers and outsiders. The villagers' relationship with the reserve resources is summarized as follows:
The villagers are very clear that they are not able to take the resources within the nature reserve. But at the same time they are very clear the resources within the nature reserve are also very important for maintaining their livelihoods and increasing income. Because villagers normally do not have enough grain (grain harvests are low, because apart from natural disasters, nature reserve animals also destroy their crops), the villagers rely on the natural resources within the nature reserve to supplement their food supply and increase income, and ensure that they have enough foodstuffs. (Ibid.: 43)
The current approach to reserve management serves neither community development nor national conservation interests. The situation has been compounded by the poor relationship between the community and the organizations responsible for managing the reserve (Wilkes and Yang 2000a: 2). Several NTFP species within the reserve face serious threat, and many other NTFP species have declined in recent years. For example, tushan (Taiwania flousiana) is a national protected species, but in the nature reserve area close to Zala there were only about thirty tushan trees left in 2000 (ibid.). Increases in prices paid for medicinal plants and wild mushrooms have led to the disappearance of four species. Apart from local villagers, people from Fugong, the county directly south of Gongshan, also collect large quantities of medicinal plants and mushrooms (ibid.).
A villager described the problems associated with the imposition of the nature reserve: "The government should give us ¥150 each a year to protect the nature reserve. We could then stop outsiders from entering. If everybody was compensated, everybody would protect it. We do not bother stopping outsiders entering at the moment" (household survey, July 19, 2005). Such compensation is very limited. According to an article published in the Yunnan Daily Online (cited in Wang et al., January 13, 2006), the Forestry Bureau compensates farmers for crop losses associated with wild animals, but only for 10 percent of such losses. Furthermore, protection services have to cover vast areas with extremely limited human and financial resources, so it can take several days for Nature Reserve Bureau staff to undertake a return trip by foot to the core areas of the reserve. Limited funding makes such trips very difficult. Speaking with Yunnan Daily reporters about these issue, He Runcai, the director of the Prefectural Forestry Bureau, stated: "We have to beg for finances. Apart from salaries, we have very limited funds to cover other expenses" (quoted in ibid.).
I had originally intended to revisit Zala during my final follow-up fieldwork visit to Gongshan in January 2008 in order to conduct several more in-depth interviews with villagers. However, Zala was snowed in and inaccessible for the duration of my visit. As a consequence, my research assistant made two return visits to Zala on my behalf in February and March 2008. During these visits, he conducted in-depth interviews with two households. Data from these interviews reinforce the findings of Andreas Wilkes and Yang Xuefei (2000a; 2000b) indicating that the creation and increased policing of the reserve have significantly affected local household economies. Furthermore, the data highlight how nature reserve resources provided vital insurance against occasional falls in agricultural output as well as natural disasters.
Reflecting the day-to-day challenges of life in contemporary Gongshan, the large snowfall of late January 2008 had badly damaged Zala's infrastructure, and the hamlet's electricity supply had not been restored when my research assistant made his first return visit on February 11.
Zala Household One
The first household defines itself as Dulong and is composed of three persons: a mother and her two sons. The father of the household died from illness four years prior to my research assistant's field interview. The eldest son attends university in Kunming. His university fees are paid for through a scholarship awarded by a provincial tobacco company. Prior to the increased policing of the nature reserve, the household generated most of its income via the cultivation of a large amount of agricultural land (they did not specify its area) within the reserve boundary, as well as the sale of medicinal plants and wild vegetables collected from the reserve.
However, following the increased policing of the reserve, the family can no longer access the large amount of agricultural land that they used to cultivate there. They also are no longer able to collect medicinal plants and wild vegetables. Furthermore, because the land they used to cultivate within the reserve boundary was defined as illegal, they were not able to receive compensation for that land when the SLCP was introduced in Zala.
Today the household subsists upon 3.5 mu of land, 20 goats, and 4 pigs, as well as a government subsidy for the small amount of agricultural land (1.5 mu) outside the reserve boundary that they converted following the implementation of the SLCP. The family complained that apart from the relatively small amount of SLCP compensation, they have received no other compensation from government for the loss of household income associated with the creation and increased policing of the reserve. They also complained that wild animals from the reserve damage their crops. However, because of the intensification of conservation laws, they do not have the right to hunt these animals (field notes, February 11, 2008).
The Zala Hamlet Leader's Household
On March 20, 2008, my research assistant visited the hamlet leader's house. The leader was appointed to his position in May 2007, and his household is composed of three persons: the leader himself, who is Nu; his wife, who is Lisu; and their son. Like the previous household, this household complained that their income had decreased significantly and said that life was much harder than before policing intensified. They reported that their household income and general situation are more difficult now than they were prior to the increased policing of the nature reserve. The income they generate from cultivating land is unstable. Raising goats and cows is also more difficult than before. After 1998, their access to timber, NTFPs, and hunting was increasingly curtailed. In 2000, access was completely cut off. Since then, household income has decreased by 40 percent. Previously, an average household could make ¥1,000 to ¥3,000 per year from the reserve resources. This income source has now evaporated.
They also reported that following the increased policing of the reserve and implementation of the SLCP, some wild animal populations have recovered. Consequently, crop damage by wild animals has increased. Moreover, the SLCP has reduced access to pastoral land for raising goats and cows, further affecting the ability of local households to generate income (field notes, March 20, 2008).
The creation and subsequent policing of the Gaoligongshan Nature Reserve have thus had a destabilizing impact upon local livelihoods. Historically, the resources that now fall inside the reserve boundaries provided households with insurance in times of need. As the resources within the reserve became increasingly commodified during the reform era, they provided households with an important source of cash income that was used to pay for government-imposed services such as education. While the government imposed much heavier restrictions upon the extraction of reserve resources from the late 1990s onward, this appears to have done little to serve either national conservation or local community interests, with both locals and outsiders continuing to exploit reserve resources. One of the underlying reasons for ongoing exploitation is the contradictory demands placed upon the local population by government. On the one hand, local households are subject to governmental demands to "develop." This encompasses, among other things, incurring large financial costs in order to pay for education-related expenses. On the other hand, households have not been provided with adequate alternative income streams to compensate for the loss of income caused by the creation of the reserve.
The Sloping Land Conversion Program in Gongshan
The SLCP has fundamentally altered Gongshan's agricultural economy, and although the SLCP has generally been positively received by the local community, some households have benefited from the program more than others. The SLCP also appears to be linked to an escalation of social problems such as dependence, boredom, and alcoholism. The implementation of this program in Gongshan highlights how national development policies created in Beijing often fail to map the economic and social realities of the communities that will be affected by the changes.
As most agricultural land in Gongshan is located on slopes with a gradient of greater than 25 degrees, the SLCP has had a big impact on local livelihoods. In Gongshan, households have converted their land to either ecological forest or to cash crop/economic forest. Golden bamboo (Phyllostachys aurea; see fig. 2.1) was the species selected for economic forest, and donggua shu (Alnus nepalensis) and Yunnan pine (Pinus yunnanensis) were the main species selected for ecological forest. There was another ecological forest program attached to the SLCP in Gongshan that afforested or reforested land using "ecological" tree species.9
According to official reports, between 2002 and 2005 approximately 60 percent of Gongshan's rural households converted part of their land in line with the SLCP (Digital Countryside—Building the New Countryside Information Network 2008). Golden bamboo was selected as the main species for conversion. The Prefecture Forestry Bureau made this decision arbitrarily, without taking local environmental conditions into account (see Wilkes 2005a). Indeed, it appears that golden bamboo is not suited to local soil and weather conditions, and it is failing to grow in many areas (see figs. 2.1 and 2.3). There also appears to be a high level of uncertainty among farmers and government officials about whether they will be able to harvest the golden bamboo in five to eight years' time, when they will stop receiving government subsidies. Although local government officials were unable to provide a definitive explanation regarding eventual user rights for the golden bamboo, a local hamlet leader explained to me that "half is the government's and half is ours" (household survey, July 9, 2005). Some farmers believe that they will be permitted to sell the bamboo on the open market.
Even if farmers are eventually permitted to harvest the bamboo, there are concerns that they will be unable to generate any income from it, as the species of bamboo selected is not thriving in Gongshan and is unlikely to produce substantial harvests. Furthermore, Gongshan is a long way from major markets, rendering the transportation costs of bamboo and bamboo products out of Gongshan very expensive and impractical. A case study of the attempts made by a county government in southwestern Sichuan to integrate the isolated township of Baiwu into the market economy via apple production is a sobering reminder of the hazards associated with exposing poor rural communities to market forces. Engaging in apple production failed to account for local economic, social, and logistical constraints and actually left some farmers worse off (see Ho 2004).
In Gongshan, most farmers appear to be satisfied with the short-term outcomes associated with the SLCP. Households are receiving adequate compensation and no longer have to engage in substantial agricultural work. Their main concern is what will happen after they stop receiving state subsidies.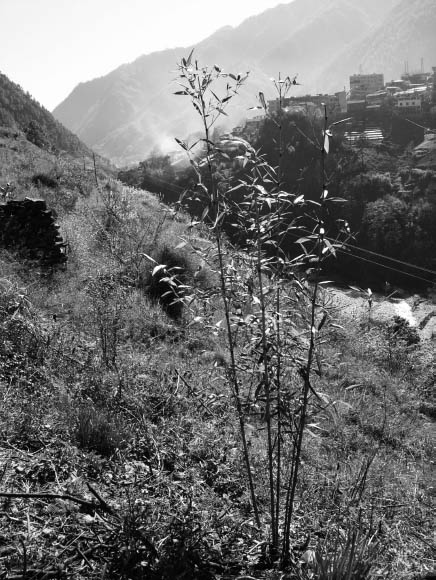 Dulongjiang township provides a useful case study for assessing the impacts of the SLCP on traditional livelihood practices. Since the 1960s, the government had been actively encouraging Dulongjiang households to give up their rotational/swidden land in favor of stable agricultural land, which the government perceived to be a more advanced and productive basis for agricultural production. However, it was not until the early 2000s that large-scale financing provided through the SLCP enabled local governing authorities to realize this and other social engineering goals, such as moving farmers into off-farm work. The implementation of the SLCP has been more comprehensive there than in other townships, and although it has been successful in improving food security, it has significantly increased community dependence upon government and has altered livelihood practices that had traditionally defined Dulong identity (Wilkes and Shen 2007; Shen et al. 2010).
Traditional agricultural practices in Dulongjiang are summarized by the Center for Biodiversity and Indigenous Knowledge as follows: "For centuries, the Dulong have been dependent on agricultural production, with hunting, fishing and gathering as important supplementary activities. . . . Dulong agriculture is mainly rotational agriculture, in which a patch of forested land is selected, cleared and then cultivated. After cultivation for 1–3 years, forest is left to regenerate" (CBIK 2006: 3). When the SLCP was first implemented in Gongshan in 2002, the county government diverted most of the grain quota for the first year toward Dulongjiang. Following the implementation of the program, approximately 66 percent of Dulongjiang's agricultural land was converted to forest in return for subsidies. The converted land was traditionally used for rotational farming and located mainly on slopes with a gradient of greater than 25 degrees. Importantly, although rotational land represented approximately two-thirds of the land used by the Dulongjiang population for agricultural production, it composed only a very small proportion (approximately 0.33 percent) of Dulongjiang's total land area (ibid.: 3–4). This challenges the notion that the people of Dulongjiang were engaging in deleterious agricultural practices and were placing unsustainable pressure on local natural resources.
The formula used to allocate subsidies in Dulongjiang was unique. Whereas households in other townships (as well as the rest of the country) are allocated subsidies that are calculated according to the amount of land converted, in Dulongjiang, households were awarded subsidies on a per capita basis. Thus all rural inhabitants (adults and children) were allocated 180 kilograms of paddy rice per year until 2011, although these grain subsidies were later replaced by cash payments (Shen et al. 2010: 206; Wilkes and Shen 2007: 78). In addition to the SLCP subsidy, local government made direct cash payments to villagers to assist household economies (Shen et al. 2010: 206).10
The SLCP has essentially forced farmers to convert their rotational fields, along with a portion of their permanent land, to ecological forest in return for grain subsidies. Following implementation of the SLCP, each household has only a small amount of permanent land allocated for agricultural production (Wilkes and Shen 2007: 78).
Prior to the implementation of the SLCP, Dulongjiang households subsisted upon swidden agricultural production, hunting, NTFP collection, and animal husbandry (Shen et al. 2010). Following the implementation of the SLCP, traditional forms of agricultural production, NTFP collection, and animal husbandry have decreased substantially, with households now heavily dependent upon state cash subsidies. One notable impact of the SLCP upon Dulong culture is a change in dietary practices (see ibid.). Prior to the SLCP, the Dulong diet consisted of a range of traditional grains such as millet, buckwheat, and finger millet. Paddy rice was not part of the traditional Dulong diet. The cultivation and consumption of these traditional grain species were considered not only part of a balanced, healthy diet, but also a defining characteristic of Dulong culture. However, since the SLCP, traditional grains have disappeared from the diet of many Dulong people. There are two main reasons for this. First, households have discontinued planting some traditional crop species, as these species either do not grow on stable land or have lower yields on stable land as compared to swidden land. Second, paddy rice is the grain provided by the state via the SLCP and by default has become the main staple in the Dulong diet. Many Dulong elders feel that these changes in dietary and agricultural practices have removed an important part of what it means to be Dulong.
The SLCP has also impacted religious rituals. In non-Christian areas in the north of Dulongjiang, the clearing of forests for swidden agriculture was preceded by religious rituals performed by shamans. These rituals were employed to gain the support of spirits for a good harvest. With the implementation of the SLCP, such rituals have disappeared, and local elders are concerned that knowledge about such rituals will not be passed on to the younger generation (ibid.: 208–09).
Nonetheless, as in other parts of Gongshan, overall the Dulong people are satisfied with the short-term benefits of the SLCP (Xiao 2005). They have a stable, guaranteed source of grain and are not required to undertake as much agricultural work as they were in the past. That said, they are also much more dependent upon the government to sustain their household economies. Here it behooves us to examine the social engineering agenda behind the implementation of the SLCP in Dulongjiang, an agenda that in many respects is not in the long-term interests of the Dulong people and their culture. The SLCP appears to have provided the Gongshan County government with a convenient mechanism to address its own developmental agenda for the ethnic minority people of Dulongjiang. Indeed, a major outcome of the SLCP in Dulongjiang is the abolition of swidden agriculture. Local governing authorities have always regarded swidden agriculture as backward, unproductive, unscientific, and a key indicator of the primitive stage of historical material development.11 They hold this opinion despite evidence suggesting that swidden agriculture has been used sustainably for several centuries by the population living in the area that we today know as Dulongjiang township (see CBIK 2006). Another critical outcome of the SLCP is that it is has significantly increased Dulongjiang's surplus rural labor population, as the local population now needs to devote much less time to agricultural production to maintain their household economies. Local government is turning to education reform and labor export programs as a means to transform this surplus rural labor into "productive" off-farm workers who will contribute to national and local economic development.
CASE STUDY TWO: "TALAKA"
In December 2006, I spent two days in Talaka hamlet, conducting interviews with local households about economic conditions and the impacts of the SLCP. I first became aware of Talaka after discussions with a local teacher, Ye, and other Gongshan residents. Ye had been Talaka's primary school teacher for ten years until the school's recent closure. He now teaches at a primary school in the county town. Ye has several relatives living in the hamlet and is an uncle of the Talaka hamlet leader. He recommended that I visit Talaka because the conditions in the hamlet were particularly difficult. He explained that the land there was very marginal and produced low agricultural yields. Gongshan residents also reported that conditions in Talaka were so severe that households had resorted to charcoal production to supplement their low agricultural incomes. I was escorted to Talaka by Ye and my research assistant.
While conditions in Talaka are generally difficult and there are very limited income-generating opportunities, the SLCP has considerably altered the local socioeconomic environment. I conducted in-depth interviews with three households, including the household of the village leader. Some households have benefited substantially from the SLCP, with SLCP subsidies essentially replacing income losses associated with the earlier logging ban. Other households appear to be worse off than they were before the ban. In some instances, households recently have begun household-level charcoal production to recoup household income that was lost as a consequence of the ban.
Talaka's physical isolation appears to be a barrier to local governing bodies' effective supervision of local resource extraction. Talaka hamlet lies on the eastern side of the Nu River at approximately 3,000 meters above sea level (see map 4). It is not connected to the rest of the county by road or electricity, although some households have electricity supplied by small hydropower units. An increasing number of households use mobile phones. The hamlet is reached by first walking upstream from the county town for one hour and then ascending a steep mountain path for another hour. Talaka is dotted by a number of large walnut trees, with maize and vegetable fields filling pockets of land between houses (see fig. 2.2). Households are scattered over a large area. The mountains above Talaka rise to over 4,000 meters and are covered in dense old-growth forest that begins at approximately 3,500 meters.
According to my research assistant, Talaka's electricity supply problem is discussed every year when the county government holds its annual meeting. But every year they conclude that it is too difficult and expensive to supply Talaka with electricity. Installing the lines would cost too much for the county government to cover on its own. The hamlet is connected to a water supply from a concrete tank two kilometers away, but the flow is not strong enough to reach every household. This water supply system was first installed in 1997 as part of a poverty alleviation program supported by the Gongshan Poverty Alleviation Office, the Education Bureau, and the Hydropower Bureau. But the system fell into disrepair and was subsequently repaired in December 2005 by the Hydropower Bureau as part of another poverty alleviation program. When I inspected the tank, it was contaminated with tapeworm.
Talaka is home to 116 villagers occupying 41 households. Although most villagers are Lisu, there are also Nu, Tibetan, and Dulong people living there. The village is also home to one Han woman who married into the village from Lushui County. According to Ye, the adult population is generally unable speak standard Chinese, but the children learn it through the formal education system. This phenomenon reflects recent improvements in access to Chinese language-based education.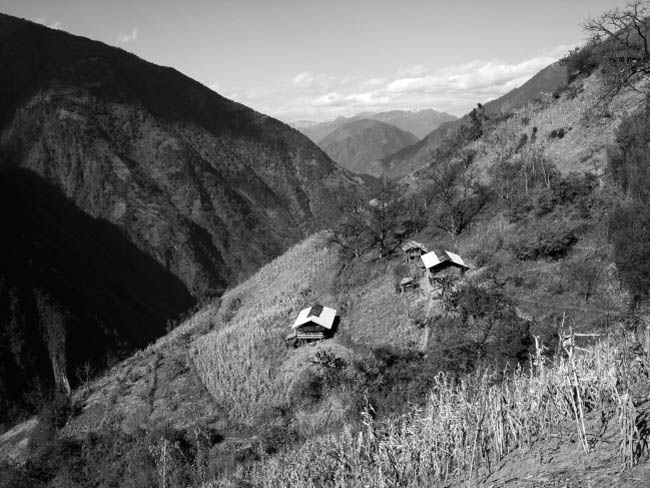 The hamlet's population has increased approximately fourfold since 1960. According to Ye, this population increase is attributable to natural population growth rather than the migration of new households into the hamlet. The highest rates of population growth took place during the pre-reform period. According to the hamlet leader, population pressure is a problem in Talaka: "Three months ago, six more households were added due to marriage and the creation of new households. . . . Now there are not enough resources to go around. Now there is not enough water to supply the village of over one hundred people. As households divide [due to marriage], the amount of land [per household] also decreases" (field notes, December 9, 2006). It appears that this population increase has yet to impact Talaka's primary school-aged population, as the hamlet's single-teacher primary school was recently closed due to low enrollment. Local school-aged children board and study at either Cikai Primary School or Gongshan High School, both of which are two hours' walk from Talaka. Ye indicated that Talaka's primary school could be reopened if there are enough students in the future.
According to the hamlet leader, the average yearly household income is approximately ¥2,000. On a per capita basis, income is just below the Gongshan average. Maize is the main agricultural crop, and households also raise pigs and chickens for personal consumption. None of Talaka's villagers is engaged in off-farm work; physical isolation and lack of effective communication infrastructure mean that it is difficult for villagers to receive information about off-farm work opportunities. Talaka is on the far side of the Nu River from the nature reserve, and households have not relied on resources now located within the reserve to supplement household income. Thus income and livelihoods in Talaka were not affected by the recent increased policing of reserve resources.
Prior to the logging ban, Talaka's households relied heavily on logging for household income. I was told that three or four years prior to my visit, households began engaging in household-level charcoal production to compensate for income losses associated with the ban. Just as Talaka's isolation is a barrier to off-farm work opportunities and its barren high-altitude landscape makes crop production difficult, these factors also are barriers to the local government's supervision of local practices, particularly the illegal felling of trees for charcoal.
Today the main source of income for Talaka's households is annual subsidies received through the SLCP. Land was converted in 2004; altogether the hamlet has converted over 320 mu (21.34 hectares) of agricultural land, mainly to golden bamboo. In 2005, the government began allocating cash instead of grain for SLCP subsidies. Households now receive ¥240 (approximately US$30) per mu of converted land per year. More than 100 mu (6.67 hectares) of land is still used for agricultural production. The financial benefits associated with the SLCP vary significantly from one household to another. Some households had much more land opened up for agricultural production compared to other households prior to the implementation of the SLCP. As a consequence, there is a considerable imbalance in the distribution of subsidies among local households. For example, one household's total annual SLCP financial subsidy is five times higher than some other households' subsidies.
According to the hamlet leader, the largest amount of land converted by an individual household was 21 mu. The smallest amount of land converted by an individual household was 4 mu. The household that converted 21 mu still has 10 mu of land under cultivation, meaning that prior to the implementation of SLCP, the household had 31 mu of land under cultivation. The household receives ¥5,040 in cash as SLCP subsidies from government each year, more than five times the amount received by the family that converted 4 mu of land. According to both Ye and the hamlet leader, this household grew maize on the 21 mu of land prior to conversion. From my discussions with Ye and the hamlet leader, it appears that until 2001 there were no restrictions on cutting and clearing forest to open new agricultural land. Consequently, this particular household cut and cleared a large area. The ¥240 per mu per year calculation is based on areas with much higher agricultural yields than Talaka. Thus, because the land in Talaka is particularly marginal and produces low yields, this family receives substantially more financial benefit from SLCP subsidies than they did from growing maize.
According to Ye, even prior to the introduction of the SLCP, families did not earn any cash income from agriculture. The maize and other vegetables they grew on their land were used for raising pigs and chickens, as well as for personal consumption. Talaka is a long distance from the county town, and this distance and the terrain make impractical the regular transportation of fresh meat and vegetables to and from the market for sale.
Since the logging ban and agricultural cultivation restrictions, the production of charcoal is one of the very few income-generating opportunities for Talaka's residents. Charcoal is the main fuel used for household heating and cooking by county town residents. Nevertheless, this does not mean that charcoal production is a lucrative industry. Indeed, it is not the main income source for households, but merely supplements SLCP subsidies. Data gathered from households in Talaka indicate that charcoal production is highly labor intensive; furthermore, households earn only about ¥10 per day from this activity. For a household of four people, this equates to only ¥2.5 per person per day.
Households produce charcoal in manmade kilns dotted on the mountainside above the hamlet. To reach the first charcoal production area, we had to walk approximately two kilometers upriver from Talaka. From that point, we made a gradual ascent up the mountain, encountering more charcoal kilns the farther we ascended. Most kilns are at the bottom of timber slides: trees are felled at the top of the slides and then are either carried or rolled down the slides to the kiln area below. Some kilns were in operation during our visit.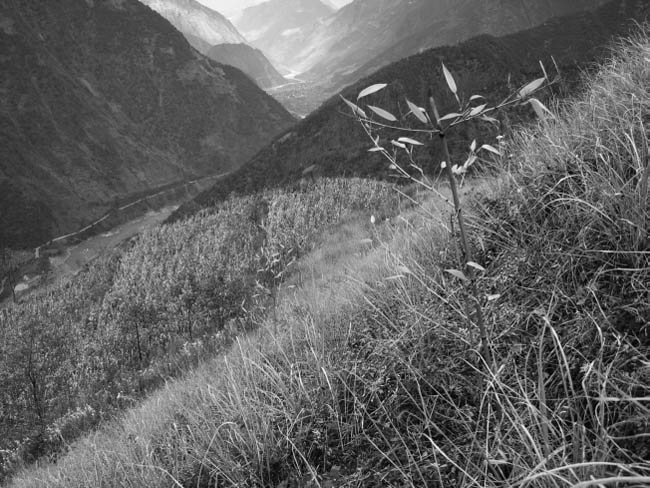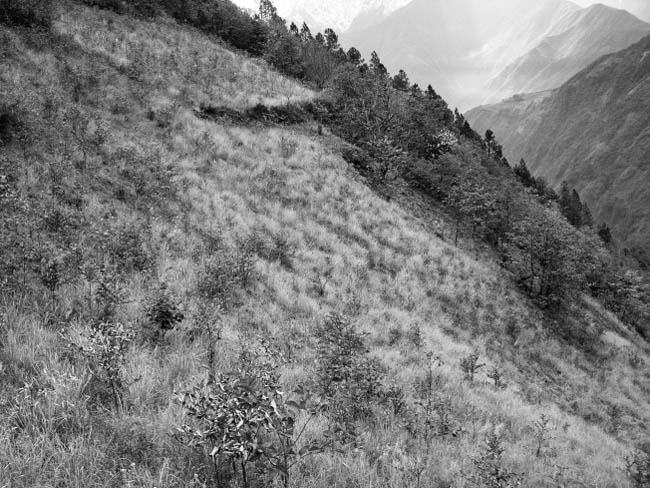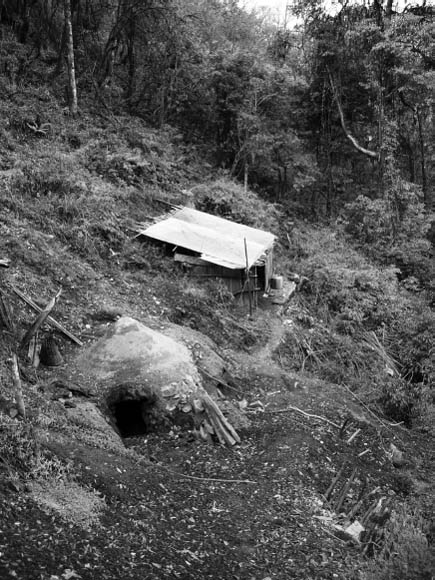 Households engage in charcoal production for several months each year, starting in early winter. This hard labor requires carrying the charcoal for two hours from the kilns back to Talaka, and from Talaka to the county town for two more hours. Men normally carry baskets weighing 120 jin (60 kilograms), women 100 jin (50 kilograms). According to the hamlet leader, the whole process takes about fifteen days, with seven to eight days for burning and another seven to eight days for transportation to the county town. Only the chestnut tree (lishu) is cut down and used to make charcoal. Trees are cut from old-growth forests and are not replanted by the villagers; the forest regrows naturally. Other trees are not cut down, minimizing the impact on forest resources. The County Forestry Bureau does issue tree-felling permits for private charcoal production and housing construction. Villagers are charged ¥20 for every cubic meter of wood felled.12
However, interviews with local household members and the hamlet leader suggest that most of the households do not have official permits for the trees they fell to produce charcoal. In fact, the Forestry Bureau does not issue permits for the level of charcoal-related tree felling taking place in Talaka; and even if they did, the small financial returns associated with charcoal burning mean that it would not be economically viable for these people to purchase permits. Revealing the loose monitoring and supervision associated with tree felling in Gongshan, Ye stated: "Even though it is illegal, they still do this a little bit. Some households have official permission [through the Forestry Bureau]. If households only cut a small amount, then they do not need to apply" (field notes, December 9, 2006).
My research assistant also indicated that government supervision of local logging practices is largely absent: "The management office is not going to come all the way up here to check on them, are they?" (ibid.). On most days, a large group of local farmers can be seen in the middle of the county town openly selling large quantities of charcoal to town residents. The local government appears to turn a blind eye to this practice.
The Talaka Hamlet Leader's Household
The hamlet leader's household is composed of four people: the leader, his wife, and their two sons. One son attends grade four and boards at Cikai Primary School. The other son is not yet of school age. Reflecting the tendency among the Gongshan population to avoid venturing outside their local environment, the hamlet leader had not traveled farther south than the county town. He had not heard of the labor export programs available to local farmers.
I asked the leader how life today compared to life prior to the implementation of the SLCP: "Life is a bit better following the introduction of the SLCP. We can use our spare time to make a bit of extra money" (field notes, December 9, 2006). The hamlet leader indicated that his household makes ¥700 to ¥800 per year from charcoal production. This work consumes seventy to eighty days of household labor each year, equating to ¥10 in revenue per day. The household converted 8 mu of land through the SLCP and still has 4 mu of land under cultivation. Based on this information, the household's yearly income is ¥2,620 to ¥2,720 per year (¥655 to ¥680 per capita), which is below the county average at the time.
The household started burning charcoal three years previously. I asked the hamlet leader how the household's pre–logging ban income compared to their current income: "Our previous income was much higher. In 1998 our household income was as high as ¥6,000." Much of this income came from logging. The hamlet leader was asked if he had an opinion regarding the ban. "No opinion. We follow what the government says." When asked if life was harder now compared to the time before the ban was introduced, he responded, "Yes. Our income is not enough. We do not have enough money to buy what we need" (ibid.).
Talaka Household Two
The second household we visited is also composed of four people: a husband, a wife, and their two sons. The household converted 17 mu of land through the SLCP and has another 10 mu of land under cultivation, on which they grow maize for personal consumption. The family also has four small pigs under the house, as well as a number of chickens. The household does not engage in charcoal production, and their entire income derives from SLCP subsidies. Their total household income is ¥4,080 (17 mu x ¥240).
One son is in his second year of junior high at Gongshan High School. The elder son is in the army and is stationed in Chongqing. The younger son's schooling costs ¥50 to ¥60 per month, and sometimes as much as ¥100 per month; the money is used to purchase his clothes and daily necessities. The father described the financial impact of school-related expenses upon the household: "It is quite a large economic burden on the family" (ibid.). The father was in the army from 1980 to 1985, based in Liuku, but he receives no pension. He was born in Talaka, while his wife is from Lushui County. When the husband was asked whether he had ever engaged in off-farm work, he responded: "No, I was tricked by outside bosses several times in the past, so I do not take part in laboring. I work at home." Even though the family previously had relied heavily upon income from logging, the father stated: "Our current income is higher than before."
The family clearly values education for their children. The younger son indicated that he wanted to attend senior high school. The parents indicated that they wanted him to attend university upon finishing senior high school. When asked whether they would have difficulties paying for his senior high school fees, his father responded: "Our economic situation isn't very good. We'll have to try to save some money to send him to senior high school." Discussing the potential hurdles to his educational aspirations, the younger son stated: "I'd like to attend university. But the fees are very high. I'm not sure if I'll be able to. I'd like to study a foreign language." When asked how life today compared to life twenty years ago, the father responded: "Life's much better now. There weren't enough clothes back then" (ibid.).
Talaka Household Three
Household Three is also composed of four people: a husband, a wife, and their two sons. The husband is Talaka's deputy leader and accountant. The sons attend grades one and two of junior high at Gongshan High School. We met the members of this household during our inspection of the charcoal kilns: as we walked along a steep, slippery path at approximately 3,500 meters, we were passed by the mother and her sons descending the mountain with baskets of charcoal on their backs. We met the husband at the household's charcoal production site, 50 meters farther uphill. When we arrived at their two large kilns, the husband had just started another burning cycle and smoke was streaming out of the kilns. Next to the kilns was a covered hut containing bedding for one person, two baskets of charcoal, a chainsaw, and a fire.
The husband confirmed that they had converted 21 mu of land through the SLCP and were receiving over ¥5,000 per year in cash subsidies from the government. He said that they also earn approximately ¥1,000 per year from charcoal production and that they make charcoal for one to three months per year. According to the husband, it takes the household approximately ninety days to make ¥1,000 from charcoal production. While only one household member is required for the burning process, the whole family is involved in carrying the charcoal to the county town for sale.
The husband said they had been making charcoal for more than one year. When asked why the family had started producing charcoal, the husband responded: "Life was difficult. We started so that we would have enough spare cash [lingyongqian] to support our children" (field notes, December 10, 2006).
I asked whether he had a permit to cut trees for charcoal production. He said that he did not have a permit but applies for one when he needs to cut down trees for personal household construction. Again my research assistant reminded me that even though this household was engaging in illegal activity, the government was unable to effectively monitor what took place in Talaka.
I asked the husband how the household's current income compared with their pre–logging ban income: "We used to be involved in logging. Our income is about the same as it was prior to the start of the logging ban." Considering the very substantial subsidies the household receives through the SLCP, this statement is not surprising. When I asked the husband whether the household's current income was enough to support them, he responded: "No. We need a lot of money for our children's education." He said that he hoped his sons could attend senior high school. I asked what he hoped his sons would do when they finished high school. He responded: "Attend university" (ibid.).
Even though this household has an annual income of more than ¥6,000, they still claimed that this was insufficient to cover costs for a family of four in contemporary Gongshan. The waiving of junior high school tuition and boarding fees under the compulsory education policy meant that the costs associated with keeping their two sons in junior high school equated to approximately ¥100 for each son per month. Over a school year, this would translate to approximately ¥2,000. This would leave them with a relatively high surplus income. Nevertheless, once their sons enter senior high school and later proceed to university, the financial burden will increase dramatically. Thus, in the near future, the majority of this household's income will be devoted to education costs unless they can find new income sources.
Again, the case studies of Zala and Talaka reveal the contradictory demands placed upon Gongshan's rural population. On the one hand, households respond to governmental demands to develop, which, among other things, requires them to ensure that their children receive a full education. On the other, the local resources that households rely upon to generate cash income to pay for services such as education have been severely restricted. Even with the new, free nine-year compulsory education policy (discussed in the next chapter) in place, education is still a considerable financial burden for households. As a consequence, households engage in illegal activities to supplement household income.
At first glance, the ongoing exploitation of nature reserve resources and illegal felling of trees for charcoal production seem to gesture toward overt local resistance to the imposition of national development policies. However, in examining the motives that underlie this resistance, we detect a compelling scenario. Many parents who engage in these illegal activities do so to ensure that their children achieve a full education and can access lucrative off-farm employment. This outcome reflects full compliance with (rather than resistance to) the overarching social engineering agenda of China's central governing authorities.
CONCLUSION
Conservation programs are a component of the CCP's social engineering agenda for China's rural population, and ethnic minority people living in poor peripheral areas such as Gongshan are the most likely to be affected by these programs. In Nujiang, governing authorities have identified local ethnic minority communities as the key culprits behind local environmental problems such as deforestation, erosion, and landslides, even though it was these same governing authorities who guided the past rural development programs that created these problems. In employing narratives such as the "Nujiang issue" and connecting Nujiang's environmental problems with the local ethnic minority population, governing authorities not only deflect attention from their role in contributing to these problems; they also provide legitimacy for government programs targeted at shifting farmers away from traditional agricultural livelihoods.
Here the recent decision to proceed with the construction of a series of large, cascading, environmentally destructive dams down the Nu River is a demonstration of the true nature of development priorities in Nujiang and China more broadly. China's governing authorities are primarily concerned not with the protection of Nujiang's rare biological resources, but with economic development and human progress. The traditional livelihoods of Nujiang's ethnic minority farmers are anathema to China's governing authorities. From their perspective, these livelihoods evidence a primitive stage of human development and directly challenge the CCP's development agenda for China. Programs such as the SLCP, and now the construction of the dams, promise to generate large quantities of local income and create economic conditions wherein Nujiang's farmers will no longer be dependent upon traditional, subsistence-based agricultural livelihoods for survival. In the government's vision for Nujiang, ethnic minority people will live not in isolated rural hamlets such as Zala and Talaka, but in modern apartment buildings in county seats such as Gongshan. Their children will attend centralized boarding schools, where they will receive a standardized education. Through this education, they will learn that the agricultural livelihood pursued by their parents' generation was "backward" and a "remnant of a primitive society." They will also learn that high-quality and valued Chinese citizens are not those who engage in agriculture, but those who are willing and able to contribute their labor power to the construction sites and factories of China's modern industrial economy and help to strengthen the Chinese Party-state.