CHAPTER 9
The Amoral Other

STATE-LED DEVELOPMENT AND MOUNTAIN DEITY CULTS AMONG TIBETANS IN AMDO REBGONG
Charlene E. Makley
IN recent years, the Sino-Tibetan borderlands, especially in the Tibet Autonomous Region (Central Tibet), and also in western Sichuan, Gansu, Yunnan, and Qinghai (Amdo and Kham), have seen political and economic crises perhaps unmatched since the Maoist years. A series of devastating "natural" disasters in the wake of Chinese state-led development and resource extraction since the late 1990s (floods, grassland deterioration, earthquakes, mudslides) exacerbated many rural Tibetans' sense of vulnerability and marginalization in their mountainous home regions. The protests that broke out across Tibetan regions during China's vaunted "Olympic year," in 2008, led to a military crackdown and intensified state rhetoric vilifying the Dalai Lama and his "separatist clique" as instigators and likening Tibetan protesters to "terrorists" (Barnett 2009; Makley 2009). By 2012, those tensions culminated in an unprecedented series of self-immolations by young Tibetan monks, nuns, and laity calling attention to the ongoing militarization of their regions and heightened state scrutiny of their activities.1 Just as in 2008, central state media accounts worked to individualize and pathologize these new protesters, depicting them either as mentally unstable individuals or as tragic dupes of cunning anti-state organizers.
Such efforts on the part of central leaders attempt to deflect attention away from the troubled history and cultural politics of landscape and territory in the Sino-Tibetan borderlands since the beginning of Chinese Communist Party intervention in the region in the early to mid-twentieth century. This chapter brings an anthropological perspective to bear on these most recent events by considering post-Mao state-led development agendas in the region, framed in claims to the technocratic management of objective market forces, as themselves a cultural politics with long-term consequences for Sino-Tibetan relations. An emphasis on "cultural politics" draws attention to the fact that all human experience is necessarily intersubjective, mediated by particular, historically grounded interpretive practices, as well as by unequal access to the prestige, authority, or resources necessary to render those practices authoritative or dominant. From this perspective, the meanings, causes, and consequences of all things and events are under constant, sometimes violent, negotiation (Irvine 1989; Keane 1997; Sahlins 2000a).
In this light, anthropologists of economics and development have approached capitalism as itself a cultural process or a "moral economy," emphasizing the great transnational charisma of triumphalist narratives of capitalist globalization and free markets since the 1980s especially (Comaroff and Comaroff 2000; Graeber 2001; Tsing 2002). Among national elites, we have seen a heady mix of, on the one hand, a profound faith in the salvific potential of capitalist growth and development and, on the other, the moral promise of economic methods for discovering objective or universal truths and primary causes of market behaviors driving social processes. Indeed, Deng Xiaoping, the much-hailed new leader of the post-Mao People's Republic of China in the early 1980s, famously promoted his pragmatic market reforms with the slogan "[economic] development is the first principle (Ch. ying daoli, lit. 'hard truth')." Such economistic premises have undergirded the massive restructuring of life in China over the past thirty years. Simultaneously with state officials' claims to be presiding over a "New China" and a new moral economy, or "socialism with Chinese characteristics," uneasy alliances between state and private interests have channeled resources and labor into the construction of new institutions, technologies, and infrastructure for the creation and movement of global capital,2 even as, in the early reform years, Maoist state investments in education and social welfare were withdrawn or increasingly threatened.3
These processes in the Sino-Tibetan borderlands play out in ongoing contestations over the material and epistemological grounds of space, personhood, and value. Drawing on fieldwork (2002–11) among Amdo Tibetans in the rapidly urbanizing town of Longwu, the seat of both Huangnan Prefecture and Tongren County in the center of the famous Tibetan region of Rebgong in Qinghai (see map 1, F), this chapter focuses on the vigorous (re)emergence of local Tibetan cults of zhidak (Wyl. gzhi bdag) (see also ch. 8 in this volume), territorial deities commonly abiding within mountains, under post-Mao reforms. That revival occurred despite state-sponsored efforts to encourage Tibetans to abandon their "backward" ways and prioritize instead the "vision of commodity production" (Ch. shangpin shengchan yanguang) necessary for newly liberated markets. Under intensifying state-sponsored development pressures in the first decade of the 2000s, the particularly contested position of the Tibetan deity medium (Tib. lhawa; Wyl. lha pa), the person whose body hosts the zhidak on behalf of a village, points up the stakes and consequences of the inherently indeterminate nature of human meaning and agency (the capacity to act socially). This is in part because spectacular claims to close relationships with the warlike deities threatened to embody and apotheosize an amoral Other in the midst of market reforms, a selfish and desirous, yet place-based (capitalist?) subject escaping state, Buddhist monastic, or household disciplines.
Zhidak in Rebgong are powerful, mostly masculine deities lodged in surrounding mountains and linked to particular Tibetan villages or nomad encampments as divine rulers of the watersheds that sustain them. They are supposed to be "tamed" to serve Buddhist incarnate lamas in the famous monastery of Rongwo, the erstwhile human rulers of the region. Yet, as commanders of vast entourages of divine minions, mountain deities specialize in protecting and mediating access to worldly fortune and wealth for lay villagers and their households.
Scholars argue that Tibetans' relationships with such autochthonic deities are centuries old, predating even the introduction of Buddhism from India in the seventh to ninth centuries, but in such eastern Tibetan frontier regions as Rebgong, contemporary zhidak cults are intimately bound up with the history of Buddhist sectarian and monastic expansion eastward from Lhasa. Particularly important deities were established or tamed primarily by Buddhist lamas as a village's protector when the village entered into reciprocal patron-preceptor relations with a monastery—especially in the seventeenth to eighteenth centuries when Rongwo monastery converted to the ascendant Geluk sect, and the Shartshang lineage of incarnate lamas consolidated rule over patrilineal networks of Tibetan farmers and nomads, which were later called the "twelve patron tribes of Rongwo" (Wyl. rong bo nang shog bcu gnyis) ('jigs med theg mchog 1988; Stevenson 1999; T. Yangdon Dhondup 2011).
With the 1980s revival of Tibetan ritual practices that had been proscribed during the Maoist years (1950s–70s), annual festivals for zhidak were vigorously revived in the valley's main urbanizing villages, while monastic institutions and festivals were reorganized on a much smaller scale than before. And in 2005, elders in Jima Village (pop. approx. 2,100),4 the central urban village in town and home to some of the wealthiest Tibetan beneficiaries of market reforms, with donations from Jima households as well as from foreign NGOs, organized the expansion of perhaps the most magnificent mountain deity shrine in the province for what they take to be the most powerful mountain deity in Rebgong—Amnye Shachong, divine ruler of the entire Rebgong region. Meanwhile, beginning early in the first decade of the 2000s, Tibetan businessmen across the valley revived the annual practice of sponsoring offerings and meals for Rongwo's monk assembly during the fifth lunar month, but they added a new practice at the culmination of the event: a communal incense offering to various protector deities, including their favored zhidak, on the ridge just above the monastery, a site well chosen for its visibility to the town below.
DEVELOPMENT AND INFRASTRUCTURE AS CULTURAL POLITICS
What should we make of such practices and the contestations they engender in the contemporary context? An analytic of cultural politics suggests that we need to see them as emerging in dialogue with post-Mao economic development projects that have both expanded on and challenged Tibetans' understandings of space, personhood, and value. The most consequential rubric of state-led development efforts affecting Rebgong Tibetans in recent years has been the Great Western Development (Xibu Da Kaifa) campaign, launched by central leaders in 2000. Assessments of the campaign in the middle of the first decade of the 2000s suggest that it was not meant as a fundamental redirection of central development priorities to the west. Instead observers noted that it was a relatively modest central investment in major "infrastructure" (Ch. jichu sheshi) projects designed to both consolidate central state control over western landscapes (figured as manageable "resources" [Ch. ziyuan]) and bring about a grand vision of national economic integration largely benefiting the more "open" (Ch. kaifang) east (Oakes 2004; Holbig 2004). The Great Western Development campaign thus encapsulated the dilemmas facing reform-era PRC state officials (including Tibetans) at all levels by the first decade of the 2000s: the campaign heightened pressures for "total economic [read: 'market'] solutions" (Goodman 2004b, 381) at the same time that officials struggled to secure central state legitimacy amid the lures of privatization and the seeming decline of socialist ideals.5
Importantly, campaign planners from the beginning were strongly preoccupied with financing the construction of infrastructure, which they took to be material structures and technologies (roads, railways, dams) that would automatically enhance integration (Holbig 2004, 348–49).6 In this, Chinese technocrats, many of whom had studied economics abroad and looked specifically at the United States as a model for westward expansion and development, were drawing on a long legacy of Western social thought that relegated the material to an inert or concrete ground for the progressive projects of rational actors. Meanwhile, in the context of statist secularization efforts and the rise of Western science in China as elsewhere, terms for "religion" or "magic" connoted the appeal benighted ideas about causes and effects had for irrational or uneducated people (cf. Sahlins 2000b).
By contrast, a focus on cultural politics would lead us to ask: What counts as materiality and agency, and to whom, in particular situations? What practices objectify, materialize, and thereby prioritize or devalue persons and things, and with what consequences? From this perspective, we could not take the technologies and networks that are widely recognized as material infrastructure for granted as just inert "channels" for global flows (pace, e.g., Larkin 2008). Instead, they are actually the contingent outcome of competing "scale-making projects" (Tsing 2002, 69) that work to build cultural-material frameworks (or assemblages) for human and nonhuman participation and value creation (Goffman 1981).7
Taking such a cultural politics as the starting point, then in the context of globalizing capitalisms, any assertion that something is infrastructure would have to be taken as part and parcel of larger frameworks in which particular types of agents, spaces, and times are valorized and foregrounded, while others are devalorized and obscured (Sassen 1999; Lee and Lipuma 2002; Humphrey 2003). The technocratic focus on (material) infrastructure and all the related investment rhetoric thus could be seen as justifying, even moralizing claims to a naturalized, unmarked ground against which the figures of transcendent capitalist agents (i.e., entrepreneurs, securities traders, enlightened state officials, development and NGO officials, etc.) appear. In practice, notions of infrastructure as inert, material background allow for such agents to claim socially unmediated actions and consequences (Mazzarella 2004; Keane 2008)— that is, such premises allow development agents to refute corruption charges and strategically deny the ongoing embeddedness of construction projects in conflicts over responsibilities for and access to the flows of investments they unleash.
CONTESTED NOTIONS OF MATERIALITY: THE INDETERMINACY OF DEITY RECOGNITION
Tibetans' recent revival of zhidak cults in Qinghai are grounded in alternative notions of materiality, participation, and value invoked by situated persons and collectives, a cultural politics emerging within and against competing state, capitalist, and Buddhist frameworks under post-Mao reforms. Further, it is a hindrance to simply characterize these practices as the conservation of Tibetan (lay) "religion" in the face of "modernizing" pressures (e.g., Blondeau 1995; Karmay 1994),8 or just as new responses to perceived market vulnerabilities or unfulfilled aspirations (e.g., Comaroff and Comaroff 2000; cf. Kapferer 2002; Taussig 1980).
In fact, Tibetans across the Himalayas have long figured their landscapes, bodies, households, and regional networks as constantly vulnerable to the interventions and operations of outside (human and nonhuman) agents and forces (see ch. 8 in this volume). Human agency under such conditions was recognized and evaluated in various efforts to evidence, materialize, and control such outside agents and forces. Historically, especially as the Geluk sect moved east, it was the Buddhist lamas' promise, via their tantric ritual prowess, to tame and to channel such forces on behalf of Tibetan communities that justified the incorporation of humans and deities as monastic patrons or protectors. In the case of Rebgong's Jima Village, for example, the famous seventeenth-century lama founder of the ruling Shartshang lineage at Rongwo monastery is said to have given lay Buddhist vows to Jima's main mountain deity, Amnye Shachong.
But as monastic centers in the frontier zone attracted trading towns and rival regimes into the early twentieth century, the transcendent agency and moralizing ethics associated with the Buddhist lama always came up against the indeterminacy and generativity of deity recognition.9 No one could fully control when and how a divine agent would be manifest and recognized. Buddhist monastic discourses from the period include much derision and skepticism of laypersons' various claims to unmediated access to divine agency—especially when lay specialists like local mediums were claiming, in spectacular public trance states, to embody those deities whose mundane activities trafficked in what Buddhist discourses construed as the baser desires of human individuals and collectivities (Lama Tsanpo 1962 [1820]).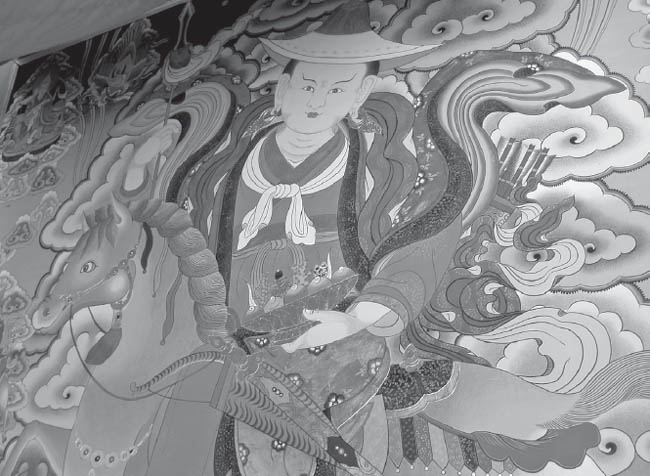 In this context then, the indeterminacy of zhidak recognition among Tibetans past and present can be seen as epitomizing the indeterminacy of human agency and meaning in general. Amid the sedentarizing and centralizing efforts of Buddhist monasteries and competing outside regimes in the frontier zone into the twentieth century, mountain deities, substantialized in offering rites and regularly embodied via lay mediums presiding over village socio-ritual propriety, were thus positioned as potentially threatening, uncontrollable Others to both monastic and state officials. Cults of zhidak were proscribed in Rebgong, along with all public Buddhist practices, after Chinese Communist Democratic Reforms in 1958. But with post-Mao reforms, villages throughout the valley found new, younger mediums with the blessings and confirmations of rehabilitated incarnate lamas,10 and they organized to reestablish annual village offering rites to zhidak on an increasingly grand scale. This surge in village-level practices officially labeled "folk" custom (Ch. minjian) in the 1980s and 1990s occurred even as state officials focused their wary scrutiny and regulation on the revival of institutionalized "religious" (Ch. zongjiao) practices centered on Buddhist monasteries and Muslim mosques in the region (Goldstein and Kapstein 1998; Makley 2007). Importantly, with the launch of the Great Western Development campaign in 2000, these cultural politics of materiality and agency intensified in the Rebgong valley in perhaps unprecedented ways.
THE THREAT OF THE OTHER UNDER WESTERN DEVELOPMENT
As early as the mid-1980s, Qinghai development planners had sought ways to alter the province's national reputation as a site of "black (i.e, secret) infrastructure" and construct it instead as an extension of an expanding Chinese "market" (Ch. shichang), a repository of untouched human and natural capital that could be put to work for foreign and domestic investors.11 In development and education circles, "human capital theory" imported from the United States and Europe replaced earlier Marxist-Leninist objectifications of people as labor units (Bass 1998). Qinghai residents could now be objectified and valorized as potential stores of measurable skills for participation in the market, and into the 1990s the trope of "quality" (Ch. suzhi) came to be the standard measure for evaluating the overall quantity and usability of the human capital embodied in individuals, sectors, regions, and indeed in whole minzu groups (Anagnost 2004; Yan 2003).12 But frustrated provincial planners found that the region could not compete with the lucrative networks of capital and influence in the preferred eastern provinces under reforms, and Chinese and Tibetan elites alike began to look for causes in the low "quality" of Qinghai's "backward" ethnic minority populations (e.g., Wang and Bai 1987).
By 2000 then, the Great Western Development campaign was a broad moral rubric under which competing central and provincial economic development efforts could be brought to bear on Tibetan communities. Campaign projects and rhetoric sought to both maintain the region as a site for the exploitation of resources and to highlight ideally entrepreneurial, "high-quality" market agents whose profits there were supposed to fuel national economic growth.13 In this context, the participation of local Tibetan villagers in zhidak cults and especially the activities of lhawa, or zhidak mediums, became particularly problematic as claims to alternative frameworks for materiality and value.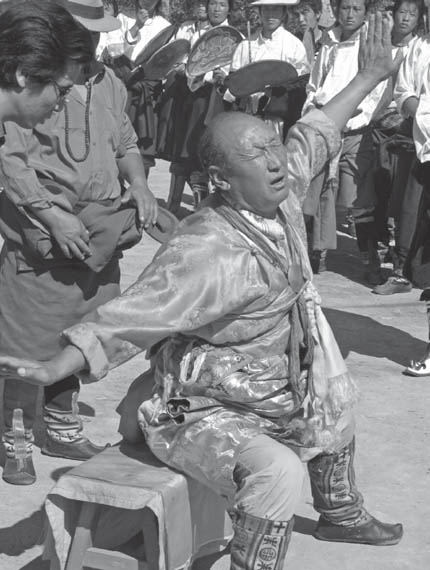 Tibetan mountain deities embody the increasing unmanageability and expanding scope of newly privatized consumerist motivations under post-Mao reforms in the valley. More importantly, in this context, mountain deities threaten to apotheosize an amoral, specifically Tibetan (masculine) subjectivity that is grounded in the dangerous compulsions of both bodily desires and obligatory exchange. In the valley, this played out most crucially in intergenerational, lay-monastic, and state-local conflicts over control of ritualized social networks for creating and accessing increasingly mobile capital, a process that amounted to the rise of new "unruly coalitions" among local elites (Verdery 1996, 193). Thus under reforms and increasingly into the 1990s and the first decade of the 2000s, the figure of the lhawa emerged as a newly indeterminate medium for a cultural politics of materiality: he embodied the heightened stakes under the Great Western Development campaign of competing efforts to assert and maintain relatively backgrounded infrastructures for morally problematic individual and collective aspirations. In other words, under the intensifying scrutiny of both state and popular economic practices against the standard of an ideally open national-global market, the spectacular visibility and corporeality of the lhawa in public trance rendered discomfortingly noticeable the place-based social networks, jurisdictions, and material efficacies among Tibetans that had been relatively (and expediently) unmarked in the early reform years (Chau 2005, 239).
As many observers have pointed out, Chinese imperial courts have for centuries attempted to control or incorporate local deity cults, and the rationalism and authority of state bureaucracies were often the ground against which local mediums were portrayed as individually intentioned charlatans and swindlers.14 In the twentieth century, Chinese nationalist regimes attempted to define and regulate ritual practices as folk "superstition" (Ch. mixin) or institutionalized "religion" (Duara 1991). Under the official materialist atheism of the ascendant Chinese Communist Party, accusations of individual trickery could be leveled at any ritual specialist in order to justify central control or eradication (Goldstein et al. 2009). Yet with post-Mao reforms and the 1982 reinstatement of "freedom of religious belief," state officials had to negotiate a delicate balance, especially in Tibetan regions, between regulating and allowing scope for the revival of both lay ethnic "traditions" (Ch. chuantong) and Buddhist monastic "religion" (Ch. fojiao), even as the practice of folk "superstitions" was still defined as illegal. As Ann Anagnost has pointed out, the 1980s saw intensifying public debates and state scrutiny in Han regions directed at a perceived boom in folk ritual practices and deity cults, including mediumship, that was seen to be channeling excessive amounts of resources to ritual specialists. Most importantly, it was the "social relational" aspect of such practices, manifest in the perduring obligations created in gift exchanges, that was most threatening to state officials at the time: "the idea that [ritual specialists] may indeed be social creations directly confronts the state's attribution to them of motivated self-interest" (Anagnost 1987, 52).
In Tibetan regions like Rebgong, however, the exigencies of ethnic politics after brutal forced assimilation efforts during the Maoist years meant that lay "folk" practices, including zhidak cults, were less subject to state scrutiny than Buddhist lamas, monks, and monastic institutions, the erstwhile rulers of the region. It was only in the late 1990s and early in the first decade of the 2000s, and especially with the reemergence in central state discourse of the old category of "heterodox (or perverse) cults" (Ch. xiejiao),15 that there were increasing calls in Qinghai to extend state supervision and regulation to lay "folk" practices, including zhidak cults. The category of "heterodox cult" emerged most prominently in 1999, on the eve of the Great Western Development campaign.16 It famously appeared in central legislation aimed at containing, indeed crushing, the expanding Falun Gong movement, whose practitioners included increasing numbers of government officials and Party members. Especially with post-9/11 fears of "terrorist" organizations, the discourse of xiejiao intensified scrutiny of lay ritual practices, and in Qinghai, the term was taken up within ongoing debates among academics and policy makers about the nature of "religious morality" and "social stability" under rationalizing economic development. As prominent Tibetologists at Qinghai's Academy of Social Sciences argued in 2001:
in Tibetan regions, the social economy lacks development, the masses widely believe in Buddhism, and religious views are particularly strong. This is also one of the central regions in which the Dalai Lama faction and international powers exploit religion and minzu issues to interfere with us, pursuing splittist activities. Thus correctly recognizing and managing all kinds of religious problems is a crucial aspect of protecting the social stability of this region. (Pu and Can 2001, 1; cf. L. Wang 2002)
In Qinghai, where a large proportion of the population consists of ethnic minorities ensconced in Buddhist or Muslim communities, public security pundits and Tibetan Buddhist scholars alike thus struggled to delineate "normal religion" (Ch. zhengjiao) from illegal, "terrorist" heterodox cults on the model of Falun Gong. Importantly, a heterodox organization was defined as a secret, "closed network" of duped practitioners operating across provinces from Beijing down to local levels and controlled by a cunning individual leader who posed as divine in order to greedily extract capital from them (Sun 2002; Muchi Yundeng Jiacuo 2003). In this light then, xiejiao discourse in Qinghai was a most recent manifestation of an older state-local dynamic: as the Great Western Development campaign intensified efforts to recruit locals to participate in the (moral/national) economic rationalities that would open the region to national and global markets, the stark terms of this discourse recognized the enemy within. Indeed, as state officials at all levels struggled to both control and morally distance themselves from lucrative "local mafias" amid market reforms (Barmé 1999; Dutton 2005), the figure of the heterodox cult could be seen as an emergent abject Other for the state's precarious vision of a moral-rational and thus nationally transcendent market economy— the guerrilla-terrorist Other at its very heart.
Importantly, as the market's Other, xiejiao is not an easily apprehended individual person but an alternative infrastructure, that is, alternative, unmarked spaces, practices, and networks that create types of persons and transcendent values in non-national (i.e., unpatriotic) and uniquely compelling ways. Low quality is then the measure of such participants, those who orient themselves to the national market not primarily as human capital in search of abstract, asocial capital under state auspices but as socially and locally mediated subjects with indeterminate motives and loyalties. Given the utopian nature of such visions of a state-led, abstract market, most Chinese citizens, from uneducated farmers to government and Party technocrats, are potentially low quality. Thus it is no surprise that Sun Baohua, a teacher at the Qinghai Police Management Vocational College, characterized xiejiao in the urgent and sweeping moral terms of Maoist rhetoric: "the anti-human, anti-science, anti-social [xiejiao] . . . is a social poison, a great threat to humankind. For the sake of the safety and peace of the people, of families and of society, we must persist in rooting it out" (2002, 88).
CONTESTED MEDIATIONS: THE PRECARIOUS FIGURE OF THE
LHAWA
This larger context then sheds light on the public debates and private anxieties I encountered in Jima Village about the future status of the lhawa in the summer of 2005. Village elder men were debating the proper roles of the village Party secretary and the lhawa in supervising village affairs, and especially in organizing and fund-raising for the annual festival offering to Amnye Shachong. Indeed, at the annual picnic for elder men (to which I had been graciously invited), where the men were feting the successful expansion of Amnye Shachong's temple,17 the Jima Party secretary and de facto "village head" (Wyl. sde dpon) loudly announced that he was fed up with the villagers' disunity and constant complaints about his leadership in temple affairs and that he would be resigning the next day. Elders admonished him that such talk was "Communist Party affairs," not for such festive occasions. And they urged him to wait to resign until after the village's annual festival offering, in part, as I learned later, because Jima's young lhawa, the ritual specialist whose authority is supposed to mediate its organization, had moved to the provincial capital, Xining, after a dispute with some village elders over his legitimacy as a medium of the deity. Meanwhile, villagers nervously wondered in private whether unprecedented prefecture government plans to circumscribe the central role of the village lhawa would fundamentally alter village life in these particularly precarious times.
Indeed, such rumors of impending government regulation of mediums were linked for some to broader prefecture plans to recentralize town administration based on reconfigured urban "communities" (Ch. shequ) spanning several erstwhile farming villages. In effect, that reconfiguration would consolidate and complete the process of state-sponsored decollectivization, urbanization, and market integration in the central valley that had been ongoing since 1980. With the advent of the household responsibility system in the early 1980s, village households were once again the main units of production and consumption. In centrally located Jima, households' reallocated farmlands on the valley floor were gradually taken over by the prefecture government for urban expansion in exchange for cash and, in many cases, rights to lucrative roadside lots for commercial buildings. By the late 1990s, most of Jima's 190 households were completely market dependent, relying for cash income on wage labor, burgeoning business networks, and, especially for the wealthiest households, rents on commercial real estate in town (Makley 2013).
In this context, it is easier to grasp how the figure of the lhawa in Rebgong could become the material pivot (or index) of the specter of heterodox cults for all involved. His ritual authority in and outside of trance states hinged on his capacity for authentic possession by the village zhidak (Irvine 1982). In the valley, divine possession consists in a patterned set of gestures and performances indicating the overwhelming force of the transcendent deity "descended" (Wyl. babs) into the mortal body of the lhawa.18 But such a practice materializes claims to divided or intersubjective selves and deferred authorities that are inimical to state, business, and Buddhist authorities' efforts to pin down and rationalize individual motives and responsibilities. Indeed, despite constant contestation in Tibetan communities over the proper regional scope and position of mountain deities in divine hierarchies, the lay medium operates within the same general logic of materiality, embodiment, and intersubjective exchange as does the historically ascendant Buddhist incarnate lama: human bodies, just as other objects, can serve as "supports" or "containers" for aspects of divine presence with whom humans must enter into consequential, enduring exchanges (see ch. 8 in this volume).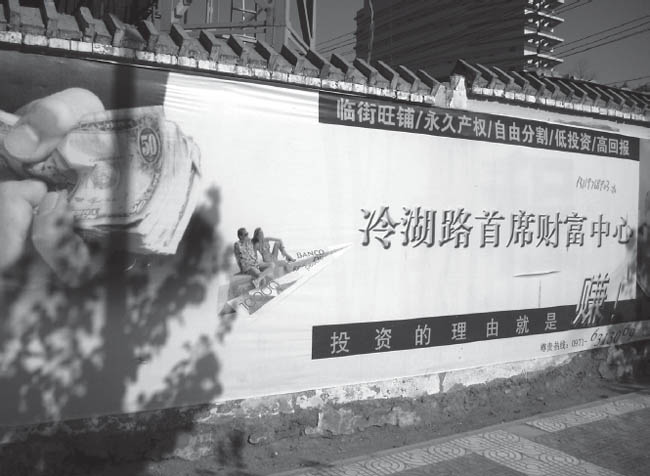 New state-local and lay-monastic business networks and real estate transactions produced new dependencies and new profits in the valley, raising the stakes for control of access to mobile capital. Meanwhile, the influx of Han and Hui (Muslim Chinese) merchant and construction family networks had heightened the pressures for Tibetan market participation in this Tibetan Autonomous Prefecture. Indeed in Jima and other central urban villages, Tibetan households were precariously dependent on the market success of Han and Hui merchants; they often owned the very commercial buildings in which those merchants operated. With ongoing struggles over state taxation eating into their profits, and anxieties over inflation, the lack of government services, affordable health care, education, or lucrative jobs for their children, Tibetan villagers early in the first decade of the 2000s were acutely aware that the magic of the market, touted in advertising and government slogans, was not risk-free.
In this context, the burgeoning role of lay zhidak cults in Tibetan villages literally positioned the entranced lhawa-as-deity at center stage in intensified contests over the recognition of individually intentioned fraud versus socially produced (ethnic) transcendence and value.19 Rather than functioning exclusively as a communal and unifying force among lay Tibetans, mountain deity practices have always played out in tensions between collective ideals and the competing interests of households and individuals.20 Indeed, as many have pointed out, Tibetan villagers' conceive of fortune or vitality (Wyl. g'yang), in contradistinction to a notion of abstract capital, as a naturo-social potentiality or essential force, and that potentiality has long been conceptualized as embedded in households (Wyl. khyim tshang), ideally under the guidance of patriarchs, as the main units of production and reproduction (Da Col 2007; Makley 2013; Mills 2003). The status of such household fortune is always at risk. Household members' intentional and unintentional socio-ritual missteps can anger deities or invite demonic intervention and thus allow fortune to leak out or be captured by others. Individuals are thus supposed to interact with the zhidak of their birthplace (Wyl. skyes lha) (i.e., through individual prayers and offerings, placement of blessed "arrows" in "treasure vases" in homes and at zhidak altars) primarily as members of households seeking propitiation and thus the protection and expansion of household fortune.
But it is in communal rites like regular chanting sessions conducted by elder men at the temple, or especially the annual public offering festivals at village zhidak temples, that the authority of household patriarchs is supposed to coalesce, under the household-transcending auspices of the deity, as a villagewide generational authority, and a committee of elders can legitimately fund-raise and organize the festivals on behalf of village prosperity (cf. Chau 2005). The communal rites could thus be seen as attempts to constitute a moral frame for household wealth accumulation. They worked to instantiate the basic parameters of a Tibetan village moral economy: wealth and fortune gained by households under the proper guidance of patriarchs are the legitimate product of ongoing reciprocal relations with the villagewide protector deity. The socio-ritual propriety of household members and their patriarchs is supposed to benefit all under the deity's jurisdiction, in large part because their mutually constituted fortune is both displayed and shared at such feasts hosting the deity (da Col 2012).
The elders' legitimate mediation of household and village prosperity is then (precariously) dependent on the lhawa's bodily mediation of the deity. The three-day marathon of the annual offering festival, in which the lhawa-as-deity is the celebrated master of ceremonies and village disciplinarian, is a delicate dialogue between the ruling presence of the transcendent deity and the minute orchestrations of village elders. The elders minister to and (passively) direct the deity as he gesticulates through his various ritual duties, checking regularly with the deity to see if their generationally organized dance and burnt food offerings are satisfactory so as to ensure village prosperity and unity in the coming year. Indeed, it is the deity via the entranced lhawa whose authority during the festival is supposed to supersede that of the village headman or Party secretary. He can fine households for not participating and, most dramatically in his final judgments to gathered villagers, haul up and beat young men who have reputations for socio-ritual misbehavior.21 These are the basic frameworks and technologies of materiality and value in zhidak cults that remained expediently unmarked in the early reform years in the valley.
But in the ferment of recent years in Rebgong, the figure of the lhawa in Tibetan villages came under increasing government scrutiny just as his status and that of the mountain deity as mediators of socio-moral fortune for village elders became increasingly indeterminate. In the earliest reform years, elders from central villages like Jima were in an awkward position as they sought to revitalize their mountain deity cults. As Party members and government officials, many could not be seen to be endorsing such "backward" practices as deity possession. Thus the first few festivals were organized without mediums or with an elder appointed as a lhawa surrogate (Wyl. lha pa tshab) (Epstein and Peng 1998). But as rehabilitated Buddhist lamas could once again confirm a zhidak possession, older mediums gradually began to practice again, taking on younger apprentices, so that most villages had recognized mediums by the early years of the first decade of the 2000s.
However, the violent ruptures and painful betrayals of the Maoist years, along with the political and economic ferment of the reform years, had radically altered the grounds for deity recognition in the valley. For one thing, the moral and legal status of the incarnate lama was also increasingly precarious into the 1990s and the first decade of the 2000s (Makley 2007, 2010).22 For another, by 2000, after the initial period of revitalization, new young mediums, educated in secular schools and lacking long apprenticeships in local deity cults, were modifying and curtailing their ritual practices and social roles, facilitating a general shift among villagers to a more skeptical relationship with them.23 Meanwhile some young mediums, claiming a lack of traditional village support and income, were refusing to take on the role. Villagers across the valley wondered why contemporary mediums rarely spoke while possessed, unlike the mediums of the past. Instead, the new mediums mainly gesticulated or grunted their messages, leaving harried elders to interpret as best they could. In some villages downriver, elders resorted to making newly recognized mediums thumbprint a contract obligating them to take on the duties the role required, rather than neglect them in favor of pursuing cash income elsewhere (snying po rgyal and Rino 2008, 170).
In Jima, elders were scandalized when one of two chosen young mediums refused the role so that he could pursue long-distance trade and, they concluded with knowing looks, ended up dying in a horribly violent truck accident. The other young lhawa, after presiding over several village festivals, clashed with certain village elders, including the Party secretary, when he questioned their authority to lead the annual festival. The elders' supporters then pointed to how the young medium had demanded that the village help him buy a piece of roadside land, ostensibly so that he could maintain himself in the village. They represented this as an unprecedented and selfish demand for real estate capital, and some began to wonder whether he was actually faking his possessions or was possessed not by Amnye Shachung but by a lower malevolent demon. Angered by their lack of faith, the medium left Rebgong for Xining and refused to come back for the 2006 festival, even after a group of Jima elders traveled there to invite him.
Such conflicts over deity recognition in the valley reflect the moral quandaries of agency among Tibetans across the community under the pressures of market reforms; that is, the increasing unmanageability of privatized motives and "unruly coalitions" brought the zhidak cult perilously close to the immoral terms of the xiejiao Other. As in many urbanizing Tibetan communities, household-based market participation and dependencies under reforms increased income gaps among village households. In Jima, the wealthiest earned many times the income of the poorest, mainly from real estate investments, close relations with state officials, and canny inroads into Han-enclaved construction businesses at the same time that ethnic business networks pressured Tibetans to find allies in their own enclaved networks in the valley and beyond.24
Indeed, by 2005, "development" efforts in Jima village seemed largely to be carried out on behalf of particular households and their kin or neighbor networks, so that the wealthiest of urban villages, where many households were building gorgeous new compounds, had no public sanitation system or paved roads.25 Meanwhile, new exigencies and aspirations for translocal market participation lured young people away from villages and households, their aspirations threatening to focus on the individual pursuit of amoral cash versus household-based fortune. Further, increasing competition for capricious translocal capital pressured Tibetan elites, including Buddhist lamas, to view ritual-versus-secular development investments in the valley as a zero-sum game. One particularly cosmopolitan lama in Rebgong, for example, said that he was "very angry" with his own people, explaining that "they do nothing while Han and Hui make progress." His own ultra-rationalist portrayal of Buddhism as a "scientific" body of knowledge about karma and the mind that could help subjects live better socio-moral lives echoed government development rhetoric, and he explicitly blamed lay Tibetans' lack of progress on their regionalist disunity and wasteful preoccupation with practices like mediumship or offerings to zhidak. Mountain deities, he opined, function best to motivate people to "preserve nature": "[The deities] have been working so hard," he exclaimed. "Now we have to protect them, and get people not to walk on them!" In effect, the lama was arguing for allowing zhidak to retire from their central roles in Tibetan regional politics and exchanges, relegating them to enclaved protectors of an abstract "environment" (see also ch. 10 in this volume).
Hence the increasing scrutiny from all sides of the lhawa's claims to deferred authority, the performative relationship between his ordinary persona(e) and a divine Other. For village elders and for the lhawa himself, who is often the owner of a small business or even a government official, authority rests on his recognition in trance as a fully transparent medium of divine presence—unmediated that is, by the intentions of his unentranced self. In the context of post-Mao disillusionment with public speech among Tibetans, the brutal legacy of popular suspicions about the relationship between one's "mouth" or "speech" (Wyl. kha) and "heart" (Wyl. khog) (Makley 2005), one way of understanding the lhawa's lack of speech in trance states under reforms would be to consider it as a turn to bodily-material indicators, which are claimed to be more powerful and direct signs of divine presence versus the interventions of unreliable human speech, at the same time that the greater ambiguity of those signs allows interpretive leeway to all involved under indeterminate state scrutiny (Morris 2000). Indeed, for all of my Tibetan interlocutors, the most spectacular material signs of zhidak presence, themselves evidence of the deity's material size, weight, and ferocity, were the ways in which the medium's face swelled and puffed, as well as the forms of physical violence the deity wrought on the medium's body, such as cutting the head with a knife.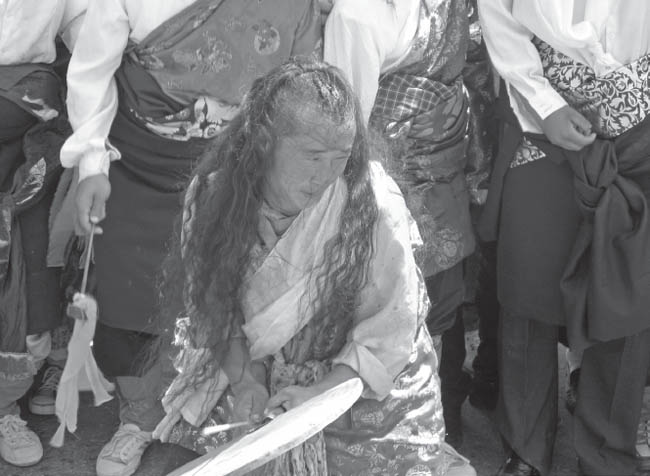 CONCLUSION: THE AMORAL OTHER
Yet such efforts could not fully stave off the specter of the xiejiao Other against the lure of the market. Indeed, the village elders' very hold on the lhawa/deity as mediator of socio-moral wealth was based in the dangerously amoral compulsions of bodily desires and obligatory exchange at the heart of Tibetan ritual technologies. In fact, the liturgies of invocation, propitiation, and offering for Jima's Amnye Shachung, for example, chanted daily by the temple caretaker and monthly by a group of village elders, appropriated tantric Buddhist techniques of deity yoga to invoke and bind the mountain deity to human agendas via the impersonal and amoral workings of lavish feast offerings:
You mountain deities and your retinues, eat! Then destroy all adversity facing our people and our wealth and provide us with all positive conditions. Do everything you can to fulfill all our wishes the way we want!26
As many have pointed out, gift exchanges confront capitalist claims to magical returns from impersonal contracts with the persistence of reciprocal social relations over time (Graeber 2001; Klima 2002; Mauss 1990 [1925]). But in Tibetan zhidak ritual, this was not necessarily a claim to an alternative morality. In the invocation ritual's framework, the practitioner conjures massive amounts of desirable things and desirous beings (the deity and his entourage) pervading space and time. He relies on the sheer compulsiveness of the gorgeous and delicious offerings to overcome the deities' transcendent indifference to humans and to bind them via automatic obligation to return the favor—the moral character or intentions of either party are irrelevant. Importantly, it is only after the practitioner has requested the deities to fully consume the offerings that he uses the most agentive verbs in the imperative mood to ask them to do his (even violent) bidding in order to capture fortune and wealth:
All you attentive protector deities, we exhort you to stand up and get to work! Amnye Shachong, go to the enemy! Shachong's soldiers, go to the enemy! Expand your troops and brandish your weapons! . . . Fill up the enemies' lands with your troops! Destroy their fortress walls from the foundations! Pulverize the enemies' life force and chop it to bits! Feast on the enemies' blood and flesh! Cut off the enemies' lineages at the roots! Loot and feast on all their possessions!
In that vision of divine agency, the zhidak appears as a powerfully intentioned, yet desirous and temptable being, whose efficacy, once captured in obligation, transcends space and time to violently eliminate (i.e., through military conquest of enemy deities and demons) all barriers to the practitioner's equally massive desired returns—fabulous wealth, health, and prosperity.
Here we can appreciate the emergent threat of the increasing indeterminacy of mountain deity recognition in Rebgong: the unmanageable xiejiao potential at the heart of zhidak relations. In the villages, the amoral and compulsive nature of the forces harnessed by such ritual technologies threatened to take zhidak agency out of the control of village elders. Indeed, elders could not legislate how individual villagers, especially young men, engaged with the zhidak as a personal birth deity. "So few of our young men are any good anymore," confided one old man to me at the picnic in 2005. Increasingly, I learned, and recalling the new communal incense offerings to zhidak from Rebgong Tibetan businessmen, young men sought the might of their zhidak to conquer in business ventures, gambling, and trade.
Personal invocations (or hostings) of the deity often prioritized another form of fortune over g'yang as a reward: lungta (Wyl. rlung rta; lit. "wind-horse"), a capricious and quixotic, short-term form of luck, associated with the laborless value of sudden windfalls and gambling wins, that is, income and fortune unrelated to or outside household obligations (da Col 2007, 2012; Karmay 1998). Thus village elders joined lay intellectuals and state and Buddhist elites in expressing moral concerns about the fate of the next generation under market reforms. As we saw, the young lhawa was crucial for mediating the moral authority of the elders' household-based business networks in the face of new market dependencies. In this light, the powerfully place-based and Tibetan nature of zhidak frameworks as they were communally and publicly performed were important aspects of Tibetans' very modern attempts to create intergenerational and trans-household networks for accessing mobile capital.
But in the face of state claims to legitimating economic rationality under the Great Western Development campaign, that very solidarity threatened to appear as the illegitimate manipulations of a "heterodox" organization, especially since many village men held state positions. And yet, the efforts of prefecture officials to recentralize the town under new urban districts and appointed headmen also threatened the social parameters that had worked to keep zhidak practices within the moral framework of household-based wealth accumulation under village patriarchs.27 In such a context, efforts at increasing market integration held out to young people the allure of the impersonal magic of the market, a process that perhaps presented the greatest threat to competing authorities—that shifting zhidak relations would apotheosize mountain deities as a powerful, specifically Tibetan masculine subjectivity that yet recognized and was exceedingly compatible with the bodily desires, social power, and violence inherent to state-sponsored capitalism. In such a context, the powerful bodily violence that the deity wrought on the lhawa in spectacular public trance could not but render that recognition uncomfortably visible. As against competing authorities' efforts to position themselves in various moral economies, the possession of the lhawa threatened to expose the indeterminacies and cultural politics on which they all rested.
By 2007–9, these tensions came to a head not only in Rebgong's Jima village but also across the valley. In 2005, CCP officials called in to investigate the conflict between Jima elders and the lhawa ruled that the lhawa had overstepped his bounds when he had, for the first time, chosen a new village head while possessed by Shachong. With support from the opposing faction of elders, the officials took the opportunity to declare that Jima no longer needed its own village head because it was now incorporated into the new urban district, a move that effectively ended Jima's status as a village with the right to administer its own land and elections and relegated the lhawa to the role of colorful tourist attraction in the prefecture-promoted annual harvest festival (see Makley 2013).28
And after unrest and protests broke out in the streets in 2008, the military crackdown in the valley was accompanied by patriotic and legal education campaigns for students, officials, and protesters. Under the explicit threat of violence, those efforts linked good citizenship to the promotion of ideal spaces, persons, and values grounded in the "scientific" materialities of a national market under the Communist Party's enlightened rule of law. As President Hu Jintao's ubiquitous slogan on Rebgong TV and streets in the spring and summer of 2008 put it: "promote the worldview of scientific development." Further, an article included in the Qinghai CCP committee's teachers' guidebook on the 2008 protests argued that "we must value even more the good forms of development and stability." By 2012, massive central investments in the region materialized state-led "development" as the preferred response to Tibetan unrest (Fischer 2012), unleashing yet another construction boom in Rebgong, as elsewhere. In this, the new national five-year plan renewed calls to "develop the west," touting, as before, the expansion of infrastructure as the key to the "success of the region."
CHAPTER 9. THE AMORAL OTHER
1By October 2013, a total of 122 Tibetans are known to have self-immolated (103 men and 19 women) in China, 102 of whom died, and 42 of whom were from Ngawa (Ch. Aba) Tibetan and Qiang Autonomous Prefecture, Sichuan, which has been under particularly strict military control since protests broke out among Tibetan Buddhist monks there in 2008. The self-immolations started there among young monks and then spread to other regions. Self-immolation as protest was virtually unknown among Tibetans before this time, and there is little Buddhist doctrinal or ritual precedent for it (ICT 2013).
2Most prominent among these new institutions and networks were the tax-sheltered export-processing manufacturing zones of the east coast special economic zones.
3In Tibetan regions, state investments in education and social welfare were reduced until early in the first decade of the 2000s. Then, in part to address priorities laid out in the Great Western Development campaign and in part to respond to increasing unrest, central state subsidies for education and social welfare increased dramatically. But that did not necessarily mean allocated funds made it to rural locales (Bass 1998; Goodman 2004a).
4This village name is a pseudonym.
5From the mid-1980s onward, and especially after the Tiananmen crackdown, popular and state scrutiny of and anger at "corruption" among government and Party officials and their families who are parlaying state access into lucrative business deals have been increasingly highlighted in mass media, protest demonstrations, and legislation.
6"Accelerating infrastructure construction" was the first of five main goals of the Great Western Development campaign listed in the initial report released by the State Council in 2000.
7Here I rely on Goffman's famous concept of "participation frameworks" (vs., for example, a Geertzian notion of "cosmology" or "cultural system") to get at the simultaneously cultural and material ways in which embodied interlocutors mutually define social realities. I prefer Goffman's notion to a Deleuzian understanding of "assemblages" or a Latourian notion of "networks" because it provides specific analytic tools for getting at meaning-making as embodied and intersubjective practice.
8Indeed I see no analytic use for the term "religion" as anything other than an emic category.
9Perhaps the main practice by which Buddhist monks and lamas attempted to regulate deity recognition was to materialize and (in the case of zhidak, violently) hierarchize them in written, visually presented, and ritually performed tantric mandalic taxonomies. European and American Tibetologists widely took on such taxonomic activities as a foundational practice for their own academic science (e.g., Nebesky-Wojkowitz 1998 [1956]; cf. Dalton 2011).
10Little is known yet about the actual processes of finding such new mediums in Rebgong under Dengist reforms. Some were chosen out of groups of young men who went into trances at village rites; others were discovered via divination, or through lineage links to former mediums. Some apprenticed with old former mediums, while others had to learn as they went. All, however, were supposed to seek confirmation from important incarnate lamas in the monasteries that they were indeed possessed by recognized mountain deities and not by opportunist demons (cf. mkhar rtse rgyal 2005, 2009; snying po rgyal and Solomon Rino 2008).
11Xibu diqu kaifa zhinan 1988; Wang and Bai 1991; and see Rohlf 2003 and Goodman 2004a. Qinghai, with its vast tundra and remote mountainous landscape, was targeted during the Maoist years as the site for the construction of mines, prison and labor camps, military bases, nuclear-weapons testing sites, and experimental state farms and factories (Naughton 1988; Rohlf 2003).
12Yan Hairong (2003) discusses the 1987 national conference on suzhi, in which such evaluations were officially formulated and then materialized in the conference report.
13Elsewhere, I address Tibetan officials' development dilemmas in Rebgong in broader contexts, especially in light of the 2008 protests and military crackdown (Makley 2013).
14See Hymes 2002; Kleeman 1994; Shahar and Weller 1996; and Von Glahn 2004.
15Here the term "cult" would include its more recent pejorative sense.
16Then president Jiang Zemin publicly endorsed anti-xiejiao legislation in the very months during which he was preparing to announce the launching of the Great Western Development campaign.
17According to some Jima elders, the temple dates from the early seventeenth century, when Rongwo monastery's central incarnate lama had it built at the same level on the mountainside as his own chambers. It was destroyed in 1958 and then rebuilt in 1980. With help from U.S. NGOs and fund-raising drives among Jima households, more than ¥350,000 was collected for a major renovation of the temple in 1999, on the eve of the Great Western Development campaign and xiejiao legislation. The village's four wealthiest households contributed ¥10,000 each, with others contributing ¥200–5,000 each. In 2005, further funds were raised for the expansion and renovation of the temple's side buildings and courtyard space (cf. Epstein and Peng 1998; 'brug thar and sangs rgyas tshe ring 2005; Xirejiancuo 2005, 2008).
18I have seen at least eight lhawa from different villages in trance in Rebgong, and all indicate their trance state with recognizable bodily signs of the force of the deity: constant puffing while vibrating the lips, salivating, rhythmic shaking and hopping, feats of strength, or infliction of pain, including cutting the head with a knife and smashing alcohol bottles against the head. The trance state during the annual offering festivals is particularly exhausting for lhawa, as they have to be in and out of trance for a marathon three days.
19Up to thirty separate villages in the Rebgong valley, not all of them recognized as "Tibetan," are said to participate in or hold annual offering festivals (Tib. Lurol; Wyl. klu rol) for their respective mountain deities (ri gdengs 1994; mkhar rtse rgyal 2005, 2009; Nagano 2000; Epstein and Peng 1998; Xirejiancuo 2008; Buffetrille 2008; snying po rgyal and Rino 2008). The visibility of such practices with the lhawa at center stage was of course greatly enhanced with state and tourist interest in them, which has burgeoned from the mid-1980s onward. The annual festivals are regularly filmed for television documentaries and tourist media.
20Evidence suggests that Jima's festival emerged only in the nineteenth century, when farming villages were expanding and Jima villagers adopted Lurol by extending the village's annual rites at deities' mountaintop "cairns" (Wyl. labtse) and expanding the roles of deity mediums in order to celebrate victory, and thus the favor of Shachung and other deities, in a bloody intervillage land dispute (Makley 2013; Xirejiancuo 2008).
21In one account of the revitalization of the annual zhidak offering festival in a Rebgong village in the early 1980s, informants waxed nostalgic about how the previously disunited and chaotic village, in which young men frequently drank and fought, was quickly pacified and reunited by the emergence of a powerful lhawa (Stuart et al 1995; cf. snying po rgyal and Rino 2008).
22Because of this precariousness, it is not surprising that the Tibetan scholar Muchi Jiacuo, writing in a Qinghai social science journal (2003), goes out of his way to distinguish lama reincarnation (zhuanshi) from illegal xiejiao practice.
23Though I heard a few educated young people (mostly young men) express such skeptical views about village mediums, this did not necessarily mean Tibetans widely doubted the existence of mountain deities and other invisible beings.
24I was told that by the middle of the first decade of the 2000s, the richest of these Jima households, benefitting from rapidly rising land-use prices, owned several commercial buildings and brought in more than ¥100,000 a year, while most Jima building owners averaged about ¥35,000 a year in rental income. This contrasted sharply with per capita incomes of rural farmers, nomads, and poor households in Jima, who received only several hundred yuan per month in welfare subsidies.
25This was the scene just before the launch of a suite of reform and "people first" development policies in rural Tibetan regions, in part as a central and provincial state response to the increasing rural-urban and class divides among Tibetans and the threat of ethnic unrest. Such policies have seen renewed central support and funding, especially since the 2008 protests and crackdown. By 2011, under the rubric of the New Socialist Village campaign, almost all Rebgong villages had paved roads and running water facilities paid for with central funds, but all households were required to contribute fixed sums of cash, which unleashed further conflict (Fischer 2012; Yeh 2013).
26"dkar phyogs skyongs ba'i yul lha se ku bya khyung la dbang gi 'phrin las gtso bor bsgrub par bskul tshul gyi cho ga 'dod dgu'i char 'beb shes bya ba bzhugs so" (Procedure for entreating the virtuous regional deity Seku Shachung to use his powerful action to shower down all wishes). I thank Amdo Lekshay Gyamtso for his invaluable help in translating this and related texts. All subsequent excerpts are from this text.
27Tibetans' long history of grappling with the moral implications of relations with this-worldly protector gods like zhidak is perhaps best exemplified in ongoing Buddhist and lay debates vis-à-vis specific deities as to whether they are "white" (benevolent) or "black" (malevolent), and what kinds of offerings (vegetable or live sacrifices) are morally appropriate (cf. Dalton 2011).
28By then, the festival was a striking anachronism in Jima, as households no longer engaged in farming.