1
LIFE AT THE PERIPHERY OF THE CHINESE PARTY-STATE

An Introduction
The province of Yunnan and its surrounding areas form the present home of numerous tribes, which have been driven towards it in a succession of human waves, and there is probably no district in the world where the tides of humanity have left so varied a deposit as in these mountain tracts forming the frontier lands of two great empires. Whilst the forces of Nature have been driving man from his northern home, the Chinese have been making a steady and irresistible advance from the east, till the high mountainous tracts of Yunnan, Kueichow [Guizhou], and Ssu-chuan [Sichuan] in part, have become the refuge and the home for those whose physical or numerical weakness has compelled them to cede the fertile places of the earth to a more powerful invader.
—Rose and Brown 1910: 250
We now left the river and started up the cliff, climbing high above the torrent; and almost immediately we were introduced to terrifying travel. The ledge along which we trod gingerly passed through a deep slot in the high granite cliffs, and a false step meant a violent death. . . . We followed the glacier torrent for three days, first through semitropical forest, then through Conifer forest, and finally through a chaos of boulders in a wilderness of shrubs. On either side were the high granite cliffs, and from our right streams from the big glacier, the edge of which we could sometimes see high above us, clattered into the valley.
—Ward 1923: 11
Francis Kingdon Ward's account of the extreme conditions that he encountered during a 1922 expedition across the northern reaches of the area that is today known as Gongshan County provides a fitting introduction to one of China's most isolated and inaccessible regions. Ward was an English explorer and botanist who made several research trips through Tibet and southwestern China in the first half of the twentieth century. Botanists were drawn to these areas because of their abundance of unique flora.1 Gongshan is nestled in the southeastern foothills of the Himalayas, directly below the Tibet-Qinghai Plateau (see map 1, in the introduction). During the most recent Ice Age, its unique topographical conditions provided a safe haven for a plethora of unique plant and animal species. Indeed, today northwestern Yunnan is home to China's densest concentration of plant and animal species, many of which are endemic to the area (Xu and Wilkes 2004).
However, while these topographical conditions formed a rich natural environment, they also shaped a distinct social fabric and now pose a major barrier to economic development. Gongshan is on the geographical periphery of the Chinese state. The county's isolation and rugged, mountainous terrain have, until recently, kept its people relatively insulated from China's rapidly expanding market economy. Compared to other segments of the Chinese population, the mainly ethnic minority people living within Gongshan's borders are very poor.
Historically, the geographical area that we today know as Gongshan represented the absolute edge of Chinese civilization. The indigenous population was subject to overlapping political spheres radiating from both Tibet and the Chinese empire. However, until relatively recently, the local population's connection to the Chinese empire was tenuous. Political administration of the local population was rendered difficult by isolation and rugged terrain, and some sections of the population appear to have been hostile to outside encroachment into the area.
Since "Liberation" in 1949, this situation has changed dramatically. Gongshan society has become deeply enmeshed within China's modernity project, resulting in tremendous social, cultural, and economic change. This modernity project can be summarized as the pursuit of a harmonious, unified, prosperous socialist society through "scientifically based" socialist economic development under CCP guidance. In recent times, central government investment has poured into Gongshan, and major advances in mass communication and transportation infrastructure are collapsing the spatial and temporal boundaries between Gongshan and the world beyond its county border. Importantly, in Gongshan, socioeconomic development is strongly linked with the desire to modernize and raise the "quality" of the local ethnic minority people, whom local governing authorities regard as backward, of low quality, and of low productive forces.
THE GEOGRAPHY AND SOCIETY OF YUNNAN
Far removed from the center of China, it hangs on the ridge of the continent, separated from the basins of the great rivers by chains of mountain ranges. It is not very accessible from the central provinces; and, since distance breeds suspicion, only yesterday the age-old belief was still current that Yunnan was a wild region overrun with beast-like aborigines, in early times. . . . It was also believed that the air of the mountainous country was filled with a lethal vapour which would attack strangers in a mysterious way.
—Fei and Chang 1949 [1948]: 7
Yunnan is one of China's poorest and most marginal provinces. Unique environmental conditions and historical processes have shaped a complex social landscape, and today it is China's most ethnically diverse province. Its geographical position makes it a natural gateway between China and mainland Southeast Asia, and some of the ethnic minority groups living in Yunnan share strong cultural and kinship links with ethnic groups living in Burma, Laos, Thailand, and Vietnam. Substantial numbers of twenty-five ethnic groups (among China's fifty-five officially recognized ethnic minority groups) are found in Yunnan, composing approximately one-third of the province's forty-six million people. Unlike the situation in some of China's other western peripheral regions, Yunnan's main ethnic minority groups have not demonstrated overt opposition toward China's incumbent governing authorities.2
Yunnan is home to some of China's highest mountain peaks and some of the world's deepest river gorges. The northwest buttresses the Tibet-Qinghai Plateau and the eastern Himalayas and experiences extremely cold conditions in the winter months. In contrast, the south is home to lush tropical forests and experiences temperate climatic conditions for most of the year. Yunnan is also a conduit for several of the world's major rivers (the Yangzi, Mekong, and Nu/Salween) and is a vital watershed for downstream communities in China and Southeast Asia.
In recent times, the provincial government and large, state-owned power companies have targeted Yunnan's rivers as a major vehicle for economic development (see Brown and Xu 2010; Magee 2006; Xue and Wang 2007; Yardley 2004). The latent hydroelectric potential held by these rivers is a lucrative economic opportunity, particularly for a province such as Yunnan, which has a relatively underdeveloped economy and a large, poor rural population. Major dams already have been built along the Chinese section of the Mekong, and plans are in place to construct a series of cascading dams down the Chinese section of the Nu/Salween. These dam projects underscore the serious dilemmas that Yunnan, and China more broadly, face in balancing rapid economic development with the protection of environmental resources and the interests of local communities. The projects have been the subject of considerable opposition both within and outside of China. According to some nongovernmental organization (NGO) reports, while the Mekong dam projects have provided welcome income for provincial and central government coffers, they have done little to improve the livelihoods of the communities directly affected by them, and in some cases have actually exacerbated their poverty (Xue and Wang 2007: 81–83).
Between the late 1930s and mid-1940s, one of China's preeminent anthropologists, Fei Xiaotong, conducted research in rural Yunnan.3 He and sociologist Chang Chih-I described Yunnan's diverse ethnic landscape in their study of the province's rural economy.4 They clearly reveled in the opportunity to research such an ethnically diverse society. For them, Yunnan appeared to be a microcosm of human development: "The whole process of cultural development—from primitive head-hunters to the sophisticated and individualized city-dwellers—can be seen in concrete form. . . . It is here we will see in flesh and blood how the process of modernization is working out" (Fei and Chang 1949 [1948]: 9–10). They describe Yunnan's cultural landscape as a patchwork of atomized ethnic groups in which the Han occupy the fertile plains and the ethnic minorities the more isolated and marginal valleys. Their description also elucidates a high degree of social stratification among ethnic groups. Echoing the observations of other travelers and researchers who spent time in this region during the nineteenth and twentieth centuries (see the epigraphs at the beginning of this chapter), Fei and Chang explain the reasons for this stratification: "Successive migratory waves from different parts of the continent, during the last ten centuries, have pushed the less strong ethnic groups farther into the interior and higher up the mountains" (ibid.: 8). Extreme topographical conditions and dense forest environments exacerbated social isolation. Even in the 1930s, transport infrastructure remained basic and walking was the primary means of human movement within the province. As a consequence, livelihoods were defined largely by local conditions, and people living in remote villages rarely traveled beyond their own valleys (ibid.; Wiens 1967 [1954]: 332). The province's topography filtered the spread of modernization; Fei and Chang (1949 [1948]: 8) describe a distinct technological divide between the increasingly modern provincial capital, Kunming, and the rural hinterlands beyond it.
There are some striking similarities between the accounts from the 1930s and 1940s cited above and life in contemporary Gongshan. During my field interviews in Gongshan, it was common to meet people who had never traveled beyond the Gongshan County border.
Since dynastic times, Yunnan's relationship with China's central governing authorities has been unconventional and its population difficult to govern. In standard Chinese, the name Yunnan means "south of the clouds."5 This name suggests popular and official perceptions of Yunnan during dynastic times. Yunnan was perceived as a dangerous, mysterious, and distant land separate from the "civilized" Chinese empire.
In imperial China, the majority of the population was governed under the prefecture system (junxian zhidu), which involved the official appointment of scholar-magistrates to administrative areas across China. Yet in much of Yunnan, including the geographical area we today know as Gongshan, imperial control was often weak or nonexistent: geographical distance from the imperial court, combined with rugged, mountainous terrain and a low tax base, made it impractical to establish a formal administrative apparatus to govern the local population.6 Instead peripheral areas were governed by "native officials" (tusi) on behalf of the imperial court (see Giersch 2006; Herman 1997, 2006; Wiens 1967 [1954]).7
Large-scale Han population expansion into southwestern China during the eighteenth and nineteenth centuries fundamentally altered the area's political and cultural terrain.8 This new wave of migration was stimulated by a combination of growing demand for labor in southwest China and rising population pressure in China's central provinces (Giersch 2001: 74; Lee 1982: 742). In Yunnan, in-migration precipitated a sharp demographic shift—it is estimated that the population grew from four million people in 1775 to ten million people in 1850, with much of the growth coming from Han in-migration (Lee 1982: 729, 742). By 1850, about 60 percent of southwest China's approximately twenty million people were Han (Giersch 2001: 74).
Increased commercial activity and population expansion associated with this large-scale in-migration made it much more viable for the imperial authorities to directly govern the local population, and it is estimated that by the end of the eighteenth century the tusi governed only one-quarter of Yunnan (Lee 1982: 728). Many indigenous communities were displaced from their lands during this period. As more migrants moved in, land became an increasingly valuable asset, as well as a potentially lucrative tax base for local officials. In this new milieu, indigenous communities often lacked the financial resources to compete with the more commercially adept Han migrants for access to land.9
The last remnants of the tusi were dissolved by the CCP in the years immediately after Liberation. Despite pockets of resistance, the CCP was relatively successful at integrating politically and ethnically diffracted frontier regions such as Gongshan into the Chinese Party-state.
Post-Liberation Yunnan
Although significant social and economic advances have taken place under CCP rule, today Yunnan is China's third-poorest province on a GDP per capita basis (Economist 2011). The situation for Yunnan's rural population is particularly difficult. In 1996, Yunnan had more rural poor people—7.7 million—than any other province (Mackerras 2003: 67). While this figure has dropped in recent years, the social and economic divide between rural communities in Yunnan and those in coastal provinces is substantial. For example, in 2008, the per capita annual net income (¥6,196.07) of rural households in the coastal province of Fujian was almost double the amount (¥3,102.60) in Yunnan (National Bureau of Statistics of China Online 2009: section 9-22). One of the key reasons for this disparity is Yunnan's low level of rural industrialization. During the reform period, many rural communities in coastal provinces such as Fujian, Guangdong, and Zhejiang have thrived economically as a result of the establishment of export-oriented industries in rural areas. These industries have provided jobs and lucrative nonagricultural income to farmers and local governments. The establishment of these industries has been facilitated by their close proximity to coastal, export-oriented industrial centers such as Shanghai and Shenzhen, as well as a central government development strategy during the first two decades of economic reform that specifically favored the development of coastal regions over that of interior and western regions. In contrast, aside from temporary outward migration for work, Yunnan's farmers and local governments have limited opportunities to generate lucrative nonagricultural income. Yunnan is mountainous and landlocked and is located thousands of kilometers from the nearest seaport, rendering the establishment of export-oriented industries in rural areas less viable than in coastal provinces. The prospects for establishing self-sustaining nonagricultural industry in an isolated, mountainous county such as Gongshan are remote.
Colin Mackerras (2003) contends that Yunnan's extremely mountainous landscape will continue to be a hindrance to development in some areas, stating that many villages will remain cut off and isolated from major transport networks and that "globalisation trends are likely to leave them behind" (67). Evidence presented in this book contradicts Mackerras's assertions. Although there is little doubt that many peripheral areas of Yunnan, including Gongshan, will experience much lower rates of economic development than other provinces, people living in these areas are becoming increasingly entwined with the developmental agendas of China's central governing authorities and the expanding market economy. Indeed, agricultural livelihoods, particularly in marginal areas such as Gongshan, are regarded by governing authorities at all levels as unproductive, environmentally damaging, and providing little, if any, contribution to national economic development. These same governing authorities are keen to move populations residing in isolated mountain areas down from the mountains and toward off-farm work regimes. For example, one of the underlying goals of the nationwide implementation of the Sloping Land Conversion Program (SLCP) has been to push farmers cultivating steep, marginal land in mountainous regions toward off-farm work regimes in towns and cities. Furthermore, outward migration from Gongshan to urban work regimes in China's coastal areas is gradually increasing. This migration is a direct result of China's, and by default Gongshan's, engagement with an expanding global economy.
GONGSHAN
Even by Yunnan standards, Gongshan's physical conditions are extreme; its isolation and rugged terrain have shaped a distinct social, cultural, and economic environment. Even the county's borders are shaped by the region's mountain ranges. Gongshan covers a total land area of 4,506 square kilometers, and its widest east-west axis is 60 kilometers, its longest north-south axis 160 kilometers. Gongshan borders Diqing Tibetan Nationality Autonomous Prefecture's Deqin and Weixi counties to its east, Nujiang's Fugong County to its south, Burma to its west, and the Tibet Autonomous Region's (hereafter Tibet) Chayu County to its north. Approximately 882 kilometers by road from Kunming, Yunnan's capital, Gongshan consists of five townships (zhen/xiang): Bingzhongluo, Cikai, Dulongjiang, Pengdang, and Puladi (see map 3). The county town is in Cikai Township and is the site of the county government offices, the county-level work units, and the leading primary and high schools (see fig. 1.1). It is also the county's main commercial and trading entrepôt.
Gongshan's most defining physical features are its extremely steep, mountainous terrain and its deep river gorges. More than 350 mountain peaks are found within the county's relatively small geographical area, with approximately 60 of them over 4,000 meters. More than half the land lies on slopes with a gradient of greater than 35 degrees, and the extreme topography makes agricultural production very difficult. Elevation above sea level within the county varies between 1,200 and 5,128 meters. Three major mountain ranges run north to south through Gongshan. The Biluo range forms the eastern face of the Nu River gorge, delineating the boundary between Gongshan and neighboring Diqing Prefecture's Weixi and Deqin counties and between the Nu and Mekong watersheds. The Gaoligong range runs through the center of the county and forms the western face of the Nu River gorge. As discussed below, the Gaoligong range is a natural barrier between Dulongjiang township and the rest of the county. The Dandanglika range lies in the county's far west, forming the border with Burma.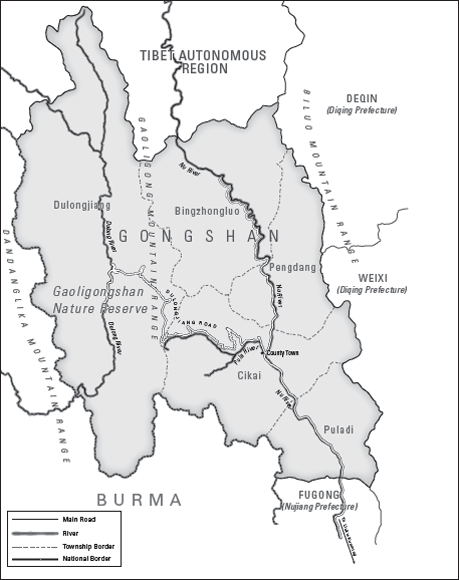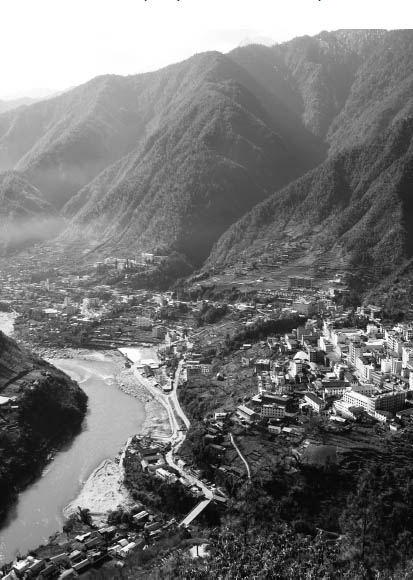 The Nu River gorge dominates Nujiang's and Gongshan's landscape. The gorge cuts sharply though the middle of the prefecture and county: its fast-flowing, untamed waters begin their journey in Tibet and rush down Yunnan's western flank via Nujiang before entering Burma (where the river becomes the Salween) and then emptying into the Andaman Sea.
The Nu River is one of the four major rivers that dissect northwestern Yunnan.10 In 1923, Francis Kingdon Ward described the extreme natural landscape carved out by the Irrawaddy, Nu, Mekong (Lancang), and Yangzi river systems in northwestern Yunnan:11 "We find then a country of lofty parallel mountain ranges, separating deep river gorges, and therefore sparsely populated. There are many snow peaks, which stand with their roots firmly planted in the howling rivers and their heads 12,000 feet aloft. So abrupt is the slope from the river gorge to the summit of the divide that it is the exception to see any of the snow peaks from below. . . . The flanks of the ranges are clothed with forests, and the whole country is a paradise of flowers" (1923: 7). The topography of Gongshan and the surrounding area makes transport into and within the county very difficult. With respect to vehicle transport, Gongshan is a dead end: access into and out of the county is possible only via a single paved road. This road hugs the Nu River gorge for approximately 248 kilometers from south to north, connecting Gongshan with Liuku (the site of Nujiang's prefectural seat) and the rest of the province. Prior to the road's construction in 1973, Gongshan was thirteen days' travel by foot from Liuku (Gongshan Dulongzu Nuzu zizhixian zhi 2006: 283). Vehicles now cover the same distance in six to seven hours. The road is periodically blocked by landslides and rock falls, particularly following heavy rain.
The situation in Gongshan's remote Dulongjiang township provides a striking example of the implications of Gongshan's extreme mountain environment. With the Gaoligong mountain range forming a natural boundary between the township and the rest of Gongshan County, each year Dulongjiang is closed off from the rest of the county for up to six months due to deep snow and ice that block road and path access into and out of the township. During my field trip to Dulongjiang in early July 2005, the dirt road had only just been reopened after being closed for six months due to heavy snow and ice. Even in early July, some sections of the road were still covered. Tunnels had been carved out of the ice to allow vehicle access into and out of Dulongjiang (see fig. 1.2).
These same mountain conditions have created a rich repository of plant and animal species. Gongshan's broad elevation range allows several distinct climatic zones to exist within a relatively small geographic area. Combined with geographical isolation, these different climatic zones provide conditions for myriad species to survive. Northwestern Yunnan, which encompasses Nujiang and Gongshan, is home to between one-quarter and one-third of the total animal species in China, and approximately half of the land area is covered with old-growth forest. More than two thousand species of medicinal plants can be found in the area (Xu and Wilkes 2004: 961–62). In recognition of its environmental and cultural significance, an area within northwestern Yunnan was declared a World Heritage Area by the United Nations Educational, Scientific and Cultural Organization (UNESCO) in July 2003. Part of Gongshan County falls within this World Heritage Area.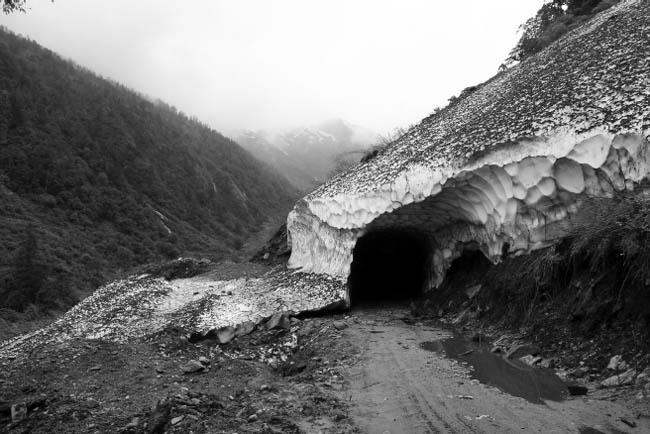 Prior to Liberation
The name Gongshan is a relatively new invention. According to the Annals of the Gongshan Dulong and Nu Nationalities Autonomous County (Gongshan Dulongzu Nuzu zizhixian zhi; hereafter the Gongshan County Annals), the Yunnan provincial government transformed the Changputong Administrative Committee (Xingzheng Weiyuan) into the Gongshan Government Office (zhiju) in 1933 (2006: 9).12 At the time, a zhiju was equivalent to a county. The name Gongshan derives from Gaoligongshan, or the Gaoligong mountain range (shan), which dominates the local landscape, and it specifically alludes to the county's position at the top of that range.13 Due to reasons outlined below, Gongshan's current borders are also relatively new.
Pre-Liberation accounts of northwestern Yunnan reveal that the political administration of the population who occupied today's Gongshan was weak, and a high degree of lawlessness prevailed. Administrative borders were often blurred. The population lived a very basic, subsistence lifestyle in a challenging physical environment and was subject to the demands of competing political forces from China and Tibet. What is significant about these accounts is northwestern Yunnan's marginality vis-à-vis the larger Chinese empire. Although China maintained overlapping political control of northwestern Yunnan via the tusi, the indigenous population had virtually no cultural identification with or allegiance to the Chinese empire. Adding to these complexities, as early as the middle of the nineteenth century, were French Catholic missionaries entering the area and converting a substantial proportion of the population. Furthermore, although northwestern Yunnan was relatively remote, it became of great strategic interest to colonial powers such as Britain during the nineteenth and early twentieth centuries. During this period, Britain controlled Burma and was interested in extending both its border and its commercial interests into western Yunnan. A paucity of official institutions also gestures to the weak political administration of the local population. Outside of the small number of churches and Buddhist monasteries, there is limited evidence of a formal education system, particularly during the dynastic and early Republican period, in the area at this time. From the perspective of those governing northwestern Yunnan, the local population was simply a source of tax extraction and corvée labor. From the perspective of the Tibetans living in the area immediately north of today's Gongshan, the local population, particularly the Dulong, were an easily accessible source of slave labor.
Another notable feature of these accounts is the high degree of social stratification among the different ethnic minority groups inhabiting northwestern Yunnan. Aside from the small population of Chinese living in the area, the Tibetans were at the top of the political hierarchy, and they enjoyed much higher standards of living and maintained a dominant political hold over the local population. The Nu and Dulong people were not politically organized and offered limited resistance to the demands of competing forces from Tibet and China. For example, the Dulong appear to have been unable to prevent the Tibetans from enslaving members of their community. Conversely, the Lisu demonstrated a high degree of resistance to Tibetan and Chinese domination. Even though today the Lisu are Gongshan's dominant ethnic group, evidence suggests that during the late Qing and early Republican periods their presence in this area was minimal, and they were concentrated farther south, in the areas we today know as Fugong County and Lushui County. The Lisu occupying the area immediately south of today's Gongshan were particularly hostile to outside incursion into their territory (Rose and Brown 1910: 255–58).
The Lisu have demonstrated a fierce desire for independence from the Han and from other ethnic minority groups for at least several centuries (see Daniels 1994). Today the Lisu are concentrated in Nujiang Prefecture. However, according to historical records, as early as the Tang dynasty (618–906), the Lisu were concentrated farther east, in an area between southern Sichuan and northwestern Yunnan. Over the centuries, they were pushed by more powerful ethnic groups and ever-growing numbers of Han migrants toward increasingly peripheral areas of the Chinese empire and beyond. Nevertheless, the Lisu's reaction to Han incursion into their native areas was not passive. For example, in 1821, Lisu living in an area of Yunnan immediately south of Sichuan led a series of uprisings in response to Han appropriation of Lisu land that resulted in the killing of more than five hundred Han settlers (ibid.).
Few historical accounts describe conditions in northwestern Yunnan prior to 1949. Among the most useful are those provided by French missionaries who established themselves in this region in the mid-nineteenth century (Gros 1996, 2001). These accounts note that the local population was subject to the demands of several systems of political administration. Although the area was officially administered on behalf of China by Naxi tusi based in Weixi to whom the local population provided taxes and corvée labor, Tibetan tusi from the north also extracted taxes and corvée labor from the local population (Gros 2001: 6–8). Chinese cultural influence among the indigenous population clearly was limited, and "while Tibetan influence was not homogenous, it was part of [the] common, cohesive structure of northwest Yunnan" (Gillogly 2006: 58).
According to missionary accounts, when the French Catholic Father Renou first entered the region in 1854, Chinese control was tenuous (Gros 2001: 9). The local population was entrenched in a debt system that bonded them to Naxi and Tibetan tusi. Slavery was closely entwined with the debt system, and some accounts suggest that slaves were sometimes provided as tribute to Naxi tusi (ibid.: 18).
Conditions immediately south of today's Gongshan, in the area now known as Fugong County, were particularly hostile and lawless. In 1905, George Forrest, a keen botanist, escorted a Mr. G. Litton, a fellow of the Royal Geographical Society, on an expedition through the area. Forrest describes the conditions they encountered: "Since leaving Hsia-ku-dé [Jiakedi] we found that the country increased in wildness every march, and the inhabitants in squalor, poverty, and barbarism. . . . There is no sort of government or control of any sort or kind, by any Chinese or other chief. . . . The villages are nearly all at war with one another; few of the people have ever in their lives been more than a day's journey from their own huts; suspicion, rumour, and terror sit enthroned among those limestone ridges" (1908: 250, 261).
When Ward visited northwestern Yunnan in 1913, conditions appeared much the same as those described by the French missionaries and Forrest. Mystery Rivers of Tibet (1986 [1923]) is an account of an expedition in which Ward attempted to cross from China into Burma via northwestern Yunnan. His expedition was thwarted by a combination of hazardous weather and unstable political conditions. According to Ward's account, Chinese troops were embroiled in battles with Tibetans in the area immediately north of today's Gongshan as the Chinese government sought to take political control of Tibet. The Chinese officially controlled the area that encompasses today's Gongshan, but governance of the local population was very tenuous, with only a rudimentary provision of troops stationed in the area. Indeed, the area appeared to suffer from a high level of lawlessness. For example, in his account of a later expedition through the same area in 1922, Ward makes specific mention of the practice among Tibetans living in the north of today's Gongshan and across the border in Tibet of capturing and enslaving people from Dulongjiang. In fact, he suggests that the Dulong tattooed the faces of young women aged fourteen to seventeen years specifically to discourage Tibetans from capturing and enslaving them (Ward 1923: 14). The practice of tattooing appears to have ceased after 1949 as today tattoos adorn the faces only of elderly Dulong women.
Although the study and collection of plant species were Ward's main preoccupation during his earlier expedition through today's Gongshan, he also made detailed observations of social, economic, and political conditions. While some of these observations indicate that there have been minimal social and cultural changes since 1913, others reveal major changes. For example, Ward notes that "the mountains are not cultivated to any height above the river and the population is scanty, though small villages are built wherever a torrent debouches into the main valley" (1986 [1923]: 195–96). Any visitor to Gongshan today will note that farmers cultivate very steep, sloping plots of land at elevations well above river level. The disparity between current practices and Ward's observations suggests a significant increase in population pressure over the past hundred years.
Ward describes local living conditions as basic: "The people appear to live entirely on buckwheat cakes and maize meal porridge, though there are plenty of cattle, pigs and fowls. These, however, are kept for religious festivals" (ibid.: 196). He notes the local inhabitants' conspicuous lack of warm clothing during the winter months and describes an encounter with a party of Dulong people who had just trekked across the high, snow-covered Gaoligong mountain pass separating what we today know as Dulongjiang township from the Nu River valley: "They were an uncouth crowd. Their hair hung matted over their dirty faces, giving the men a girlish appearance. They possessed only two garments apiece, a sort of hempen blanket worn round the waist like a skirt, and another thrown over the shoulders and tied across the chest. . . . They carried light loads in bamboo baskets, long spears, big Shan dâhs [knives] in open wooden sheaths, and war-bows, with a span of four or five feet" (ibid.: 211–12).
Ward notes that approximately one hundred families inhabited what is today's county town. He observes that although most of the families were Lisu, there were also several Chinese shops and houses (ibid.: 219). Nevertheless, modern modes of commerce and trade in what is today's Gongshan were limited. As Ward traveled farther south into the Nu River valley, social and political conditions deteriorated. He traveled as far as Latsa Fort, a small military outpost that was most likely just north of the current border separating Gongshan and Fugong counties. This fort, which was manned by approximately forty soldiers and appeared to be one of the few sources of overt Chinese political control, played a strategic role in quelling Lisu tribes to the south, who at the time were highly hostile to Chinese encroachment (ibid.: 238–39). A Chinese soldier described the difficulties involved in controlling these tribes: "When we come along . . . they all run away, and we cannot get porters. We fight with them every year round Latsa, but they hide in the jungle and shoot at us with poisoned arrows, and we never see them. When we do reach the village we find it empty. Everyone hates the Lisu" (cited in ibid.: 228). Disease was also a serious problem in this part of the valley. Of arriving at Latsa, Ward writes: "What a dreary sight was this valley with its sodden ruined crops bowed in the fields, its empty huts and dying people" (ibid.: 238). His account of the misery and primitiveness of the people is meant to signal the clear "need" for modern British colonial administration.
Modes of formal tax extraction were in place at the time, even if enforcement proved difficult. During a visit to the Chinese administrative office, or yamen, in Changputong (today known as Bingzhongluo), Ward saw a Chinese tax collector arrive with a party of porters.14 He had just returned from Dulongjiang, where he was collecting taxes from the local population. No mention is made of the success of the tax-collecting episode (ibid.: 253).
Ward's account also reveals that the Tibetan district of Tsawarong, immediately north of today's Gongshan, was regarded by the Tibetan and Chinese governments alike as militarily strategic to control of Tibet (ibid.: 276). At the time of Ward's 1913 expedition, hostility between the Tibetans and Chinese was particularly fierce. From the Tibetan perspective, the Nu and Mekong rivers represented strategic lines of defense against Chinese incursion into Tibet.
In 1932, a Yunnan provincial investigation team traveled to northwestern Yunnan to record the political, economic, and social conditions there.15 Their report provides detailed insights into conditions in pre-Liberation Nujiang. Importantly, the account is free of the CCP's official interpretation of political and economic conditions prior to 1949. The report suggests that Chinese attempts to pacify the local population became more effective in the decades following Ward's 1913 visit:
The upper Salween from Lu-shui Hsien [Lushui County] up to Ch'ang-p'ut'ung [Bingzhongluo] is principally inhabited by Li-su [Lisu] and Nu-tzu [Nu]. Prior to the murder of a German missionary here in the Manchu period, the whole area was a wilderness virtually unknown to the Han-Chinese. Li-su and Nu-tzu frequently killed Chinese or Min-chia [Bai] people who came into the area. A small force of Chinese soldiers, sent to the Fu-kung [Fugong] area after the Republic, was attacked with poison arrows. Garrisons have been stationed at Fu-kung (then Shang-p'a) and Chih-tzu-lo,16 a day's trip south, ever since. Pacification of the area after an attack by the tribesmen in 1917 brought peaceful relations thereafter. . . . Neither the Li-su nor the Nu-tzu care much for rice, their staple food being maize, which was cooked for eating. The tribesmen had become quite addicted to alcoholic drinks, and much of the imports of the Han-Chinese merchants pertain to this commodity. The Li-su are largely farmers living in the higher elevations, planting the mountain slopes. Those that live on the valley plains plant paddy also and use Chinese methods of farming in contrast to the firefield [slash and burn/swidden] methods of the mountaineers. They hunt a great deal and engage themselves out as coolies, especially farther south in the T'eng-yueh sector of the Salween. . . . The Li-su are self-reliant and have a democratic social structure although in some areas they were oppressed by the t'u-ssu [tusi] who ages ago were imposed upon them by the Han-Chinese. The Nu-tzu are shifting cultivators like the Li-su mountaineers, planting such crops as buckwheat, maize, white potatoes, and sorghum millet. . . . Since the Hsien [xian = county] system was introduced here, the t'u-ssu had been restricted in his powers and there no longer were positions of headmen under him. The social system had continued much the same after the abolition of the headmen system, and remnants of the slavery system remained. . . . The children of slaves remained slaves, and the class difference between masters and slaves was sharp. (Segments translated in Wiens 1967 [1954]: 326–27)
Although Nujiang's political environment has undergone significant changes since 1949, the social and economic conditions described in this account are not significantly dissimilar to current conditions. One of the striking features in this account is the reference to alcohol abuse among the ethnic minority population. In contemporary Gongshan, alcoholism is widespread and contributes to social dysfunction.
Religion
Christianity has had a long and deep influence upon northwestern Yunnan society. In 1854, Father Renou established the first missionary presence in Yunnan's northwestern border region (Gros 2001). The French missionaries were part of the Tibet Mission, created in 1846 with the goal of converting Tibet to Christianity, following Pope Grégoire XVI's decision to make Tibet an autonomous Catholic mission (ibid.: 2). Due to an ongoing dispute between Tibet and China at the time, access to Tibet's interior was impossible. Instead, the missionaries planned to use the border region as a site for future expansion into Tibet (ibid.).
The missionaries appear to have been quite successful, converting a significant proportion of the population living in this region to Christianity. The missionaries began sourcing converts by buying members of the local population out of enslavement, and thus their initial success appears to have had more to do with providing the possibility of escape from economic obligations to abusive tusi than with a genuine desire to convert to Christianity (ibid.: 9–14).
At the start of the twentieth century, Protestant missionaries also entered northwestern Yunnan. The legacy of this early missionary presence persists today (see Zhao 2008). While it is difficult to obtain official statistics regarding the size of Gongshan's Christian population, anecdotal evidence suggests that Catholicism and Protestantism are widely practiced. A large church sits on the hill above the Gongshan county town, and large congregations attend its weekend services. Smaller churches are a common feature in Gongshan's hamlets and villages. Nevertheless, religious practice is closely policed by the local governing authorities. For example, all churches must be officially approved by the state, and children are not allowed to attend church services until they complete high school. Members of the CCP are forbidden to practice religion.
The "Official" History
Alternative historical accounts of Gongshan are scarce, and today Chinese government publications and government-endorsed pseudo-academic literature monopolize the telling of local history. According to the Gongshan County Annals (2006), from the time of the Western Han (206 BCE–25 CE) until the Republican period, Nujiang's territory was controlled and administered by tusi from neighboring regions. The county was "liberated" by the CCP on October 8, 1949. As the following excerpt from the Gongshan County Annals reveals, Gongshan's official history is overlaid with a Communist Liberation narrative, which articulates that prior to 1949 the people living in the area we today know as Gongshan maintained a low level of social development and were oppressed by feudal forces. The CCP represents itself as a benevolent liberating organization that freed the local people from this oppression and helped them to achieve a higher level of material development:
The ethnic minority people of Gongshan once launched unyielding and unrelenting uprisings and struggles in order to oppose the tusi from past dynasties, slave owners, imperialism, and Republican rule. However, due to a lack of advanced classes and correct guidance from their political party [xianjin de jieji jiqi zhengdang de zhengque zhiyin], they were defeated each time. In August 1949, Yunnan's Northwest Defensive Army officials, under the leadership of the CCP, led an armed force across the Biluo mountains from Weixi and entered Gongshan. Using stealth and speed, the Communist forces surrounded the armed force stationed in Cikai, forcing them to lay down their arms and surrender. . . .
Gongshan's Liberation on October 8, 1949, demonstrated the end of its people's enslavement under imperial and Republican rule, and a transition to a new period of united nationality equality. However, social economic development was very slow. There were a number of reasons for this: Gongshan is in a border area; historically, nationality relations had been complicated; and primitive, backward productive forces and production levels were still holding back the development of the local people. Although a private market system had developed in Gongshan, land ownership had not been centralized, the majority of land still belonged to primitive household communal systems, and the division of classes was not clear. Class divisions were particularly unclear among the Dulong people, who had yet to undergo the disintegration of their primitive commune stage of development. Low productive forces and production levels were the main factors restricting the development of Gongshan society.
The Party's goal was to fundamentally change Gongshan's poor and backward conditions. However, because of the unique social [and] historical characteristics of its nationality people, the Party and government decided not to implement land reform. Rather, there would be a direct [but] gradual transition to socialism [that would take place under the following conditions]: via party leadership and the strong support of the nation; by relying on poor farmers, the unity of other working people, education and reform, cultural work, organization, and cooperation; by gradually raising the people's production level and political consciousness; by strengthening socialist factors; and by gradually abolishing the primitive and backward exploitative elements not advancing production and nationality development. . . .
In the fifty years since the creation of the autonomous county, under the leadership of the Party and people's government and the strong support of the country, Gongshan has gradually changed its primitive and backward agricultural production methods. For instance, swidden agricultural production methods have gradually been developed into the use of fixed agricultural methods, water channeling, and terracing. (Gongshan County Annals 2006: 2–4)
This description is typical of official accounts of Gongshan society, which are used to justify ongoing government intervention among the local population. Since 1949, the CCP has presented itself as the only agent capable of guiding the social and economic development of the local population. Harnessing the productive forces of the local population is central to these efforts. More recently, economic development policy has had more of a neoliberal orientation, as it is increasingly geared toward providing conditions under which the local population will take responsibility for improving their situation. This involves, among other things, improving access to educational services and encouraging farmers to shift toward "more productive" off-farm work.
Contemporary Society
Following the foundation of the People's Republic of China in 1949, Gong-shan's population grew quite rapidly. The county's 1953 population of 17,134 nearly doubled to 33,395 by 1990 (Gongshan County Annals 2006: 58). Although official population growth since 1990 has been very low (rising to just over 36,000 by 2008 [China Nujiang Gorge Network 2011]), official accounts indicate that the post-Liberation population growth has placed a severe strain on the natural environment. According to the Gongshan County Annals, prior to the Republican period, there are no concrete, historical population data for Gongshan (2006: 58). However, by 1918, Gongshan had a reported population of 6,516 people. The population grew to a reported 10,404 by 1947. These pre-Liberation population figures need to be treated with caution because establishing accurate population figures was often difficult at this time. It was in people's economic interests not be counted in population surveys and censuses in order to try to avoid paying taxes.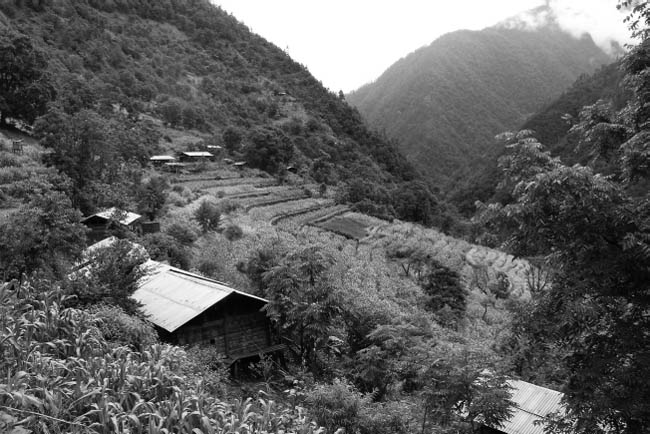 In contemporary official and popular discourses, Gongshan's populace is generally referred to in pejorative terms, often being described as poor, backward, of low quality, and having low productive forces. Local governing bodies play a particularly paternalistic role with regard to the development of the population. Indeed, official documents are deeply permeated by the historical materialist discourse introduced earlier. These official documents emphasize Gongshan's primitive, backward, and feudal past. A key issue that these documents repeat again and again is the low productive forces that existed among Gongshan's ethnic minority communities prior to 1949. Productive forces are used as a measure of an ethnic minority group's level of development, as well as their "potential" to develop further. Descriptions of the Dulong people are particularly pejorative. The Gongshan County Citizens' Civilized Handbook, which was prepared by the Gongshan County Communist Party Propaganda Department, explicitly outlines appropriate forms of conduct for the people of Gongshan. This document was distributed among the local population by the county government in the lead-up to National Day celebrations in 2006. The opening page states:
Whether our country's national strength is strong or weak, our economic development large or small, depends more and more on whether the quality of our workers is high or low. This is because people are the most active and positive elements of the productive forces.
Within the creation of a socialist spiritual civilization, raising people's quality is one of spiritual civilization's most fundamental problems. The basic goal of creating a socialist spiritual civilization is [to] cultivate socialist citizens with ideals, morals, culture, and discipline, as well as [to] raise the moral quality and scientific cultural quality of all of the nationalities.
This year is the fiftieth anniversary of the establishment of the Gongshan Dulong and Nu Nationalities Autonomous County. Our county will hold grand celebrations to show its bright achievements over the past fifty years. To contribute to the county's celebrations and provide a good image of Gongshan to the outside world, from today [onward] every Gongshan citizen has an obligation and responsibility to increase your quality, eliminate bad habits, and advocate civilization (Gongshan Xian gongmin wenming shouce 2006: 1)
Narratives such as this are central to legitimizing the relatively high degree of direct governmental intervention among the Gongshan community. They imply that, unlike other, "higher-quality" sections of the population, the people of Gongshan are uncivilized, maintain bad habits, and require ongoing direction from government on how to conduct themselves appropriately and make a valued contribution to national development.
The Local Economy
The problem is that the people here are too poor. They have to depend upon government support.
—Senior official of the Gongshan Education Bureau,
field notes, January 28, 2008
Prior to 1949, Gongshan's population relied on swidden agriculture, the collection of wild plants, and subsistence hunting. Despite recent improvements in living standards, Gongshan's formal economy remains small and relies heavily on outside financial assistance. Today governing authorities at all levels employ the term "Nujiang issue" to articulate the interconnected challenges to economic development in Nujiang Prefecture, including population growth, isolation, ethnicity, religion, poverty, and ecology. Central to this narrative is the notion that Nujiang's severely limited environmental carrying capacity and "poor," "low-quality" ethnic minority population have held back the development of the Nujiang economy (Chen Xiang, May 16, 2006).
Since 1949, Gongshan has been a target of ongoing development programs, which have intensified in recent years. After 1949, Nujiang received special attention from governing authorities because it was perceived to have particularly backward social and economic conditions. Agricultural specialists were sent to the area to train local farmers in what the government considered to be more advanced agricultural methods. For example, farmers were encouraged to shift away from swidden agriculture and toward fixed agricultural production methods.
In the first forty years after 1949, agriculture, forestry, and raising livestock formed the base of the Nujiang economy (Gao 2003: 15). However, it has been difficult to develop industry and income in Gongshan in particular and in Nujiang in general. The Nujiang Lisu Nationality Autonomous Prefecture Survey (Nujiang Lisuzu zizhizhou gaikuang) states that, following Nujiang's Liberation in 1949, agricultural production levels remained low (1986: 178). Industry was developed, but because it developed from a zero base, production levels were low. After 1949, the party and government adopted an economic principle of "taking little and giving more" (shao yao duo gei) toward the local ethnic minority population and implemented a policy of light or no taxes.
However, by the mid-1990s, nonagricultural industry remained largely underdeveloped in Nujiang (Zhang, Chen, and He 1997: 116). As noted earlier, in many other parts of China the establishment of industry in rural areas has been instrumental in raising rural household income and local government revenue. Geographical isolation is obviously the main reason that industry has been unable to gain a foothold in Nujiang, although official accounts stress that the low quality of the local population is also a key reason. According to Zhang, Chen, and He: "The labor quality of the agricultural population in Nujiang's four counties has restricted labor from being diverted to different regions and nonagricultural industries. Nujiang's population quality [renkou suzhi] is the lowest in the province. It will be very difficult to change this scenario in the current era" (ibid.: 116). Today the Gongshan economy is characterized by a high degree of social and economic inequality. For example, there is evidence of a wide income and opportunity gap between people living in the Gongshan county town, who are generally employed in government jobs, and those living in rural hamlets. There is also an economic divide between farmers living in close proximity to the county town and those living farther away. For instance, in 2008, farmers living in Cikai township (the site of the county town) earned an average of ¥1,136 per person per year, while farmers living in remote Dulongjiang township earned an average of only ¥805 per person, around two-thirds of Cikai's average per person income (China Nujiang Gorge Network 2011).
Recently local livelihoods have been further complicated by a series of state development programs. These programs, which include the SLCP, a logging ban, and the creation and policing of a nature reserve, have severely affected traditional agricultural and cultural practices as well as the capacity of local community members to generate income.
Agriculture
Several officially endorsed Chinese accounts describe challenges confronting Nujiang's largely agricultural economy, all of which highlight the dilemma of trying to balance economic development with a fragile ecology. These accounts tend to lay most of the blame for Nujiang's problems upon the agricultural practices of the local population rather than on governing authorities' past development policies. They are generally written with local and higher-level governing authorities in mind, not only reflecting the goals of those governing authorities, but also serving to bolster their ongoing developmental agendas for areas such as Nujiang. In the case of Nujiang, this agenda involves further integrating the ethnic minority population into the national economy and Chinese Party-state, which includes transferring farmers away from what governing authorities describe as "unproductive" agricultural work and toward "productive" off-farm work.
Gao Yingxin (2003) is an agricultural technician who was sent to Nujiang Prefecture in 1957 to assist with the development of the local economy. He spent several decades in China's border areas and has written extensively on economic and social conditions in Gongshan. In 1992, Gao coauthored an article with Wang Daming and Tang Qingping in which they state that balancing a fragile ecology while also trying to develop agricultural, forestry, and livestock industries was one of the greatest challenges to economic development and poverty alleviation strategies in Nujiang (cited in Gao 2003: 15–16). Today this challenge is encapsulated in the phrase "Nujiang issue."
Gao notes that conditions in Nujiang are particularly challenging to the development of the local economy: "The mountains are high and the water rapid, agriculture takes place on steep slopes, the agricultural environment is unusually fragile, it is a remote area, it is inaccessible, social conditions are comparatively backward" (ibid.: 3).
Nujiang's land area covers 22,050,000 mu, or 1,470,735 hectares. Over three-quarters (76.3 percent) of this total land area is on slopes with a gradient of at least 25 degrees. Furthermore, 40 percent of this total land area is 3,000 meters above sea level and is unsuitable for cultivation. Technological limitations in Nujiang also render unsuitable another 29.51 percent of total land area, lying between 2,400 and 3,000 meters above sea level. In 1995, only 3.3 percent of Nujiang's total land area was under cultivation (Zhang, Chen, and He 1997: 121), and because most of this area is on steep slopes, agricultural output is very low. Cultivating land on steep slopes also contributes to soil erosion and landslides, compromising the long-term viability of agricultural land. Furthermore, by the late 1980s, conflict between the increasing population and the limited and finite amount of arable land was becoming pronounced. Summarizing the problem, Gao states: "With almost no reserve land available to open up and with population increase, the conflict between people and the ecology is becoming increasingly pronounced" (2003: 32). Following the introduction of the SLCP in Gongshan in 2003, most land on slopes with a gradient of greater than 25 degrees has been converted to forest and cash crops. (The SLCP will be discussed in greater detail in the following chapter.)
Since 1949, the human footprint in Nujiang has grown substantially and has affected forest coverage, significantly increased the amount of steeply sloping land under cultivation, and contributed to an increase in wide-scale landslides. Prior to 1949, Nujiang had a population of 140,000 (Zhang, Chen, and He 1997: 122), who cultivated approximately 1.13 percent (250,000 mu) of Nujiang's total land area, about one-third of the 1995 figure. However, between 1954 and 1986, Nujiang's agricultural population grew from 203,000 to 365,000 people, a 79.8 percent increase. At the same time, the area of land under cultivation expanded from 517,950 to 717,000 mu, a 38.4 percent increase (Gao 2003: 10). Gao notes that agriculture has had a significant impact on Nujiang's forest coverage, particularly in areas below 2,500 meters close to the river gorges (ibid.). According to official figures, between 1949 and the mid-1980s, Nujiang's forest coverage decreased from 50 to 34 percent (ibid.).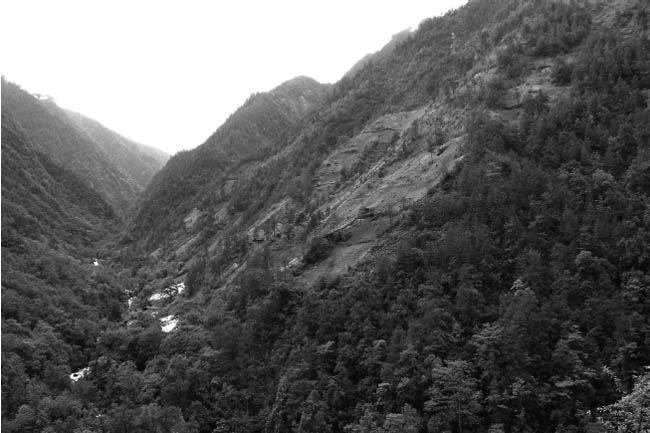 Population increase has resulted in a rise in the amount of steep agricultural land under cultivation. In fact, in 1995, 42.4 percent of Nujiang's agricultural land was on slopes with a gradient of greater than 25 degrees (Zhang, Chen, and He 1997: 121). The practice of cultivating steep, sloping land was particularly acute in Lushui, Fugong, and Gongshan counties. According to Gao, in the mid-1980s, 68.2 percent of agricultural land in these three counties was on slopes with a gradient of greater than 25 degrees (2003: 20). In the most extreme case, land was cultivated on a slope with a gradient of 52 degrees. These practices created serious soil erosion and rockslides (ibid.). Large landslides did not occur prior to 1949 (Zhang, Chen, and He 1997: 122). Today evidence of landslides is highly conspicuous.17 The cultivation of land on steep slopes was strictly outlawed by the central government in 1999 following major flooding on the Yangzi River the previous year.
Based on research conducted in the 1980s, Gao argues that rapid population increase reduced the amount of land available for agricultural production (2003: 32). Up until the mid-1990s, Nujiang had the highest population growth rate in Yunnan (Zhang, Chen, and He 1997: 129). Between 1979 and 1988, Nujiang's total population grew by 21.2 percent, to 418,000 people. However, during the same period, the area of agricultural land grew from 678,000 to 715,000 mu, an increase of only 5.5 percent (Gao 2003: 32). Gao attributes this relatively minor increase to the Household Responsibility System (Jiating Lianchan Chengbao Zeren Zhi), officially implemented by the central government in the early 1980s (ibid.). He notes that this new system encouraged the local population to increase productivity and revenue. As a consequence, more land was opened for agricultural production. However, this appears to have had a deleterious effect on the local environment, so that newly opened land quickly became untenable. In the early 1980s, the amount of land under cultivation spiked to more than 760,000 mu, falling back to just over 700,000 mu by the end of the decade (ibid.). In 1988, the average amount of agricultural land per person in Nujiang, 1.71 mu, was higher than provincial and national averages. However, within this average, only 0.99 mu was on land with a gradient of below 25 degrees. By the mid-1990s, this figure had dropped slightly, to 1.65 mu per person (Zhang, Chen, and He 1997: 130). Less than 20 percent of this land was paddy field.
Nevertheless, agricultural production has increased significantly since 1949. For example, in 1954, total agricultural production was 44,000 tons. By 1986, agricultural production had more than doubled, to 99,570 tons. Official figures also indicate that agricultural productivity has increased: annual grain production per mu rose from 84.8 to 138.9 kilograms over the same period. Agricultural output per person increased from 216 to 247 kilograms (Gao 2003: 310). However, although agricultural yields have increased substantially since 1949, they are low when compared to provincial averages (ibid.: 316). Population increase and a fragile ecological environment mean that Nujiang has been unable to produce enough grain to sustain its population. For example, in 1985, Nujiang's average agricultural output per mu for a single harvest was only 99.6 kilograms, slightly more than half the provincial average of 188 kilograms. Furthermore, average annual agricultural output per rural person was only 247.5 kilograms, well below the provincial average of 310.5 kilograms (ibid.). According to figures cited by Gao, between 1957 and 1985, national grain allocations to Nujiang increased from 1,920 to 27,835 tons, a 14.5-fold increase (ibid.: 308). Further highlighting the inability of the local rural population to grow enough grain to sustain themselves, in 1985, the government distributed 8,365 tons of grain to Nujiang's rural population, approximately 22 kilograms per person (ibid.).18
Importantly, nonofficially endorsed accounts of livelihood practices in Nujiang also highlight the prefecture's low agricultural yields and the conflict between nature and the local population. Research by Xu Jianchu and Andreas Wilkes published in Biodiversity and Conservation suggests that Nujiang's per capita agricultural output increased significantly in the 1990s (2004: 969). Nonetheless, these authors also note that livelihood conditions in upland areas in northwestern Yunnan in general remained difficult, with nearly one-third of households reporting inadequate food levels for at least one-third of the year (ibid.: 966). Households purchased their remaining food requirements with cash generated through the collection of nontimber forest products, small-scale timber felling, and grazing livestock, all of which negatively impacted local biodiversity (ibid.).
Overall, Nujiang Prefecture has been heavily reliant on external subsidies and financial support. Poor soil quality, hazardous terrain, and population pressure severely restrict agricultural yields. Indeed, under China's Household Responsibility System, households are required to provide a quota of their agricultural output to the state. They can then sell any surplus on the free market. Thus the majority of farming households are surplus producers. The figures cited from Nujiang, on the other hand, indicate that local farmers are deficit producers and cannot even grow enough grain to sustain their own households—the policy of providing a quota of agricultural output to the state is generally waived in poverty-stricken areas such as Nujiang.
CONCLUSION
Prior to Liberation in 1949, the ethnic minority population who occupied the area we today know as Gongshan maintained limited cultural and political connection with the Chinese empire, whereas contemporary accounts represent the local ethnic minority population as full-fledged citizens of the Chinese Party-state. Since 1949, the Gongshan population has been a major target of development programs geared toward their integration into China's political and economic fabric. These programs have been underpinned by a pervasive narrative that represents the local population as poor, backward, maintaining low productive forces, and incapable of developing themselves—a narrative that has also served to legitimize CCP intervention in Gongshan. Over the past decade, there has been a dramatic upscaling of government intervention here, in which conservation, education, and labor programs, combined with significant improvements to social and economic infrastructure, are disembedding the people of Gongshan from their local context and further integrating them into the expanding market economy and Chinese Party-state.