5
The Effect of Entrepreneurs on Local Politics

The degree to which entrepreneurs are satisfied or dissatisfied with local politics reflects on the market situation, local government, and the state of local entrepreneurship. "Local government" here refers to county and town or township governments; local politics in China involve Communist Party organizations as well. When asked whether they believed their interests were adequately taken into account by the local government, 24.7 percent of Nuosu entrepreneurs answered "yes," 51.8 percent said they were only partially taken into account, and 23.5 percent answered "no." Among Han entrepreneurs, the corresponding figures reported in our survey were 9.5 percent, 54.7 percent, and 35.7 percent. About one-third of both Nuosu and Han entrepreneurs (Nuosu 35%, Han 36.6%) were satisfied with their current business situation. More than 50 percent were more satisfied than dissatisfied, and only one Nuosu out of 81 and two out of 43 Han entrepreneurs declared themselves to be dissatisfied. Dissatisfaction with government policies, on the other hand, was much more obvious, albeit with notable differences between Han and Nuosu responses. Almost a quarter of the Nuosu stated that the local administration took their interests into account, compared to only 10 percent of the Han. More Han than Nuosu also negatively evaluated the work done by their local governments.
Only a small number from each group (less than 10%) found their local government's performance adequate, indicating a significant degree of dissatisfaction. Their discontent arises from the problems outlined in chapters 3 and 4, namely, discrimination against private entrepreneurs, excessive taxes and fees, and inadequate assistance for entrepreneurs. The frustration also has an ethnic component; as we have noted, ethnic networks and relationships are critical to carrying out business activities, and creating and maintaining relationships with local Nuosu officials is more difficult for Han entrepreneurs than for Nuosu. There is a widespread feeling within the Han community that they are at a disadvantage compared to Nuosu entrepreneurs and some Han have even considered leaving the county for this reason. This lack of satisfaction is represented in table 5.1.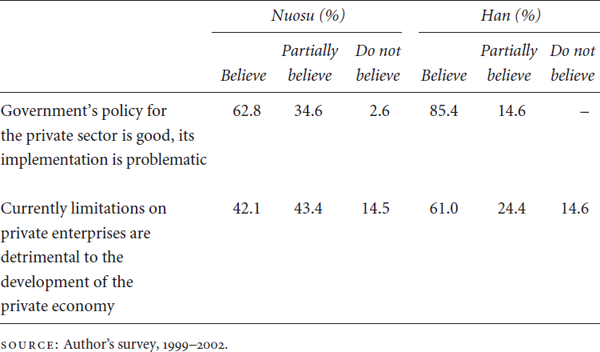 More than four-fifths of the Han and nearly two-thirds of the Nuosu have reservations regarding government policies, revealing problems with implementation in various areas. But here, too, as shown by the responses in table 5.1, the percentage of dissatisfied or skeptical Han entrepreneurs is significantly larger than of Nuosu entrepreneurs. A majority of the entrepreneurs also held the opinion that local cadres were insufficiently prepared for the introduction of a socialist market economy; only a small number disagreed (Han 16.7%, Nuosu 24.7%).
When asked what they would do when confronted with a local department or government decision that was unfavorable to the development of their company, 27.2 percent of Nuosu entrepreneurs said they would accept the decision, 53.1 percent would provisionally accept it and also try to alter it, and 19.7 percent said they would not accept it and would work to change it; on the other hand, 25.6 percent of Han entrepreneurs said they would accept such a decision, 46.5 percent would both accept and try to alter it, and 27.9 percent would try to alter it.1 Thus, about a quarter of both groups of entrepreneurs were willing to accept unsatisfactory decisions made by the local authorities. However, the overwhelming majority said they would try to oppose such decisions. Han said that they would work through the official channels ("I would try to alter [the decision]") while Nuosu indicated that they would use more informal channels ("I would accept it but. . . .") such as local networks and ethnic resources. These findings reveal that entrepreneurs, therefore, do not passively experience policymaking—they feel they can actively shape it and they use various means to try to influence local politics and combat unfavorable decisions through informal mechanisms or through active resistance.
The majority of entrepreneurs also believe that, in principle, the state should be less interventionist, that it should concern itself with creating adequate infrastructure for the entrepreneurs and not with company matters. Clear majorities (Nuosu 75.6%, Han 68.3%) prefer the state to be responsible for macroeconomic direction and to leave company management processes up to the entrepreneurs. Only a small percentage (Nuosu 1.3%, Han 9.8%) contradicted this opinion; the remainder agreed somewhat.
LOCAL POLITICAL PARTICIPATION AND POLITICAL INFLUENCE
Political participation and political influence can follow formal and informal patterns. The formal system is characterized by external rules and institutions determined by the state. The informal system is defined by "interpersonal activities in support of a tacitly accepted, but unofficial matrix of political intent, which exist outside of legal, institutional frameworks, such as government, constitutional and bureaucratic constructs"(Fukui 2000: 3). The use of non-legitimate means to pursue public goals is explicit in such arrangements. The concept of formal systems refers to planned organizational commitments in contrast to informal, unplanned, and spontaneous ones. Formal systems can be characterized as state institutionalized and codified; informal systems are characterized by social self-organization or collective action by social groups. Formal political structures primarily exercise power; informal political structures influence politics.
Nonetheless, formal and informal political spheres are not entirely separable; they complement each other and are indispensable to the entrepreneurs who seek to run their companies without friction with the government. Informal politics are frequently a reaction to challenges posed by the formal system. Life is not shaped solely by the relationship between state and society but also by social obligations and networks. Informal, local political influence is exerted through networks of clans, lineages, social relationships (Ch: guanxi), or through political corruption in the form of bribes. In societies with underdeveloped formal institutions, such as China, informal institutions are an important and necessary supplement to the policy-making process.
In China, direct intervention in political matters and formal attempts to exert direct political pressure tend to be politically explosive. Informal and indirect operations, behind-the-scenes negotiation, and informal power structures (relationships and networks) may often be more successful in influencing political outcomes. Formal, organized forms of political participation and influence include Party membership, use of deputy positions in People's Congresses and Political Consultative Conferences, or membership in representative associations for entrepreneurs.
Entrepreneurs are not fundamentally interested in politics; rather, political involvement is a necessary component of entrepreneurial activity. They try to influence local politics through membership in political institutions and interest organizations and through personal connections with Party officials. However, it is impossible to entirely separate formal and informal patterns of influence. Entrepreneurs (or their institutional representatives) are strongly influenced by their clan or affinal connections, which are, in fact, informal networks.
POLITICAL INFLUENCE THROUGH MEMBERSHIP IN POLITICAL INSTITUTIONS AND INTEREST ORGANIZATIONS
In addition to Party membership, becoming a deputy of the local People's Congress or the Political Consultative Conference is an important political instrument for developing and asserting entrepreneurial interests. Members of the People's Congresses represent a cross-section of society. As deputies to these organizations, entrepreneurs thus come in contact not only with the local political elite but also with other influential local personalities. Almost all of the entrepreneurs interviewed expressed an interest in becoming a deputy of either the People's Congress or of the Political Consultative Conferences.
For some years now, the People's Congress has been undergoing a process of institutional change. The intent is to grant increased rights to entrepreneurs, giving them greater control over decisions and allowing them to have a greater say in political matters, which has attracted many entrepreneurs. Interestingly, a much higher percentage of Nuosu entrepreneurs rather than Han are interested in playing a role in politics. Our interviews revealed that because of the ethnic environment, Han felt that they had a smaller chance of attaining political positions and that the dominance of the Nuosu would limit their ability to participate. Given the problematic local conditions, they thought it best not to be active in political institutions. Accordingly, less than half of the Han entrepreneurs (41.5%), as compared to more than two-thirds of the Nuosu (70.5%), responded that they would "very gladly" become deputies of the local People's Congress; 56.1 percent of the Han and 23.1 percent of the Nuosu said they would "quite gladly" become deputies, and 2.4 percent of the Han and 6.4 percent of the Nuosu said that they would "not very gladly" do so.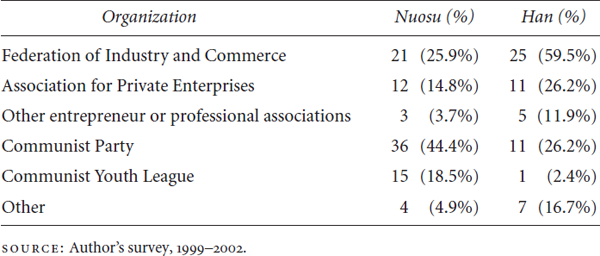 Both Han and Nuosu entrepreneurs are highly involved in their communities and are interested in politics and political participation. Only 9.5 percent of the Han and 16.1 percent of the Nuosu supported the opinion that entrepreneurs should concern themselves only with company matters and leave politics to the Party and government. More than half of the entrepreneurs rejected this opinion entirely (Nuosu 53.1%, Han 52.4%). In addition to the standard political organizations (parties, mass organizations), since the mid-1980s, entrepreneurial and occupational associations have also emerged in Liangshan. The entrepreneurs we interviewed were members of the associations listed in table 5.2.
Party Organizations
A 1999 Chinese survey sampled 1 percent of all private entrepreneurs and found 19.8 percent of the sample to be Party members.2 As table 5.2 reveals, the percentage of Communist Party members within our sample of entrepreneurs was far greater. Membership in occupational and specialist associations is also an important political resource, as is membership in official, non-Communist organizations; entrepreneurs gain some measure of political influence by being highly involved in different organizations.
Private entrepreneurs were not officially permitted to join the Communist Party or the Communist Youth League until the 16th Party Congress of the CCP in 2002. However, the local Party branches in all of the counties we researched had accepted private entrepreneurs prior to this date. Many private businessmen hoped their Party membership would bring them greater local influence. The local Party leaders, on the other hand, expected that accepting entrepreneurs into the Party would better integrate and control the private sector and hoped to effectively utilize the entrepreneurs' economic and financial potential in the Party's interest. Some entrepreneurs even had leading positions as directors or deputy directors of county bureaus, Party secretaries of townships or villages, or village heads. Such positions as well as membership in general gave entrepreneurs the ability to protect their own interests and to make important political guanxi with which to influence local politics.
Of the Nuosu enterprises surveyed in 1999–2002, 8.6 percent had Party committees, 13.6 percent had trade unions, and 6.2 percent had Communist Youth Leagues; of the Han enterprises, 9.5 percent had Party committees, 38.1 percent had trade unions, and 2.4 percent had Youth Leagues. These figures show that private enterprises are not embedded in the organizational structures of the Communist Party and are therefore important pathways for increasing social liberty. However, because the private sector is an economically important segment of its membership, Party leadership tries to control it by extending the reach of the Party organizations into the private firms.3 But Party or mass organizations existed in relatively few of the private companies we surveyed; the majority of the firms were not bound into Party organizational structures.
Party organizations in private sector firms are different from those in public sector companies: they are more strongly subjected to market requirements and to private entrepreneurs' interests and decisions. The entrepreneurs themselves are often members of the Party, or at least would like to be. Conversations with entrepreneurs show that in spite of their reservations toward the Party, Party organizations are understood to be part of an important network of Party institutions, which may be used in the company's interest. Entrepreneurs also believe that they can shape Party organizations to suit their own interests.
As we see from the data above, a significant number of Han companies and a smaller number of Nuosu companies have trade union committees. This is because of a Sichuan Trade Union Umbrella Organization mandate requiring that trade union organizations be founded in all individual companies and small private firms in all counties. The mandate also imposed compulsory membership, and in 2002 the organization exacted six yuan in monthly dues. Part of these proceeds went directly to the provincial trade union organization. Through our interviews, it became clear that this was simply a new way of acquiring income for the organization and not a way to fund assistance programs for entrepreneurs. For example, the chairperson of the Jinyang County trade union organization, a Han hotel and construction company owner, was unable to name either the duties of his organization, apart from "mutual assistance," or how it differed from existing lobby associations.
The trade unions actually represent the interests of the employers rather than the employees; the entrepreneurs themselves are the heads of their companies' trade unions and are able to request union intervention or support in cases of conflict with their employees. The majority of the trade union committees are found in Han-owned companies; it is difficult to persuade Nuosu entrepreneurs to become trade union members, and local Nuosu entrepreneurs need less protection than Han do. The trade union organizations actually see themselves as interest groups protecting the interests of Han entrepreneurs, at least in those counties where the majority of the population is Nuosu and the Party organizations are dominated by Nuosu. Many Han feel that the local Party organizations are special interest groups representing the Nuosu.
The number of Party and Communist Youth League committees in private companies is still low. For the most part, the entrepreneurs themselves establish and direct (nominal) Party or Youth League committees within their own companies. To some extent, they are anticipating the wishes of superior Party organizations that mandate establishing such committees in private firms. By voluntarily setting up such Party organizations, entrepreneurs are thus in a position to demonstrate their pioneering spirit and loyalty to the Party.
In general, private company organizational structures and functions have subverted the Party's organizational structures and functions. Party organizations exist in only a minority of companies and where they do exist, the entrepreneurs exercise control over them.
Interest Associations
In the late 1980s, the central government permitted the creation of professional, entrepreneurial, and other associations. As far as the private entrepreneurs are concerned, there are no official, non-state associations that represent their interests. However, there are two semi-governmental associations that officially act on their behalf: the Federation of Industry and Commerce and the Association for Private Enterprises. Both of these associations have branches in the majority of the counties we surveyed.
The Federation of Industry and Commerce (Ch: Gongshanglian) is a semi-governmental organization that primarily accepts large entrepreneurs and is financed partly from the state budget and partly through membership dues. When it was founded in 1953, the Federation's goal was to link private entrepreneur representatives with the Communist Party. The current official primary function is to promote the private sector, support state regulations for administrating the private sector, and form a bridge between the CCP and private entrepreneurs. Federation branches exist from the national to the county level. Lower level branches are not subject to oversight from the national headquarters; they are overseen by the United Front Departments at each respective administrative level. In contrast to the Association for Private Enterprises, membership in the Federation is voluntary. Federation of Industry and Commerce representatives advertise that their organization prioritizes entrepreneurs while the Association for Private Enterprises pays more attention to companies.
Currently, the Federation's main task is to influence private entrepreneurs and ensure that they are covered by government policies. However, concerning its role in the larger social process of economization, the Federation's intent is to expand economic activity and represent the larger entrepreneurs' interests. In contrast, the Association for Private Enterprises is merely somewhat of an appendage to the Bureau for the Administration of Industry and Commerce. The Federation works more independently of the state administration and in a more interest-oriented way. Its autonomy is strengthened by the formation of local chambers of commerce (Ch: shanghui), which do not fall under governmental jurisdiction. However, in poorer regions, such as Liangshan Prefecture, financial shortages limit the chamber's sphere of influence. The president of the Federation of Industry and Commerce in Zhaojue County said his organization had charged no membership fees until the year 2000, which limited the local federation to a very small budget.
Organizational and operational differences between branches and their degree of influence depend on a number of factors: the strength of local entrepreneurship, financial power and independence, the local political structure (level of autonomy permitted by the Party committee), the local authorities' interest in developing the private sector (influencing, for instance, the amount of taxation), and the branch leadership's personal prestige and its connections to the local political elite. As a rule, the president of the local Federation of Industry and Commerce is also the vice president of the Political Consultative Conference in his or her respective area. The vice president of the Federation is frequently a well-known and important entrepreneur.
In order to entice new members, the local Federations of Industry and Commerce have increased their efforts to represent private entrepreneurs in dealing with the government and with other authorities. For example, the president of the Federation of Industry and Commerce in Zhaojue wrote a letter to the National Federation in which he described problems in market organization and administrative discrimination and complained about the Bureau for the Administration of Industry and Commerce. The Federation of Industry and Commerce followed up with an investigation and presented the results to the county mayor. The mayor personally looked into the issues and tried to find solutions to the problems. Resolving conflicts thus still depends on the leading local officials' attitudes, but the Federation of Industry and Commerce is able to bring problems out into the open and help solve them.
Our interviews did not reveal an ethnic aspect to membership or activities in these organizations. In industrially more developed counties like Ganluo or Mianning, the organizations created ties between ethnic groups. In other counties, entrepreneurs of both ethnic groups felt that the organizations were weak and not adequately able to represent their interests. In such cases, Nuosu entrepreneurs turned to other methods for promoting their interests, such as via clan networks and guanxi to officials.
The Association for Private Enterprises (Ch: Siying qiye xiehui), established under the direction of the Bureau for the Administration of Industry and Commerce in the early 1980s, started out as an association for small individual firm owners (Ch: getihu xiehui) and started to take its present form in 1993. Even at the local level, this semi-official organization is directly run by the Bureau for the Administration of Industry and Commerce. Membership is compulsory; private companies automatically become members when granted their business licenses. An assistant director of the Bureau for the Administration of Industry and Commerce generally chairs the Association for Private Enterprises, and larger private entrepreneurs serve as the vice chairs. At the time of our study, the Association's budget was partly derived from administrative fees paid by private entrepreneurs and partly from membership dues.
Although their duties are similar, the Association for Private Enterprises and the Federation of Industry and Commerce function differently. One major difference lies in their membership. The Association for Private Enterprises represents private entrepreneurs and private sector employees and consists of juridical members (firms), not natural persons (entrepreneurs). The Federation of Industry and Commerce only accepts entrepreneurs as members. The Federation also primarily performs a political function; it contacts large, influential private entrepreneurs and convinces them to become delegates to People's Congresses or Political Consultative Conferences. In contrast, the Association for Private Enterprises addresses internal company processes, as well as political socialization and control. Another difference is in hierarchical structure. The Association is subordinate to the Bureau for the Administration of Industry and Commerce and this hierarchy facilitates contact and cooperation between its members and other official departments. Entrepreneurs use their connection with the Bureau for the Administration of Industry and Commerce to put administrative force behind their entrepreneurial interests. On the other hand, the Federations for Industry and Commerce are subordinate to the local United Front Departments of the Party, which are hierarchically superior to the local Bureaus for the Administration of Industry and Commerce. Consequently, the Federations for Industry and Commerce possess a hierarchical and institutional advantage over Associations for Private Enterprises during negotiations.
However, the two organizations are in a permanent conflict of interests. On one hand, they represent CCP and government interests, and, on the other hand, they represent the entrepreneurs' interests. Since the two spheres of interest seldom overlap, there are not only internal confrontations between the members of these organizations and their leadership, but also external conflicts between the organizations and the government. Private sector employees, who are a significant part of the Party membership, thus threaten to elude the Party's organizational control. This could mean a loss of members and possibly of political control. To maintain and ensure political control, Party branches have been set up within private sector firms; it was felt that the control exercised by the Bureau for the Administration of Industry and Commerce alone would be insufficient.
The organizational situation of the Federation for Industry and Commerce and the Association for Private Enterprises varied among the surveyed counties. In Ganluo, for instance, an Association for Private Enterprises did not exist because private companies were classified as "town- and township-owned enterprises." Private entrepreneurs were members of the Federation of Industry and Commerce instead. Both the Association for Individual Laborers (Ch: gexie) and the Association for Private Enterprises (Ch: sixie) had branches in Mianning under the supervision of the Bureau for the Administration of Industry and Commerce. The Bureau argued, however, that the two associations were actually "one organization with two signs," in other words, two nominally separate organizations that functioned as one organization.
In Zhaojue, Yanyuan, Meigu, and Puge, branches of both the Association for Private Enterprises and of the Association for Individual Laborers actually existed. In Butuo, there was a branch of the Association for Individual Laborers and of the Federation for Industry and Commerce. Because membership in the Association for Private Enterprises was compulsory, it was surprising that a significant number of entrepreneurs denied that they were members. Some stated that they did not know anything about it or that they ignored their membership. Many others indicated that this association simply did not represent their interests. In Yanyuan alone, nine entrepreneurs said they were non-members, three said they were members of both associations, and a few entrepreneurs said they were members of just one. For many business people, membership in an association seemed to be unimportant.
In Ganluo, a branch of the Federation of Industry and Commerce was established in 1994, and it had 428 voluntary members by 1999. The Chamber of Commerce was subdivided into associations for three sectors: mining, mining products, and the manufacturing industry. The chairperson, a Nuosu, was also the deputy director of the United Front Department, which was overseen by the County Party Committee. He had studied law and had previously been the director of the Bureau for the Administration of Rural Enterprises. His biggest ambition was to become an entrepreneur himself. However, he was unable to explain to us the difference between the Federation of Industry and Commerce and the Chamber of Commerce. The former is an administrative organ assigned to the County Party Committee and the Chamber of Commerce is a "non-governmental" (Ch: minjiande) organization that does not receive state subsidies; it finances itself through donations and membership dues. In Butuo as well, the head of the Federation (a Nuosu) was not able to articulate the duties of his organization and stated that it possessed "a bridging function between government and entrepreneurs."4
In the Ganluo People's Congress, there were three deputies from the ranks of the entrepreneurs; in the Political Consultative Conference, they made up 23 out of the 144 deputies. At one time, three different entrepreneurs were said to have been deputies of the Prefectural Political Consultative Conference, and one had been a deputy of the Prefectural People's Congress. There was only one deputy in each of those institutions at the provincial level. The vice chairperson of the Federation of Industry and Commerce was also the vice director of the Bureau for the Administration of Industry and Commerce and the vice president of the Chamber of Commerce. In our interviews, we learned that the Associations possess a certain degree of leverage in bargaining with the county leadership, which will yield to their pressure and insert their proposals into the local development plan.
In Zhaojue, a branch of the Federation was founded in 1995. Their chairperson's report to the "Third conference of the Zhaojue County Federation for Industry and Commerce delegates" in 2000 clearly and openly described Zhaojue's existing problems (see chapter 3). The county leadership's interest in combating poverty through the development of the private sector was the key for promoting this kind of discussion. The director of the Zhaojue County Party Committee's United Front Department (a Nuosu) was also chair of the Federation of Industry and Commerce, chair of the Chamber of Commerce, and deputy chair of the County Political Consultative Conference. Consequently, he was an important figure in the political hierarchy and wielded a certain degree of bargaining power. The county political elite appreciated his position because he was able to use his power to benefit the Federation. The two deputy directors were both entrepreneurs and not members of the Party.
In Mianning, the Bureau for the Administration of Industry and Commerce oversaw the Association for Individual Laborers and the Association for Private Enterprises. The administration of both associations and their members stated that the two organizations basically had little significance. Officials informed us that the associations "organized basketball competitions and other sports events" and organized various excursions.5 There was little available information on the Mianning Federation of Industry and Commerce. The associations, according to the interviewees, were still relatively new.
In Meigu, the deputy director of the County Party Committee's United Front Department (a Nuosu) was the vice president of the Federation of Industry and Commerce. The branch was established in 1995 and had 220 members at the time of the interview, including all of the larger private and individual entrepreneurs. The organization still had no chairperson and only two officers, a deputy director and a secretary. There was neither a described position nor a salary available for a chairperson, who would have to have been a state official, and a lack of funding prevented the Federation from actively taking on projects. The county government only paid 900 yuan per year. The Federation did not charge membership dues because Meigu was classified as a poverty-ridden county. If they had charged membership fees, nobody would have joined. The Associations for Individual Laborers and for Private Enterprises were also inactive.
From the examples in the different counties, we can see that the Association for Private Enterprises and the Federation of Industry and Commerce are not autonomous interest organizations. In some places, they are almost entirely an extension of the bureaucracy, and private entrepreneurs do not feel that the organizations represent their interests. A Chinese research survey found that over 80 percent of the entrepreneurs desired strong, i.e., independent representative associations (Qin 2000: 109); only a small percentage rejected the idea of forming nonofficial representative organizations.
Of the entrepreneurs surveyed, more than four-fifths (85.4%) of the Han and almost two-thirds (65.4%) of the Nuosu were in favor of setting up a nonofficial association on behalf of private entrepreneurs. The difference between the ethnic groups can be explained by a difference in representation: Han entrepreneurs view an independent organization acting on their behalf as very important in order to balance out the discrimination they experience locally. For Nuosu entrepreneurs, such an association is less significant because they have other means of asserting their interests. More than a quarter of entrepreneurs in both ethnic groups wished for separate associations for Nuosu and Han.
Entrepreneurs feel that the most important function of an independent association is to facilitate cooperation between private companies and the government (see table 5.3). Although highly important in Western countries, an organization functioning either as a lobby group or as an industrial representative for bargaining with employees plays only a minor role in China. A lobby group would have no place in the present-day authoritarian system in China. Entrepreneurs would prefer an organization that achieves their goals in the negotiating process with the state by representing and asserting their interests in a non-confrontational, informal, behind-the-scenes way.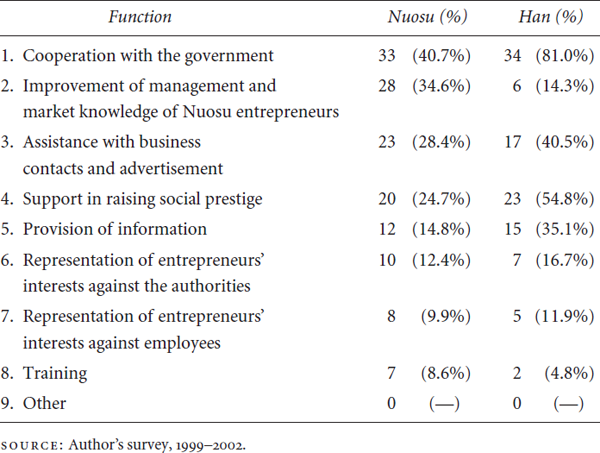 While 81 percent of the Han felt such an association's most important task would be to cooperate with the government, only 40.7 percent of the Nuosu felt this way. Again, this reflects Nuosu entrepreneurs' closer contacts with the local authorities and their attempts to promote their interests at an informal level. The Nuosu would like to see practical services provided by a representative association; over a third of the Nuosu (34.6%) expect outreach and assistance in improving their knowledge of management and markets. More than a quarter of the Nuosu expected help in setting up commercial contacts, advertising, and increasing the social prestige of being an entrepreneur.
For over 50 percent of the Han, assistance in increasing prestige is the second most important service that could potentially be provided by an autonomous association. This is followed by assistance in making business contacts, advertising, and serving as an information center. The existing associations and organizations did not provide such services. The idea of providing further training was not well received because, as we discovered in our interviews, "further training" is a loaded term implying all kinds of political or ideological "studies" greatly removed from business or company interests.
In general, the Federations of Industry and Commerce and the Chambers of Commerce have a limited ability to represent entrepreneurs because they are subject to the control of the local Party committees. However, they do contribute proposals to local discussion on how better to organize the work of private companies and entrepreneurs. Their degree of influence should not be underestimated, but it depends on the openness of the county leadership—in most counties, money shortages exacerbate the Federation's dependence on the county bureaucracy. In contrast, rather than acting as a representative organization, the Associations for Private Entrepreneurs act as organs for control exercised by the Bureaus for the Administration of Industry and Commerce; they focus on the firms, not on the entrepreneurs as persons.
Because both the Federation of Industry and Commerce and the Association of Private Entrepreneurs depend on the local bureaucracy, the majority of entrepreneurs hope for a new independent organization to represent their interests, even if their primary wish is for this organization to try to cooperate with the state. The wish for an independent lobby association can be interpreted as showing a consciousness among entrepreneurs of their commonly shared interests.6 This is shown by the number of entrepreneurs who believe that in order for the private sector to develop, private entrepreneurs need to stand together to support their interests: of the 78 Nuosu and the 42 Han entrepreneurs we surveyed, 72.8 percent of Nuosu and 78.6 percent of Han fully believed this, 23.5 percent of Nuosu and 19.1 percent of Han partially believed it, and no Nuosu and only 1.2 percent of Han did not believe it. The overwhelming majority recognized shared interests and the need to assert themselves proactively in shared activities. This is a basic precondition for political participation and for developing political influence. The common sentiment is emphasized by the fact that only a single entrepreneur spoke against this statement.
PERSONAL AND SOCIAL CONNECTIONS (CH:
GUANXI
)
Social relationships and networks are not only important for developing business contacts and for reducing uncertainty and risk, they are also important for raising social prestige and exerting political influence. Politically, guanxi forms an important link between communities and social groups such as different clans and lineages, villages, associations, and occupational groups as well as among individuals and between individuals and the government and/or Party. Moreover, it facilitates interactive negotiation processes and enables decision making, which are often either impossible or difficult to achieve in other ways. Formal options for political participation are lacking and institutional mechanisms for implementing or encouraging political participation are marginally developed. Thus, guanxi becomes a means with which to influence politics and political decisions and serves as a link between the government or Party and society. However, using guanxi favors corruption and, in some ways, is indistinguishable from corruption. This is because some individuals and groups use guanxi to acquire influence, power, or advantages in order to set themselves above governmental, legal, ethical-moral, social, or political standards; in their use of guanxi, they consciously breach norms, seeking to obtain advantages only for those involved.
A Chinese study found that private entrepreneurs develop local political influence by using their financial potential to create personal relationships with highly placed officials. In this way, the entrepreneurs influence state institutions and local policies according to their own political interests (Li Peilin and Wang 1993: 49ff.). Since the entrepreneurs had informal personal connections to cadres, they did not want to speak about them during interviews with us. However, all the entrepreneurs (Nuosu and Han) we interviewed admitted that they attempt to build up close personal bonds with local officials.7
Guanxi plays a crucial role primarily among persons of the same ethnic group, i.e., between Nuosu entrepreneurs and Nuosu cadres or between Han entrepreneurs and Han cadres. However, in individual cases, particularly with larger entrepreneurs and in counties with a mixed Nuosu and Han population, guanxi transcends ethnic lines. As far as members of the same clan are concerned, Nuosu entrepreneurs, in contrast to the Han, do not perceive their relations with Nuosu cadres as guanxi and therefore do not perceive relations with local cadres as a problem. They argue that it is only natural to have connections to their kin (clan members). However, there is still an ethnic aspect to what we call guanxi. A prominent Nuosu entrepreneur noted,
We all know that nothing gets done in China without social connections. Han are the masters of guanxi; the Nuosu are not as well versed in this art. This is why Nuosu influence ends at the prefectural level [of government].8
Though guanxi as a type of social relationship exists all over China, it is ethnically perceived in different ways. The above statement indicates that Nuosu perceive guanxi as a Han institution. They feel that Nuosu must adapt to it in order to handle certain types of situations. This is particularly true for entrepreneurs who have to establish guanxi with Han officials or with Nuosu officials with whom they have no kinship. Historically, clan relationships were more important to Nuosu than social connections to officials, as there were few officials in Liangshan. Thus, guanxi is perceived as historically alien to the Nuosu people.
Today, clan associations are another form of kin network (Ch: jiazhi xiehui). An example of a kin network would be an association founded by a Nuosu entrepreneur including people from the same clan, amongst them leading county, prefectural, and provincial officials. An example of a business established for the purpose of making guanxi is an amusement park built by an entrepreneur from Yanyuan. The primary purpose of his establishment is to have a place to invite county and prefectural officials to relax and have work related conversations. According to our observations, the park made no profit; it served simply to establish and maintain guanxi.
It is also relatively common to find family relationships among people in administrative positions. We met one important entrepreneur whose brother was the mayor of a neighboring county, his sister was a member of the local Party committee, one of his sons was a township mayor in the same county, and another son was the director of the County Bureau for the Administration of Rural Enterprises.
Guanxi and networks can be differentiated into strong ties, which are based on shared social identities (kinship and tong relationships; see chapter 6), and weak ties, which are not based on a shared social background. The strength or weakness of these ties depends on four factors: duration of the relationship, emotional intensity, ease in getting along or social comfort, and reciprocal services that characterize the bond (Granovetter 1973). A strong-ties relationship refers more or less to "broken-in" relations with people and groups with whom a person is associated through "natural" bonds. Weak ties refer to looser relationships with people outside of such natural bonds; Bourdieu calls these ties "practical relationships" (1998: 205ff).
Weak ties bring an actor into new relationship networks, exposing him or her to new ideas and new information and providing access to new resources. Strong ties go deeper and are easier to mobilize. People with few relationships outside of their immediate surroundings (family, clan, village) have to rely on a multiplicity of weak-ties relationships in order to survive as entrepreneurs. Li Fang has pointed out that both types of relationships are important: strong ties are more helpful when there is institutional uncertainty; weak ties are important when there is market uncertainty (Li Fang 1998: 180).
Both strong and weak ties can be found in bureaucracy and business. Business processes and access to markets as well as acquiring market information and resources require an expansion of relationships to include new groups, persons, and institutions, and, thus, an increase in weak ties. Whether entrepreneurs rely on weak or strong relationships depends to a great extent on whether the political, institutional, and legal preconditions for fair and equal access to markets are in place. This also applies to reducing bureaucratic interference in the market, in competition and in companies. Further promoting local incentive structures may help define normal relationships between enterprises and local authorities, but this also depends on access to markets.
Weak Ties at the Bureaucratic Level
Relationships with officials and government institutions are an important prerequisite for successful business activity. From the entrepreneurial point of view, these relationships are necessary because the local authorities have extensive power over important economic, financial, social, and political resources. David Wank names three methods that entrepreneurs use to influence officials: making financial or other contributions (in the form of gifts or privileges granted), offering real or fictional employment in their companies in high-salaried positions as consultants or managers, and by means of partnerships (patronage). For example, one Nuosu entrepreneur gained a former county Party leader's support by employing him as a consultant. Due to this man's high reputation among local cadres, his support enabled the entrepreneur to solve difficult problems quickly and efficiently. A partnership consists of giving the official a stake in the company, not in the form of capital shares but by sharing power or by giving him or her a post on the advisory board.
Direct financial contributions to government officials are illegal and could, without a doubt, be used against an entrepreneur, for example, in legal cases uncovering corruption amongst local cadres who protect a certain entrepreneur or in cases of conflict between local cadres. The larger entrepreneurs, especially in commercially developed regions, thus seek to transition from independent patron–client relationships with individual officials to a relationship of mutual patronage between the company and the institution (see Wank 1995: 166ff.). Independent patron–client relationships can be uncertain because every change of cadres requires building a new relationship, which costs a lot of time and money. Mutual patronage builds guanxi between the company and an institution, which is profitable for both parties. Such institutional relationships are generally of longer duration and not so strongly based on personal relationships. However, in Liangshan, the dependent patron–client relationship predominates in most fields of activity. For example, in our interviews, private entrepreneurs expressed themselves relatively openly about credit which they, as clients, had access to because of their individual personal relationships with local officials.
Numerous company activities require clearance from the local authorities, such as large investment projects, real estate purchases, certification of product quality, and environmental or production clearances. This is where guanxi can be especially important. Officials often expect a service or some privilege to be granted in exchange for their stamp of approval. Legal uncertainties and significant elbow room in decision making give civil servants the power to grant authorization quickly or to delay the process. Our interviews revealed that particularly Han entrepreneurs use gifts and donations or "gastro-politics" (invitations to dining and drinking, karaoke, or bars) to influence local officials. Yet, it is more difficult for Han than for Nuosu entrepreneurs to gain access to Nuosu officials. Nuosu entrepreneurs use local connections and networks to gain access to the officials and to influence them. One Nuosu entrepreneur commented,
I used to be a township official. Then I became a county cadre and worked in several different counties. Through county and prefectural Party schools, I met many other officials, particularly Nuosu. Nuosu officials generally know each other rather well. These connections are indispensable for me as an entrepreneur; I can use them for company purposes. 'Comrade X, remember the wonderful time we shared in the Party school? Comrade Y, didn't we share hardships in township Z, without any light on those dark and cold nights where we drank together to forget our difficulties?' Who could refuse to provide some benefit to an old friend and comrade? To decline support to an old friend would be a moral offence.9
In addition, legal insecurity and unpredictable officials also make guanxi indispensable. The state has worked for years to improve legal conditions for companies but the private sector still suffers from legal insecurity. As a result, more than 60 percent of the Han and Nuosu survey respondents were either not satisfied or only partially satisfied with the legal situation.
Without a doubt, cadres possess an especially large amount of social capital, particularly when they are part of cadre networks and Party structures and are able to make use of their relationships for entrepreneurial activities. Many entrepreneurs stated that the extent and level of their of social relationships had played a central role in their decision to become self-employed. Relationships to officials in public office and companies are decisive for establishing and developing their companies. The entrepreneurs thus make great attempts to create relationships and to ensure adequate guanxi. Clan members, relatives, and friends are also very important in this respect. According to a Chinese study, 17.2 percent of private entrepreneurs believed they were proficient in making guanxi, as opposed to 10.5 percent of company heads who directed companies under other forms of ownership (state, township, etc.) (Zhongguo qiyejia diaocha xitong 1998a: 16).
However, the greater the distance between the entrepreneur and his or her relatives, the greater the degree of his or her contacts with cadres. In this scenario, the entrepreneur's connection to important networks is not through family members, kinship, and friendship, but through choosing leading company figures who can bring important social relationships into the firm. Some people obtain their positions in a company only because of their outside connections. Links to cadres maximize the entrepreneur's political maneuvering room and minimize his or her political risk. The relationships between cadres and entrepreneurs are not usually based on friendship but rather on considerations of economic usefulness and which networks are useful for the company's development.
The relationship between power and money is as well explored in Chinese social science literature as it is in the media. Bribery is apparently an effective and widely used means of building social relationships, even though the Communist Party and the government have officially declared a war on corruption.10 Bribes take many forms: monetary transactions, material goods or gifts, services and favors, grand hospitality, travel both within China and abroad, and the use of luxury cars provided by entrepreneurs.
Weak Ties at the Direct Business Level
In all societies, it is vitally necessary for companies to build and maintain a network of relationships with customers, suppliers, banks, and authorities. In China, however, networks also serve as a means for learning new production methods and for expanding sales. Networking can occur during regular meetings, information exchanges, or working dinners.
Of the entrepreneurs we surveyed, 41.7 percent of Nuosu and 33.3 percent of Han seldom talked with other entrepreneurs about business experiences, 45.8 percent of Nuosu and 42.9 percent of Han talked with other entrepreneurs two or three times per month, and 12.5 percent of Nuosu and 23.8 percent of Han talked once per week. Over half of the Nuosu and Han entrepreneurs regularly exchanged views with other entrepreneurs. However, the frequency of such exchanges, especially for Nuosu, was relatively low. This is both because of distance between places of operation and business people's chronic lack of time. Nuosu entrepreneurs are spread out across their counties whereas Han entrepreneurs are concentrated in the county administrative centers. Still, it should be noted that entrepreneurs come into contact with each other not only through business interactions; since almost half the Nuosu entrepreneurs are also Party members, we can assume that contacts are made in official capacities as well.
CHARITABLE CONTRIBUTIONS
Financial donations are an important element of building social capital and political influence. Although the size of a company is generally the most important indicator of an entrepreneur's success, this "positive image" factor is not independent of other variables, especially donations. Regular donations contribute to a positive company image among the local authorities and population. Donations may be made to social causes, such as building roads, and educational and social institutions for the needy, for "political" purposes, such as bonuses or salaries for officials, or in the form of contributions to the local Party organizations.
Strategies involving institutional presence, such as joining the Party or assuming local office, are apparently less effective than donations in raising social prestige. However, entrepreneurs feel parliamentary membership is still a good way to increase their prestige. The People's Congresses require less work than a job with the local bureaucracy, do not involve entanglement in everyday politics, and nevertheless ensure a high level of contacts. Involvement in the People's Congress also involves greater freedom because deputies are not as strictly controlled by direct supervisory organs as are members of the local government. For this reason alone, being a deputy of the People's Congress or of the Political Consultative Conference carries more prestige. At the same time, good contacts with the local bureaucracy and participation in government tasks, such as submitting proposals, also increase prestige.
Almost three-quarters of the Nuosu entrepreneurs and more than 90 percent of the Han stated that they had made donations for social and public interest purposes. Their donations were in the form of public acts, done with a view toward an audience, in the sense of "Look at how generous I am!" Of course, donations presuppose the company owner's financial ability to make them. Larger entrepreneurs with greater financial resources could donate more often than smaller ones. More Han than Nuosu had made donations, again illustrating that Han are under greater pressure to develop guanxi than Nuosu entrepreneurs are. On the other hand, Han entrepreneurs also hoped the donations would give them a better public image. Over a third (35.7%) of the Han interviewed and 22.2 percent of the Nuosu stated that they hoped the donations would increase their prestige in the area. The fact that Han make more direct donations to officials and that Nuosu make more donations to community causes, while making sure that officials know about them, is a peculiarity of Nuosu and Han donating behavior.
Social obligations are the dominant motivation for making donations. Over 56 percent of the Nuosu and 80 percent of the Han believe that donations are key to social development. Survey respondents cited other motivations much less frequently. Some had obligations either to their native communities (Nuosu 34.6%, Han 31%) or to the local government, or felt the need to express "thankfulness" (Nuosu 24.7%, Han 21.4%). Others, as we have seen, wished to increase their social prestige (Han 35.7%). Whereas the entrepreneurs' obligations toward their native communities are based on traditional duties, the donations to the local governments serve a dual purpose of creating and/or maintaining guanxi. A large percentage of the entrepreneurs complained about government "requests" for donations that were actually demands, as we saw earlier in this chapter. Because entrepreneurs tended not to make such comments when local officials were present, the actual percentage of involuntary donations may be much higher than we determined.
Donor behavior is not only determined by the calculated benefit to the company, it is also based on internalized social obligations, according to which public interest has priority over the interests of individuals. This applies particularly to the wealthy, who are expected to remember their community's contributions to their success. Successful entrepreneurs are expected to give something back to their communities. Through their donations, entrepreneurs demonstrate that they are not simply pursuing their own interests but also abiding by social norms and fulfilling obligations. People who comply with these requirements enjoy respect and social recognition. Donations also serve as a kind of social capital. By demonstrating the donor's financial superiority and success, donations can increase an entrepreneur's social prestige and social position.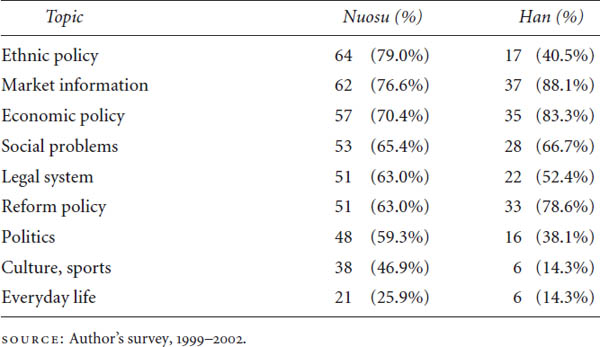 INTEREST IN SOCIAL AND POLITICAL ISSUES
Political participation includes joining and supporting social or political organizations, helping to shape policy, and exerting influence on decision making. However, effective political participation depends on access to relevant and interesting information. In our survey, we asked Nuosu and Han entrepreneurs what kinds of information were of the greatest interest to them (see table 5.4).
Nuosu interest in government policies regarding minority ethnic groups requires no great explanation, because it affects their everyday life, their very identity and existence. Business-related information (market information, government economic policies) was important to both groups, although Han entrepreneurs showed a markedly greater interest. This reflects a higher level of education and stronger market orientation among the Han.
Nuosu entrepreneurs showed a surprisingly high level of interest in the development of a legal system. Han entrepreneurs foresaw little improvement in their situation through changes in laws and legal institutions, whereas Nuosu hoped for stronger protection through entrepreneurial laws and ethnic rights. Nuosu also had more interest in everyday issues, and because the news was generally local, this was less interesting to the Han. One explanation for this phenomenon is that Han are not as included in local political frameworks and thus have less of an interest in local developments. Oddly enough, these results indicate that Nuosu are less cynical than Han about the possibility of having good government, despite the fact that many Nuosu perceive the state as a Han state.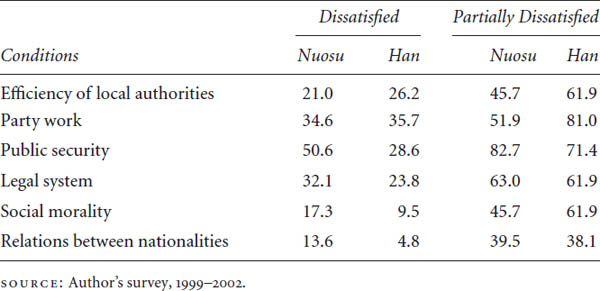 DIFFERENCES BETWEEN NUOSU AND HAN
Table 5.5 reveals that dissatisfaction with the Party and the government is relatively high among entrepreneurs in both ethnic groups. We should note that a feature of doing surveys in China is that those interviewed do not always state their opinions openly. Because of this, although our survey reveals a relatively high level of dissatisfaction overall, many respondents qualified their statements and did not clearly answer whether they were "dissatisfied" or "satisfied."
Table 5.5 reveals that apparently many more Han than Nuosu are dissatisfied with the Party and the government. This reflects the fact that Nuosu can achieve more results on an informal level than can Han, who are not as strongly integrated into local networks. It may also indicate that Nuosu are less cynical about government, perhaps because they are less familiar with it. A higher level of education among Han may also help them to recognize problems.

Table 5.6 combines answers that ranged from "somewhat satisfied" to "somewhat dissatisfied" to create the category "not fully satisfied." This emphasizes that there is a range of critical viewpoints among the entrepreneurs.
Interestingly, the responses of entrepreneurs who were Party members did not differ significantly from those of non-members. The majority of the party members were also not fully satisfied with the work and the policies of the local government and the Party. Entrepreneurs are dissatisfied with the local officials' policies regarding the private sector, as well as with corrupt behavior and official arbitrariness.
Disparities in our research prevent us from fully describing attitudes toward Party and government in each county. The number of respondents in Butuo, Puge, and Xide was statistically too small to demonstrate a significant difference in responses. Also, the survey we gave in Ganluo and Mianning (the first phase of the survey) only allowed "satisfied" and "dissatisfied" as responses. Because some of the respondents would have liked to respond somewhere in between the two possible answers, we changed the survey for the second phase of our fieldwork to include "relatively satisfied" as a third possible response. Thus, the results from Ganluo and Mianning are not entirely comparable to those from other counties. Also, the number of Han entrepreneurs in each individual county was too low to allow us to make general statements about them on a countywide basis. The following descriptions of the situation in individual counties pertains only to Nuosu entrepreneurs.
The degree of satisfaction and dissatisfaction with the work of the local government and the Party differed sometimes widely between counties. The results in table 5.7 to some extent reflect our own experiences. In some counties both the local government and the Party take care of the private sector and actively work on solving problems, such as discrimination against the private sector or excessive taxes and fees, and attempt to increase public scrutiny. In these counties, the entrepreneurs' assessments were generally more favorable. However, there was a lesser degree of satisfaction among Han respondents who evaluated all areas, with the exception of "public security," more negatively than their Nuosu counterparts. In Meigu, where the private sector was more successfully developed than anywhere else, the degree of dissatisfaction with the local government was the lowest by a significant margin.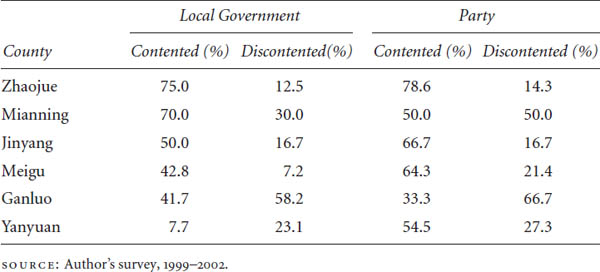 Dissatisfaction with developments in the legal system was highest in the counties where entrepreneurs were also the most critical of the work done by the Party and the government; widespread political and administrative arbitrariness signaled low legal standards. The entrepreneurs' evaluations of their government and of the party were influenced by the level of legal security provided to them as well as by the effectiveness of public security. Problems with public security were an expression of government and Party negligence in law enforcement. More Nuosu entrepreneurs than Han were dissatisfied with the state of public security—only 17.3 percent of the Nuosu and 28.6 percent of the Han said they were satisfied.
Table 5.9 shows that, apart from Meigu entrepreneurs, more than 50 percent of the entrepreneurs were dissatisfied with public security. This leads to the conclusion that there is a lack of public security in almost all counties and a high level of crime. The reason why Meigu is the exception may be that clan control helps preserve order and security. The most glaring contrasts between Nuosu and Han evaluations were in Ganluo, Zhaojue, and Mianning. In these counties, more than 80 percent of the Nuosu, but only 25 percent (Ganluo), 40 percent (Zhaojue), and 60 percent (Mianning) of the Han entrepreneurs were dissatisfied with the state of public security. Evidently the Nuosu entrepreneurs felt themselves to be more threatened by criminal behavior than did the Han. Han seem to be less affected by criminality because they reside in county towns, where they experience fewer of the inter- and intra-clan conflicts that occur in rural areas. Rural areas are more prone to lawlessness than urban areas, which are more tightly policed. Nuosu feel strongly about the menacing growth of violent juvenile crime and the legal system's failure to solve these problems. The Han, on the other hand, respond more strongly to what they see as the downfall of traditional morality.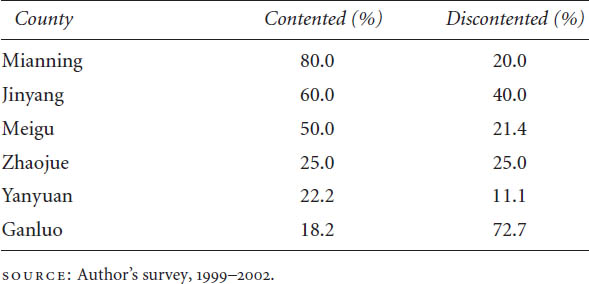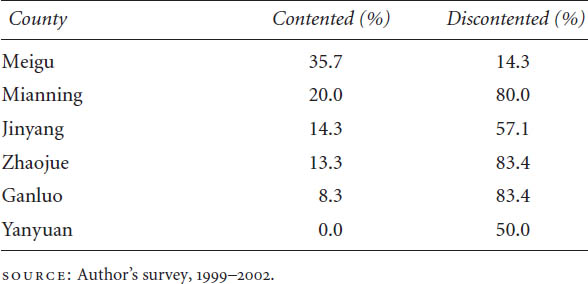 With regard to interethnic relations, more than four-fifths of the surveyed Nuosu entrepreneurs (81.3%, compared to 65.9% of the Han) felt that greater support for Nuosu entrepreneurs was a priority. Almost all the Nuosu, or 95 percent, and 56.1 percent of the Han maintained that Nuosu entrepreneurs face greater difficulties than their Han counterparts do. Nuosu felt their main difficulties were a lower level of education (82.7%), acquiring capital (66.7%), a lack of market knowledge (51.9%), and too little state assistance (49.4%). Han thought the Nuosu's main problems were their low level of education and lack of market knowledge (each 42.9%). Only a few Han named acquiring capital (23.8%) or too little government assistance (14.3%) as important problems for the Nuosu.
Han and Nuosu entrepreneurs perceive local politics differently and assess local institutions and influences differently. Particularly in counties with strong Nuosu majorities, Nuosu entrepreneurs are perceived as locals. They are embedded in networks of relationships with members of their respective clan or ethnic communities. As a result, Han entrepreneurs feel they are treated as outsiders, excluded from decision-making processes, and thus prevented from accessing economic and political resources. This is why Han entrepreneurs are more disappointed in local policies and less interested in local political participation than Nuosu entrepreneurs. Many Han have developed a sense of isolation and have difficulty gaining access to local networks or to unofficial channels of political influence, such as making guanxi or making donations. In contrast, Nuosu are somewhat more satisfied with local policies and show a greater interest in engaging in formal and informal organizations.
Entrepreneurial organizations are useful to entrepreneurs, but only where the local government leadership gives them room to represent their members' interests and where their chairpersons have standing among the local elite. As the local impact of these organizations appears to be rather weak, clans are less interested in dominating them. The majority of entrepreneurs in both ethnic groups would like there to be autonomous, non-state interest organizations, and a large percentage would even prefer to establish such organizations along ethnic boundaries.
Relationships between Nuosu entrepreneurs and Nuosu cadres are complex. They are fed by ethnic feelings of solidarity in the form of strong ties (kinship) as well as by weak ties (relationships with officials). Nuosu entrepreneurs use these relationships to obtain advantages in the market and economic and political resources. One side effect of these relationships is that Han entrepreneurs feel like outsiders. In counties where the Nuosu entrepreneurs and Nuosu cadres are most connected, the majority of the Han entrepreneurs intend to leave as soon as possible. Nuosu entrepreneurs are thus able to use ethnic ties to improve their position in competition with Han entrepreneurs. The reform process has given more weight to local space, in terms of local ties and local knowledge that can be utilized by the locally established Nuosu entrepreneurs, vis-à-vis the outsiders (Han), as the former now constitute the dominant ethnic group in Nuosu areas.