MEDICINE AND RELIGION IN THE POLITICS AND PUBLIC HEALTH OF THE TIBETAN STATE
It was our old custom in Tibet that religion and politics were joined. People's efforts in getting better comprised medicine [men] and doing religion [chö].
—Yonten Tsering, 2007
IN addition to lay Tibetan physicians studying and working in Tsang Medical Houses, amchi also learned Sowa Rigpa through master-discipleships or teaching lineages and practiced as monks and nuns. Sowa Rigpa has long been considered one of the ten Buddhist sciences,1 and many works in the tradition have been written by monk-scholars, whose lives and works are recorded in numerous biographies and medical histories (Garrett 2008, 2014; Schaeffer 2003). An estimated nine out of ten doctors depicted in the famous set of medical thankas from seventeenth-century Lhasa are monks. The others are male lay doctors (I have found no records of female doctors in these paintings). Despite the iconic image of monks studying and practicing medicine, monks and monasteries actually played a relatively minor role (compared to the Medical Houses) in providing Tibetan medical treatment in Ngamring during the 1940s and 1950s, especially to the laity. Although scholars have assumed female doctors to have been absent, new findings show that local nuns studied and practiced medicine and that their learning and work differed from those of monks and lay men and women doctors. Politics and religion were tightly connected in the Tibetan state administered by the Lhasa Ganden Phodrang government in the 1940s and 1950s. State health campaigns, such as one focused on child health, however, exerted limited influence on health care provision in Tsang.
RELIGION, MEDICINE, AND PUBLIC HEALTH IN THE GANDEN PHODRANG STATE
Modernity, Michel Foucault (1973, 1977, 1980, 1981) argued, requires new forms of governance that rely less on coercive mechanisms of control but more on new apparatuses, including hospitals, prisons, and schools, which produce new knowledge and truth about the body and its sexuality, movement, and so on. The role of hospitals and medicine for asserting and dispersing knowledge and power in modern and colonial nation-states in Asia has been acknowledged and theorized in this vein (e.g., Arnold 1993). Yet we know little about Tibetan modernisers' use of such new forms of control in building modern Tibet under the Thirteenth Dalai Lama and his government.
In the early twentieth century, concerns of the Dalai Lama and the Lhasa government over the health of its citizens began to be expressed in new ways. Their most visible expression was the 1916 founding of the Mentsikhang, the Institute of Medicine and Astrology in Lhasa. Its mission, in contrast to the monastic Chakpori College, was to train doctors from and for geographically and socially diverse constituencies, including doctors from the secular aristocracy and the Tibetan army. Other widely documented reforms and institution building of the time included the modernization of the Tibetan army, tax reforms, and installation of telecommunications. These are generally considered to have been at the height of their implementation and experimentation between 1913 and 1923, with many measures intimately linked to British involvement.2
An important reform of that era was the Lhasa Mentsikhang's child health campaign. This early twentieth-century initiative was intended for rural areas and mirrored similar initiatives in other rising nation-states in Asia in that period. Republican-era China and Japan promoted public health under the terms of weishang and eisei and established biomedical clinics, health stations, and dispensaries, and carried out public health and vaccination campaigns (Rogasky 2004; Furth and Leung 2010). The production of health statistics in the context of medical work rose to importance at these historical moments in other modernizing (and colonizing) nations. All this was absent, however, from Tibet's modernization project, despite or perhaps because of the British efforts in spreading Western medicine and carrying out vaccination campaigns in Tibet (McKay 2007). Indigenous efforts were less comprehensive, relied almost entirely on key Tibetan medical and Buddhist ideals, and remained largely limited to Lhasa and its surroundings.
Lay Tibetan amchi and Medical Houses enjoyed partial or entire tax exemption, while monastic doctors received provisions for their medical training and practice either from the monasteries or from lay donations. But with few exceptions doctors did not work directly for the centralized state, or for that matter organize themselves into nationwide or even regional governmental or private professional associations. Medicine has, however, been used at times to expand the power and knowledge of the Tibetan Buddhist state and its central government institutions. Both Buddhist and medical notions of self and self-control were crucial in the continued transition from pre-Buddhist to Buddhist notions of self and nation in Tibet (Adams 1992).
TIBETAN MEDICINE TO BUILD AND SERVE THE NATION
From 1916 to 1924 the Mentsikhang, upon the initiative of two Buddhist monk-physicians and supported by the Thirteenth Dalai Lama, spearheaded a lesser-known reform of the newly modernizing Tibetan government, the so-called child health care campaign.3 Van Vleet has argued in her study of this campaign that, in stark contrast to such campaigns in surrounding regions of the period, it drew on indigenous modes of conceiving and promoting child health in Tibetans' newly forming ideas of governance and national prosperity (Van Vleet 2010/11).
This program began in 1916, when the Thirteenth Dalai Lama issued an edict to implement this postnatal health care program based on the medical manual On Childcare: Treasure of the Heart Benefiting Beings (Byis pa nyer spyod 'gro phan nying nor; Van Vleet 2010/11), commonly known as Treasure of the Heart. This text had been written the same year by the Dalai Lama's most senior personal physician, Jampa Tupwang (d. 1922), who from 1913 had served as Chikhyap Khenpo, the highest monk official and head of the monastic branch of the Tibetan government in Lhasa. The program aimed to distribute eight compounded medicines "to the family of every child newly born within the Lhasa Government's jurisdiction" (Van Vleet 2010/11: 354). Accompanying these was advice for rituals and childcare during the first year of life, and the directive that a natal horoscope be issued for each infant. These horoscopes were to be created by the Mentsikhang, under the directorship of Jampa Tupwang's student, Khyenrap Norbu (Van Vleet 2010/11: 354).
In the medical collections of amchi discussed so far, I did not come across copies of the Treasure of the Heart or hear any living memories of the campaign. The absence of sources makes it difficult to ascertain where and whom the child health campaign reached, especially in the outlying Tibetan areas and among those not in direct communication with the Lhasa government. Yet the related documents clearly show how the Thirteenth Dalai Lama, high-ranking politicians, and doctors conceived of Tibetan medicine during building of the Tibetan nation-state. They also indicate how these efforts reframed and reformulated certain areas of Sowa Rigpa's largely elite medical knowledge: with the help of short, mass-printed texts that were easy to distribute widely, medical and astrological knowledge could reach a far greater audience than had the classic, usually bulky medical literature.
Another text published in the context of the child health campaign was Mirror of the Moon: Methods of Giving Birth Helpful for All (Byis pa btsa' thabs kun phan zla ba'i me long) by Khyenrap Norbu and published in 1924 (figure 2.1). I found a printed copy and a fragmented handwritten copy in the collections of amchi from Tsang. Similar to Treasure of the Heart, this text relies on key concepts in Tibetan physiology and classical works, yet also summarizes them to make this knowledge understandable to a much wider readership. Especially notable is the author's address to pregnant women (Hofer 2011c). For the first time, the text acknowledges women as sources of knowledge for the book, pointing to "the wise women of Tibet who have given birth" as authoritative sources for ways to support women in childbirth (Hofer 2011c). It also mentions five unnamed medicines, referred to as "medicine number 1" and so on, suggesting that the text was given out with numbered ready-made medicines, akin to Treasure of the Heart. This indicates another substantial deviation from the common pattern, in which Tibetan medicines made by amchi were named rather than numbered. These childcare and childbirth medicines must have been produced on a large scale, perhaps indicating the earliest known manufacture of Tibetan medicines.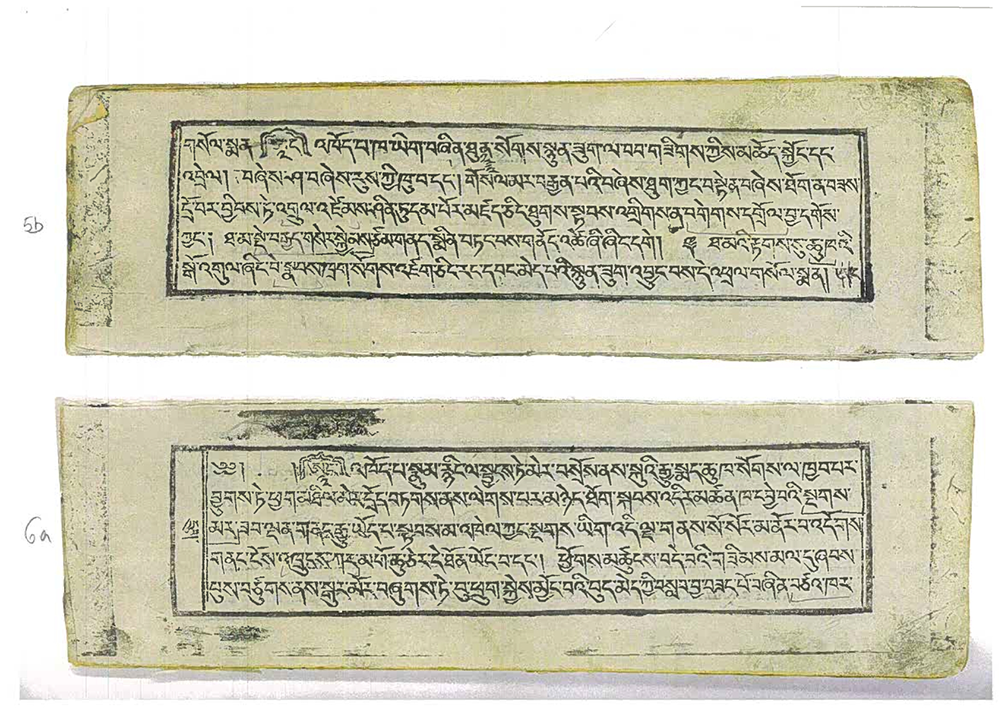 Government support of the child health campaign, or possibly that related to the childbirth text, was ultimately insufficient (Van Vleet 2010/11). The campaign's contribution to forming new subjectivities among ordinary Tibetans and fostering their sense of belonging and citizenship in a modern "imagined community" remained limited.
Clearly the Tibetan government under the Thirteenth Dalai Lama made distinct attempts to promote health care and medical provisions in ways that legitimized new forms of modern Tibetan governance and reproduced indigenous medical ideas. These ideas were quite different from those of the British political mission, present in Tibet between 1904 and 1947, and its medical mission. The British approach was wholly dedicated to the promotion of modern biomedical clinics and dispensaries, staffed mainly by Indian Medical Services (IMS) doctors (McKay 2007). These Western medical clinics and their doctors, although well attended for certain conditions, were hampered by insufficient backing from the Tibetan government, and were thus unable to provide the full range of public health and medical care the British envisioned for Tibet (which were effectively implemented in India and China at the time). There were rare instances, however, when private efforts by Tibetan political and Buddhist hierarchs complemented the British medical endeavors.
Political scientist Charles Cassinelli and missionary Robert Ekvall (1969) recount that the ruler of Sakya was concerned, probably in the 1940s, by the inadequacy of Sakya's medical facilities. At first he sponsored a convention of local medical practitioners in the hope of improving their methods, but it had "little result" (324). Then, in 1941, the Sakya Tri'chen, Ngawang Thuthob Wangchuk (1900–1950), decided to undertake a smallpox vaccination campaign using vaccines privately imported from India. Some of his people were opposed to the use of "foreign medicine," arguing that vaccination was not the "Tibetan way." In response, the Tri'chen had divinations performed, which supported his plans to vaccinate the people of Sakya, and "officers and others with manual dexterity, including members of the royal family, were taught to perform the operation. They then vaccinated the entire population of Sa sKya [Sakya] proper, who were gathered by headmen and District Officers at convenient spots." The campaign, according to the authors, "met no serious resistance from the subjects, and it was a success" (Cassinelli and Ekvall 1969: 324).4
Although several leading Tibetan medical physicians, among them government politicians and the director of the Mentsikhang, were open to using vaccinations, the Tibetan government at that time never funded vaccination campaigns or biomedical facilities from its own budget. Financing of the biomedical facilities was left almost entirely to the British, and only a few private shops in the markets of Lhasa and Shigatse sold Western medicines (McKay 2007, 2011). Tibetans in most rural areas of Tsang, in villages like Gye and Lhünding, with the medical pluralism prevalent there in the 1940s and 1950s, were largely unaffected by the efforts of either Lhasa or the British missions to provide public health and child health care or Western medicines. To my knowledge there were no local vaccination campaigns like the one carried out in Sakya. The Mentsikhang's mission to increase lay or monk physicians in outlying areas led only to a minute increase in doctors serving peripheral areas. Until the early 1960s, when the People's Liberation Army and Chinese medical personnel began to be sent farther afield and local Tibetans started to be trained in Western medical methods and techniques, local lay and monastic doctors continued their work.
MONASTIC MEDICINE ON THE MARGINS
There is no evidence from my research in Ngamring that "every main monastery" had a doctor in the 1940s and 1950s (Clifford 1994) or that the Lhasa-initiated child health and childbirth campaign left any visible traces there. When a monastery did have a doctor, he provided medical treatment mainly to the monastery's resident monk population or trained monastic and sometimes lay doctors in medicine. Less commonly they also treated the laity, especially in the large establishments. The practicing nuns more or less followed this pattern.
Prior to the reforms, Ngamring Dzong was home to an estimated forty to sixty monastic institutions and communities representing all Buddhist denominations as well as the Bon religion. To my knowledge, and contrasting with the situation in Republican and early Communist China, there were no surveys of traditional medical practitioners prior to the reforms.5 I talked to a number of elders in five districts in Ngamring as well as all the abbots of the more than fifty monasteries that had been (re)built by 2003, after their destruction in the 1960s.6 The few establishments that had a resident medical practitioner prior to the 1960s were smaller monasteries and those of the Nyingma school. Amchi, whether lay or Buddhist, were generally few and far between, partly due to the scattered residences and small size of Tibetan villages.
The largest Gelugpa monastery in the area, Ngamring Chöde (home to four hundred monks), with an attached village of about thirty lay households (mainly serving the dzong administrators and the monastery), had no monks trained in medicine. This was despite its strong earlier ties to Jangpa Namgyel Drazang, his Jang medical tradition, and the royal sponsorship of Sowa Rigpa (Hofer 2012). When a monk fell ill, either religious observances and rituals were performed or, in certain cases, a lay amchi was called to diagnose and treat him. Only in the early 1950s did Ngamring Chöde receive an order from the Lhasa government recruiting monks from large Gelugpa monasteries for training at the Lhasa Mentsikhang. Lobsang Duden, the oldest monk of the monastery with personal experience of the time (he was treasurer of the monastery in the 1950s), remembered that two monks were recruited for studies in Lhasa. For eight years he sent payments to the capital for their expenditures. He also recalled paying amchis when they were called to treat monks at the monastery. Another elderly man, who had served the dzong as a yokpo (servant) and lived in the lay hamlet in Ngamring, remembered never having consulted a professional doctor prior to the 1960s, relying entirely on home care and Buddhist prayers and offerings.
I found no evidence in Ngamring that "every monastery in Tibet had an amchi," or that in Tibet a "public health care system was in place" (Clifford 1994: 61). Yet Lobsang Duden and others summarized the availability of amchi in Ngamring as such: "Every lungpa [place] had its own amchi," referring to the presence of both lay and ordained Sowa Rigpa practitioners, including in Medical Houses and monasteries. Who were these amchi at monasteries and nunneries, how did they study, and whom did they treat?
Nyingma Practitioners as Doctors
Tutob Gyeltsen was the elderly abbot of the Nyingma monastery Chaug Gonpa in the far northern part of Mü Valley, which I visited twice. He had learned medicine from one of his Buddhist masters who was also a doctor, and complemented those instructions with extensive independent study. Alongside empowerments, transmissions, and practical instruction in Buddhist teachings, Pema Kelsang gave Tutop Gyeltsen the wang to study the Four Treatises, which he memorized over a ten-year period. He also studied several other medical texts and was initiated into medico-Buddhist practices, such as the Yuthog Heart Essence and others. In addition, he was instructed in the practical skills of pulse diagnosis, medicine preparation, and moxibustion, and given menngak relating to medical compounding techniques and empowerment of medicines (mendrup). Tutop was thus considered by his teacher to hold Pema Kelsang's medical teaching lineage and allowed to pass it on to his students. There were no formal examinations during his ten-year studies. The most important thing in becoming an accomplished amchi was to attain positive outcomes of treatment after substantial practical experience. Once this happened, Tutop stopped consulting his teacher and practiced independently, partly necessitated by his transfer to a different monastery.
Key to Tutop's acquisition of some of the medical and Buddhist practices was his access to medical works held in the various monasteries where he stayed at the time, as well as those kept by his teacher. Despite the widespread destruction and personal attacks on Tutop Gyeltsen during the Communist reforms, in the 1970s he managed to recover several medical texts that he had hidden at the beginning of the reforms. These included a block-printed copy of the Four Treatises, medical manuscripts, and a handwritten collection of recipes, on which he based many of his medical formulas without following them rigorously. He in turn instructed a student in these works and in the practices he had learned from his teacher.
Pharmaceuticals were, however, only one component of the way he treated patients. As a lama he also imparted religious blessings (shabden), did puja, and distributed sacred pills made during monastic and public rituals—referred to as mani rilbu and tseri (short for tsering rilbu, or "long-life pills"). Such pills were not made according to medical standards, but consisted mainly of tsampa and some herbs, their efficacy deriving from blessings and mantras said over them at the monastery during rituals of several days or weeks, including public long-life empowerment rituals and personal meditative practices of the monks. Blessed substances were later distributed to lay people and deemed to bring long life when taken as a general preventive against illness or worn as protection.
Tibetan medicines, in contrast, were compounded from a wide range of local and foreign ingredients, then given out sparingly and in small doses after consultations. Lay patients made offerings of food, money, and dried medical plants for treatments, and Tutop treated whoever needed it, whether or not they could pay. Monks did not usually offer much in return for medicines. Tutop's rationale of treatment identified about a fourth of all conditions to be treatable by men (medicine). During one of my visits to this monastery in 2007, Yonten Tsering explained how the Four Treatises set out a related etiology and this sort of rationale for treatment. This had been commonly followed before Communist reforms complicated the relation of what medicine or other kinds of approaches could treat:
In the Gyüshi there is a differentiation of the existing 404 kinds of diseases into four groups. The first 101 are called kundagi dönné,7 the second 101 shenwang ngöngyiné,8 the third 101 yongdrub tseginé,9 and the fourth 101 lanang tralkyiné.10 For the first group of illnesses there will be no benefit from medical treatment; instead what is required are prayers or pujas to the Medicine Buddha and to perform religious activities. The reason is that these illnesses are caused by the dön or spirits.11 So for these [illnesses] puja will be more effective. The diseases of the second group come from previous lives. So again for these, whatever medicine you take, there will be no benefit. However large and good the clinic you go to, or expert a doctor you see, there is no benefit. Again, here puja and religious activities will give the best benefit. However, for the third category, a puja will show no great benefit, but for the illnesses in this group, you need to take medicines, whatever kind: Tibetan or Chinese. So, let's say you have chuser; then you need to take medicine for this disease. For the diseases of the fourth type, even without medicine and shabden you will get better, all on your own. If you do take medicine the recovery may be easier, like when someone falls down he or she can stand up on his or her own, but it will be easier if someone helps them. This was our old custom in Tibet; religion and politics were joined. People's efforts in getting better comprised medicine [men] and doing religion [chö].
Tutop Gyeltsen was reluctant to talk much about how he continued to apply his treatments according to his judgment of the root of a patient's condition when I visited in 2003 and we didn't know each other well. However, four years later, I spoke with a younger monk at his monastery who recounted several examples:
A few years ago, there was a girl who tried everything for her illness. She had fallen sick a long time ago, and all three doctors in the area were consulted. Then, at last she came to see Tutop-la [the abbot]. He checked her urine and said, "You have a dön in your body. First we need to kick out this dön. After that, the medicines will work." She had a problem with her intestines and always had diarrhea, and there had been no effect from medicines. She had received tangmen as well as Tibetan medicine, both Communist and Tibetan medicine from three different people.
"So she was cured?" I asked. "Yes, she was cured. First they needed to make an effigy, and then a brief puja was held to remove the dön into the effigy. We held the peja onto the dön, subdued it, did some prayers and meditation, and offered the dön to the Yidam. Then she took Tibetan medicine prescribed by our abbot and got better." The Buddhist training and context in which Tutop had been educated and still practiced provided him with the ability to advise and act upon a given diagnosis in a more flexible manner than most lay amchi. Into the 1940s and 1950s, lay amchi acknowledged the diverse origin of illnesses found in medical texts, and commonly recommended that patients seek out Buddhist lamas and practices for conditions they judged beyond their ability to influence through their own Sowa Rigpa treatments.
The authority of the Medicine Buddha for doctors and patients was universally accepted, whether in a monastic or lay environment. Doctors paid their respects to the Medicine Buddha as the teacher of the Four Treatises, and he was the object of prayers and practices for both doctors and patients. Patients mainly related to the Medicine Buddha through offerings and prayers, the story widely known that the Medicine Buddha had made a vow that he would forever heal sick people and those with physical deformities (Dorje 2014). Doctors tried to emulate the Medicine Buddha in their way of relating to patients. Such practices changed dramatically during the reforms, and many were reluctant to speak openly to me about the subject, even long after religious practice had regained state sanction in 1979. This was especially so in government hospitals.
The boundaries between various kinds of medicines or benefits (penpa) and what is today considered quintessential Sowa Rigpa treatment (i.e., pharmaceuticals) were much more fluid among monk-doctors before the start of the Communist campaigns. This extended also to broader ideas beyond the body-mind and one lifetime, through notions of karma and spirits needing to be placated and remedied through combined medical and Buddhist practices, as Tutop's work and formation show.
Because the monasteries where Tutop lived and trained prior to the reforms were small, he treated lay patients as well as fellow monks and occasionally nuns. There were many interactions between him and the lay population because of the monastery's role in rituals for lay people, and medical practice was quite naturally another way to interact with lay people from surrounding areas.
Bonpo Medical Practitioners
In 2007 I met and interviewed the eighty-four-year-old Amchi Rabgyal in northern Ngamring. His training shows that multiple authorities for medical knowledge and practice existed in Ngamring's monasteries, including sources such as the Bumshi (the Bonpo equivalent of the Buddhist Four Treatises) and its commentaries by renowned Bonpo masters. Like Tutop's, Amchi Rabgyal's training and work showed little influence from the developments in medical training at the Chakpori and Mentsikhang in Lhasa, and they differed from mainstream medical practice that relied on the Four Treatises.
Rabgyal lived about three hundred kilometers northwest of Tsatsé township in Nyingo xiang, a sparsely inhabited region where even administrative townships of large districts housed populations of just one hundred people. Inhabitants relied mainly on pastoralism, herding yak and sheep, and on trade. The sacred Tarko of the North Mountains dominates this astoundingly beautiful area, with large turquoise lakes and snowcapped mountain ranges rising over six thousand meters. Tarko of the North is a powerful mountain deity and the most important patron of the spirit mediums of the area who invoke him (Bellezza 2005: 22; Diemberger 2005).
Born in 1923, Rabgyal became a monk when he was about fourteen years old. He joined one of the four Bonpo monasteries on the shore of Dangra Yumtso Lake.12 His medical and religious teacher there was Patzul Rinpoche,13 who taught him Sowa Rigpa for two years and had been a student of Khyungtrul Jigmé Namkhai Dorjé, a famous Bonpo lama, scholar, and doctor (Millard 2009, 2013; Kværne 1998). Patzul Rinpoche instructed Rabgyal and four others; some focused more on medicine and others predominantly on astrology. After Patzul Rinpoche left the monastery to help with the establishment of Jigmé Namkhai Dorjé's Gurgyam Monastery in Ngari, a lama and amchi from the Kham region took over responsibility for teaching Rabgyal and his fellow classmates in medicine and astrology. Khyungtrul still occasionally visited the monastery.
The main medical text used was the Bonpo work known as the Bumshi. Rabgyal memorized large parts of the Bumshi and received the empowerment and reading transmission, as well as practical instructions by Khyungtrul Jigmé Namkhai Dorjé during one of his visits. In 1942, at nineteen, Rabgyal completed his medical and religious studies and soon after left the monastery to become a wandering mendicant monk, going on pilgrimage and conducting prayers and rituals in exchange for food. He lived this life for about ten years before opting to leave the order. During that time he studied Khyungtrul's comprehensive four-volume commentary on the Bumshi, the Khyungtrul Menpé (Khyung sprul sman dpe), published in 1949, of which he obtained a copy. When we met, Rabgyal held copies of this text, as well as several medical manuscripts, many of them on compounding.
It is remarkable that Rabgyal could study the Bumshi, which he and his teachers considered as the precursor of the Four Treatises. Rabgyal's good fortune can be explained by his monastery and teacher being at the forefront of the revival of Bonpo medicine under Khyungtrul, giving him privileged access to the Bumshi and its commentary.14 These Bonpo medical works were not widely available, even among amchi who were followers of Bon (Millard 2013). Many instead relied on the Four Treatises passed on in the Buddhist tradition, where this text is held to have been first taught by the Medicine Buddha and then promoted by Yuthog Yonten Gonpo. Bon followers, by contrast, consider the Bumshi to be the teaching of Shenrab Miwoche, the founder of their religion, and think it was later propagated by his student Tribu Trishi, making the Bumshi the precursor to the Four Treatises.
Rabgyal said there were well over a hundred different medicinal plants plus various minerals and wildlife that he had used in the preparation of medicines at the monastery. However, once he left he no longer had access to these because he lacked the funds. To make medicines in his repertoire, he needed to import ingredients from India and elsewhere, and this was very expensive. He remarked, "If you want to be an amchi, you need wealth. However much you may apply yourself in your studies and however much compassion you have, without finances you can't treat people."
None of the other amchi had been quite so explicit about the finances required for making medicine. Yet it was common for lay doctors to have a higher socioeconomic position and often to benefit from tax breaks. Monasteries received donations from the laity that could be used for medical raw ingredients. Through an unlikely coincidence of political and personal circumstances, Rabgyal eventually established his medical practice after the Communist reforms began.

Both Tutop and Rabgyal chose to study medicine out of personal interest. In both cases, kinship relations were not a prime consideration in the selection of students or teachers. They combined the study of medicine and Buddhism or Bon, and in line with the conventions of Buddhist and Bonpo learning, their training emphasized the memorization of texts. Also in common with Buddhist learning, three elements were thought to complete a medical transmission: receiving the empowerment (wang) for a practice, listening to a teacher read a medical text (lung, often translated as "oral transmission"), and receiving instructions on how to do a practice described in the texts (tri).
After their training, the obligations of monk doctors were very different from those of lay amchi, whose work was influenced by social and financial concerns tied to the continuity and prosperity of Medical Houses. Tutop practiced medicine as part of his role as a Buddhist lama combining Buddhist and Sowa Rigpa healing, and using donations from his transactions with patients, he complemented locally available materia medica with traded foreign ingredients. Rabgyal, meanwhile, as a Bon mendicant monk and later a layman, was at first unable to practice as an independent amchi owing to lack of funds. The medical knowledge and skill gained prior to the 1960s by both of these amchi nonetheless weathered prolonged periods when they could not practice: for Rabgyal, when he was a mendicant monk and after leaving the order, and in Tutop's case, when as a monk and abbot he was labeled an exploiter of the poor during the Communist reforms.
BUDDHIST NUNS AS DOCTORS
I often discussed the topic of women's education in traditional and contemporary Tibet with one of my main interlocutors from Ngamring, the amchi Ngawang Dorjé. He was in an interesting position to do so. His sister had received a Buddhist and medical education as a nun in the 1950s, when this was by all accounts uncommon. His younger daughter was a biomedical health worker, and his son a Tibetan medical pharmacologist. Ngawang Dorjé's opinion was that before the 1960s the main way for women to gain a Tibetan medical education was by becoming a nun. Through this they could learn to read and write, and then seek out a teacher with medical knowledge while carrying on with their Buddhist practices. He held that if women inherited a family medical lineage, it would be weaker than one inherited by men and more easily lost. There are accounts in the literature of nuns practicing medicine, but very few.
Among the list of twelve Tibetan women doctors of the first half of the twentieth century that the exiled Tibetan scholar Tashi Tsering has compiled, two were definitely nuns: Taykhang Jetsunma Jampel Chodron (c. 1882–c. 1959), who bears the title Jetsunma (Venerable), and Do Dasel Wangmo, whom I personally interviewed. In addition, Khandro Yangga, who eventually became an expert in Tibetan medical cataract surgery, started out as a nun but then married and had children. Biographies of these three nun doctors and their teachers reveal that two were from Kham and one from central Tibet. They were born into wealthy families with a wide political or Buddhist network and all had accomplished doctors as close family members: Taykhang Jetsunma Jampel Chodron was the niece of Taykhang Jampa Tupwang (d. 1922; Tashi Tsering 2005), the Thirteenth Dalai Lama's personal physician and author of the Treasure of the Heart; Do Dasel Wangmo's mother was an accomplished physician in the medical lineage of the famous eastern Tibetan physician Mipham (Tupten Chödar 2008; Michalsen 2012);15 and Khandro Yangga's grandfather was a doctor (Trinlé 2000; Tashi Tsering 2005). The two latter women had no brothers (like Sonam Drölma of the Nyékhang), and as such were likely to have been given better access to medical knowledge and received more encouragement than women in households with sons (Hofer 2015). All in all, these three women belonged to an exceptionally fortunate religious and political elite. They had kinship relations with medical practitioners, in most cases men, and these nuns thus gained medical teachings from Buddhist teachers in addition to medical training within the family. We cannot assume that other women who aspired to become doctors, or even received a medical education, were as likely to succeed under the usually less favorable conditions they found themselves in. At this point we cannot be sure whether Tibetan women doctors prior to the 1960s started more often as nuns or as lay women.
In Ngamring, I found out about three nuns who studied and practiced medicine prior to the reforms. What do their histories and social background add to our understanding and the seeming scarcity of nuns working as Tibetan medical doctors?
Ani Payang and Ani Ngawang
Ani Payang was a woman in her late sixties who at the time of my research lived in Lhasa, where I met up with her several times. Her two elder brothers also contributed their recollections in their Lhasa home.
Ani Payang was born into the Nyingkhang in Ngamring, into a family with a long-standing ngakpa tradition. Her father was a Nyingma practitioner in the nyag thong lineage, serving the Fourteenth Dalai Lama by carrying out major purification rituals once a year and smaller ones at other times. This family was well connected with an elite circle of Nyingma practitioners. For example, Ani Payang and her brothers and their father had been to an audience with the Fourteenth Dalai Lama upon his visit to Shigatse Dzong. Through her father's Buddhist networks, a lama from Kham named Kyemen Rinpoche16 came to stay at the Nyingkhang in the 1940s. He gave Nyingma Buddhist teachings to her father and other local disciples. While there, the Rinpoche suggested that Ani Payang ordain as a novice nun and learn medicine from him. This was well received by all sides; her older brother recalled, "Kyemen Rinpoche said that although my sister was young she possessed good knowledge [shérap]. He thought she was intelligent [changpo] and that it would be good to teach her to become an amchi." Ani Payang added:
I wanted to become an amchi. I thought that I would be able to cope with being in remote places, even if the Rinpoche took me all the way to Kham. That's what I thought. But in fact what happened was that although I liked studying, I couldn't manage. Because I was so young, I dearly missed my family and my brothers. I was soon given the nickname "Ten Thousand Tears" as I couldn't stop crying. Later my father got permission from the Rinpoche to take me back home.
The group of six nuns and two monks that Ani Payang had joined lived as disciples of the itinerant expert doctor Kyemen Rinpoche. Out of this group, Ani Ngawang gradually became Kyemen Rinpoche's main disciple. Little is known about Ani Ngawang's background. Ani Payang held that she served the Rinpoche over a long period and received many of his teachings, as well as gaining hands-on practice when he treated the patients who came to see him almost every day (except when he was on retreat). Ani Payang, by contrast, did not get far in her medical training, as she left for home after having taken the first steps in the study and memorization of the Four Treatises.
Contrary to assertions in medical texts that women are not allowed to attend or participate in certain phases of mercury processing (Dawa Ridak 2003: 420; Gerke, in preparation), Ani Payang and her two brothers were sure that Ani Ngawang had access to them. Among these was the making of tsotel, the production of mercury sulfide powder, an important ingredient in the rinchen rilbu, or precious pills, that Kyemen Rinpoche made. Ani Payang recalled:
One time I remember they had made tsotel. I then received one rinchen rilbu made under the guidance of the Rinpoche. It was Rinchen Tsotru Dachel. I had heard that one of the precious pills was worth 100 dotsé.17 Not many people could afford this, but the kutra [aristocrats] could. They could offer this kind of money to the Rinpoche, but common people received them without paying anything. These rinchen rilbu were so precious! After you ate them, your face would become chubby [sha rgyags pa] and a healthy radiance appeared [mthangs chen po]. These precious pills were very rare at the time. When I got mine, I gave it to my mother. Today, you can't find precious pills like that! Actually, the same with the Rinpoche's regular medicine—he didn't give much, sometimes just for two days, only a little bit, but it worked so well. This lama was really very different [ma gcig pa] and knowledgeable; it was a great blessing to stay with him.
As we can see from these accounts, Ani Payang and Ani Ngawang's teacher of Buddhism and medicine certainly did not think that women were unsuitable to become doctors or that they lacked the mental capacities for it. He had called Ani Payang "intelligent" (changpo), and he passed on the bulk of his medical knowledge mainly to nuns. Significantly, Ani Ngawang later taught medicine, including the making of tsotel, to both nuns and monks, who continue to practice and purify mercury according to the oral instructions of Khyemen Rinpoche and Ani Ngawang at Chiu Gonpa Tekcholing Nunnery in Nyémo today (figure 2.2).18
As in the case of Tutop and Rabgyal, there were no stated medical fees for consultations or medicines given by Kyemen Rinpoche and Ani Ngawang. They instead received donations and offerings from the laity, which in a Buddhist framework were understood to increase merit and ensure good karma, especially when given to a monk or nun.19 Receiving medicines in this setting can be understood as another form of religious transaction between monks and nuns and the laity. Patients probably did not think of medical treatment provided by monks or nuns as significantly different from other recompense they received in return for their offerings, such as blessings, blessed substances, and ritual services. That even people who could not afford to give large donations still received the extremely valuable rinchen rilbu is remarkable but also fits into the Buddhist framework, since some of the underlying principles of these pills are also common in Tibetan Buddhism. Understanding medical treatment as a part of Tibetan Buddhist interactions between monks and nuns and the laity, at least in the context of this Nyingma lama and his disciples, lends support to Geoffrey Samuel's (2012: 165) interpretation of Tibetan Buddhism as a "practical religion," with its main goal being the protection of communities and the good health and prosperity of its members.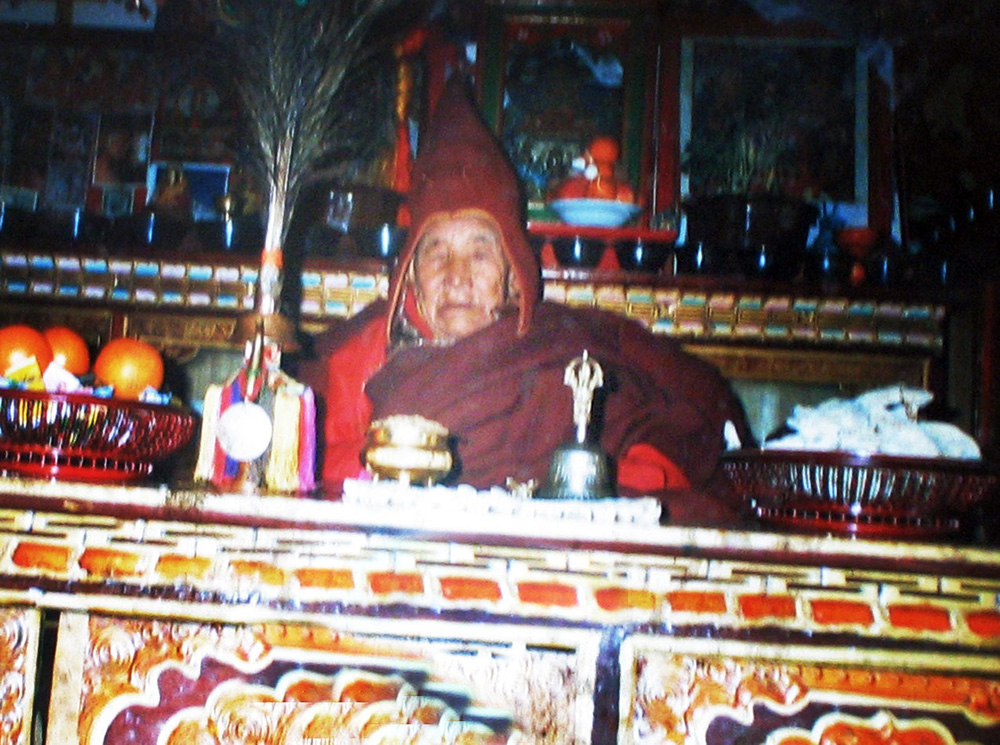 Ani Pema Lhamo
At Pangyul Monastery in Ngamring, Ani Pema Lhamo (c. 1922–2005), a nun from Dewachen Nunnery, studied Sowa Rigpa with the abbot, Söpa-La. Dewachen Nunnery, with twenty nuns, was located a little farther up the valley from Pangyul Monastery, but it did not have its own practicing doctor or medical scholar. Both establishments practiced the Gelugpa school of Tibetan Buddhism.
Ani Pema Lhamo's training continued over many years and was not formalized, consisting mainly of memorization practices of the Four Treatises followed by practical experience through helping and asking questions. She had many opportunities to observe clinical work while serving the abbot of Pangyul over a long period. She was the abbot's niece, which perhaps explains their closeness. Ani Pema Lhamo was remembered by many lay people as well as her students in the valley of Pangyul Monastery. By all accounts, she was the abbot's only medical student and the only heir to his medical lineage. Upon his death, she received his medical texts, medicinal ingredients, and medicine-making equipment, such as grinding stones. Today these are held at the old site of Pangyul Monastery, the only material testimony to the medical activities at Pangyul and Dewachen in the 1940s and 1950s.
Among the works in the text collection are a number of practice-oriented treatises but no entire print or manuscript copy of the Four Treatises. A possible reason for its absence might be that the printed Gyüshi texts were bulky and more difficult to move or hide and had therefore been destroyed. Or perhaps the other texts were rarer and she went to greater lengths to hide them. In any case, the collection includes only one handwritten copy of a commentary on the third volume of the Four Treatises, a clinical handbook entirely dedicated to the etiology and pathology of named diseases and their diagnosis and treatment.
Most texts in the collection treated the compounding of medicines and included lists of recipes written by hand, with occasional annotations indicating adjustments. One four-page manuscript, for example, discusses the compounding of khyung-nga, or Garuda 5. The Tibetan name refers to the Garuda, the mythological bird widely venerated in Indic-influenced cultures in Asia. The manuscript features four charts listing the five raw ingredients for this drug: aru, ruta, shudag, menchen, and "gli" (short for ladzi). Each is allocated a function, as the "meat," "bones," "muscles," "heart," and "blood" of the medicine, a symbolic reference to the five components of the Garuda bird, who offered his body and power as medicine. This is an interesting document, as each list uses a slightly different order of ingredients and indicates a different quantity depending on availability (figure 2.3). If all ingredients from the first list are available, the medicine would contain four units (zho) of aru, one of ruta, thirty-two of shudag, one-half of menchen, and one-third of "gli," or musk. In this compound aru is the only imported ingredient. As this ingredient must have been sometimes unavailable, one list shows the amounts of the other ingredients adjusted to compensate. None of the local ingredients was ever absent in any of the four charts, which is noteworthy especially with regard to musk, which is present only in tiny amounts in khyung-nga made today. Here it makes up one-third of the ingredients and hence is the "blood" of the compound. This underlines the perception of many amchi that while foreign ingredients were precious in the old days, the precious items are now the local ones, including musk.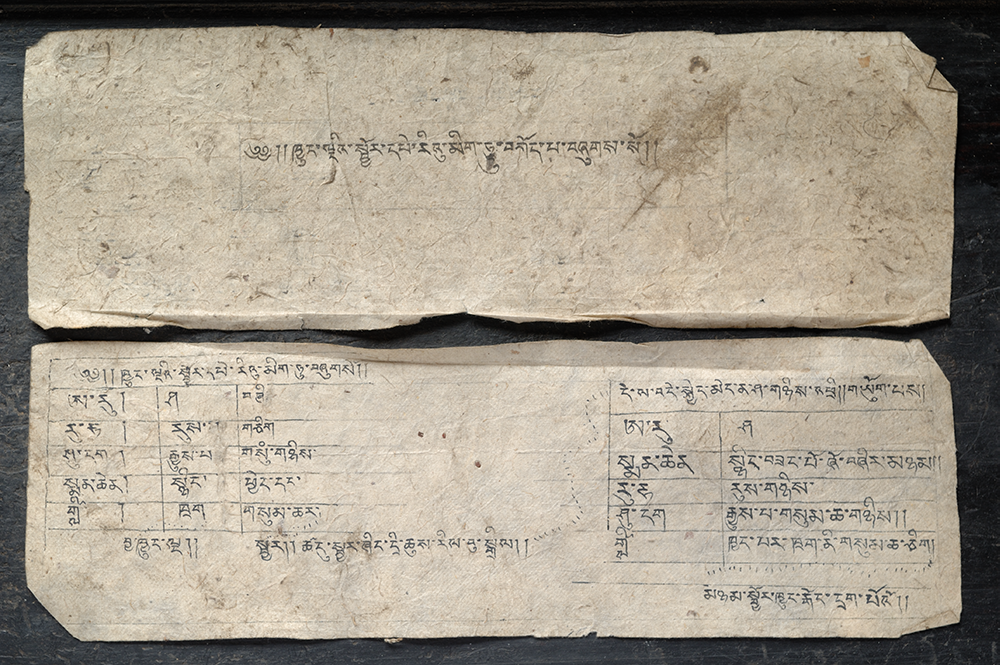 Other medicines Lobsang, currently a monk at Pangyul, learned to make from Ani Pema Lhamo were zhijé byed 6, tigta 8, and trültang, which are all relatively basic medicines with few ingredients. These medicines are today regarded as classical formulas, mainly because they are mentioned in the third volume of the Gyüshi, and perhaps also because they are found in the pharmacological works of Khyenrap Norbu, which are still popular among many amchi. Ani Pema Lhamo's collection included one of Khyenrap Norbu's texts on medical compounding, the only printed manuscript.20 It featured eighty-four medical compounds and has likely contributed to the current perception of many of these drugs as classical formulas. Here a work produced at the central medical institutes in Lhasa found its way into medical collections in peripheral Tibetan areas and added to the local "culture of recipes." Whatever the origin and materiality of the texts, the production of medicines was characterized by great fluidity in almost every regard: names, amounts, and ratios of ingredients in suggested preparations could all be adjusted to changing social, environmental, economic, and clinical circumstances.
Because Ani Pema Lhamo came from an aristocratic family and was the head nun of Dewachen Nunnery, she endured great hardship during the successive Communist reforms, as she refused to leave the order. Just before the large-scale destruction of religious objects and texts began, she entrusted the treasured medical texts to two junior monks, one of whom I met and interviewed. He recounted how he had hidden four bags of books and thankas, burying them in an old house behind some junk. He returned the texts to Ani Pema Lhamo when she began to reestablish Dewachen Nunnery in the early 1980s, and then began studying medicine with her. The monk recalled that her knowledge of local plants helped them through the years when all went hungry due to the failure of the communes and local production teams. They were regularly excluded from communes and production teams after refusing to publicly confess their "wrongs," including the exploitation of poor people. Both monks had learned how to compound a few simple drugs from local medicinal plants, enough to care for common illnesses among the monastic community. They could not, however, import any ingredients to make medicines.
Notable in Ani Pema Lhamo's story is her teacher's choice to transmit his medical knowledge and medical collection exclusively to a woman when he had many potential male heirs to his lineage. Lobsang explained that it was because she was a relative and he believed she was intelligent, worthy to be taught Sowa Rigpa.
Despite widespread Tibetan preconceptions regarding the lower mental capacities of women, Ani Pema Lhamo was remembered fondly by many of the amchi I met from the area and lay people in the valley, especially for treating patients from all social backgrounds. Yonten Tsering confirmed that she treated many patients but pointed out that "she was not a very scholarly [khépa] amchi." He characterized her teacher, however, as "very scholarly." These comments are interesting because I heard several times that woman amchi were sometimes described as "not scholarly," while this criticism was never leveled against male amchi (Hofer 2015).

Together, the life stories and work of Ani Ngawang, Ani Payang, and Ani Pema Lhamo show that male Buddhist teachers passed on medical knowledge to female disciples and nuns in Tsang. Moreover, in two cases they chose women as principal heirs to their medical lineages, even when male monks and disciples could have received that privilege. Why was this the case? Without fuller knowledge of these teachers and their students, we can only estimate that either they were exceptional men and women, or that, at least in Ani Pema Lhamo's case, the kinship relation with her teacher made the difference. This would apply to the three better-known women amchi who studied medicine as nuns, but not Ani Payang or Ani Ngawang.21
The nuns discussed so far were not ordinary nuns. Ani Payang, like the three women discussed in the literature, hailed from a well-situated family with an extensive Buddhist and social network and financial means. None of the female Tibetan medical doctors known to us so far was from a low-ranked family. It seems likely that the elite social status of those female Tibetan medical doctors whose records have reached us today eclipsed gender as a defining category in terms of women's perceived (lower) mental ability and ideas related to women inheriting medical lineages and knowledge.
These cases from Tsang confirm Ngawang Dorjé's opinion that being a nun gave a woman potential access to medical knowledge and perhaps made it easier to succeed as a doctor. Ordination opened the road to literacy, teachers, and texts, and it freed women from looking after households, husbands, and children. They could devote more attention to their training, practice, and the labor-intensive work of collecting and making medicines. Still, the nuns from Ngamring who worked as doctors were sometimes not perceived as the equals of male doctors and were considered by some to be "not very scholarly."
Our knowledge of the number of Tibetan women doctors and the details of their lives is still very limited. This is partly due to their absence from the textual record, difficulties in personal access, and the fact that many are elderly or deceased. Yet even in recent times, when women have come to constitute the majority of Tibetan medical students and a substantial proportion of practitioners, very little is known about what has changed in the way they live and work and how they think about many aspects of their medical tradition. With few notable exceptions (e.g., Craig 2012), the expanding anthropology of Tibetan medicine has missed highlighting gendered constructions of Tibetan medical theory and practice. To rebalance this situation, we need to address the expectations and beliefs that Tibetan people have projected onto men and women, and what this has meant for the medical domain.
Some traditional limitations for women in accessing education and medical training were denounced by Communist reformers eager to promote gender equality of a Maoist hue. Communist newspapers in 1963 claimed that "it was almost impossible for a woman to learn Tibetan medicine in the old society" (Union Research Institute 1968: 592). This was part of a campaign to promote the work of the female doctor Khandro Yangga at the Lhasa Mentsikhang (Adams and Dovchin 2001). Her recognized specialty was eye surgery. However, when women's and children's health came onto the Communist health care agenda, she was removed from the Department of Eye Medicine at the Mentsikhang and made head of a newly founded Department for Women and Children's Health (Hofer 2011a: 112–13), in accordance with another set of gendered expectations.22
Small Gelugpa and Nyingma monasteries and Buddhist teachers in peripheral areas in Tsang sometimes treated lay patients as part of their Buddhist practice and transmitted medicine to the next generation. These smaller establishments and independent teachers were more willing to teach adept female Buddhist and medical disciples, as compared to the large Gelugpa medical institutes run by the Tibetan government or Tashilhunpo Monastery in Shigatse. These did not, with the exception of Khandro Yangga, include female students in their official training programs.
EXPANDING BUDDHIST MEDICAL AUTHORITY IN TSANG
During the coexistence of Communist and Tibetan government structures in Lhasa, the Mentsikhang began to promote a socialist outlook and looked to increase patient numbers in line with the Communist mission to provide "medicine to the masses" (cf. Janes 1995). At the same time, the Panchen Lama's Tashilhunpo Monastery in Shigatse chose to expand Buddhist authority in the training of medical doctors.
Tashilhunpo was the largest monastery in Tsang and the fourth largest in Central Tibet, housing over three thousand monks. It was the primary landholder in Tsang and maintained close ties to all Gelugpa monasteries there, appointing abbots and offering higher degrees of monastic learning.23 Despite recurrent tensions between the Dalai Lama and the Panchen Lama—not least a tax dispute that led to the exile of the Ninth Panchen Lama from 1923–24 to his death in 1937 and initially the exile of his successor as well—Tashilhunpo Labrang and Monastery retained great political and religious influence in Tsang into the 1940s and 1950s. Tashilhunpo exerted a thus far unrecognized but important influence in Tsang by training lay and monastic students in Sowa Rigpa. This monastery thus imparted Buddhist and medical authority to male doctors from the region, and it was attended by several amchi from Ngamring whom I interviewed.
The Tenth Panchen Lama and Kikinaka Medical School
Efforts to mobilize indigenous means to improve health care in the region had been negligible under the Panchen Lamas, though they promoted medical scholarship and a few doctors at Tashilhunpo took on students and treated patients.24 This changed under the Tenth Panchen Lama, Lobsang Trinlé Lhundrub Choekyi Gyeltsen (1938–1989). In 1952 his advisers had secured the Panchen Lama's political influence in the region with the help of the Chinese Communist Party (CCP) and settled the tax dispute with the Fourteenth Dalai Lama (Goldstein 2007). In April 1952 the Panchen Lama, age fourteen, traveled to Tashilhunpo Monastery for the first time for formal Buddhist training. While holding important offices in the new CCP political organizations in Beijing, he became known for some unexpected undertakings. Tibetan historian Jamyang Norbu writes that the Panchen Lama "realized that the antiquated system of administrative and ceremonial functions, which was still in place in Tashilhunpo at that time, was inadequate for the challenges of the modern world. Thus, in 1956, he opened Chensel Labdra to three hundred students from his estates. The school featured a revolutionary curriculum; it included Tibetan, Hindi, and Chinese language, photography, driving, horseback riding, and shooting" (Norbu 1997: xxv). In addition, the Panchen Lama formalized a medical school at Tashilhunpo in 1954, locating it in a small park called Kikinaka,25 southeast of the main monastic premises, naming it Kikinaka Medical School.26 The exact intentions of the Panchen Lama and his advisers remain unknown, but, given his position, he and his advisers must have been aware of contemporary controversies over the role of Chinese medicine in health care provision in the PRC.
Policies in the early years of the PRC, between 1949 and 1954, included efforts to improve Chinese medical practitioners through Western medical training, the unification of Western and Chinese medicine, and a campaign known as Western Medical Practitioners Study Chinese Medicine (Taylor 2005). Although Mao was initially not a supporter of Chinese medicine, in 1953–54 he accused the Ministry of Health several times of neglecting the role of Chinese medicine in forming a "new medicine" that could be used widely and efficiently throughout the PRC (Taylor 2005; Scheid 2002; Fang 2012). It might be no coincidence, therefore, that in 1954 the Panchen Lama established a new Tibetan medical school.
However, Kikinaka had no classes in Western medicine nor were any attempts made to change the Tibetan medical curriculum to reflect Mao's efforts to form a single medicine (based on the principles of dialectical materialism) rather than two separate medicines. At this time there were no statements from either central or regional authorities regarding the fate of Tibetan medicine in the Communist health campaigns for central Tibet. Given the Panchen Lama's role in the Gelugpa hierarchy, his initiative to establish Kikinaka was likely an appropriate move: Sowa Rigpa was considered one of the ten Buddhist sciences, the Chakpori Medical College is a Gelugpa monastery, and there were Menpa Trazangs, or medical colleges, attached to several major Gelugpa monasteries in eastern Tibet and Mongolia (Bolsokhoyeva 2007; Van Vleet 2014; Sabernig 2007, 2014). The eastern Tibetan monastic medical colleges, such as Kumbum and Labrang, were also likely known to the Panchen Lama. It is not known to what extent he might also have mirrored the early twentieth-century mission of the Mentsikhang in Lhasa: to expand outreach of government-sponsored medicine beyond the monastic elites to include lay students from the aristocracy, the army, and non-Gelugpa clergy.
Kikinaka Medical School: Curriculum and Reforms
The first class of students at Kikinaka was made up of fifty students, half of them monks, the other half lay students from medical families (Trinlé 2000: 558; Hofer 2012). This was a much larger group than those studying in conventional master-discipleships or Medical Houses. The forms and content of studies differed little, however, featuring memorization of the Four Treatises, study of some of its commentaries, hands-on learning of diagnostic techniques under the supervision of a master, medicine collection trips, and collective compounding, as well as some practical application of external therapies. Students were divided into groups, with each assigned three main teachers who had served as personal physicians to various Panchen Lamas.27 Apart from common prayers to the Medicine Buddha each morning, the commonly received wang and lung to medical works, and the making of medicines, group activities were few, with all hands-on clinical instructions taking place in the residences of the teachers, who supervised and corrected students while seeing patients.
The only significant departure from training in both Medical Houses and teaching lineages for those who finished the entire course of study and memorized the whole of the Four Treatises was an official final exam in the presence of the Tenth Panchen Lama. At their graduation ceremony, successful candidates received a bumrampa degree, which was awarded to eight monks out of the fifty students. All were Gelugpa monks, who were expected to memorize more of the Four Treatises and work harder on the scholarly side of the training.
In the medical training program and medical practice at Tashilhunpo, Kikinaka made few concessions to modern ideas of how to organize teaching and medical work. The Mentsikhang in Lhasa, in contrast, enthusiastically implemented such adaptations in the 1950s (Janes 1995: 15–16). Under Khyenrap Norbu and his main student and Communist Party member, Jampa Trinlé, the Mentsikhang for the first time established a publicly accessible clinic rather than focusing only on medical training. Mentsikhang doctors were sent to rural areas around Lhasa to treat patients, and increasing patient numbers became a high political priority, as the institution was very aware that it would require the approval of the new rulers to dodge the "anti-feudal bullet" (Janes 1995; cf. Trinlé 2004, 2006). These efforts eventually paid off, and the Lhasa Mentsikhang was one of the few Tibetan government institutions to continue into the new regime of post-1959 reforms and Communist governance. Kikinaka's failure to adopt a similar approach probably contributed to its demise after the reforms began in earnest.
Most important, though, was the Panchen Lama's fall from grace with the CCP in the early 1960s, which ended his efforts in the medical domain, at least until the 1980s. In 1958 the school began discharging its students,28 as Yonten Tsering recalled: "Our government was about to be reformed and restructured is what we were told, so my father came to take me back home. That's when they said that high-class children should go to school in China for education, but my father loved me so dearly and was afraid of me going to China. I really wanted to go … but he wouldn't let me. Instead, we went home and then took the opportunity to go on pilgrimage to India." Although the school reopened briefly in the early 1960s, in 1962 it closed entirely and its head teachers were imprisoned on charges of being "reactionaries" and "carriers of gods and spirits."
The fact that Kikinaka Medical School was set up solely for the study of Sowa Rigpa and no Tibetans from Tsang were trained in Western medicine during the first eight years of Communist rule reflects a unique juxtaposition of circumstances, differing substantially from other areas on the fringes of the PRC. The only Western medical establishment in Tsang at that time was the People's Liberation Army (PLA) hospital in Shigatse. It began to offer basic training only in the early 1960s, with the aim of sending health workers along with Communist work teams to remote parts of Tsang. There are no extant early written accounts of the work and local reception of PLA medical teams in Tsang. Their work is mentioned only in a few propaganda publications (e.g., Epstein 1983: 386–400; Strong 1959; China Tibet Information Centre 2005), where they are hailed as crucial agents in "winning over the masses" in rural areas. Doctors are discussed as carriers of revolutionary messages and work in the writings of Gayong, a Tibetan cadre from Rebgong, Zeku Township, Qinghai (translated into English and analyzed in Weiner 2012: 199–209).
The Outreach of Kikinaka Medical School in Tsang
Despite the relatively brief existence of Kikinaka Medical School, it trained dozens of amchi in Tsang and provided them with uniquely privileged training at Tashilhunpo, the most powerful Gelugpa institution in Tsang. It increased the medical and Buddhist authority and credentials of doctors from both Medical Houses and monasteries, but not for nuns or lay women. Immediate results in Ngamring were that lay amchi like Yonten Tsering added to their family-based medical training, furthering expertise and practices, and that the local monastery of Samdrub Ganden now had Ngawang Dorjé as both a monk and a doctor. He obtained the bumrampa degree but had to leave the order when the Democratic Reforms began and attacks on the clergy increased.
During the integration of Tibetan medicine into official government health care institutions in rural areas in the 1970s and 1980s, both of these Tibetan doctors, as well as seventeen other graduates from Kikinaka whom I interviewed, would rise to the highest positions in the local governmental health bureaucracy system. These included the head of Shigatse Prefecture Health Bureau, the director of the Shigatse Mentsikhang (est. 1982), and directors of several local county People's Hospitals. Many of them played important roles in the revitalization of Tibetan medicine in government, private, and Buddhist educational initiatives, as well as in the institutionalization and expansion of Communist health care at county and township levels in Tsang.
In line with the efforts of the Lhasa Tibetan government and the Thirteenth Dalai Lama to support Tibetan medical practitioners and health care, the Panchen Lama's initiative in the 1950s fitted well with Tibetan rulers' efforts in the medical domain. This served not only to improve the health of the population but also to demonstrate benevolence toward their subjects, as is clear in the writing of the Thirteenth Dalai Lama, in the context of the child health care campaigns and others, which continued to link medicine with Buddhist tropes and institutions.

Tibetan medical practitioners in Tsang did not constitute a homogenous group with a single professional organization or body controlling their medical education and work. Amchi in most cases came from higher social classes, with lay amchi having access to land and gaining religious merit from their profession. Furthermore, whether lay or ordained, amchis' status was enhanced by the identification of Sowa Rigpa as one part of the tenfold system of Buddhist learning and its propagation by the Medicine Buddha.
Members of some Medical Houses and some monks and nuns sought training from Buddhist masters. Within selected Buddhist and Bon institutions there existed medical lineages and practitioners, but only Kikinaka Medical School represented to some extent a shift from the traditionally limited transmissions to a small number of students prevalent in Tsang toward substantially expanding the number of doctors.
Although the Tibetan government in Lhasa attempted to improve health care beyond the capital through campaigns (especially the child health campaign), from what I can ascertain its activities reached only selected and probably elite members of society, namely administrators. Activities to improve health care on the margins were more piecemeal and ultimately were cut short either by the Tibetan government, in the case of the child health campaigns, or by political changes such as those that prompted the closure of Kikinaka. The Tashilhunpo Labrang and Sakya local political units in Tsang supported biomedicine only with regard to the smallpox vaccination campaigns. The British played an important role in the twentieth-century eradication of the disease in the area, through their medical clinics and activities in and around Gyantse, their rapport with the Tashilhunpo administration, and Sakya's direct import of drugs from India.
The measures taken by the Tibetan government in Lhasa and its prime medical institute, the Mentsikhang, to increase access to health care in the early twentieth century remained limited into the 1950s. To maintain that a public health system was in place in central Tibet in the 1950s, or even before the early 1970s, is an overstatement.29 Through the de facto tax exemption for members of the threefold social substrata of shabdrung, chödzé, and jedrung, the Tibetan government indirectly supported medical practice among lay amchi. Over several generations members of these medical households created new, distinct medical traditions through their practice and engagement with teachers and texts. The forms of transmission may well have shared many basic tenets with those in Lhasa, but there were manifold local expressions. This was fostered through a variety of medical treatments, the compounding of drugs embedded in local "cultures of recipes," and prevalent diagnostic techniques passed on within Medical Houses and through oral instruction, hands-on learning, and direct instruction. It was largely due to local rather than national networks that there existed a situation where, in the words of one of my interviewees, "every lungpa had its own amchi."
Changes for amchi across the sociocultural spectrum, including Medical Houses, monasteries, and nunneries, began to gain momentum in Tsang in 1959–60 and increased during the subsequent socialist transformation and accompanying reforms to the rural Tibetan socioeconomic fabric. The shift in political circumstances drastically altered how Tibetans considered their own past. In the medical domain this required, for example, faithful repetition of an official discourse that held there had been no affordable medical care in "old Tibet," that it had been the sole preserve of the elites. This early experience of a new history regime continued to shape memories and stories among amchi I encountered, as well as contemporary biographical and autobiographical writing.