NARRATIVE, TIME, AND REFORM
Tibetan medicine is a medical science that comes from Tibetan people's experience of struggling with various diseases. It is an important achievement in the national medical treasure house. It should be improved. It needs to serve politics, people, and production.
—Heizu Yang, chairman of Lhasa City Commission, 1961
When the Democratic Reforms started, I could not continue to practice as an amchi. I was accused of being a representative of the exploiters' class.
—Mentrong Rinchen, former amchi from Ngamring, 2003
ELDERLY Tibetan doctors in Tsang who experienced the first radical sociopolitical and economic Democratic Reforms beginning in 1959 were subjected to waves of destruction. The demise of amchis' medical authority was due mainly to their intrinsic ties with what the newly arrived CCP considered Tibetan "feudal elites," whose influence was to be undermined on the "road to socialism." Some Tibetan medical practitioners were able, however, to create spaces for their work within the new regime and continued against the odds. One doctor even started to practice at that time despite his previous high rank. Interwoven throughout accounts of this period are critical reflections on how successive regimes of state-enforced modes of remembering and narrating Tibet's past have shaped and are still influencing conflicting meanings and temporalities in their narratives. Whether such narratives can now be expressed or must remain silent today is a pertinent question (McGranahan 2010)—as is the question of the extent to which the amchis' narratives express "oppositional practices of time" (Mueggler 2001: 7).
| | |
| --- | --- |
| 1951–59 | Gradualist approach to implementing reforms in (central) Tibet; United Front work to win over Tibetan elites |
| 1956 | Preparatory Committee for the Autonomous Region of Tibet (PCART) established to create an administrative system parallel to the Tibetan government but along Communist lines |
| 1959 (MARCH) | Escape of the Dalai Lama; Lhasa Uprising |
| 1959–62 | Democratic Reforms (including land reform) |
| 1965 | Tibet Military Region renamed Tibet Autonomous Region (TAR) |
| 1963–66 | Socialist Education Movement (SEM) |
| 1966–76 | End of redistributed land ownership, start of rural production brigades and communes; the Great Proletarian Cultural Revolution |
While the political history of the early reforms beginning in the 1950s and especially in 1959 in central Tibet has been addressed in a number of scholarly works (see table 3.1),1 the developments in Tibetan medical practice and the field of health care more broadly have received little attention. Written accounts have focused almost exclusively on central government institutions and tend to be polarized.
Craig Janes (1995: 16–19) refers to the period of 1959 to 1966 as a time of "cautious growth" for Tibetan medicine; despite the demise of the Tibetan government and the successive implementation of reforms, the Lhasa Mentsikhang survived as one of the few Tibetan government institutions in the new regime, even expanding its services. Several officially published, if brief, CCP-endorsed accounts of this period also exist. Foremost among these are the historical and (auto)biographical accounts written in the Tibetan language by Jampa Trinlé (2000, 2004, 2006), a longtime director of the Lhasa Mentsikhang, as well as biographies in Chinese of two noted Lhasa-based amchi (Yinba 2008; Su Qiong 2008). Extant Englishlanguage accounts published through Xinhua's news outlets (e.g., China Tibet Information Centre 2005) and its Foreign Languages Press (e.g., Zhen and Cai 2005) mainly bolster the legitimacy of the new regime. They report on its "success" in "winning over the masses" through free distribution of medicines and health care services, specifically referring to the role of traditional medicine in this endeavor, stating, for example, that after the 1951 liberation "conditions changed a lot. Radical changes occurred in Tibetan medicine, whose goal became to serve the vast masses. The old medical institutions underwent thorough change. As an integral part of Chinese medical treasures, Tibetan medicine was well inherited and developed" (Zhen and Cai 2005: 33–34). It is not clear from their account what kinds of changes they refer to or whether these changes took place immediately following 1951 or later. It is sure, however, that their account provides a stark contrast to book-length modern autobiographies of Tibetan medical doctors who later went into exile and became the personal physicians of the Fourteenth Dalai Lama. Foremost among them are those of Tenzin Chödrak (2000) and Lobsang Wangyal (2007),2 who offer harrowing accounts of their experience of the reforms, their prolonged prison sentences, and their eventual appointment as prison doctors. Several short historical accounts written by exiled Tibetan physicians on the Mentsikhang and its post-1959 fate also exist.3
Because these works share an almost exclusive focus on the doctors involved with the Lhasa Mentsikhang and the Dharamsala Men-Tsee-Khang in exile, we lack an understanding of actors outside of these central institutions. During the initial phases of my research, I aimed to address the absent voice of marginal actors through the use of oral history interviews, thus offering an account of Tibetan medical practice inspired by subaltern studies (cf. P. Hansen 2003). It became increasingly apparent that Tibetan doctors, whether classified as landlords, peasants, or serfs, far from being silenced, in fact had been forced to speak up as part and parcel of their socialist transformation; they had often experienced a socialist form of oral history through China's "oral history regime" (Bulag 2010b: 97). My recording of rural amchis' life histories and testimonials no longer seemed the sole preserve of a Western social scientist, as I was led to confront my interlocutors' earlier experiences as well as the wider social and political circumstances that influence the recording and making of oral history.
Enforced narratives and variously publicized memories of the past, especially during the first twenty years of socialist reforms in Tibet, as elsewhere in China, have been an important tool in legitimizing the CCP and building socialism. The CCP termed these practices the "speaking of bitterness," or in Chinese, suku (Anagnost 1994; Bulag 2010b). Despite the radically changed circumstances and decades having passed since these earliest CCP-driven forms of remembering, traces of "speaking bitterness" are still part of political discourse in Tibet to this day, even when this has long been abandoned in most of the PRC (Makley 2005). Suku-style metaphors were present in some of my informants' ways of talking about the pre-reform and early reform period. One elderly doctor, for example, used these as means to educate young students, and it served him as a means carry out his own projects successfully without obstacles from the authorities. This doctor was able to work as an amchi throughout the reforms and played an important role in preserving and revitalizing Tibetan medicine during the 1970s. The mastery he had gained in employing the statist remembering of the "old society" combined with near-constant praises for later political regimes enabled this remarkable continuity.
NARRATING BITTERNESS
"Recalling of past [suffering] and thinking over [the source of] present [happiness]" (C. yiku sitian, Tib. sngar dran deng bsdur) involved narrations of personal life history staged in public. These were often highly corporeal performances, including crying over abuse and "serfs" physically attacking their former "lords." The core narrative had to be structured around the crucial dividing line of 1949, the year demarcating the "old society" from the "new"—the former associated with bitterness, suffering, and sadness, the latter with happiness, sweetness, and liberation.
Throughout the 1950s, Mao considered central Tibet a special case that was not ready for socialist reforms (Shakya 1999: 244–45; Goldstein 2007, 2013). In the spirit of the United Front (a political organ made up of mainly "minority" [minzu] leaders in the CCP) and through specific policies targeting minority nationalities, reforms had been delayed for central Tibet in an attempt to win over Tibetan elites. They were then expected to lead the broader Tibetan masses, according to the seventeen-point agreement of 1951, toward "demanding socialist reforms." Yet after the Lhasa Uprising and the 1959 escape of the Dalai Lama along with most members of the Tibetan government, this gradualist approach to bringing reform to central Tibet, which had been disputed within the CCP, changed radically (Shakya 1999: 247). The CCP instead appealed directly to the Tibetan masses to raise their class consciousness and find new ways to legitimate CCP rule. A prime means, as observed by Anagnost, was "speaking bitterness," which for the first time brought ordinary Tibetans in direct contact with the PRC's demands.
Once reforms had been nominally "asked for" by the Panchen Lama and Ngapö Ngawang Jigmé, the heads of the Preparatory Committee for the Autonomous Region of Tibet (PCART), a two-stage implementation of the Democratic Reforms began. These comprised for instance the Three Antis and Two Reductions and the land reforms (Shakya 1999: 246–62). Political mass meetings and "speaking bitterness" sessions choreographed by Communist cadres became an important political tool, following the template set in early Chinese Communist meetings and the practices from the period of the foundation of the PRC in the late 1940s (Bulag 2010b: 98–100). This inflicted an entirely new political culture on ordinary Tibetans in towns, villages, and pastoralist camps. In many cases Tibetans had to learn to cast the "old society" as a time of backwardness and feudal exploitation and to conceive of people as "reactionaries," "exploiters," and "landlords," and as such as representatives and remnants of the old society (Shakya 1999). These people were then verbally attacked in public and asked to confess their wrongs. In towns and some villages, graphic displays of the "Wrath of the Serfs" were meant to raise class consciousness among Tibetans (Harris 1999).
Anthropologist Charlene Makley (2005), writing on the 1958 reforms in Labrang in eastern Tibet, explains that Tibetans' first encounters with "speaking bitterness" were not during small discussions and work team sessions but in the dramatic public meetings and struggle sessions.4 There "Tibetans were required to produce and listen to testimonials of their participation in the Communist-led revolution, that is, life-stories attesting to their consciousness of past class-based oppression in the 'Old Society' and their present 'liberation' in the 'New Society'" (47). Public "speaking bitterness," under the duress of the reforms in central Tibet, became a marker of the most vicious public encounters, culminating in public "struggle sessions" (thamzing), a hallmark of the Socialist Education Movement (SEM, 1963–66), and further intensified during the Cultural Revolution (1966–76).
The accusations against those who held on to the "old society" were increasingly regular, sometimes daily, features of life in Tibetan towns and villages, as reported by my interlocutors. Not limited to spoken narratives, they were also published (Dhondub Chödon 1978) and featured heavily in official written documents, newspapers, and books. These included direct quotes from interviews with "former serfs" and use of their first-person life stories and accounts to prove their "bitterness" in the "old society" and happiness in the new one. Topics ranged from industrialization and land rights to women's rights (Hsi and Kao 1977; Strong 1959; Epstein 1983), and they often included references to Tibetan medicine and health care in pre- and post-"liberation" Tibet.5
In Tibet Leaps Forward, Hsi Changhao and Kao Yuanmei report an interview with "Comrade Drolkar," whom they describe as "a medical worker and deputy-director of the health bureau of the autonomous region" who had been born into a "serf family" and only after liberation was given access to medical study in the "interior" (1977: 97). They found the interview she gave them "very informative." "Under the reactionary feudal serfdom in old Tibet," said Drolkar, "the million serfs enjoyed no freedom whatsoever, not to speak of medical care. Reactionary lamas and witch doctors, capitalizing on the people's superstitious ideas, sold quack 'pills' made of clay or incense ash to the sick. Their greedy practices brought great harm to the toiling masses" (97). The authors then report on a smallpox epidemic in Tibet, when a man called Jampa, his brother, and many others were cast outside their village by reactionary local government troops, leaving the diseased to perish under the eyes of the local manorial lord, who did not allow Jampa to enter the village even after he survived the epidemic (98). Instead, Jampa had to "wander here and there, turning home only after liberation." In contrasting the "feudal reactionaries'" neglect of the extraordinary sufferings experienced by Tibetans, the writers assert: "Chairman Mao and the Central Committee of the Chinese Communist Party were gravely concerned about the health of the hundreds of thousands of liberated serfs in Tibet." They then praise the work carried out in the health and medical domain, from a medical corps "marching alongside the PLA army into Tibet in 1951" to the "thousands of health workers and barefoot doctors giving medical aid to fellow commune members" by the mid-1970s, thus unfavorably comparing the earlier situation with "modern medical treatment" that now reliably reached remote parts of Tibet. There are numerous such examples, in many cases supported by photographs of the work of medical teams among Tibetans.6
Such "speaking bitterness" testimonials continue today. In 2009, March 28 was officially declared a public holiday to "commemorate" the "complete emancipation of a million Tibetan serfs" and its fifty-year anniversary for the first time officially "celebrated" in Lhasa. On this occasion, a special issue of China's Tibet was published with the title "Pacification and the Democratic Reforms of TAR" (Zhang 2009). Along "speaking bitterness" lines and with numerous "eyewitness accounts," it retold the great changes and improvements brought to Tibetans by the Democratic Reforms. These are contrasted with the backwardness and crudeness of the "old society." Addressing the medical sphere, an article by Sochong relied on interviews with a Tibetan named Ngawang Dorjé, who is quoted at length. Many features of Sochong's account are similar to those first published in the 1970s (such as those in Tibet Leaps Forward and prominently in Epstein 1983): it focuses on shortcomings of medical care in the old society, which is identified as incredibly "primitive," with people relying on sending their urine to be diagnosed by faraway doctors and unable to check whether medicines were effective (Sochong 2009: 25).
At times the conversations of individual Tibetans closely mirror these official accounts. How, then, did the people I worked with negotiate and translate China's pervasive "socialist oral history regime" in their own retelling and remembrance? For my informants the socialist oral history regime had been experienced early on, either through speaking bitterness during the reforms or through the ongoing propagation of first-person written life histories during the post-Maoist era.
OPPOSITIONAL PRACTICES OF TIME AND REFORM
These officially sanctioned forms of narration were far from the only or even the dominant ways of conceiving the past among amchi and their families with whom I spoke and spent time. Most rarely structured their stories around the widespread themes of "liberation," "old society" and "new society," or the various state campaigns and reforms. In numerous conversations and interviews they instead offered stories we may interpret as what Mueggler has termed "oppositional practices of time" (2001: 7).
Anthropologist Eric Mueggler developed this concept in his extraordinary ethnography The Age of Wild Ghosts, which describes the suffering of a Yunnan Lolop'o community as a result of Maoist policies, in particular the destruction of their ancestral system of Tsi'ci headmanship during the Great Leap Forward. In Mueggler's analysis the stories, songs, dances, and ritual chants the Lolop'o shared with him are understood as an overarching narrative in which the relation of the Lolop'o to the state, from personified external other in the 1940s to internal abstract other in the 1990s, becomes complete. "Time" and "oppositional practices of time" powerfully demonstrate individuals' and communities' relation to the state and their own dream of community. Similarly, profoundly different interpretations and narratives as well as the contrasting fates are apparent in accounts of Medical Houses and their members' experience of socialist reforms. Although in pre-1959 times the members of the Mentrong and Térap Medical Houses were socioeconomically quite similarly positioned, as the reforms began they experienced vastly different consequences. These relate in significant ways to how they engaged and negotiated the state and its discourses during and after the reforms. While the Mentrong's narrative in many ways mirrors the retelling of experiences of reform that have been widely published in exile, the Térap of Yonten Tsering remains largely committed to the state-orchestrated historical account, including its core division between "old" and "new" society.
The Mentrong
This is how Rinchen Mentrong remembered the start of the reforms when we first met in 2003, talking in his courtyard in the presence of his then-young granddaughter as well as my coresearcher from the Tibetan Academy of Social Sciences:
When the Democratic Reforms started in 1959 I could no longer continue to practice as an amchi. Everything changed, but the destruction, like of the medicines and books etc., did not start immediately. In the beginning I had to stop practicing, as I was accused of being a "representative of the exploiters' class" [mangdag]. So I gave the medicines away. I gave them to a doctor and lama from Nyémo, who stayed in Lhünding at the time. He was here to build a new monastery and also practiced as an amchi. However, after a year or so he got political reeducation and later on was executed by the Chinese. He had been a good amchi…. Then in this area there were no good amchi anymore and there was no possibility to study with anybody. That place called Phuntsoling had good doctors before, and in Tashilhunpo Monastery there were some too, but I couldn't go there, and my teacher in Phuntsoling had died. Being labeled a representative of the exploiters' class was a serious accusation, so then I did farmwork and later on went to do business.
The medicines referred to were the ones his family had kept in the menkhang of their large Mentrong, but patients and local villagers considered even the material components of the house to have medical properties: "They sometimes scraped off some of the earth of the outside walls and ate that, considering it medicine!" Rinchen told us, laughing. We continued our conversations when I visited again in 2007, little changing in the way he presented, often proudly, the Lhünding Mentrong's social position and ritual functions in the village before the Democratic Reforms and the events that followed their commencement.
Rather than using the socialist tropes of "old society" and "new society" to structure his narratives, Rinchen-la simply used the word ngönma (before, earlier)7 to refer to practices just prior to the start of the reforms, and ngönma ngönma when relating the situation of his family and Tibetan medical history in a longer perspective, or logyü (literally the "tidings of the years" but now the general Tibetan term for "history"). For example, when asked how medical work was remunerated before the reforms, he recalled seeing up to fifteen patients a day: "Ngönma, there was no system of set prices for consultations and medicine; people gave a donation if they could afford it, and if they couldn't they were treated anyway."
Already in 1958, Communist cadres had visited Lhünding and begun to investigate local people's situation. The Mentrong was labeled a mangdag, literally "owner of many," referring to families who had owned land and employed yokpo. In the indigenous social categories, these families belonged to the kutra or gerpa groups. The label mangdag was at first merely nominal and without effect in terms of access to land. This changed with a campaign that freed yokpo families from their obligations toward their estate (part of the Two Reductions). They then no longer "belonged" to the estate of the Mentrong. Despite Rinchen Wangyal and his family's high status as gerpa, they were not accused of being counterrevolutionaries, a fate that befell members of the nearby Nyingkhang to tragic effect.
The first substantial change to the life of Rinchen-la and his family came with the start of the second part of the Democratic Reforms, the land reform of early 1960. All of the Mentrong's land was taken away from the family and redistributed, along with the land belonging to the monastery and one trelpa household, among twenty Lhünding households who were defined by Communist cadres as poor (nang ulopon ga). The Mentrong's stored grain and many of their belongings were similarly reassigned. The process was managed by an outside Communist cadre who worked closely with the members of five local families who had "become Communists," said Rinchen. Having lost their land, the Mentrong were given back a small piece, which Rinchen then worked (instead of practicing as an amchi) so that the household could survive. Because the family did not immediately lose the right to live in their house (unlike Yonten Tsering), they remained at the Mentrong until the start of the Cultural Revolution. Others from the village, mainly the former yokpo who worked on the Mentrong's estate in return for part-yield part-payment, also moved into their house. The Mentrong household members had to make do with two rooms. The tradition of holding the cham dance at the end of the old Tibetan year at the Mentrong was discontinued in 1960.
Rinchen Wangyal had to attend regular public meetings in which his class status was problematized and his former "exploitations" dramatized. Over the year such attacks increased. He was harshly struggled against on several occasions in the village and the nearby new administrative center for the valley, Targyü xiang. Attacks intensified during the Cultural Revolution, as Rinchen-la explained:
Before the Cultural Revolution there was much talk already about "destroying the old." We had to destroy our religious statues, books, thankas, and other objects, or give them to others to destroy. In that first phase, from among the twenty poor households [tempa], five of them had joined the Communists [tang] and were most active in agitating against us. Of course they were encouraged by the Chinese. Members of these five poor households were the first to agitate in the village, and they insisted that we hand over our chökhang's silver and copper bowls as well as others things that were there.
At that time we were able to preserve a few things and some of the books. But then when the Cultural Revolution began, the mimang [populace] came so suddenly and quickly to our house, and they were so enraged, they destroyed everything. Now there is nothing left. We couldn't do anything—they came so suddenly! Whatever they could find they would take. There was no way to do or say anything. If I'd say something I would be immediately locked up. So we could only allow them to take whatever they wanted. I wasn't endowed with any rights.
We had the Gyüshi, collected works of Jangpa Namgyel Drazang and many Menngag works, a short version of the Kangyur and statues. Most works in the chökhang were medical books. But they destroyed everything, tore them apart and left them there at first. Then they came back and threw it all into the river and the fire. Everything was destroyed and nothing left.
The monastery and the Mentrong house itself were destroyed by the members of all of those twenty poor households during the Cultural Revolution. First those five households attacked the chökhang and the inside of the monastery. When that wasn't enough, they destroyed the buildings too.
Rinchen offered this narrative during a recorded interview in the summer of 2007. Rinchen-la, his granddaughter, a friend of mine helping with translation, and I were on the roof of the Mentrong building, which had been rebuilt at a different location. During the interview, the elderly man pointed to various places in the village as he explained to us what had happened. His account contained no trace of "speaking bitterness" narratives referencing the unjustness of the "old society." On the contrary, Rinchen spoke with pride about his family's history in Tibetan society and explained lucidly what happened when the reforms began. In his opinion relations among different families in the village had been harmonious but the "Chinese" had managed to capitalize on local poor people's willingness to support them for personal gain. When asked how he felt about the people in the village who had inflicted so much pain on him, he responded, "Actually, they didn't only destroy the monastery and my home. Moreover they severely struggled against me, very hard ['thabs rtsod]. They dragged me to Tarkyü and also out here in the village. Even so, now I don't feel any hatred. I think that was my karma. From the inside of my heart I don't feel hatred toward them."
Although Rinchen was quite willing to speak with me and we had several conversations, both recorded and informal, he never specified the accusations that had been made during the public struggle sessions. His memory of the various reforms and campaigns he had been exposed to were vague, and the Cultural Revolution seemed to seamlessly follow the Democratic Reforms. Makley encountered a similar situation during her research in Labrang. She calls the absence of actual descriptions of "struggle sessions" or "speaking bitterness" accusations the "loudest silences" within "oppositional testimonies" (Makley 2005: 63). Similarly, Rinchen never explicitly reiterated Marxist ideology. Given the massive quantities of Marxist ideology and media (in Chinese and in Tibetan translation) to which Tibetans had been exposed, Makley interprets this as narrators' repudiation of the validity or relevance of state ideology in structuring their memories. The farthest Rinchen went in using reform-specific language was the Tibetan term drelrimgyi taptsö (class struggle).8 He used this expression like a loan word from an alien language, even laughing when he introduced it into our conversations, seemingly implying that this period had been an incredibly ignorant time.
The Ngakpa Nyingkhang
In many ways Rinchen's narratives resemble the kinds of experiences narrated in the biographies by Tibetan aristocrats from Tsang that were later published in exile (e.g., Carnahan and Rinpoche 1995). And they are also comparable, in their "oppositional practices of time" and (to some extent) ridicule of Communist propaganda, to accounts from members of the Nyingkhang, to which the Mentrong is related through marriage. Here a sense of absurdity pervaded the kinds of labels and punishments the oldest brother and father of the Nyingkhang had to endure. I heard their narratives initially from Ngawang Dorjé, the doctor from Ngamring who had since our first meeting moved to Lhasa. I often came to their house after enrolling at Tibet University, and I became friends with various members of his family, several of whom had grown up in the Nyingkhang. I interviewed those with firsthand experience of the reforms in Ngamring in the 1960s several times, including the doctor Ngawang Dorjé, his older brother Wangdu, and their younger sister Ani Payang, who had joined Khyemen Rinpoche as a nun to become an amchi. Many encounters quickly turned into lively conversations involving them all, or sometimes just Ngawang Dorjé and Wangdu, since they lived in the same house. These conversations featured events that affected other named houses and the members of the so-called shabdrung, chödzé, and jedrung social groups in Ngamring, which had been given tax exemptions or levies by their primary landholders.
One afternoon in their Lhasa home, Ngawang Dorjé's oldest brother, Wangdu, explained what happened in 1959, when the reforms came to their valley and he and his father were sent to jail:
They said that I was a member of a "secret youth organization,"9 that I was in an organization called "Above Eighteen up to Sixty,"10 and last I was accused of being an "owner of history's exploited serfs."11 Since they couldn't use the youth organization label for my father, he was named a "reactionary" [lokchöpa] and also the "owner of history's exploited serfs." We had no idea about the meaning of these labels! We just listened, but we never actually did any of the things they accused us of. In fact, we had never even heard about these various organizations' names that they claimed we were a part of! [He laughs.] My father was sentenced to twenty years in prison but only stayed for two, three years and came home sick, then they sent him back. He went back and forth for several years before he passed away. Since he was already old, he used to laugh and say, "How kind the Chinese are, giving me twenty more years in this human life!" My father was very strong headed—he was a fervent religious practitioner, and many times he had stood up for the common people. He was often against the old leaders who were taking too much tax, arguing with them to protect those who were poor. In the 1950s he even made a case against two local ponpo [leaders] and took it all the way to the court in Shigatse as they were taking more than Drepung asked them to. Even so, we were sent to prison early on—in 1959 and 1960. Then in 1969 many people went to jail.
Wangdu, after shorter periods in a local prison, was himself sent to a labor camp in Kongpo between 1969 and 1974.
There I continued to be called a "reactionary" and "history's oppressor and exploiter of serfs." Others were also still wearing the "history hat,"12 short for the "history's oppressor and exploiter's hat." Those they said had killed people were given the "evil people's" hat.13 Everyone was given different hats at the time. In Kongpo we had to work very hard, and that also depended on our "hats." Whatever work we were asked to do, that's what we had to do. Our work was mainly cutting down trees and also producing various things.
Instead of "happiness" and "liberation," the beginning of the reforms tore apart the family, and its members were exposed to prolonged prison sentences and several years in labor camps. These initial sentences were based on the (incorrect) accusation that the family had actively supported the March 1959 uprising in Lhasa. The sentences were initially unrelated to the family's newly defined Communist "class status," which was that of the ngazab or ngadag, an "owner of many." Compounded by this ngakpa family's traditional role in carrying out protective rituals for the Dalai Lamas, the punishments intensified and were prolonged.
Members of the Nyingkhang House practiced a range of nonstatist remembering at their home in Lhasa. The older brother, Wangdu, who had never worked for the government, was most outspoken. His sister, Ani Payang, often burst into tears when remembering the incredible kindness and compassion of Khyemen Rinpoche and her father, and their fates. Ngawang Dorjé, although slightly more reserved and retired from a government job, was also willing to share his family's experiences. When either brother talked about the time before the reforms, it was with pride in their long-standing ngakpa tradition and the services they had rendered to various lamas as well as local villagers, such as averting hailstorms and producing protective pills. Yet they also balanced these with recollections of their father's strong social conscience: how he had stood up to two local Tibetan leaders working as administrators and tax collectors on behalf of the Drepung Monastery, who exacted extra taxes from local landholders for personal profit. Because of their father's elevated position and reputation, he was able to defend the landholders. He even took one case to court at the Tashilhunpo Labrang in the mid-1950s. Nevertheless, the family was accused of having "exploited" poor people, and on these grounds lost their land, home, and belongings. Ngawang Dorjé eventually became a government worker in the 1970s, alongside his lifelong colleague Yonten Tsering.
Like most Tibetans, Rinchen and his family, as well as Ngawang Dorjé, Wangdu, and Ani Payang, had learned to switch aspects of their narratives or simply remain silent. Depending on who was present, they learned to say, or not, what they judged necessary to keep out of trouble and maintain good relations with those wielding power in the state system (work superiors and their children's teachers or employers, for example). This ability to switch must also have affected what I was and wasn't told, depending on whom I was with. Yet in general I believe I gained a high level of trust from this family, who saw me as loyal (coming to visit over a long period of time), interested in religion and local (medical) history, which they rated highly, and connected to the outside world and knowledgeable about Tibetans in exile.
STATE-TIME AND SPEAKING BITTERNESS
Although in the pre-reform period Yonten Tsering of Térap enjoyed a high social position similar to Ngawang Dorjé and to some extent the members of the Mentrong, he put forth near-constant praise for the government and the Communists, and he remembered the past quite differently. He narrated many of his memories of early reforms in a "state-timed" manner, making ample use of the Communist themes of "old" and "new society" and even using the key Communist road metaphor.
On our first morning in Gye in the summer of 2007, Yonten Tsering told me at Gyatso's house,
You should remember that in Gye before the Democratic Reforms, there were four "high-class" families [torim thopo]. One was my own, one my elder brother's, one my elder sister's family, and one the previous owners of the house we are in this morning. The other people who lived in this village were very poor. They worked on the fields of these four wealthy families; we did not do much of the hard work ourselves! I would say about half of our wealth wasn't really ours; it should have belonged to the commoners [miser]. When the Democratic Reforms began, everything was taken away from these four families, and it was distributed among the commoners. We exchanged houses: the high-class people had to live in the houses of the poor people, and the poor people were sharing among them the houses of the wealthy. This was a great movement. I love the Communists for what they did!
We were on our way to visit the Térap Medical House, which was to be revived and would once again provide medical care. Although I was no longer surprised to hear the government being lauded by this elderly amchi, listening to his eulogies about the reforms next to people who had experienced them as intrusive and violent made me deeply uncomfortable. In homes and monasteries, others had already related to me, with varying degrees of caution, the heavy personal toll the early reforms had taken on their lives and those of other local residents. People who had owned or administered land and estates, as well as monks and nuns at local monasteries and nunneries, were particularly affected as "landlords," "exploiters," or worst, "counterrevolutionaries." From 1959 onward they were increasingly singled out from the masses, now renamed mangtso (the people). This replaced the earlier term miser (commoners), a denomination of the pre-Communist system.14 The mangtso mainly comprised the previously poor groups in the villages.
From the expressions of the driver and my research assistant, Pema, I knew I was not alone in my discomfort, but Yonten Tsering continued unabated: "The Communists helped the mangtso a lot. Now everyone here can lead a happy life! Before, this village was under the manor of the Khangsar Shekar, which belonged to the Shigatse Labrang and the Ninth Panchen Lama, Chökyi Nyima. They had to pay tax to them. Although they behaved/acted much better than the Drepung Monastery, who was taking so much tax from the people, they still took a lot."
It was in Gye Village, in fact, that Yonten Tsering had first been forced, or volunteered, to espouse such speech practices, so that, fifty years later, he could tell me proudly and always in a relieved manner: "We were never touched!"
Even when I was alone with him, he narrated positively the enforced labeling exercises and their consequences: "The government policy was good at the time and they established different classes; we became ngazab. People were surprised that even though we were from that background we didn't have problems. My father was so wise. He said, "All these material belongings, they don't help us, we give away everything." It often struck me how Yonten Tsering appeared to focus unremittingly on the bright side of the difficulties he and his wife endured when they were first relocated to a tiny one-room shelter, working a small piece of land. He recalled:
We ourselves lost almost everything. At first I also lost my treasured medicines, all the texts. Then later, when the mutual aid groups [rogré] were started, the work group leader came to me and said: "You must work as a doctor." Then the Communists gave back one horse, and I gained access to the medicines and texts. They were moved to a small room in my old house. They were saying that I should work for the health of the mangtso in the village and for the farmers and pastoralists of the entire area. Even though I was labeled a ngazab, they said my behavior was good. The communalization had not yet started, so the work team leader said that while you are away from the production team, we will send someone else to fill in for you. So from 1958 until now I continued to be a doctor. I never stopped. For the first fifteen years I worked alone, going here and there. At the beginning I had a very good stock of medicine. Compared to others in Shigatse, I wasn't rich, but there in Mü Valley I was certainly of "big family,"15 so I had lots of good medicines, also from India. At the time of the Democratic Reforms, I got back the stock of medicines, with them saying, "Actually it is yours." So then I treated people and never took any payments.
The group listening to Yonten Tsering comprised a government employee, Gyatso; his college student son; my driver and my research assistant (both from Lhasa); a couple of students from Shigatse; and my brother, who was visiting from abroad. Having seemingly held back, one of them eventually responded, "You speak of so many improvements under the Communists. Some are certainly there, but overall, not that much has changed for the better. The situation today is almost the same as in the 'old society.' For those who work for the government things have improved, but for others life is very hard. Also, today mostly the previously high-class families have become government workers once again, not those who were previously poor." Someone else chimed in, "Also, why should so much destruction have been necessary to bring these alleged improvements?" Without missing a beat, Yonten Tsering countered with a common slogan from Maoist times, internalized and repeated alongside many others when he worked as a Communist cadre:
The road is full of pebbles, but in the end there is a bright future for everyone! I will give you a clever and satisfying answer. There was no destruction in 1959. All the monasteries were intact, but land and wealth were redistributed and that was good. The destruction of the monasteries was because of a big mistake, namely the Cultural Revolution. The Gang of Four made this big mistake, starting in 1966. It lasted for about nine years, and afterward everybody apologized for this mistake. People whose relatives died were given money, the monasteries were reestablished, and old things that were taken away in the Cultural Revolution were given back.
There was no satisfaction visible on the faces of the driver or my research assistant, who smiled gently nevertheless, knowing the man well enough from our time spent together. Yonten Tsering's statements and responses were the closest I had heard any Tibetan come to mirroring and repeating the party line concerning both the unjustness of the "old" "feudal" society, as retold in countless "speaking bitterness" sessions, and the Cultural Revolution, which otherwise offered a rare chance for Tibetans (and Chinese) to express their actual experiences. His praise of the various reforms was surely related to the requirements of being a party member, a suspicion I confirmed later in my research.
The group's challenges to Yonten Tsering's statements were, by extension, challenges to the state and its widely imposed narrative. His response suggests they had crossed the limits of what could be spoken without fear of repercussion and entered the realm of what we have called "oppositional practices of time." This was transgressional even within the confines of a private home where members had been profoundly exposed to exile historical narratives, and thus clearly had engaged with such discourses. As if to mend the situation and avoid potential conflict among those gathered, Yonten Tsering ended the discussion, saying, "Everything we have discussed just now was said in jest," adding that such conversations were not the purpose of our trip and "we had better do some work."
Essentially the amchi was suggesting that what we had talked about should not be taken seriously, at least not those parts that challenged the teleological narration of how everything has gotten better on "the road to socialism," with its many promised advancements and ever-increasing improvement to the lives of people in the PRC. Instead, the group was supposed to have been "only joking." Except that they really were not. They had willingly expressed disagreement with Yonten Tsering's profound adoption of state rhetoric, even if they revered him deeply for his exemplary and selfless efforts in providing medical care to local villagers.
Based on other explanations and conversations, as well as the memories of Yonten Tsering and his wife, Yeshe Lhamo, the fate of Térap House can be reconstructed: The amchi, Yeshe Lhamo, and Yonten Tsering's parents had to leave everything behind, the four of them moving into accommodation previously occupied by a local miser family: a one-story stone building with one room, without a window or wooden pillar, and with a low entrance and a mud floor. They were allowed to take from their former home a mattress and blanket each, a kettle, teacups, and a small amount of tsampa. Four miser families, including the one previously living in the small shelter, were given deeds to the doctor's land and his family home, ensuring an embodied, literal reversal of the local social order. The doctor family's belongings and livestock were split between them, with Yonten Tsering "given" only a tiny piece of land, which he and his wife henceforth planted and tended. The distribution of goods, land, and property was executed in public fashion, so that it could be witnessed and create new revolutionary subjectivities and introduce Tibetans to the Communist class consciousness.
After some time, Yonten Tsering and his father, Tsewang Norbu, were allowed to practice as amchi again, but his father was by then old and unable to help much. The family's medical and Buddhist texts, thankas, medicine, and medicine-making equipment, once allocated to spaces on the first floor of their original Medical House, mainly the menkhang and chökhang, were moved to its ground floor. This area had previously been used for animals and was perceived as an "impure" part in the house. Now, however, not only was the doctor's family living in a ground-floor accommodation (the previous miser one-room house), but their medicines and religious objects were also no longer respected in traditional ways, when they would have been placed upstairs, and in the menkhang and chökhang.
Yonten Tsering used this ground-floor room of his old Medical House to make medicines and see patients, as it had been declared a public clinic. At the same time, he conducted medical rounds, soon combining his work of "carrying the medical bag" with a job as a Communist cadre, for which he cut his hair and joined the party.
In many ways the subsequent medical practice of the increasingly reformed Yonten Tsering became simplified. He had been asked to use "only simple remedies" in treatment and to make reference neither to Tibetan medical theories nor to spiritual treatments, which were judged feudal, of the old society, and inextricably linked to religion. It was clear that the stone diagnosis and torma offerings his father used to perform, and which he had also learned, were no longer to be part of medical work and were considered reactionary and superstitious.
The remedies were also simplified, the Térap's rich stock of medical raw materials diminishing rapidly from what Yonten Tsering and his father had preserved, including the ingredients brought back from their 1958 pilgrimage to India. Yonten Tsering collected locally available herbs and some minerals, but given his busy workload "for the revolution," there was little spare time for this. Foreign ingredients in Tibetan medicine were no longer available or not affordable, so whatever he made was largely derived from local flora and fauna. He, his father, and his wife did the collecting and compounding outside of working hours. By the time the communes started and the Red Guards began their violent attacks, there were only three types of medicines that the young amchi could prescribe to patients, apart from external therapies.
By all accounts, neither Yonten Tsering nor his immediate family was personally exposed to physically violent struggle sessions. He insisted that his father died a natural death, when his life force had been consumed and not because of violent attacks or prison sentences, as had been experienced by others. He did once add that his father had not taken his own life, a telling comment on the dire situation at the time and others' responses to it. Being a party member, working as a Communist cadre, and providing medical care under great personal hardship most likely gave Yonten Tsering the status and capital of a "reformed man."
As he described life and social divisions in the "old society," Yonten Tsering repeated many of the common tropes of speaking bitterness narratives, confessing the wrongs of the old system of which he was a part and taking the side of those who had been "exploited." Yet he also remained full of praise and admiration for his father and many teachers who were intricately linked to the pre-1959 sociocultural fabric of life.
Over time I learned that praising the government to this extent was not just a long-standing habit from his work as a cadre and government employee. It also showed a good deal of insight into current Tibetan realpolitik—how one can get along and do good from within the system—even if many Tibetans would be uncomfortable working within such narratives and discourses of the state. This was evident from the reactions of some of the people present during our conversations in Gye. Yonten Tsering was, however, able to straddle these diverse expectations and stances, thereby getting on with his social projects and practicing medicine with a deeply engrained Buddhist-cum-socialist medical ethic that will be discussed in detail in chapter 6.
Yonten Tsering's practices are partially mirrored by other Tibetan cadres of that generation, heads of monasteries and village elders from central Tibet. Diemberger (2010) discusses their crucial role in the widespread reconstruction of Tibet's cultural heritage in the 1980s and 1990s, showing how they profoundly shaped contemporary Tibet precisely because of their ability to deal with the complexities of political and moral demands across the divides of Mao- and Deng-era Tibet. She argues that they are best accounted for through analysis of Tibetans' life narratives (124).
In public, I witnessed Yonten Tsering's masterful performance of "speaking bitterness" style narratives throughout my fieldwork and with many different groups of people, including family, students, patients, monks and nuns, health bureau officials, and party comrades. It was so pronounced that at times my acquaintances and I remarked on how uncomfortable we were with them, even if Yonten Tsering continued to enjoy the utmost respect for his medical work and professional achievements, as well as his charisma. It was certainly no coincidence that the amchi was frequently asked for help with paperwork, such as that required for the government registration of other people's clinics. People knew he would say and do the right things, know whom to contact, and get papers stamped and approved so that they could proceed without obstacles. Perhaps Yonten Tsering's caution, not only in his own speech but also what he allowed others to say in his company, paid off after all? A scene I witnessed between Rinchen Wangyal and Yonten Tsering particularly illuminates how he found his own balance with regard to state discourses and requirements. When a conversation between the two turned to the very political topic of the Dalai Lama and exile, Yonten Tsering got up, saying he was tired, and left the room. Rinchen Wangyal looked at me apologetically and with a soft smile remarked, "I do not know a more careful person than Yonten Tsering." Yonten Tsering thus avoided discussing the Dalai Lama and exile, but also showed that he would not criticize the Dalai Lama either, which might have been expected given his position and status.
That even Rinchen had to be "careful," however, was and remains a fact of living in contemporary Tibet, no matter how remote one might be (Yeh 2013; Henrion-Dourcy 2013). Being "careful" has everything to do with the near-constant presence of the state and its demands on Tibetan citizens to adopt a correct position vis-à-vis Tibetan "politics," and by extension "correct" practices of "state-time" and "speaking bitterness" in narrating the past, even into the new millennium. Moreover, it is an indication of a wider "politics of fear" (Yeh 2006).
THE STATE AT HOME: PRACTICING VIGILANCE AND DIPLOMACY
In summer 2007, on my third day as a guest at the Mentrong, I was in the open courtyard area sitting at a low table with Rinchen, his sister Tsering Kyi, Rinchen's granddaughter, my research assistant, and a man in his forties whom I did not know and assumed was a visiting relative. Rinchenla's daughter-in-law moved back and forth between the kitchen and our table, offering tea and biscuits. It was midafternoon and the courtyard was especially calm, the house having heaved with patients all morning and over the two previous days, as the Mentrong had offered up their home as a clinic for the duration of Yonten Tsering's stay (figure 3.1). He had just left for Lhünding Monastery, to give consultations to a visiting elderly rinpoche and the monks there, his two medicine trunks borne up the steep hill by student helpers.
I continued to be puzzled, at times upset, by Yonten Tsering's persistent praise for, perhaps identification with, government authorities. That morning, he had volunteered it generously. Two elderly patients had sought his treatment, and when they had been diagnosed and given medicine, repeated their kadinche (thank you) so many times it seemed they would never leave. Perhaps searching for a response that would help them leave, the amchi said, "There is no need to be grateful to me; these medicines were given by the great kindness of the Communist government. They deserve your gratitude." It worked: the patients acknowledged his words and left, medicines in hand, thinking they had been provided by the government. In fact, the medicines had been purchased with private donations from the amchi and two sponsors that I had helped bring in.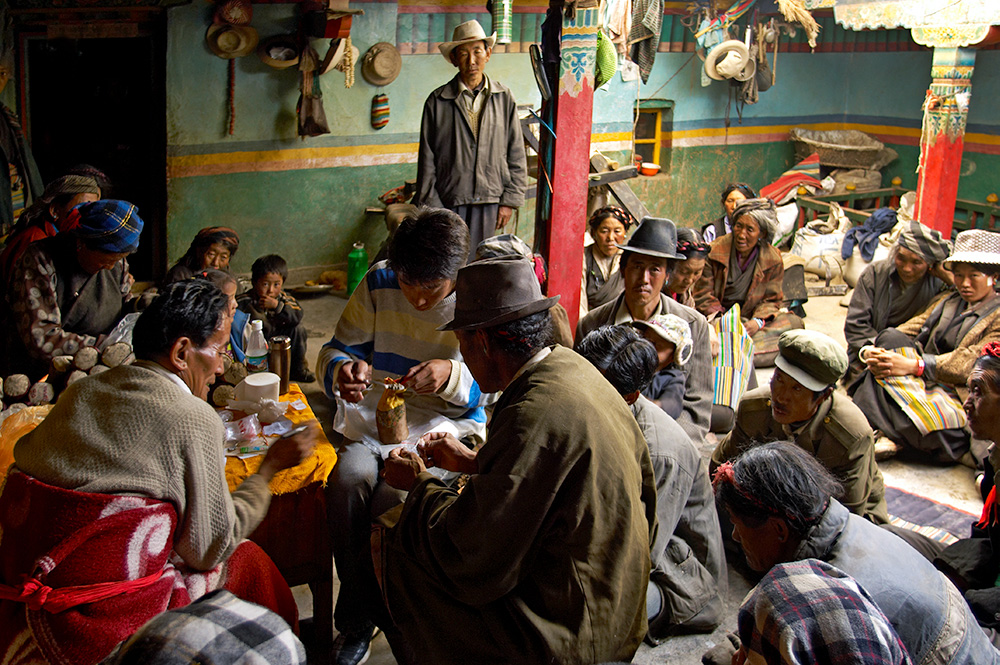 I recounted this episode and my amazement over it to the Mentrong household members, asking what they made of such effusive statements by Yonten Tsering. After a short pause, Tsering Kyi responded, "I think he is right," looking in an unusually penetrating way at me. The middle-aged man I supposed was a visiting relative added that he thought perhaps Yonten Tsering said these things only "from his mouth" and not "from his heart." Rinchen nodded and, letting some time pass, added, "Yes, that's possible." It was an awkward moment, although at the time I did not pick up that something was amiss. I asked some questions arising from an earlier interview with Rinchen, related to the extent and composition of the Mentrong's land and how they had administered it before it was taken away. Rinchen willingly explained, but instead of the proud manner I had witnessed before, he recounted the Mentrong's socioeconomic situation matter-of-factly, acknowledging that, yes, they had indeed owned disproportional amounts of land compared to others in the village. It was then, for the only time in all our conversations, that he used the term "old society." All of their land had been taken away during the reforms, and the family accused of having exploited the people who had worked it. There were no proud smiles or further details.
Following another prolonged silence, I asked why they thought Yonten Tsering might not have had the same problems as the Mentrong. Rinchen and his sister seemed at first lost for words, then speculated that perhaps it was simply because he was not from a gerpa or kutra family, certainly not a family as influential as the Mentrong (due to its family connection with the king of Ruthog). The discussion then turned to other matters, and I was also happy to leave it at that.
Once the conversation was over, Tsering Kyi asked me to join her in a different room. Glancing repeatedly at the door as she spoke, she explained that when she had said she agreed with Yonten Tsering it was only because the man present was the village teacher of her niece and a loyal party member, adding, "He doesn't speak much in favor of the Communists, but he is convinced of them in his heart." She wanted to make clear to me her disapproval of Yonten Tsering's exclamations, even if they had helped him and his family stay out of trouble. I apologized profusely, feeling terribly guilty for having instigated a situation where my hosts, in their own home, were pushed to alter their communication because I had not understood that the presence of the village teacher meant they had to be "careful" with what they said.
It nevertheless brought to the fore the widespread ability of, and necessity for, Tibetans to engage in narrations of their past and present in accordance with their judgment of the audience, in particular the presence of the state. Robert Barnett describes precisely this phenomenon in the context of oral history research in post-Soviet Central Asia and postsocialist China: "The oral-history interview is not a two-way process between a dispassionate outsider and an Other with rich experience. Whether an interview is conducted alone, in a group or mediated by relatives …, it is never between two parties: it is always at least a three-way process in which the state is sitting visibly or invisibly at the table, sometimes encouraging, sometimes threatening, sometimes enticing, sometimes intervening" (2010: 85).
With the village teacher at the table, the state was highly visible and present to the Mentrong family but invisible to me as the outside researcher. They knew we were in a three-way conversation, the state altering and interfering in narratives demanded of Rinchen and his family, as it had done in early socialist life. Once again, it had required them to relate their past along the party line and acknowledge the CCP state's dividing power between the "old" and the "new" and how that juncture needed to be interpreted.
Whether perceived by Yonten Tsering as a challenge during some of our conversations, visiting in the form of the village teacher, or seen in a visiting government-employed lechepa (worker), the state was not only an incredibly powerful force in people's lived experience of past reforms but also remained profoundly present when this past was narrated during my fieldwork.
ABSENT NARRATIVES
Apart from the spectrum of memory practices so far discussed, we also have to acknowledge situations and people where the chance of remembering and retelling has not arisen or been realized. In discussion of the gendered nature of narrative possibilities, the anthropologist Carole McGranahan (2010: 768) writes that the possession of one's own life story is not a given, that what people narrate is not just a question of how but also of if. This encapsulates in many ways my experiences and observations in recording and documenting the life stories of female Tibetan doctors and other women.
Very few Tibetan men and women voluntarily pointed me to female doctors who could share their life stories with me. Except for Lama Tenzin Phuntsok referring me to his aunt, the female doctor Sonam Drölma, I stumbled across them or followed other leads. Once I started to speak with female doctors, I discovered that they talked about the lives of male family members or teachers in preference to their own, even when they were accomplished practitioners in their own right. This made it difficult to understand in depth their experience and memories of the reforms, or to make any meaningful comparison with male doctors. For example, when I finally met with Sonam Drölma many years after her nephew's suggestion, we could meet only twice, due to the remoteness of her residence and my failure to obtain the right permit for the area. Another challenge was the combination of self-deprecation and a greater ease in talking about male teachers or family members, who were considered more "knowledgeable" in medicine (cf. Hofer 2015).
How Sonam Drölma experienced the early reforms was hence difficult to grasp, but she shared some observations. I noted that, like members of the Mentrong and Nyingkhang, she did not use the names of various reforms (except for the Democratic Reforms and the Cultural Revolution) or provide details of what they implied for her personally. She also did not use the terms "old" and "new society." Instead she remembered day-to-day details of the enormous changes in cultural practices at that time:
We were asked to be like the Chinese. So my grandfather was not allowed to be an amchi any longer. They burned the medicine kit, and we were accused of exploiting "poor people." Eventually my grandfather said, "Now we have to stop; we can't practice any longer." We were also not allowed to practice religion. When my grandfather died at age eighty, sometime in the 1960s, we secretly lit butter lamps inside a chest, so they could not be seen.
Actually my grandfather had never charged medical fees, but they said that he was taking money and exploiting his patients. Actually he had never asked for medical fees; the patients gave a donation, however much they could afford. They said he had to stop taking from the poor, etcetera, and he went to prison many times.
Because of these upheavals, for a long time Sonam Drölma was not allowed to practice, and she felt that her "skills went down."
What are we to make of these difficulties in documenting women's life stories? To be clear, their almost completely absent narratives, either in writing or in oral history interviews, do not imply that Tibetan women have in any way been less exposed to the state oral history regime or that women and issues of gender were irrelevant to the Communist cause in Tibet. Both are topics we need to learn much more about. Rather, they show gendered possibilities or obstructions.

During the implementation of Democratic Reforms in villages in Ngamring, the continuity of Tibetan medical authority and of most amchis' work was significantly compromised. This was not due to directives or campaigns specific to Tibetan medicine at that time and place, but rather to the socioeconomic foundations on which its practitioners had depended in terms of training, household economy, class, and moral authority. These bases further crumbled with each successive CCP campaign and reform aimed at eroding the traditional structures of Tibetan society and the individuals who upheld them. Yonten Tsering and a few others were able to continue their Tibetan medical work, either because of their pre-1959 social status, their political choices, or their rhetorical abilities. Most of the amchi discussed in the previous two chapters sooner or later stopped practicing, some forever and some until policy changes after the Cultural Revolution reopened possibilities for working in Tibetan medicine.
One route to remaining in the healing profession was for amchi to train in Chinese-style biomedicine, as health care in rural areas was clearly rising on the Communists' agenda from 1960 on. Villages and newly formed township administrative headquarters in Ngamring, even in the midst of the devastations of the Cultural Revolution, were constructing a health care system for members of rural production brigades and communes—the hallmark social organization that brought to an abrupt end the redistributed land and property. These converted the entire farming population to a largely military-style organization of their daily lives.
The differential relations to the state illustrated in the narratives of members of the Mentrong and Térap to some extent explain their different fates with regard to their physical existence, how their members fared in an increasingly violent class struggle, the continuity or discontinuity of their medical authority, and the possibility of recovery.