LOOKING AT ILLNESS
When I look at the way society is going now—you know they say that today everyone can do business and can become rich—then I also have to think about medical fees or moving to Lhasa. In my mind I am not happy about the idea, because people are poor here and there would be bad talk about us in the village. Also, there would be no real amchi left in the village.
—Amchi Pema, 2003
AT the opening of this book, two monks from Tashilhunpo Monastery in Shigatse visited Yonten Tsering, who diagnosed the older of the two with lungné (wind disorder). After they had "looked at illness" and shared some tea with us, the monks left with three Tibetan medical compounds and a couple of hormen (nutmeg-and-tsampa-filled cotton bags), a cross between a home and professional remedy to be warmed in oil or butter and applied every evening. No money changed hands; the monks simply thanked the doctor profusely.
As the year progressed and the end of my longest stretch of fieldwork approached, the officially retired doctor had looked at the illnesses of over 2,500 people in similar circumstances.1 This took place in his Shigatse home and during several day- or weeklong medical rounds to rural villages in the prefecture. I attended many hundreds of these encounters, acting as a participant observer, lending a hand, and filming some. Whether in town or in the countryside, I observed that the amchi's medical encounters and his medicines were given entirely free of charge and that many of his patients were monetarily poor and little involved in the cash economy. Only government employees and business people typically offered a donation in return for treatment. The elderly doctor covered most of the expenses for medicines and his travels from his generous government pension, while two foreign sponsors donated money for medicines. I had helped to recruit the donors, one of them agreeing on the basis that Yonten Tsering charge a flat fee of ¥2 per patient, so as not to disadvantage private doctors in the area. With these three sources of cash, Yonten Tsering's funding differed from Pema, younger doctors, and graduates from the Pelshung Tibetan Medicine School.2 That said, several retired government amchi from Ngamring and elsewhere also carried out a lot of medical work without remuneration, one of them saying, "It's okay to ask for money from patients in this life, but it's not for the next life."
The amchi and pharmacists of the Tashilhunpo Medical Clinic in Shigatse offer Tibetan medicines—if not entirely for free, at least at a low rate made possible by local, small-scale production on a noncommercial basis—drawing patients from the most deprived strata of the economically poorest region of central Tibet. In what ways do amchi in Tsang engage in a Sowa Rigpa moral economy, and what is at stake in the pan-Chinese and TAR-specific political economy of primary health care? Exploring instances of a Sowa Rigpa moral economy contributes a localized perspective to current debates on the broader trajectories of Tibetan medicine in the PRC. In particular, this perspective may illuminate the diminishing presence of Tibetan medicine in governmental primary care and the repercussions of large-scale industrialization of Tibetan pharma for smaller producers across the Tibetan plateau.3
In his monograph Manufacturing Tibetan Medicine and the Moral Economy of Tibetanness (2013), anthropologist Martin Saxer focuses on the nature of the relationship between the "moral economy of Tibetanness" and the current industrialization and commercialization of Tibetan medicine production. The classical studies of peasants' resistance to market-driven transformations of traditional modes of production and distribution in eighteenth-century Great Britain (Thompson 1971) and in Southeast Asia (Scott 1976, 1985), from which the moral economy argument derives, posited that physical survival was at stake when peasants stated the moral illegitimacy of certain capitalist practices and demanded minimal subsistence and food rights. In contrast, Saxer argues that what is at stake in the moral economy of Tibetanness "is not physical but rather cultural survival, for which Tibetan medicine has become an important realm" (2013: 14). To show how the moral economy is similar in structure but different in form and scale from classical cases of moral economies, Saxer explores the practices and discourses of a retired government servant who set up a private NGO-sponsored school and noncommercial Tibetan medicine factory as well as those of big traditional pharma companies like Cheezheng and Arura. He draws on global attempts and engagements in "saving Tibetan culture," convincingly showing that local expressions of the moral economy of Tibetanness are intimately linked with the global moral economy of the "Tibet question."
The medical work of people like Yonten Tsering and the doctors at Tashilhunpo Monastery (as well as Pema in Ruthog and the Pelshung amchi) evidences the need to bring back material and physical survival, bodily health, and well-being into our analyses of the moral economy of Tibetanness. The Sowa Rigpa moral economy needs be studied in the context of both industrialization and privatization of primary health care. When we look at the kinds of diseases treated and patients' lack of access to medical care that addresses these in the long term, either due to high cost or a shortage of amchi, we are drawn back to some of the original moral economy arguments.
Rural patients of the doctors discussed here depended on their bodies for work on land on which they depended economically, socially, and morally. They benefited directly from doctors' principles and practices of Buddhist and Tibetan medical ethics, meaning they were able to access health care and sustain their livelihoods. Tibetan medicine often made a tangible difference in their physical subsistence, their very ability to work as farmers and pastoralists in Tsang. Colleagues' work on amchi in Amdo, eastern Tibet, and Mustang, Nepal (Craig 2012), as well as in Ladakh, India (Blaikie 2013a), provide similar instances of the Sowa Rigpa moral economy. A morally informed medical practice appears to be a necessity on the margins, where government health care and internationally driven "Save Tibet" projects rarely reach.
The political economy of Tibetan medicine and health has profoundly affected how amchi offer treatments and medicines and the chances patients have to benefit from these encounters and therapies (Hofer 2008a, 2008b). Both amchi and their patients have been exposed to "unhealthy health policies" of global and national kinds (Castro and Singer 2004). The increasingly large-scale production and national marketization of Tibetan medicines affect the everyday life of the poorest sections of Tibetan society, in the form of further restrictions on accessing health care, at least partly due to cost. This is in addition to economic marginalization and exclusion, especially in rural areas of the TAR (cf. Fisher 2014).
It is from the vantage point of rural and economically marginalized Tibetans, many of whom come to see Yonten Tsering in villages or combine a visit to Tashilhunpo Monastery or Shigatse with a visit to its medical clinic, that we need to reconsider the moral economy of Sowa Rigpa and Tibetanness. Yonten Tsering and Tashilhunpo's moral economy is not mainly a matter of cultural survival; for many it is a question of physical survival and bodily fitness. By examining certain amchis' selective, practical resistance to the increasingly capitalist-driven government primary care and Tibetan pharmaceutical industry, we can see how this moral economy of Tibetanness works in the service of the health and well-being of Tibetans with few other means to access medical care.
THE POLITICAL ECONOMY OF PRIMARY HEALTH CARE IN TSANG
With some delay compared to other parts of the PRC,4 governmental health care funding in the TAR was transformed in the 1990s. Within one decade, the socialist model of health care, imperfect as it was, had to adopt liberal market-based values featuring a narrow, vertical approach to primary care that profoundly limited the access of poor and rural patients to care and essential medicines (cf. Tibet Information Network 2002; Fisher 2002). This development fundamentally challenged the ethics and economies of many governmental hospitals, clinics, and doctors in Tibet (Janes 1999a; Hofer 2008a, 2008b); it also posed particular problems for the continuity of Tibetan medical primary care in rural areas. In these circumstances, the revival of Tibetan medicine continued to be an often hard-won and drawn-out process.
In the early years of the new millennium, funding for rural primary and secondary health care in the TAR was further revised. The budgets of county hospitals, township clinics, and village health workers for upkeep of facilities, salaries, and medicines were now to have three sources: central government, the TAR government, and people's contribution to the newly introduced New Cooperative Medical Services (NCMS). Given this insurance scheme's insufficiency, fees for services and medicines had to be collected, even though by 2003 over 90 percent of the rural population of Shigatse Prefecture and the TAR had signed onto the NCMS insurance plan.5 As out-of-pocket expenses for services and medicine had risen significantly in the wake of the first wave of market-based revisions of socialist health care during the 1990s, the NCMS would help rural people afford and hence access medical services—and prevent them from financial ruin and poverty in the case of catastrophic illness. However, in the TAR as in China proper (Carrin et al. 1999; Liu and Hsiao 1995), patients' health care costs saw only a small reduction. Even after adjustments and increased central government contribution to the scheme in 2003, out-of-pocket expenses remained high (Wagstaff et al. 2008). Regional health inequities across rural populations in the PRC continued unabated (Qian 2010)
Nevertheless, national and regional health bureaus' commitment to a largely neoliberal model of health care persists in China (Qiang and Blomqvist 2014), fully supported by large global funding agencies such as the World Bank and Asian Development Bank (Janes et al. 2006). In the TAR's rural government health facilities during my fieldwork, few health care services were provided for free, mainly comprising contraception and family planning services, basic birthing assistance in clinical facilities, vaccination, and epidemic disease control measures. Family members who brought women to clinics for childbirth were rewarded with ¥50.
It is now well documented that health inequities in low-income countries (or regions) and even in high-income countries that feature great inequality and income disparity (such as the United States), having undergone or currently undergoing neoliberal health reforms, have widened the gap between those who can access and afford health care and those who cannot.6 Poor patients therefore frequently delay health care or sink deeper into the "medical poverty trap" (Whitehead, Dahlgren, and Evans 2001), or what is colloquially referred to in the United States as "medical bankruptcy." They often die from conditions and situations that could have been avoided (Farmer 2015). As the ability to work, to survive childbirth, and to raise healthy children are all influenced by access to health care, this development has contributed to rising social and economic inequality in many areas over the past twenty years (Nguyen and Peschard 2003; Samuel 2010: 321–22). It has also, in many places (but not the United States in this case), had an especially detrimental effect on women's health and empowerment, as women tend to be more vulnerable, less mobile, and generally more negatively affected due to the vagaries of human reproduction and harmful patriarchal values and practices (Ward 1998; Inhorn 2006).
Due to increased political sensitivities and international researchers' diminishing access to the TAR, the latest developments in health care funding and adjustments to the NCMS and their combined impact on health care access in the TAR are poorly researched and understood compared to other postsocialist countries with similarly neoliberal health policies (Janes and Chuluundorj 2004; Janes et al. 2006). Nonetheless, we can get a fairly good picture from reports by international NGOs, government statistics, and ethnographic work.
By 2010 health-care costs for poor, disabled, and otherwise disadvantaged households in rural Tibetan areas of the PRC remain obstructive, preventing even basic health needs from being met in a timely or satisfactory manner (Sagli et al. 2012; Hofer 2012; Nianggajia 2011). Care in remote rural areas is often inadequate. Village health workers in the early 2000s earned only about ¥50 a month. Though such workers usually have knowledge and skills in the administration of about twenty biomedical drugs, they have no specialized training to manage childbirth or emergency complications. The latter almost always require referral to higher-level facilities, such as county or prefecture hospitals, often too distant to be reached in time, of little use, and more expensive yet covered to a lesser extent by the NCMS. Such referrals are thus often ignored by patients or are difficult to realize. Furthermore, Tibetans in Amdo have been reported as frequently mistrusting medical personnel, perceiving them as prescribing unnecessary diagnostic tests and medications to increase the income of a facility or doctor (cf. Nianggajia 2011).
There has been a pronounced increase in for-profit health care in Tibetan towns and cities, in line with the rest of the PRC (Schrempf 2011; Hofer 2012). Here all expenses for medical care are paid directly by the patients; still, they often prefer this route, as procedures there are considered less bureaucratic and more accessible than in government clinics. To make matters worse, social inequities between urban/rural and government/private employment sectors have increased dramatically, and the economy of the TAR has been characterized by pronounced social exclusion and economic marginalization of Tibetans (Fisher 2002, 2005, 2014). PRC state subsidies are given as a "gift of development," in return for which Tibetans are expected to accept the terms set by the state: most importantly, not getting involved in "politics" (Yeh 2013). Hence there is no open opposition or civil rights protest, even by educated Tibetans.
Tibetan medical practitioners on the margins have experienced the manifold impacts of this political economy of health and medicine. Many have found it extremely challenging to continue to adequately address rural patients' illnesses, and Tibetan medicine has been sidelined in government rural primary health care. At the same time Tibetan medicine is becoming an increasingly widespread option in urban areas, and Tibetan pharmaceuticals are commoditized for urban Tibetans and middle- and upper-class consumers across the PRC.7
THE PRECARIOUS PLACE OF TIBETAN MEDICINE IN PRIMARY CARE
Alongside dramatically increased health inequity in the wake of privatization and market-based reforms in the PRC starting in the late 1970s, there has also been a pronounced and documented reduction of TCM services in the governmental health care sector at large, particularly in rural areas since the late 1990s (Xu and Yang 2009; Fang 2012). A similar trend is also visible in the TAR with regard to Tibetan medicine. Already in the 1990s this was linked to the lower profit margins associated with common Tibetan medicines as compared to biomedical diagnostic and therapeutic interventions, as a result of which many clinics across the TAR stopped stocking Tibetan rilbu and powders (Janes 1999a).
I have documented decreasing numbers of amchi and availability of Tibetan medicines in township clinics in five counties in Shigatse Prefecture.8 Even among those officially employed as Tibetan medical doctors in such facilities, several had no Tibetan medicines in stock (Hofer 2012: 174–79). Conversely, I have seen cases where an amchi had Tibetan medicines in stock but did not use them, even for illnesses widely treated that way. Often patients preferred biomedical treatments, especially intravenous drips and injections. "Fast effects" aside, there was often a financial element in this, as the NCMS readily reimbursed expenses for biomedicines. Since Tibetan medicines, with a few notable exceptions, were then excluded from the NCMS scheme, patients' out-of-pocket expenses for Tibetan medicine were often greater than for biomedicines (Hofer 2008a, 2008b, 2012).
One prominent way in which large governmental Tibetan medicine institutions met the first wave of privatization of government health care funding in the 1990s was by scaling up commercial production and forprofit sales of Tibetan medicines (Janes 1999a, 2002). This approach in some cases helped maintain Tibetan medical institutions in the wake of dramatic government funding cuts.9 Other money-making ventures were initiated by hospitals specializing in Tibetan medicine or biomedicine, such as joint ventures with Chinese medical institutions in China proper as a means to maintain work and salaries (Janes 1999a). Hospitals and clinics that made Tibetan medicines for their own patients on site, such as the Ngamring Tibetan Medicine Hospital, continued to offer the medicines at affordable prices despite the funding cuts. At this institution, the fees for consultation (¥0.5 to ¥2) and for the usual prescription of three medicines a day (¥1) meant that they continued to attract patients and even saw the number of patients increase, while the number attending the neighboring People's Hospital dropped, due mainly to the costs.
The 1994 Third Forum on Work in Tibet had further implications. Tibetan medicine was declared one of three "pillar industries" of the TAR, along with mining and tourism, entitling Tibetan medicine factories and the like to government loans and incentives. Since the beginning of the new millennium, there has been a veritable rush to commercialize and scale up Tibetan medicine production. "Precious pills," in particular, were turned into profitable products aimed at local urban and national middle classes and markets, to whom they could be sold as over-the-counter (OTC) and "preventive" medicines (Adams and Craig 2008; Saxer 2013). This is a startling development considering their great symbolic and medical value in the 1950s, when they were expensive, their production and distribution sometimes sponsored by wealthy people (see chapter 2).
The introduction of new standards for drug production, laws imposing Good Manufacturing Practices (GMP), and requirements for commercial factories to obtain drug registration necessitated and promoted huge investment by government and private businesses in the industrialization of previously smaller and sometimes not-for-profit government hospital pharmacies. Prices for common Tibetan medicines (that is, those regularly prescribed to rural patients by governmental Tibetan medical doctors) had increased, a result of the enormous investments required to meet GMP standards, often paired with rising costs of raw ingredients (Craig and Glover 2009). There have also been other attempts to modernize practices in Tibetan medicine institutions, ranging from individual doctors' incorporation of biomedical diagnostic and therapeutic means to structured institutional approaches to dual diagnosis and integrated medicines.10
Perhaps counterintuitively, I found many amchi who provide Tibetan medical care in ways that defy the capitalist logic of marketized health care. These doctors provide treatment to those rural patients most severely affected by health inequity, and they lose money in the process. I take their Sowa Rigpa moral economy as a response to the rising commodification of health care and Tibetan medicine production that contributes substantially to the physical survival and well-being of rural Tibetans.
"LOOKING AT ILLNESS"
When, on a cold February morning at eight o'clock, two women arrived at Yonten Tsering's new home in Shigatse, we were in the middle of packing. Yontan Tsering was getting ready for another trip to treat patients in rural areas in Tsang, this time in Sakya and Rinpung Counties. The aluminum cases containing the doctor's medicines stood by the door with a leather barefoot doctor's case proudly placed on top. Khaki-colored sleeping bags and mattresses made up another pile, surrounded by an array of neatly knotted plastic bags containing tsampa, noodles, dried meat, and vegetables in a cardboard box for a journey of several days. Yeshe Lhamo, a visiting relative, and the maid were busy between kitchen and courtyard, boiling water for tea and making breakfast. Although the driver would soon arrive, without a moment's hesitation Yontan Tsering agreed to see the two early visitors and do what he referred to as natsa taya ("look at illness") or nepa taya ("see ill people").
We sat down with them in the open courtyard, the medicine trunks were returned to their usual spots, and the doctor pulled up the sleeves of his down jacket. Both women were wrapped in thick clothes, their colorful aprons over the woolen chuba lending brightness to the gray, wintry scene, as did their shy smiles. He began asking their names, places of residency, and ages, writing this information in his notebook, in the space below a prefilled patient number (which was well over 9000).
"What ails you?" he asked Dawa, the older of the two women, who had come from Deling, a farming village in Thongmön County. "I have strong pains in the joints of my hands and feet," she responded, showing her hands to the doctor. He took them in his hands and gently passed his fingers over her calcified joints.
YT: How long has this hurt you?
D: Many months; it makes it quite difficult for me to work.
Yontan Tsering reached for her wrists to read her pulses—a contemplative moment as the doctor pressed three fingers on the tsön, ken, and chak points located along the radial arteries. As he worked quietly, taking in what he felt, the silence was broken only by a request to see her tongue, which, as usual, was inspected with a quick and practiced eye. Still holding her wrists, with empathy he said, "I can see it must be painful, but this tsadrum disease of yours is not too bad. Don't worry. I will give you some good medicines."
The consultation with Dawa lasted about ten minutes, by the end of which they had shared a moment of laughter and the doctor had furnished her with two Tibetan medicines to be taken every day for a month. These were in addition to a biomedical rheumatism medicine she was instructed to take each morning and which she could get more of from her township clinic. In his notebook he wrote: "Has tsadrum disease, the symptoms are pain in the joints and the bones of hands and feet. Continue to take Chinese medicine in the morning, and take one pill of Trinsel 25 at midday and five pills of Pökar 10 every evening for one month."11
It was then the turn of the second woman, Chödron, a forty-three-year-old farmer.
YT: And where are you from?
C: Also from Deling—we are neighbors.
YT: What ails you?
C: My eyes.
YT: I see, your eyes. And has the illness lasted a long time?"
C: Yes, it has.
Yonten Tsering then uttered an extended and empathic nyingjé (pity, compassion) before asking the patient to look toward the sun so he could examine her eyes.
YT: Yes, I can see there are quite a few red spots. May I see your tongue please? All right, and otherwise, do you have any other problems?
C: Yes, my stomach.
YT: Mmh. Are you taking any tangmen [Communist medicines] for that?
C: No, I am not. I have been to the Gonpa Menkhang [the monastery medical clinic].
YT: That's good, the Gonpa Menkhang is good.
After taking some time to read her pulse, he had further questions:
YT: And at night, can you sleep?
C: Yes, I can, but I wake up early, and in the day I cannot work very hard.
YT: Do you get pains in the abdomen?12
C: Yes, in the stomach.
YT: Does it bloat?
C: Yes, it does.
YT: I give you some very good medicines, but the pain won't go away immediately. How long have you had this stomach ache?
C: Two years at least.
While Yonten Tsering wrote out her medical record, he confirmed to Chödron that he would give her two medicines, one for the stomach and one for the eyes, each to be taken for fifteen days. He went to find the medicines and then, while she held open the small plastic sachet into which he counted the rilbu, the consultation turned to friendly chatter. It transpired that the two women had heard that the doctor was to hold a mobile clinic in a village near theirs a few days ago, but by the time the women reached the clinic, the doctor had gone back to the county seat.
While no distinct diagnosis was provided, Chödron was given medicines to alleviate symptoms that Yonten Tsering noted in his case record book as "red spots on the eyes," "excess lung element," and an aching stomach. Along with the biomedical eye salve, which he explained how to use, she was given "Sendu Nyikhyil for the stomach" and "Seljé 25 for the eyes," as the notes reveal, all to be taken and applied according to his instructions. While counting out the medicines, the doctor had decided to extend treatment to twenty days in total.
These medicines, along with a small piece of paper with her patient number and the doctor's home telephone number, were placed in a bright blue bag—one of hundreds the amchi had ordered. The bag proudly displayed the logo of the Lhasa-based TAR Tibetan Pharmaceutical Factory, where we had purchased the Tibetan medicines.13 He added, "Come back if the medicines help you and you need a checkup."
As he secured the bag's yellow band and handed it to the women, he passed on his oft-repeated dietary advice to both patients: limit chilies and avoid spicy foods and garlic. Turning to the older woman, he repeated that she should keep warm and cover herself well. Yonten Tsering then proudly told them that this morning we were leaving for Sakya and then on to Rinpung to treat more patients. He added that the Acha, his affectionate term of address for me, had helped secure donations, which drew a broad and grateful smile from the two women. In neither case was there any payment; in fact, the doctor had explicitly told the women, "Today I am not taking any medical fees." Dawa and Chödron were then invited to the kitchen, where Yeshe Lhamo served them steaming cups of butter tea.
Yonten Tsering packed up the medicines again and put on his large, fur-lined leather jacket, intent on keeping out the cold. Before joining him and the students loading the rest of the things into the car parked outside, I chatted with the women in the kitchen. It turned out that the express aim of their journey to Shigatse had been to see Yonten Tsering. There were several reasons why they had traveled that far—about ninety minutes on the public bus. One was the high cost and questionable quality of care at their local health facilities, although they also mentioned its business-like character. Another was that they perceived their ailments to be "old diseases," for which Tibetan medicines were widely held to be effective. And furthermore, they had received recommendations from others who had experienced the kind and effective treatments of this doctor. No direct reference was made to the medicines the amchi dispensed being free of charge. However, to openly mention anything in this regard would have been inappropriate, considered "shameful" and "embarrassing" (ngotsa).
Kindly delivered, trusted, and effective treatment drew patients from all over Tsang to the Tashilhunpo Medical Clinic, the Gonpa Menkhang, referred to by the women during the consultation. Yet, what set Yonten Tsering apart from the Tashilhunpo, or for that matter any other clinic, was that he never expected patients to pay. Some of them offered money and were able to leave donations. The doctor otherwise tried to avoid being given gifts or payments in kind, such as tea or farm products, explaining, for example, that their typically strong tea was not conducive to his health.
YONTEN TSERING'S MORAL ECONOMY
The work and expressed ethical ideals of Yonten Tsering evoke a distinctly Tibetan version of moral economy in the context of Tibetan medicine, in which medical ethics and their expression in the treatment of patients in many cases have deep historical roots in a family or Medical House tradition. Those who could afford it gave donations, while those who could not were still treated in most cases, tax relief and help from resident family members helping to reduce household spending. Amchi were careful not to be seen as "making money" with medicines (cf. Kloos 2004), hence they avoided going on rounds, instead working from home and visiting private homes if specifically called. More recently, among many older doctors, such Tibetan medical practices have become entwined with socialist medical ethics acquired during their decades of work in the Communist system, which also offered medicines to "the masses" for no or very low cost. Yonten Tsering's medical work in his Shigatse home and on rounds to rural villages continued along the lines of this Buddhist-cum-socialist ethics. He worked tirelessly for his patients and never explicitly asked for fees or appeared to judge anyone, whether or not they gave something. His actions more than what he said—he never critiqued the government for its health policies—were a direct response to the increasingly market-based logic of government health services. Ethical concerns contributed to his decision to retire early, along with several other senior doctors. The capitalist logic that had been ushered in with the health reforms for the rural TAR in the 2000–2005 health plan was incompatible with their medical ethics. One of Yonten Tsering's colleagues recounted his experience: "I got a good government salary but as I knew all the patients and they couldn't pay their medical fees, I paid on their behalf. So half of the salary I got from the government went back to them. [He laughs.] I took early retirement and now practice privately, giving Tibetan medicines to patients and practicing religion."
Based on long-term experience, doctors like this man and Yonten Tsering knew only too well that in most rural villages and townships medical care was at best inadequate and distant, and at worst available but unaffordable. Doctors skilled in Tibetan medicine with adequate supplies of the medicines were rare. The amchi and their patients perceived Tibetan medicines as effective for many common but debilitating ailments, especially those considered "old diseases," such as many kinds of rheumatism.
When asked why they worked this way, Yonten Tsering and others emphasized the importance of treating poor farmers and pastoralists, giving everyone an equal chance to be in the best possible health. They usually added that this was also their religious practice, and that they gained spiritual merit from their medical work, as reflected in Tashi's comment, "It's okay to ask for money from patients in this life, but it's not for the next."
In contrast to "cultural preservation" or ruthless "Chinese business culture" (Saxer 2013), many of the older doctors I worked with in Tsang stressed the importance of treating all patients no matter whether they could pay or not, and mentioned their medical work serving as religious practice.
In the encounters with Dawa and Chödron from Deling Village, a Sowa Rigpa moral economy was expressed, enabling not the survival of "Tibetan culture" or Tibetan identity (cf. Janes 1999b; Adams 1998), but crucially the treatment of these women's problems for pragmatic reasons. Being well enough meant being able to subsist on what they could make their land yield, whether through their ability to work in the fields (mostly the work of men), or with animals and in the household, such as collecting water and fuel (the primary domain of women). In other words, a link remains between the moral economy of Yonten Tsering and the ethics of Sowa Rigpa on the one hand and the physical survival and well-being of many of his patients on the other.
Others of Yontan Tsering's generation and sometimes later ones worked to facilitate affordable health care in a way that was no longer possible in government services, which were now shifting from a socialist approach to a predominantly capitalist, neoliberal mode. The costs for Tibetan medicines were on the rise as a result of the recent health care reforms and the newly created urban and national markets for traditional pharmaceuticals with whom these rural patients were now competing. The link among poor patients' quality of life, their health, and the doctors' practical morality was tangible. And to Yonten Tsering, I am quite sure it was visible when "looking at illness."
While Tibetan medicine's wider reputation is often attested in the realm of "old diseases," sometimes Yontan Tsering's medicine meant the difference between life and death. Although he never assisted directly in childbirth, many young women came to see him before giving birth and asked for medicines to help with the delivery or complications. Zhishé 11 is widely known to help in giving birth and preventing extensive bleeding afterward (Craig 2012: 215–52). The amchi always had some in stock. In most cases, Zhishé 11 was prescribed as preventive medicine, women taking it in case of need. Still, three times during our five weeks of medical rounds in Tsang, family members came at the last minute to ask the doctor for medicines to either stop the bleeding or help deliver either child or placenta. The notebooks speak of similar situations from earlier years: brief entries recording "a woman's stuck placenta," "difficulty in delivering the child," and "excessive bleeding." In each case, Yonten Tsering gave Zhishé 11 as an emergency medicine at a higher dose.
Among named diseases (see table 6.1), there are several disease categories for which he prescribed medicines that underscore the link between his medical work and his patients' physical subsistence. Most common among adult patients, especially women, from farming areas, were symptoms that Tibetan medicine classes into five types of drumbu, commonly translated in modern English-language Tibetan medical literature as "rheumatism" or "arthritis." Dawa, as we have seen, was diagnosed with tsadrum. Among both male and female adult patients, the amchi commonly treated gastrointestinal conditions, which he perceived as the result of poor dietary habits that included use of too much chili and repeated intake of cold or old foods, as well as issues of food hygiene. He was careful not to make too many suggestions regarding people's eating habits, all too aware that many would simply be unable to follow his advice due to their dependence on their own products and habits. In men (and some women) who had liver- and tripa-related problems, he was firm in reminding and encouraging them to drink less chang or other kinds of alcoholic drinks.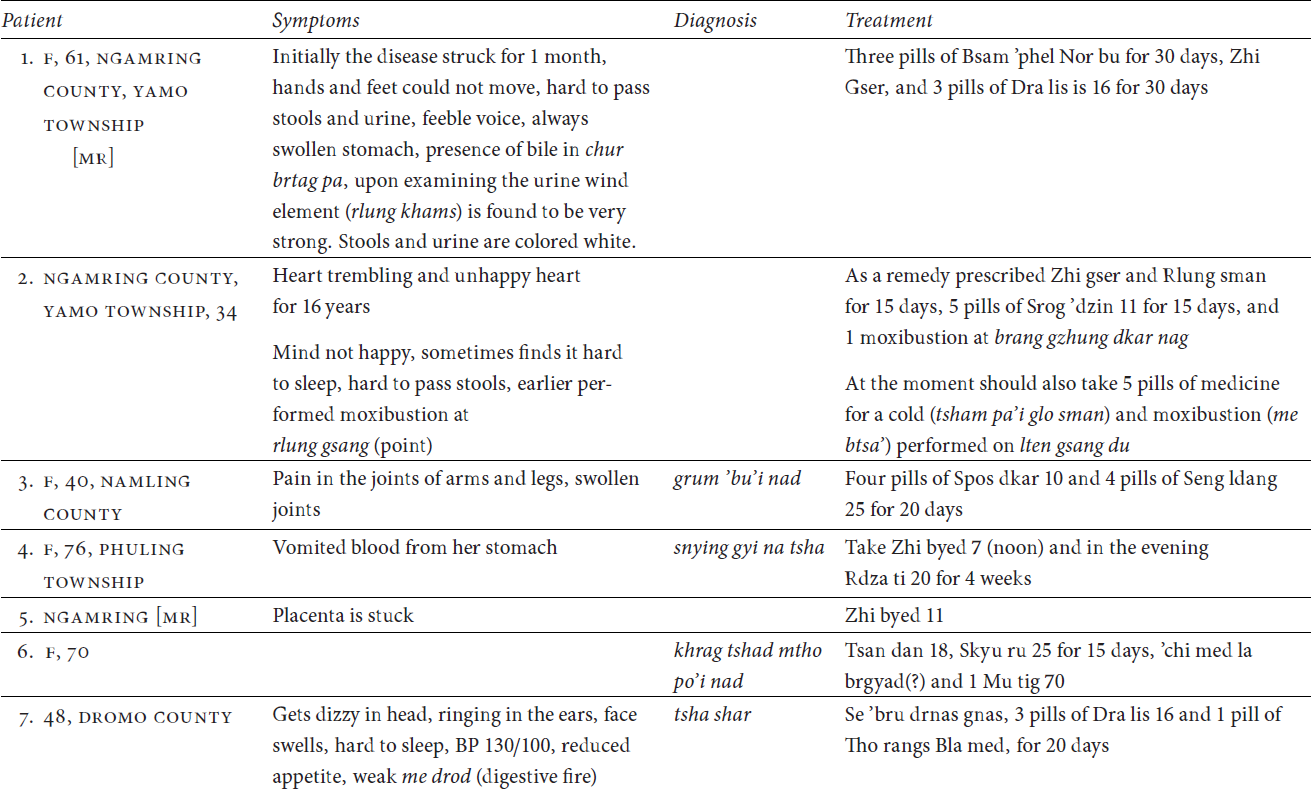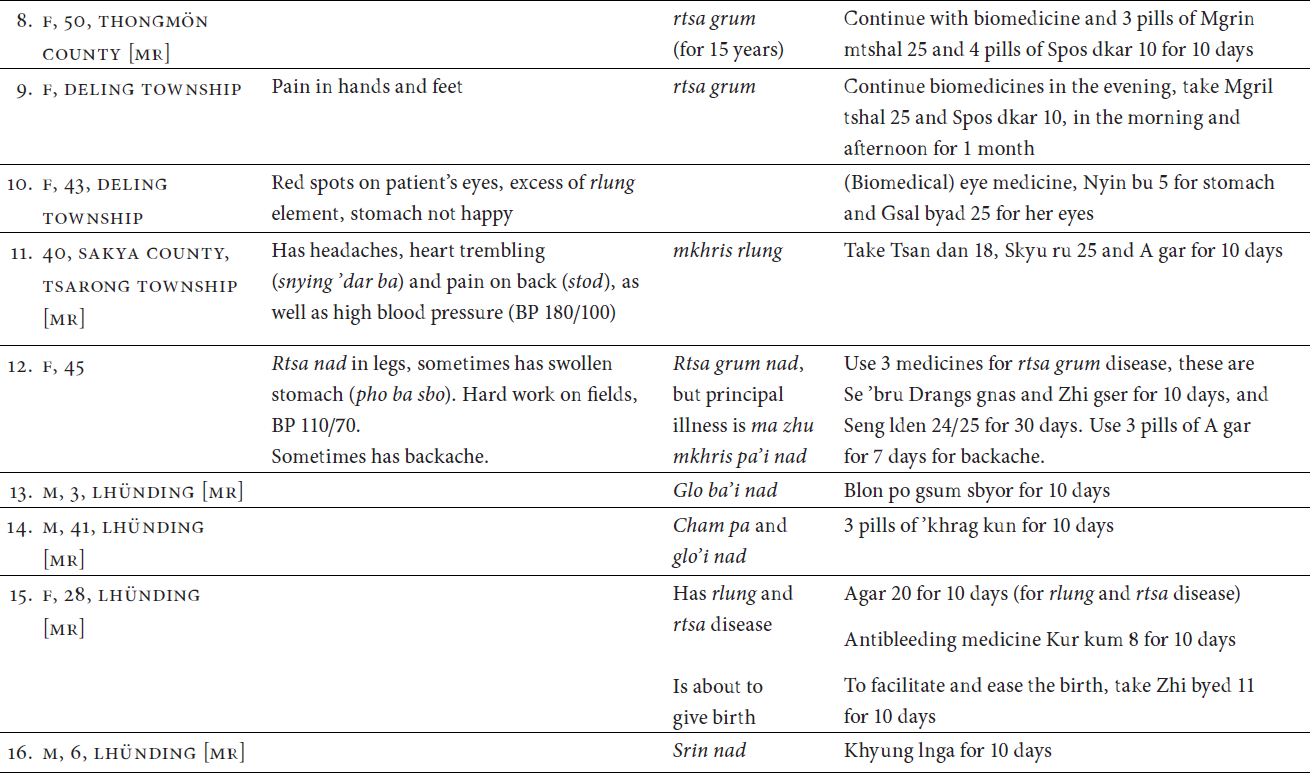 Note. The content of this table is my translation from Tibetan. MR means "seen on medical rounds" in a rural area of Shigatse Prefecture. All other patients were seen at the amchi's Shigatse home.
Also prevalent was the vast group of illnesses related to lung or wind conditions (such as lungné, sok lung, etc.) and the numerous symptoms of lung more broadly. These range from feeling cold all the time or being mentally imbalanced, to high blood pressure (trakshé thopo) and dribgyön, a common condition recognized in Tibetan medicine and similar to a stroke in biomedical thinking.14 In children, by far the most frequent problems were common colds, coughs, pulmonary conditions, and earaches. One of Yonten Tsering's special techniques in diagnosing children was to read the pulse not at the wrist, where it is difficult to ascertain before the age of eight, but on their ears.15
The full extent of the health care needs of rural Tibetans became evident to me only during Yontan Tsering's medical rounds to rural areas (figures 6.1 and 6.2). These were enormous and many times overwhelming.
On Medical Rounds
Long queues of Tibetans began to form as soon as Yonten Tsering and his accompanying students had obtained official permission to set up the mobile clinic at a local school in the county seat of Sakya, otherwise mainly known for the famous Sakya Monastery. Some of the students began to hand out numbered tickets to organize the patients and allow everyone to be seen, setting off fights over these desired passi. This scene of evident medical need brings to mind Farmer's (2004) experience of the brimming courtyards of Haitian hospitals and his awareness that it would take him hours to cross from one side to the other as people insisted on stopping him to share their troubles, many having left conditions untreated for far too long.
That afternoon, in just under six hours of work at the mobile clinic, Yonten Tsering saw over 120 patients, most for an average of two minutes. Each consultation followed the same sequence as those at home: briefly questioning the patient, inspecting the tongue, reading the pulse, taking notes, and writing out the medicines to be taken, sometimes followed by brief additional dietary advice. The only difference here was that he never checked blood pressure (for lack of time), relying when necessary on the biomedicine students to do that for him. To speed things up, he engaged the students and myself in counting out pills into the small plastic bags, adding labels that indicated what time of day the medicines should be taken. During exceptionally busy times, he avoided applying moxibustion, as it requires more time and greater calm.
The following day 250 patients showed up, and subsequent days—in Rinpung, Tashiling, Khangsar, Phuntsoling, and elsewhere—all passed in a similar manner. The second or third day in any one place usually drew even larger numbers, as people from surrounding villages, who had heard by word of mouth about the occasion, arrived in groups riding on tractors. Hundreds of patients flocked to see the doctor. At times they risked pushing over the doctor's little school desk, despite the young students' crowd control. Some who stood in the queues, especially in the county seat, were the poorest of the poor, including several beggars; the others were mostly farmers, both men and women. They waited, sandwiched together, some carrying babies, the old and lame leaning on sticks, others spinning wool to make use of the time. After the day had been officially called to a close, still more patients arrived at the room where the doctor ate dinner or slept.
In Khangsar Village, at the end of a rough road about an hour's drive from the county seat of Rinpung, the doctor again set himself up in the central square of the village, as there was no government building to offer shelter. There was no health facility here either, except for a village health worker whose supply of medicines amounted to fifteen biomedical remedies, which were unaffordable to many, despite the quite reasonable prices and apparently locally implemented NCMS. The living conditions of the approximately fifty households in this village seemed quite difficult. Their very limited involvement in the cash economy was indicated by the fact that many wore clothes made from handspun wool. Both men and women in the crowd were spinning as they awaited their turn, chatting together. Here the atmosphere was more relaxed than the county seat, and although people were probably less able to access and afford health care, they were more willing to wait for the prized moment of sitting in front of the doctor and being asked, "What ails you?" The tone of his voice, though a little hoarse after several full days of work, continued to exude empathy. When the sun had disappeared behind the mountain ridge and cold descended, there were still patients to be seen.
Wherever we went, word had spread, and often patients waited on the side of the road. On one occasion an elderly woman had waited for over seven hours next to a Tibetan rug and a thermos of tea, which she offered to the doctor while he read her pulse (figure 6.3). Another time, on the highway back to Shigatse, a group of women and men held hands across the road, forcing us to a halt. All told, I was overwhelmed by the scale of medical want apparent to us each day. In equal measure, I was deeply impressed by how calmly the doctor kept diagnosing patients, no matter how chaotic the situation, and by the fact that he often had no time to eat during the entire day. Aspects of Yonten Tsering's "seeing patients" and "looking at illness" reminded me of the way Tibetans flock to see Buddhist teachers. From a lay person's perspective, their encounter with lamas is usually short due to high demand; it involves eye contact and the receipt of a blessing through either touch or the receipt of or contact with a blessed substance. Buddhist teachers on their part speak of "seeing" worshippers, offering lay people a chance to come in contact with holiness, arguably continuing aspects of the South Asian Hindu tradition of darśan, or "vision of the divine" (cf. Eck 1998).
MEDICINES ON A SMALL SCALE
The late afternoon sun shone into the main consultation room of the Tashilhunpo Clinic, where I was interviewing Lodrö, the clinic director. Wearing a white coat over his robes, with a shaven head and a broad smile, he was the most seasoned medical practitioner here and the only monk-doctor who had been ordained at this monastery before the Democratic Reforms. Back then he was forced to leave, outwardly leaving the order and working as a barefoot doctor in his home region. As soon as the monastery reopened, he resumed duties as the monastery's health worker in addition to his religious commitments. In the early 1980s, with a small group of monks, he set up a tiny medical clinic in the monastery, reading patients' pulses according to Tibetan medicine and providing treatment with Western medicines and Chinese-style acupuncture. When the monks were too sick to come, Lodrö carried his old barefoot doctor medical kit to their residence, tending to them there. In 2002 the small medical clinic expanded to an impressive two-story traditional-style building. It now has thirty-five rooms located around a pleasant courtyard and is open to the public six days a week until noon, all clinic staff devoting their afternoons to the production of Tibetan medicines (figures 6.4, 6.5, and 6.6).
That sunny afternoon, as usual, the monks and other workers were still preparing and processing the raw materials for the Tibetan medical pills and powders, of which they made between thirty-five and forty types.16 When the pharmacy's grinding machine was turned off and the lead pharmacist had presumably called it a day, other monks with their white coats now removed dropped by, eager to hear what Lodrö had to say to me. The room filled with almost all of his thirty staff members. By the time they got there, we had reached the most controversial questions. These were mainly on the future of local medical production in light of the recently introduced Good Manufacturing Practices, a set of regulations for the production of commercially sold Tibetan medicines. Lodrö responded:
I don't really understand much about the GMP. But I am certain that our medicines are of very good quality. We have good ingredients, and the medicines are compounded carefully. It is not about what you wear and the building where you make the medicines, whether it is closed off from the outside and whether the medicines are touched or not touched with your hands. It is not at all about that….
Our concern with regard to GMP is mainly about cost and quality. If we were to start production [with GMP], we would need to invest ¥1 million just for the [new] building, the air conditioning, and the machines. It would make the medicines too expensive for our patients, so we don't plan to do this.
In the old days we made medicines with our hands, and they worked very well. GMP is an outsider's concept that has come to Tibet. We pay so much attention to the cleaning and the process of making the medicine that I am confident to say that our medicines are very good, without GMP. We don't need GMP to make good medicines.
Lodrö's perspective on the difference in quality between medicines made according to GMP and in the "old ways" echoed views and opinions held by other Tibetans I spoke with who were involved in producing or using Tibetan medicines, at large factories or as smaller producers, providers, or consumers. There were intense controversies over the implementation of GMP and the repercussions of the large-scale industrialization of Tibetan medicine. While the application of GMP to Tibetan medicine production has raised concerns and debates over the quality and efficacy of medicines (Saxer 2012, 2013; Craig 2012), amchi I worked with in Tsang were particularly concerned about its impact on the affordability and accessibility now and in the future. They pointed out how the shift to GMP-regulated production, the dramatic upscaling of Tibetan medicine manufacture, and the effects on the prices of raw materials and end products would further compromise rural Tibetans' access to Tibetan medicines. How does this relate to the moral economy of Tashilhunpo Clinic and its patients, numbering annually well over 100,000, who queue up at the site six days a week?
The basic material economy of Tashilhunpo Clinic, the day-to-day costs of operations—doctors' and workers' salaries, upkeep of buildings and equipment, raw materials, and Tibetan and Western medicines—had to be covered by patients' consultation and medicine fees. The clinic received no government subsidies, and only occasionally did the monastery make in-kind or financial contributions. Larger infrastructure and human resource investments had so far been funded from external private sources. The Swiss Red Cross, for example, had paid for the education of four Tashilhunpo monks trained at Pelshung and for some of the medicine factory's equipment. The clinic building (completed in 2002) had been funded by a private sponsor from Shanghai.
Should the Tashilhunpo factory want to be certified according to GMP, the investment required would amount to more than all the combined costs from 2002 to 2007 that the monks listed for me, including expenditures associated with building and equipping the clinic and production unit, and provisions for training or staff. What had been invested in the current facilities and staff in these five years had facilitated several hundred thousand consultations, including many for economically disadvantaged patients. The total annual output of Tibetan medicines was around five tons, covering part of the treatments prescribed, others being biomedical pills, injections, and intravenous drips. The ethos of the clinic was to provide affordable health care through both Tibetan and biomedical means, and any profits were reinvested into the facilities.
Tashilhunpo's medicine production was crucial to keeping expenses for Tibetan medicines low (figure 6.6). The clinic relied on staff expertise and relatively cheap labor, thus avoiding having to buy expensive ready-made medicines from other factories. They sourced raw ingredients from local harvesters, middlemen, and abroad. Then they engaged in the laborious process of making the medicines, which in several cases had as many as twenty-five to thirty-five ingredients. Their imperative, as Lodrö and the pharmacists pointed out, was to produce high-quality medicines and to keep costs down. The introduction of GMP, so they thought, would compromise both of these values. Moreover, they believed GMP's effect on the quality of Tibetan medicines would decrease quality and efficacy rather than improving it. They expressed worries over carelessness in medicine production that had resulted from scaling up production and from the gap between the people who produce and those who prescribe medicines.
A medical factory attached to a large prefecture-level hospital in Ngari produced medicines for its own patients at one time. But in 2007, this facility closed as it could not comply with GMP requirements. The Tashilhunpo monks had heard about this and were worried. If GMP-certified practice was required for noncommercial factories like the Tashilhunpo Clinic, they would either have to close down production and buy medicines (inevitably raising prices for Tibetan medicines) or raise large donations or government grants to build a GMP-compliant plant and obtain the various drug registration numbers, raising enormously the costs of production and the required monitoring. That year, they had already been affected by the new laws, as they were no longer permitted to sell their medicines to independently practicing Tibetan doctors, including former colleagues from Pelshung. The clinic was not concerned, as the demand from their own clinic was large. The other Pelshung amchi, however, were disadvantaged by having to buy more expensive medicines from Lhasa (such as the TAR Tibetan Pharmaceutical Factory), where, unlike government-trained doctors, they were not eligible for discounts.
The Tashilhunpo Clinic's continued emphasis on and investment in training people to carry out local pharmaceutical production was another expression of a Sowa Rigpa moral economy. Their main concern was to treat those who could not easily afford medicines, thus benefiting their health and well-being. At their pharmacy, this concern was expressed in their unusually outspoken criticism of GMP and large-scale production, but also in their firmly expressed intention to keep focusing on providing good medicines for local people. While the clinic's monks sometimes spoke of how important Tibetan medicine was to helping to "preserve Tibetan culture," their discourse and medical practice made clear that they were more connected to their belief and vocation: to benefit the lives of their patients.

The sheer numbers and kinds of medical problems encountered and recounted, and the ways they have been treated by Yonten Tsering and the Tashilhunpo Clinic, show the enormous difference that affordable or free Tibetan medical services made to the poor. These amchis' moral economy still confronts a crisis of physical subsistence, as in the classic works on moral economies. While this is not a food crisis where barley, potatoes, or rice are lacking, it is certainly a medical crisis on the margins. Its characteristics are that economically and geographically marginal Tibetans (or, for that matter, marginal Nepalis or Ladakhis, as in Craig's and Blaikie's ethnographies from 2012 and 2013) lack access to medicines and health care that can meet their physical and mental needs to live a good-enough life, regardless of gender or income, and that enable them to work and live off their land as much as possible. The work of Yonten Tsering and the Tashilhunpo Clinic has attracted occasional funding from international donors, most likely those interested in saving Tibet or supporting the survival of a Tibetan culture they perceive as threatened by extinction, through Tibetan medicine projects, as was explicitly stated by the Swiss Red Cross. However, the emphasis of these privately practicing older amchi and the clinic should be interpreted primarily in terms of a moral economy, in which bodily, spiritual, and mental well-being is at stake. Here, cultural survival, if a concern at all, features only tangentially. This ethnography therefore provides an important counterpoint to framing the Tibet issue in terms of cultural survival alone, or worse still, of cultural genocide.
The accounts of Yonten Tsering and of Tashilhunpo Clinic show how amchi like Tsering, Lodrö, and others embody a Sowa Rigpa moral economy in their practice of Tibetan medicine, which refuses capitalist, market-based exchange standards. Instead these practitioners follow their own interpretations of the meaning and ultimate values of Tibetan medical encounters, which are deeply religious, and in some cases religious-cum-socialist.
For a study of Tibetan medicine and its role in health care on the margins, if we heed anthropologist and humanitarian physician Paul Farmer's insights for an anthropology of structural violence, we have to keep "the material in focus as a way to avoid undue romanticism in accomplishing this task" and to "give an honest account of who wins, who loses, and what weapons are used" (Farmer 2004: 307–8). "Structural violence," says Farmer, "is embodied as adverse events if what we study, as anthropologists, is the experience of people who live in poverty or are marginalized by racism, gender inequality, or a noxious mix of all of the above." We must address in greater earnest questions pertaining to the material ways in which the adverse outcomes of structural violence are embodied and how people address real-world physical effects in relation to access (or lack thereof) to the most basic health care provisions.
Even if Tibetan primary care is not as desperate and unavailable as the situation in Haiti, for example, for basic health services (Farmer 2004) or in Mongolia for maternal and migrants' health services (Janes and Chluundorj 2004; Lindskog 2014), the unending, sometimes overwhelming queues of patients coming to Yonten Tsering and the Tashilhunpo Clinic comprise the ethnographically visible. Yet there is a firm link to ethnographically invisible elements: the history of forced integration into the PRC and the many violent CCP reforms and campaigns. In this book, I have attempted to bring to life some of the voices from outside the officially orchestrated silence in state narratives about these very reforms.