It is a fact of experience which is always verified that history is made in the short term by the conquerors, who may be able to maintain it in the middle term but can under no circumstances impose it in the long term.
—Reinhart Kosseleck, Expérience de l'histoire
TIBETAN amchi in rural areas of Tsang played a crucial role in facilitating the continuity of Tibetan medical practices despite often harsh and violent Communist reforms. Mao's stress on "rural areas in health work" and emphasis on self-reliance, especially during the latter part of the Cultural Revolution, created a space in which selected amchi and others could continue to adapt Sowa Rigpa in a changing political and economic climate. A combination of official policies and the ability of some to negotiate with those implementing revolutionary reforms and campaigns meant that Tibetan medical work continued, though in simplified form, sometimes including the teaching of Tibetan medicine to the younger generation. Paired with its subsequently recognized potential to demonstrate the government's respect for nationality culture as well as commercial profits, Tibetan medicine was swiftly revitalized, starting in the 1970s. The events and actors encountered in this book have all in their own ways shaped the current situation of Tibetan medicine. By the early years of the new millennium, Tibetan medicine became one of the most vibrant domains for the expression of Tibetan language and culture within and beyond the TAR. This is rooted in the particular trajectory of Tibetan medical amchi, especially their earlier revitalization of medical practice as compared to other expressions of Tibetan culture, especially Buddhism (Goldstein and Kapstein 1998) and work in the performing and fine arts (Henrion-Dourcy 2005, 2017; Tsewang Tashi 2014).
CENTERS AND MARGINS IN THE TRANSFORMATIONS OF SOWA RIGPA
A wider and deeper understanding of the trajectory of Sowa Rigpa during the communist-socialist revolution and collectivism of the Mao Zedong era, into the decollectivization, privatization, and implementation of liberal market economies after Mao, emerges from this study. It contributes to the medical and social anthropology of Tibet the theorization of so-called medical lineages in terms of Medical Houses, thus providing an analytical tool to make sense of professional and social organization, the physical structure of houses, and gender in Tsang. Going beyond central and institutional narratives and working with largely nongovernmental Tibetan medical practitioners—yet pointing out their connections to central figures and institutions—allow us to make important adjustments to accounts of the twentieth-century history of Tibetan medicine.
In the 1959–66 period, in contrast to the reforms implemented at the Mentsikhang in Lhasa, amchi in outlying Medical Houses, monasteries, and nunneries (constituting the majority of amchi in Tibet) were not visibly demonstrating their contribution to the health of the newly conceived "masses." Rather, given the ongoing wider social and economic reforms (especially the land reforms and class struggle), many amchi lost the economic basis as well as sociopolitical legitimacy necessary for official continuation of their medical work. The reason many amchi were unable to continue working in their accustomed fashion was not because of official opposition to the practices themselves, but because of official opposition to the class structures in which they were embedded. With religion seen in Marx's famous formulation as an opiate to dull people's perception of their exploitation, the work of amchis suffered from the connection with religion. The promotion of science and the accompanying belief that Tibetan medicine was unscientific also worked against them. Yet the new structures left an opening for those who signed onto the revolution and could use revolutionary commitment as a basis for their practice, since the practice itself was not only not prohibited but, after Mao's famous saying about the treasure house of Chinese medicine, could be legitimated as a parallel to what Mao had praised.
In the early years of the Cultural Revolution (1966 to about 1972), with few exceptions the material basis for amchis' work, the instruments and texts, were vigorously destroyed as belonging to the Four Olds, whether in Lhasa or in rural areas of Tsang. Depending on the class labels assigned, amchi were often treated harshly, in particular those who had served the Tibetan government, belonged to the higher social classes, or were monks and nuns still unwilling to be reformed. These individuals frequently served prolonged (often fatal) prison sentences or were put in "education through labor" camps. Other amchi were slightly more fortunate: those firmly established in Communist health posts or as cadres could in some cases continue their work, while some continued as private practitioners secretly and at great risk.
The barefoot doctor campaign and hence some of the Chinese medical techniques and recipes encapsulated in the widely disseminated Barefoot Doctor's Manual (first published in 1969) reached the Tibetan areas through a Sino-Tibetan bilingual edition published in March 1972. The campaign highlighted using "local resources" (especially "Chinese medicine" as well as "folk medicine"), creating a new space for Tibetan amchis' knowledge, medical training, and practice. The Sino-Tibetan Herbal, a work on botanicals and animal products growing in Tibet identified for the use in basic Chinese medicines, which had been outlined in the Barefoot Doctor's Manual, became a key resource for teaching Tibetan medicine. Such diversion from the official purpose makes a lot of sense, as no other classical pharmacological texts and illustrations were available and allowed. In 1975, The Tibetan Medical Manual, a conceptually and epistemologically Tibetan medical work, was published. The style and content of this work shows increased confidence in the wake of official relegitimization of Tibetan medicine at the time of publication. This is one of the earliest expressions of the sweeping changes in policy that ushered in the full legitimization of and efforts to revitalize Tibetan medicine over subsequent years, including a reintegration of Buddhist elements. There was, however, no way to return to the ways Tibetan medicine had been practiced, made, or classified in medical books before the Revolution. Later textbooks, and especially recent works in Tibetan medical pharmacology, still reflect the way knowledge of single and compounded Tibetan medicines was restructured, reclassified, and reinterpreted in the early 1970s.
While almost all Tibetan medical work came to an end at the Mentsikhang between 1966 and 1973–74, in the midst of the greatest contraction of Tibetan medical practice, a few doctors in a rural part of Tsang kept up their work and, in some exceptional cases, did so even within government facilities. The numbers of Tibetan amchi and the place of Tibetan medicine in the barefoot doctor campaign in areas like Ngamring were, however, limited. Only a few amchi mustered the right "class labels" or were accomplished in working the rhetoric of the regime. The situation in other Tibetan areas awaits future research, not least in Amdo, where several Socialist Realist revolutionary propaganda posters depicting male and female Tibetan barefoot doctors have emerged. In one poster, youths proudly ride horses through snow-covered Tibet, with their iconic leather medical kits worn over their chuba; another poster depicts a young pastoral woman as a barefoot doctor applying acupuncture on a soldier (see figures C.1 and 4.2). In Tsang, the barefoot doctors and later village health workers used fewer Tibetan remedies than biomedical drugs and diagnostic and therapeutic methods. The barefoot doctor campaign in Tibet therefore marked a key moment, for the first time spreading and firmly establishing the hegemony of biomedical injections and pills in remote rural areas. Earlier contact with British biomedical health care had been limited to people living in or traveling to larger towns. As in China proper, biomedicines have since become the dominant form of medical treatment in both rural and urban areas of Tibet, owing to a combination of cost, state subsidies, patient choice, and importantly, perceptions of modernity and efficacy among patients, doctors, and the wider society.
Most scholarship holds that a full-scale revival of Tibetan culture, Tibetan Buddhism in particular, started after 1978, following the Third Plenum of the National Party Congress in Beijing. Rulings from that gathering were fully translated into locally understandable (trustworthy) formulations and policies during and following Hu Yaobang's visit to Tibet in 1981. The revitalization of Tibetan medicine, much like that of Chinese medicine, began significantly earlier, however. Chinese state interests ensured that Tibetan medicine became a means through which the central government could convey overt respect, at the same time using these traditions for primary health care in rural areas. Yet many interest groups and approaches went beyond such political aims. During the 1990s, as the first privatizing reforms were implemented in the governmental health system, senior amchi in clinics and hospitals often wielded sufficient influence to negotiate concessions to keep Tibetan medicine in the government primary care plans. Private schools and clinics funded by international NGOs came on the scene. When new health care reforms, most notably the NCMS, began, many senior doctors were near retirement, and Tibetan medicine was no longer an integral part of health care for rural areas. Biomedical diagnostic and therapeutic techniques had become by far the dominant medical modality.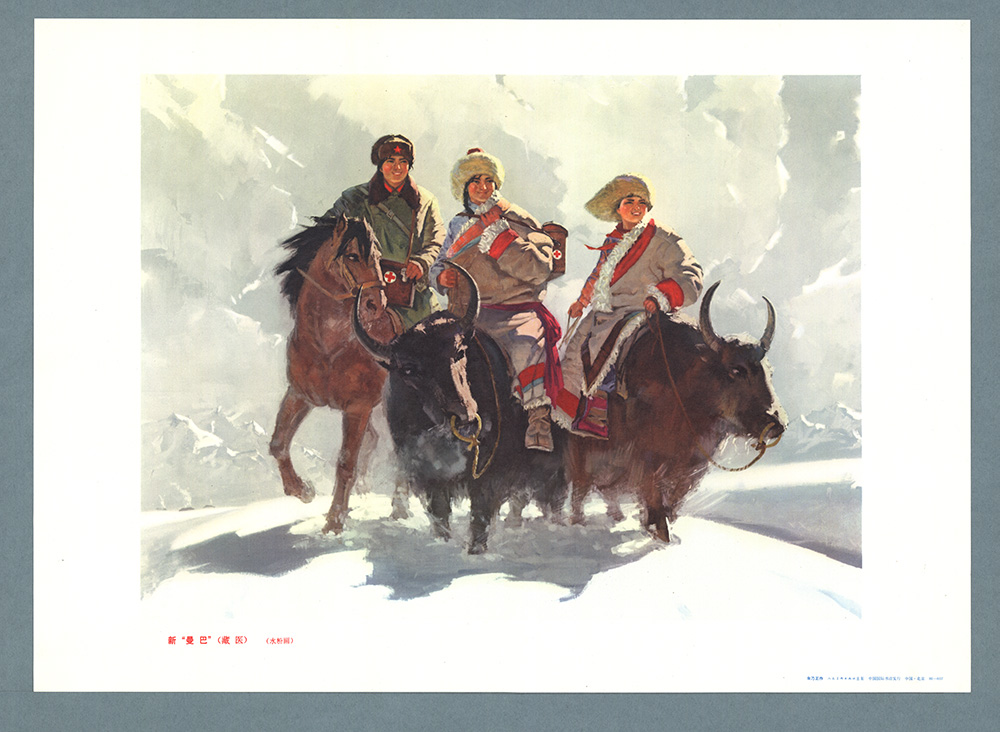 We have seen how a contemporary retired practitioner and a group of medicine producers continue to work within a distinct moral economy, which is primarily concerned with fostering the physical survival and well-being of poor patients via Tibetan medical treatment. This moral economy is also relevant to the industrialization and commercialization of Tibetan medicine production.
The ways Tibetan medicine is now taught—who has access and the kinds of clinical pathways that Tibetan medical graduates follow—have changed dramatically, and the socioeconomic and rural/urban makeup of Tibetan amchi students and practitioners is quite different. In line with a Communist egalitarian agenda, they now include many students and doctors from outside the traditional Medical Houses and monastic backgrounds. The reforms have also led to larger numbers of women amchi in Tibet, although there are still very few working in county hospitals and township clinics in rural Shigatse Prefecture. History is not just about the past, nor is it always about change; it may be equally about duration, about patterns persisting over long periods of time (Ortner 2006: 10–11). This holds true with regard to a continuing scarcity of female doctors in rural Tsang today.
Such differences between developments in rural and urban areas, centers and margins, point to the wider relevance of studying medicine in marginal areas and among marginal peoples. With a few exceptions (Fang 2012; Lora-Wainwright 2005), we lack studies in this regard—also for Chinese and Indian classical medicine—and for other forms of partly centralized and institutionalized cultural practices in Tibet. Recent work in the field of Tibetan medicine has begun to address this gap, including more marginal people and perspectives1 and other aspects of Tibetan culture, such as Ache Lhamo and the performing and fine arts more widely (Henrion-Dourcy 2017; Tsewang Tashi 2014).
How, then, should we go forward in studying broader cultural transformations and continuities in Tibet involving the people at its geographical, social, and political centers and margins? Can we distill methodological implications from this study that are useful to the wider field of Tibetan and modern Chinese studies? And if so, how can these be undertaken in the increasingly limited and precarious circumstances for foreign and local researchers and people in Tibet?
ANTHROPOLOGY AND HISTORICITIES
What is considered short, middle, or long term in history from a Tibetan perspective probably differs from Chinese or European viewpoints, as expressed in the epigraph to this final chapter. By the sixth decade after the occupation of Tibet in 1950–51, I thought the long term had been reached and that the time had come to see if the official historiography was still intact and working to maintain its political purposes. At that time, I was working with Tibetan amchi in Tsang, with a focus on their references to and embodiment of the often-violent events of preceding years. Following analysis of my findings under the broad analytical frameworks of historicity and agency, I endeavored to make visible the Historie of the apparent "losers" in order to show up its fault lines with the Geschichte of the "winners," to paraphrase anthropologist James Scott's adaptation of "history according to winners and losers," where Historie is theorized as a "weapon of the weak" (1985). How does looking at the history of the losers reflect on the history of the winners?
People's references to the past pose one of the most crucial and difficult challenges to anthropologists—still insufficiently accounted for in much current work in the field (Fassin 2004: 319). Trouillot (1995) has been a forerunner and inspiration to many in the field willing to face this challenge, inspiring also my approach by embracing the study of "sociohistorical processes" and the "narrative construction about that process." At the same time, I have heeded the call of anthropologists Eric Hirsch and Charles Steward for "ethnographies of historicity" to "address the diverse modes through which people form their presents in world societies" (2005: 261). Rather than focus exclusively on the current moments of "looking at illness," the "doctor-patient relationship," or health inequity between margins and centers, as many works in medical anthropology do, I wanted these situations, events, and protagonists and their analysis to be situated within historical processes. This book attempts to meet a major challenge in anthropology through analysis of how the past, present, and future are made and remade in the everyday lives of my informants and in conversations with others and myself. It also offers a methodological and empirical contribution to modern Tibetan studies.
Much of Tibetan political history has relied on centralized government Tibetan or Chinese records, documents, memoires, oral history interviews, and accounts by those who occupied government political positions. A "history from below" (Thompson 1968) is only beginning to emerge, for instance in work on the social history of Tibet (Ramble, Schwieger, and Travers 2013). Other recent anthropological research looks beyond the limitations that elite government sources naturally pose, adding crucial dimensions to the documentation of how current sociopolitical contexts and everyday practices influence people's and institutions' relations with the past. One chapter in Taming Tibet by anthropologist Emily Yeh (2013), for instance, juxtaposes oral history interviews with official accounts of the creation of new farmland in and around Lhasa during the 1950s, emulating the early "agricultural model communes" in China. Charlene Makley's (2005, 2007) work on memory and the history of Maoist reforms is also exemplary and has been an inspiration. Reflecting on the work of these and other colleagues, Robert Barnett, a historian of modern Tibet, suggests that anthropologists in Tibetan studies "reclaim the field of modern Tibetan history-writing from historians, as well as claiming political analysis from political scientists, insisting on the insertion of culture into that discussion" (2010: 75).
McGranahan's (2010) work on the Khampa resistance fighters' Historie, researched with elderly veterans in exile, has been particularly noteworthy and inspiring for my research. She argues that in the context of exile and the Dalai Lama's advocacy of nonviolent resistance, the history of the Tibetans' violent resistance and contestation of the Chinese occupation has been to a large degree "arrested." It is now slowly emerging as an openly addressed topic. Similarly, but for different reasons, writing about the impact and reception of Communist reforms among Tibetan medical practitioners has been "hijacked," or perhaps "arrested," by central government institutions, such as the Lhasa Mentsikhang and the Dharamsala Men-Tsee-Khang. The voices of amchi in rural and marginal Tibetan areas, such as Ngamring and Tsang more broadly, have so far been neglected in the academic literature. Recording and reflecting on the memories and experiences of a group of people from marginal areas therefore offers a new space for thinking about the conditions under which Tibetans in central Tibet find "meaning in memory" (Kansteiner 2002)—and where and how they can express these today.
Speaking to Barnett's (2010) observations on China's oral history regime in Tibet, I found that the state was still more or less present in the encounters recorded for this book. We would have to acknowledge that we are therefore not yet beyond the conquerors' writing of history and that the ongoing vigilance of the state regarding Tibetans' engagements with each other when discussing the past is still present and influential.
TIBETAN STATES OF EMERGENCY
In March 2008 a protest by Tibetan Buddhist monks against the detention of a fellow monk and the state-police responses to that protest led to an outburst of violence from ordinary Tibetans, targeting primarily Chinese businesses in the central Barkor area of the old town of Lhasa. The several-day incident brought in its wake over 150 reported protests across the Tibetan plateau (Barnett 2009), several months of curfew and police searches in Tibetan homes in Lhasa, imprisonments, and greatly increased surveillance across the city and in Tibet at large. These trends were at first accompanied by a short-lived resurgence of critical writings, artwork, and songs by Tibetans in the PRC. In August of that same year the Olympic Games were held in Beijing, and the world's eyes fixed on how well China was doing with its human rights record, its reputation in this domain having suffered badly due to the state reaction to the Tibetan protests in March. Prior to the opening, the Olympic torch relay had encountered street protests throughout the Western world challenging China's hosting of the games, citing among other issues the violent crackdown on the Tibetan protests in March and afterward. When the Olympic flame passed through the TAR shortly before the games, there were no more protesters to contend with, as a violent state apparatus had successfully paralyzed and numbed Tibetans in the city.
In October 2008, I briefly visited Lhasa, where I experienced in and around the Barkor and much of the city a silence very different from my earlier stays and memories of the Barkor's bustling and noisy joie de vivre, characterized by Buddhist devotion mixed with shopping and socializing. Walking the kora, I had to step aside every fifty meters as fully uniformed soldiers with machine guns and shields patrolled the street in a counterclockwise direction, against the movement of Tibetan Buddhist worshippers and locals using the area. The roofs of most surrounding buildings held armed soldiers, and an evidently increased number of security cameras were affixed to buildings, both adding to a sense of profound unease. Since then, with few exceptions (Yeh 2013), few researchers have been able to report on events in Lhasa and elsewhere in the TAR, let alone do substantial, long-term anthropological research there. A further sad development has been that by May 2016 over 145 Tibetans had immolated themselves across the Tibetan areas of the PRC, in addition to eight in exile (see McGranahan and Litzinger 2012).
Since 2008 almost all international NGOs previously engaged in the TAR have ceased work, as they are no longer permitted to renew their contracts and agreements. One apparent exception is the Swiss Red Cross, the only international NGO working mainly in Shigatse Prefecture. However, while working on a draft of this book, in April 2015, I was notified that even this internationally acclaimed humanitarian organization has been forced to leave, after almost thirty years of work in Tsang, after its contract was not renewed, despite the backing and close collaboration of its local partner, the Shigatse Red Cross. This trend has spread to Amdo and Kham in eastern Tibet, which had been more liberally administered. Many of the international NGOs supported rural health care and aspects of Tibetan medical practice as part of primary health care in the TAR. The ways in which national and international politics can adversely affect health care provision at a local level on the margins have been featured throughout the book. They have also been experienced firsthand, as I carried out research there, and as we can see all too clearly, they persist up to the present day.
The senior Tibetan amchi, Yonten Tsering, two students from his home village, and I discussed renovating the Térap Medical House and reinstalling a Tibetan medical clinic there. The two students, one a Pelshung graduate and both at that time in the last year of BA degrees from the Lhasa Tibetan Medical College, planned to learn practical skills from the elderly doctor, especially in diagnosis, external therapies, and medicine preparation. The aim was that after some months they would take full charge of the clinic, working independently from the senior doctor, their monthly income paid by small medical fees, a foreign sponsor, and donations from affluent Tibetans. The clinic would serve the immediate population of the valley (approximately two thousand people), as well as those from adjacent areas. My job was to raise the funds, in which I had succeeded by early 2010. As the renovations were about to begin and plans were made for the amchi's stay in the village and the clinic and some related health outreach activities, the two students backed out of the project. This was perhaps coincidental, perhaps not. The state was discouraging Tibetans from working for the handful of international NGOs that had remained in central Tibet after the protests, and it is likely that the young doctors-in-training realized that future involvement of foreigners in Tibet was uncertain. And from all we know, they were right. This may even have been the advice of Yonten Tsering, himself a retired government employee. Whatever the reasons, after our initial disappointment, we were happy to hear that both graduates had found government positions, one in a county hospital and the other in a township clinic. This will ensure they receive a steady income, associated pay raises, and health care and social benefits.
BEGINNINGS, ENDS, AND HOPES
This latest chapter in the biography of Térap House and its medical work could be seen as contradicting an argument pertaining to local marginal amchis' agency. Wider pressures and concerns direct and limit the course of Tibetan medical practice. The two young doctors work instead in government clinics, no doubt relying mainly on whatever biomedical knowledge they have gained; they employ some Tibetan medical diagnosis but predominantly prescribe biomedical treatments: tablets and the famous cure-all of the chutam, intravenous drips with a range of antibiotics, hormones, and vitamins, popular across Tibetan areas and the PRC. No Tibetan medical pills are available there for their use, excluded as these medications are from the government insurance scheme and otherwise unaffordable for most local people. In 2014–15, however, there has been a slight shift in official policy so that some Tibetan medicines are now eligible for reimbursement via the NCMS, some even having been declared essential medicines, although the kinds and numbers vary across different provinces.
Yonten Tsering died in the summer of 2012, at age seventy-three. He did not manage to pass on his comprehensive medical knowledge and skill, even though he kept teaching Tibetan medicine modules at Shigatse Vocational Health School until shortly before his death. These classes certainly inspired an interest in further Tibetan medical studies for some but hardly provided students with the ability to apply Tibetan medical diagnostic and therapeutic skills. Yonten Tsering had written a handbook for rural doctors and health workers, and although it has yet to be published, as he kept saying, this will remain beyond his physical death. Also remaining in his Shigatse house, on the side of the altar in a statue of Chenresik, the Bodhisattva of Compassion, are the ashes from his cremation. The Medicine Buddha statue that had been the center of the altar during all the years I visited the house, however, was donated to be interred in the newly built stupa in Gye Village. Perhaps Yontan Tsering and his family thought his home village, which still lacks a clinic, is where the Medicine Buddha's powers to heal would be most in demand.
In common with earlier policies restricting Tibetan cultural expression, the restrictions that followed the March 2008 events will fail to completely determine how Tibetans provide health care of one kind or another, or how they are able to otherwise express their agency and obtain health care. The last I heard from Tashilhunpo Clinic was that they were still making Tibetan medicines, in a practice that runs parallel to GMP-accorded factories and that is now understood by Tibetans to fall within a PRC-wide law that regulates the so-called medicine preparation houses (C. yiyuan zhiji shi)—that is, the on-site production of medicines that are sold only by the associated doctors and not marketed elsewhere. Moreover, even large commercial factories have returned medical production for their noncommercially used medicines to the older, non-GMP-compliant buildings as the costs of production there are much lower (Saxer 2013).
Several Pelshung graduates have since earned the Tibetan Medical College's kachupa degree, thereby legitimizing their medical work. Jampa Trinlé, the highly respected retired director of the Mentsikhang, has also died. His many writings, especially the biographical Recollections, are now important sources for rethinking both the trajectory of the Lhasa Menstikhang as well as the writing of biographies and life writing on and by leading Tibetan government cadres (cf. Henrion-Dourcy 2013; Hofer 2013).
A knowledgeable amchi in his fifties resides in the township where one of Yonten Tsering's students, Tashi Tsering, now works. He makes his own medicines and practices Sowa Rigpa at home (figure C.2), his main employment being as a biomedical township clinic health worker. I am curious to see whether Tashi Tsering will take up study with the older amchi, to benefit from his skills. Will this doctor's expertise die with him, or live on—who knows—in some of the future work of the new township doctor?
How much I will continue to hear of that young doctor's future work and life remains to be seen. The many political changes over the past years have had profound effects on previously active and fruitful research collaborations of European and US universities with Tibetan institutions. It is yet unknown and will perhaps remain unknowable whether I or others will be allowed to return to rural Tsang, to have the chance to again spend extended periods of time with the practitioners and their associates who helped me learn and convey the substance of this book. Yet one thing is certain. As long as Yeshe Lhamo, Yontan Tsering's wife, is physically able to, she will go on her morning kora around Tashilhunpo Monastery, take a break in a local teahouse, and then do a second kora before heading home by midday.