UNDER a clear autumn sky, Amchi Yonten Tsering and I were chatting in his Shigatse courtyard in the morning sun when the first patient of the day knocked on the front door. An elderly monk was let inside, accompanied by a younger colleague. We exchanged a few words and found out they were from nearby Tashilhunpo Monastery, the seat of the reincarnated line of the Panchen Lama and today the home to some four hundred monks. The sixty-seven-year-old doctor Yonten Tsering suggested going inside the house to "look at illness" (natsa taya), his way of referring to a medical consultation.
"What ails you?" he asked the monk, by then seated in the family living room.
"My heart [nying]. I am told I have high blood pressure [trakshé tobo]."
The doctor reached for his manual sphygmomanometer to take the monk's blood pressure. He noted the result in his case records before going on to feel the patient's pulse on both wrists with three fingers at the tsön, ken, and chak points, pressing differently over the radial arteries on each. This was one of my favorite moments in consultations: when practitioners seemingly disappeared into themselves and their patient, picking up subtle but sure signs from within the body that elude those untrained in their recognition and interpretation. Yonten Tsering inspected the monk's eyes and tongue, then pressed on the crown of his head, a location used to test for pains related to the wind nyépa (or force) in the body. Yonten Tsering interpreted the monk's evident discomfort at this as a critical sign of the underlying condition. After a few more questions, the resultant diagnosis voiced to the patient was lungné, a "wind disorder." "But," the doctor assured him, "it is not too bad, and the medicines will help you." He instructed the monk to continue with the Tibetan medicines he was already taking, adding to those three from the amchi's own stock. These, he explained, should be taken for forty-five days and be complemented with the external therapy of hormen. The latter consisted of a small cotton bag containing partially crushed nutmeg, caraway seeds, and roasted barley flour (tsampa), which was to be applied on certain points on the body. Yonten Tsering gave homemade samples to the younger monk, instructing him to make more and warm the hormen bags in hot oil or butter, then massage and press them onto several points on the body of the elderly monk every evening: one on the top vertebrae of his back, one on the sternum, and two others on the head. Seamlessly, the medical encounter then shifted into convivial conversation over cups of tea that Yonten Tsering's wife, Yeshe Lhamo, had served us. A bit over half an hour after they had first arrived, the monks left without any money having changed hands. Then I turned to Yonten Tsering with my questions.
KEY QUESTIONS AND TOPICS
This book offers the first full-length ethnography of Tibetan medical practitioners in central Tibet working outside the well-documented Tibetan medical institutions in Lhasa, including the Mentsikhang, Tibetan Medical College, and TAR Tibetan Pharmaceutical Factory. I recount and analyze their medical work and personal trajectory over the past decades, taking readers to the various places where Tibetan medical doctors, also known as amchi,1 like Yonten Tsering, lived and worked, mainly in rural settings in Tsang and in Shigatse Town. The region of Tsang, which comprises much of western and central Tibet, was administered prior to the 1950s by the Tashilhunpo Labrang, the seat of the Panchen Lama in Shigatse Town. Together with Ü, or the "center" (i.e., the eastern parts of central Tibet), Ü-Tsang had been ruled by the Dalai Lamas since the mid-seventeenth century and enjoyed de facto independence from 1913 to 1951.2 After the occupation of central Tibet by the People's Republic of China in 1951 and upon the formation of the Tibet Autonomous Region (TAR) in 1965, Tsang became a part of this province and the TAR one of five provinces of the People's Republic of China (PRC) with major Tibetan populations. While Tsang has remained an important political and geographical unit in central Tibet, it is now administered under Shigatse Prefecture, still with Shigatse Town as its capital but with most political matters decided in Lhasa or Beijing (see map 1).
Tibetan medicine as practiced by local doctors in Tsang has been both interconnected with and separate from Tibetan medicine as portrayed in official textbooks and previous anthropological work. This study departs in four major ways from extant ethnographies and available scholarship on the twentieth-century history of Tibetan medicine.
First, it offers accounts of amchi who were not part of the Tibetan state-supported medical structures that were incorporated during the 1950s into the new PRC socialist health care system, even if some of them later joined it. It specifically inquires into these practitioners' experiences and negotiation of socioeconomic and medical reforms. This allows the reader to trace events and narratives of the Communist socioeconomic reforms from a substantially different perspective: that of people who by choice or by force remained outside the official health care system as they worked on the margins (geographical and otherwise) of the Tibetan and, subsequently, the PRC state. So far, for reasons of difficult research access and the power of state institutions in the writing and representation of history, these perspectives have been absent from most local, national, or foreign accounts.
Second, it draws on the evolving literature addressing memory and oral history in socialist and postsocialist contexts as well as some of the wider literature theorizing the intersections of anthropology and history, and of current lived realities and their recent, often violent, past. The book analyzes marginal amchis' accounts not only in terms of the opportunity they offer to expand and question the central institutional and nationalist accounts, but also to actively and critically inquire into the social and political dynamics and processes that influence and determine all memory and history.
Third, by consistently addressing gender, I tackle the lack of understanding of gender in Tibetan medicine in the period under discussion. This volume offers analytical tools that allow inclusion of more women in the study of Tibetan medicine and comparison of their lives and work with those of men, fostering a more nuanced appreciation of how the reforms impacted men and women in different ways. It thus speaks to a different subaltern history of Tibetan experience.
Fourth, this work demonstrates how amchis outside the major state-sponsored institutions have continued to contribute in significant ways to the survival and continued transformation of Tibetan medicine into the present day. Through their negotiation of and agency within the often harsh and violent reforms and a delicate maneuver within the new regime, Tibetan medicine began to be revitalized in the early 1970s. Some aspects of classical literature were republished and swiftly refashioned to serve the needs of the state as well as the amchis' patients. This transformation took place much earlier than in other domains of Tibetan culture and made Tibetan medicine an important health care resource for Tibetans throughout the 1980s and 1990s, and one of the strongholds of Tibetan culture, language, and local economy in contemporary China.
BASIC ELEMENTS OF TIBETAN MEDICINE
Tibetan medicine is not a continuous, unchanging entity, either in terms of who practices it or in the way it is theorized and applied. There is, however, a set of core principles and practices that have weathered the storms of historical change and the continuous adaptation of Tibetan medicine. Some of these principles were still drawn on and variously interpreted by the people I worked with in Tsang.
Many of the theoretical and empirical principles of Sowa Rigpa—Tibetan for science or art of healing3—are founded upon Buddhist philosophy translated into a theory that understands the human body, mind, and spirit as a continuous interaction between macrocosm and microcosm. This takes place mainly through the interplay of the "five elements," or jungwa nga, and most significantly, the nyépa sum. The nyépa sum are lung or wind, tripa or bile, and béken or phlegm. In Tibetan, nyépa, much like the Indian doṣa (Maas 2007/8), literally means "fault." However, a common translation has been "humor" (Gyatso 2005/6),4 which is problematic mainly because in Tibetan medical theory the nyépa sum are directly linked to the three poisons (duksum)—desire (related to wind), anger (related to bile), and ignorance (related to phlegm)—which form the core of Buddhist philosophy and morality and in Sanskrit are referred to as kleśa. Taking this together with a broader idea of the nyépa in Tibetan medicine, and to preserve the multivalent meaning of the Tibetan term, I use the Tibetan term here, or the "three forces."
The five elements—earth (sa), water (chu), fire (mé), air/wind (lung), and space (namkha)—form the basis of the three nyépa, air and space forming lung, fire forming tripa, and earth and water forming béken. Similar to the five agents or five phases of Chinese medicine (which include wood and metal instead of air and space), the five elements are cosmo-physical elements in constant flux, immanent in the universe and fundamentally of the same nature inside and outside of the body. In Sowa Rigpa theory, health of the body/mind/spirit and human physiology is described as a state of balance among the five elements and hence the nyépa. If such balance is lost and a person falls ill, the amchi makes a diagnosis using the three principal diagnostic methods of ta rek dri. The first of these is a visual examination of the patient—in particular, the inspection of urine and the tongue, as well as general observation of body shape and color. The second is the palpation of the pulse, and the third is the questioning of the patient (Meyer 1995: 132–35).
Although all illness is ultimately attributed to imbalance of the nyépa (in essence the five elements), this does not prevent amchi from having a sophisticated understanding of human anatomy, physiology, and various kinds of channels (Garrett and Adams 2008; Meyer 1995; Parfionovich, Dorje, and Meyer 1992), as well as names for hundreds of specific disorders. Amchi deal with such discrete afflictions as wounds, swellings, or demonic attacks, as well as diseases related more directly to all three, two, or one of the nyépa sum. Treatments in Sowa Rigpa vary and may include behavioral and dietary change, the use of medicines in the form of powders and pills, or external treatments such as massage, bloodletting, and moxibustion. Ritual, prayer, the ingestion of blessed pills, the burning of incense, and the wearing of amulets are also potential therapeutic resources, and Tibetans, like most other human beings, arrange their lives in light of broader cosmological and philosophical considerations.
The Four Treatises is the core text of Tibetan medicine, thought by many Tibetan doctors to have been taught by the Medicine Buddha (Sangyé Menla; see figures I.1 and I.2). There has been much debate on the authorship of this work, which dates to the twelfth century (Yang Ga 2014) and contains fundamental theories of medicine, descriptions of practical application, and instructions on ethics for practitioners. It takes the form of a series of questions and answers between the sages Yilekyé and Rikpé Yeshé—a format similar to other classics of Asian medicine. Its divisions, the Root Treatise (Tsagyü), the Explanatory Treatise (Shégyü), the Oral Instruction Treatise (Menngakgyü), and the Last Treatise (Chimagyü), are all still studied by medical students today and memorized to varying degrees, usually with the least emphasis on the Oral Instruction Treatise, which is the largest of the four volumes. From the fourteenth century onward a number of commentaries have been written on the Four Treatises, most often referred to as drelpa.5 In the seventeenth century a set of medical paintings or thankas (thang kha) were created under the auspices of Desi Sangyé Gyatso, which provide a visual illustration of much of Sowa Rigpa theory and practice.6 Many influences from outside Tibet have at various stages been incorporated into the repertoire of Tibetan medicine, and practitioners continue to use the Four Treatises and its commentaries as well as new methods.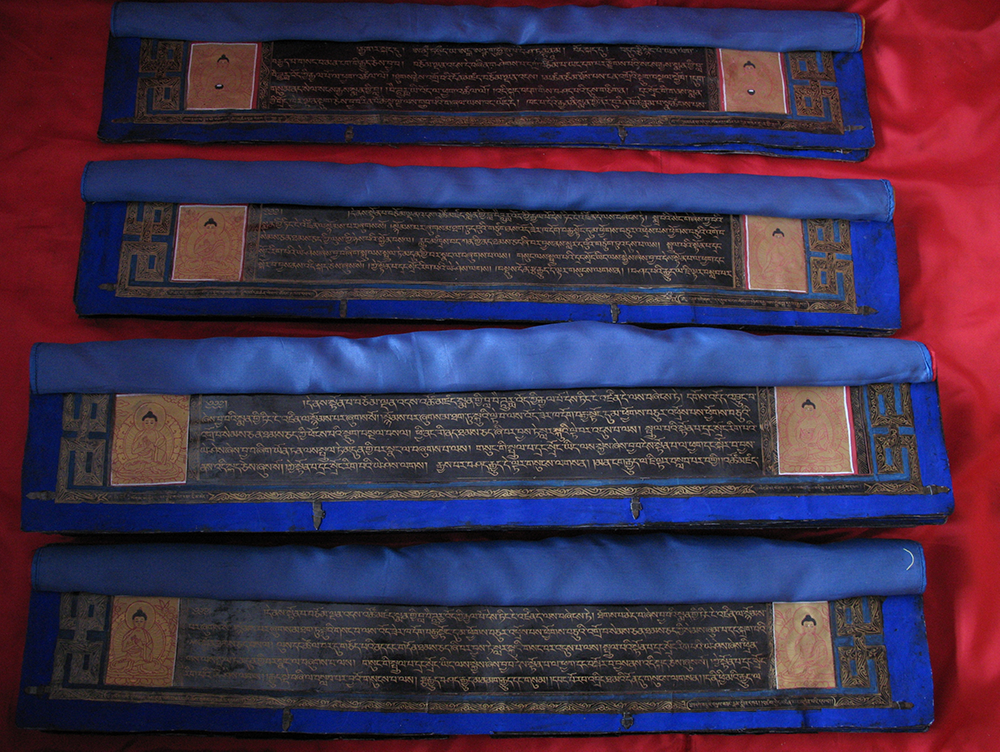 TRANSFORMATIONS OF TIBETAN MEDICINE
There is little doubt that the way Tibetan medicine is practiced in contemporary Tibet has been greatly affected by the various reforms that followed the occupation and integration of Tibet into the People's Republic of China. How these transformations have been depicted and represented, we can state with certainty, has been influenced, like the broader historiography of modern Tibet, by the agendas of the opposing governments of Tibet: that of Tibet proper (within the People's Republic of China) on the one hand and Tibet in Exile (the Government in Exile based in Dharamsala) on the other. Their stances, as befits their political interests, are usually on opposite ends of the spectrum. The key players in the writing of Tibetan medical histories since the 1950s have included Chinese scholars and current and former Tibetan staff of the two foremost institutions of Tibetan medicine: the Lhasa Mentsikhang inside Tibet and this institution's exile manifestation, the Men-Tsee-Khang, established in 1961 in Dharamsala (Hofer 2011d: 101–37).7 Their accounts have also played a key role in the dominant academic narrative on Tibetan medicine in this period.
Pioneering work by the anthropologist Craig Janes (1995) has been crucial for understanding major events in the twentieth-century history of Tibetan medicine inside what is now the People's Republic of China. It is focused mainly on the central Tibetan region of Ü-Tsang, the area that we consider here, by contrast to the eastern Tibetan regions of Kham and Amdo. Based on political histories, interviews with TAR officials and senior doctors at the Lhasa Mentsikhang and one of its branch hospitals, as well as extensive fieldwork, Janes analyzed the history of Tibetan medicine in the twentieth century according to five broad historical periods (1995: 12–22).
Between 1913 and 1951, during the de facto independence of central Tibet (including Ü, Tsang, and Ngari, all more or less firmly under the control of the Lhasa government), professional, elite Tibetan medical practice expanded through the establishment and teaching activities of the Mentsikhang, the Institute of Medicine and Astrology in Lhasa, founded in 1916. In contrast to the monastic medical college in Lhasa, the Chakpori (established in 1696), the Mentsikhang's mission was to recruit students not only from among the monks but also from the lay aristocracy and the Tibetan army. In the 1920s, thanks to support from the then head of the ecclesiastical branch of the government, physician Jampa Tupwang, and the Thirteenth Dalai Lama as head of the Tibetan Ganden Phodrang government, this institute spearheaded reforms such as a child health campaign based on indigenous medical and astrological ideas and practices. In this period, privately trained and practicing lineage physicians, who according to Janes were associated with the secular aristocracy in Tibet, provided treatment in villages and pastoral communities. Other professionals practiced medicine as a sideline and gained from it a small income.
The decade from 1950 to 1959 was the only one in which Tibetan and Chinese Communist governing structures coexisted in Lhasa, and Janes describes this as a phase of "consolidation" of Tibetan medicine. Due to the "united front" policy of the time—a Communist strategy to win over Tibetan and other ethnic minorities' elites and make them favorably inclined toward socialism, communism, and PRC nation building—Mentsikhang staff encountered a certain respect from incoming Chinese cadres, who through their engagement with the Mentsikhang aimed to show support for the health care offered there as well as demonstrate the new regime's respect for the Tibetan nationality (C. minzu). The ethnic identification project was in full swing at that time, and large cohorts of ethnologists and cadres had been employed to define ethnic groups in China, so that they could be successfully integrated and controlled as part of the PRC.8
The period from 1959 to 1966 was, according to Janes, "a time of cautious growth," even though the second most important medical institute in Lhasa, Chakpori, was destroyed in 1959 and many of the government-employed doctors imprisoned. After a decisive meeting in 1961, the Mentsikhang gained full-scale financial and logistical support from the Communist authorities in Lhasa. Under the leadership of Jampa Trinlé, who as an early Tibetan CCP member was well versed in working the new system, the institution diversified the outpatient care it had already begun to streamline in the 1950s. The institution was now organized into several departments and in 1963 began to train students again, which had been its core mission up to 1959. Mentsikhang staff were sent out to provide medical care in rural areas surrounding Lhasa. However, at the height of the Socialist Education Movement (SEM, 1963–66), teachers were less respected and students and teachers were "sent down" to the countryside (C. xia xiang), to engage in farm labor alongside the masses.
China's Great Proletarian Cultural Revolution (1966–76) included a nationwide purge of so-called counterrevolutionaries, who were thought to infect the literary, artistic, and scholarly elites in particular. Along with other established cultural and scientific institutions, the Mentsikhang was attacked by Red Guards, its scholars and staff dispersed and struggled against. All students and most staff from the Mentsikhang were ordered to rural areas to work on the land. Meanwhile, much of the institution's library and many Buddhist statues and paintings were destroyed by Red Guards, as well as almost all remaining Tibetan medical doctors' homes and monasteries. According to Janes, "By 1973 Tibetan medicine as an institution had virtually disappeared" but at the same time began to be recognized for its potential to provide health care in rural areas.
Janes characterizes the period after 1980 as one of Tibetan medicine's "legitimization and expansion," as, following Mao's death in 1976, Deng Xiaoping ushered in nationwide open-door policies, which in due time led to a relaxation of central government attitudes toward traditional culture and religion. Doctors who had been "sent down to the countryside" in the previous decade were invited to work in the official healthcare system. Some were retrained due to poor standards of medical education in the earlier decade, and the teaching of new cohorts of students began. Some severely punished doctors were officially rehabilitated. These developments were accompanied by increased (and ongoing) infrastructural investments in the hospital, college, and pharmaceutical factory of the Mentsikhang.
After the publication of Janes's article in 1995, his works have included more recent developments, such as the start of the privatization and commodification of Tibetan medicine as economic liberalization initiatives from the mid-1990s gained momentum (Janes 1999a, 2002; discussed in chapters 5 and 6).
Janes's original article provided a rough outline of developments that shaped Tibetan medicine mainly at the Lhasa Mentsikhang, the central Tibetan medical institution in Tibet, in the context of developments in modern China. The article served as a historical introduction to his analysis of Tibetan medicine's contemporary role in health care for Tibetans at that institute and its branch in Tsethang, near Lhasa. Nevertheless, researchers of Tibetan medicine consider it a key reference, not only for how Tibetan medicine fared at the Lhasa Mentsikhang but, by extrapolation, for Tibetan medicine's overall trajectory under socialist reforms in central Tibet and other Tibetan areas of the PRC. While the Mentsikhang was undergoing these changes, more complex things were happening among Tibetan medical practitioners in places where the influence of the central Tibetan medical institutions was limited.
Little is known about how Tibetan medicine practitioners outside the government-backed institute fared during the implementation of reforms and how their role contrasted with that of practitioners of Chinese medicine in the rural PRC. Even in accounts that deal specifically with noninstitutional amchi, there is little in-depth information.9 Memories of the past and current work of a small group of amchi studying and working outside the central Tibetan and later Chinese-funded government institutions in Lhasa form the subject matter of this book. Together, these amchis' memories and practices demonstrate how the historiography of Tibetan medicine since the 1950s has been hijacked by the central institutions of Tibetan medicine and state-appointed writers.
My approach takes inspiration from the subaltern studies movement, which since the 1980s has stimulated new approaches in the social sciences and humanities. It prioritizes perspectives from nonelite groups and aims to "rescue" history from the "nation," which typically produces singular narratives from a position of centralized, often colonial, power and hegemony.10 This text thus also remedies somewhat the stark absence of subaltern scholarship in Tibetan studies (P. Hansen 2003), as much as it adds to recently emerging work on the diverse and often uneasy relation of marginal areas and people in the Chinese Tibetosphere with its various centers of political, religious, or sociocultural power and influence.11
MARGINS AND CENTERS OF TIBETAN MEDICINE
The three generations of amchi from Tsang represented here were born between the 1930s and the 1990s. Some of them are now in their eighties, others in their midtwenties, and some of my elderly interlocutors have passed away since completion of this research. Despite their internal differences and the ways their practices have changed over time, they share one characteristic: they have all been marginally involved with or influenced in their work by the "center." The center here is primarily defined as the Mentsikhang in Lhasa, the foremost central Tibetan medical institution of the first half of the twentieth century. Since the Mentsikhang was part of the secular branch of the Tibetan government, it was integrated into the new PRC bureaucracy but never completely shut down, even during the harshest reforms. After the 1980s it expanded into three branches concerned with training Tibetan doctors (the Tibetan Medical College), doing clinical work (the Mentsikhang out- and inpatient wards), and producing Tibetan medicines (the TAR Tibetan Pharmaceutical Factory). For a century this institution has shaped practitioners' training, as well as clinical and pharmaceutical standards, and in the PRC it is often seen as Tibetan medicine's traditional flagship institute. It has attracted considerable attention from anthropologists focusing on medical work at the outpatient department (Janes 1995, 1999a, 1999b, 2002), the women's department (Adams 2000), so-called integrated medicine (Adams and Li 2008), the first double-blind clinical control trial of a Tibetan drug (Craig 2012, 2013), and medicine production (Saxer 2013; Adams and Craig 2008).
Mentsikhang and Tibetan Medical College teachers and professors have written authoritative histories of their institutions and biographies of famous doctors, often associated with these establishments (Trinlé 2000, 2006). They have also produced textbooks on which college students are examined, which report mainly on the history of the Mentsikhang and are highly inflected by political rhetoric (e.g., Trinlé 2004).
In contrast to such practitioners, the amchi described here were trained either in their own families, at a nearby monastery or nunnery, or by an itinerant teacher. With few exceptions, they have not trained or worked in Lhasa.
Since any government policy, either of the Tibetan or the PRC government, is first implemented at the Mentsikhang in Lhasa, the institution can be seen as a barometer of legitimacy for the kinds of practices and ideas that either of the two governments saw as worthwhile to their respective political projects. Since practitioners on the margins fell largely outside the sphere of influence of the Mentsikhang, they were outside the direct control of the Mentsikhang or any other central organ of the state through the 1950s. They came under the orbit of the PRC state only during the period of intensified reforms that began in the 1960s, when the center and central politics and policies became more influential than ever. At that time, for the amchi I worked with, the center was no longer a vague, distant entity, with a few tax collectors and administrators making their appearance. It began to enter the most private affairs of the home and the Medical House, and the everyday routines and organization of monasteries and nunneries. At first the new authorities showed little concern over Tibetan medical practice per se but much concern over the amchi practitioners' class status. They also worried that Tibetan medicine was tied to religion, in Marxist parlance an opiate that dulled people's perception of their exploitation. And yet, at least partly, it was seen as scientific, and hence selected practitioners were allowed to work with Sowa Rigpa.
Despite the differences in social status, government involvement, and the physical and geographical terrain in which medical work took place, margins and centers are not conceived of here as neatly bounded and oppositional spheres of practice or historical trajectories. Rather, this larger framework is a tool for exploring the dynamics of medicosocial practice on the margins, how norms and shifting legitimacy and authority from the center were conveyed to and negotiated there, and whether and how they differed. These margins have at times influenced medical practice at the center.
Margins and centers of Tibetan medicine in the 1940s and 1950s in central Tibet prior to the reforms can be considered in terms of a "galactic polity," a framework developed for South Asian states by the anthropologist Stanley Tambiah (1976, 1985), later adapted for the Tibetan context (Samuel 1993: 62). Anthropologist Geoffrey Samuel holds that Lhasa was an important political and also religious center in Ü-Tsang, yet several other major regional centers also existed, for instance Sakya and Shigatse, in the region traditionally known as Tsang. Shigatse was the base of the Tashilhunpo Labrang and Monastery and historically the home of the reincarnated line of the Panchen Lamas, second only to the Dalai Lamas, while Sakya was home to one of the schools of Tibetan Buddhism, as well as the seat of its political leaders.
Family medical practitioners and medical houses as well as monastically trained amchi in monasteries and nunneries in Tsang were often connected to and influenced by these regional monastic, medical, and political centers; the practitioners and institutes of the Mentsikhang and Chakpori in Lhasa were largely inconsequential to the way Tibetan medicine was practiced there. Most of my fieldwork was carried out in Ngamring County, supplemented by work in Shigatse Town and selected places in Lhatse, Rinpung, Sakya, and Thongmön Counties (see map 2).
There was also a great difference in the social roles and lived lives of amchi on the margins and at the center. While rural amchi were intimately embedded in the social order of Tibetan village life, Mentsikhang and Chakpori graduates often served government functions, for instance serving as personal physician to the Dalai Lama or other religious or political hierarchs, or working as lay doctors in the newly formed Tibetan army.
Central, regional, and dispersed sociopolitical, religious, and medical authorities were called into question when Communist reforms began in earnest in central Tibet and Tsang in 1959–60. During the in-between phase of the 1950s, when Tibetan and CCP governing structures existed side by side for some time, Beijing had arisen as a new and distant, yet ever more politically powerful, center for Tibet and Tibetans. The capital did not yet exert any major influence where most Tibetan amchi worked, in the Medical Houses, monasteries, and nunneries. Government medical teams from China proper were sent to Lhasa and larger towns in Tsang, but no formal medical infrastructure had been established. That began to change as biomedical clinics were built in county seats during the early 1960s. At the same time indigenous medical work was slowly delegitimized with the increasing socioeconomic reforms, class struggle, and finally direct attacks by the Red Guards.
The China-wide barefoot doctor campaign began to reach marginal areas in the early 1970s, and the influence of central state medical authority reached a new pervasiveness in rural Tibetan areas, a result of Mao's stress on rural areas in medical work and linking the barefoot doctors' work to the communal Cooperative Medical Services (CMS). Yet, in contrast to the policy in China, the barefoot doctors did not include Tibetan medical compounds or remedies on the system's own terms, but only advocated some Tibetan materia medica for use in Chinese medical remedies. From Mao's death in 1976 until the early 1990s, a slightly more advanced health care infrastructure was put in place, in which Tibetan medicine was officially relegitimized at the county and township levels but only as an adjunct to biomedical services. From 1994 onward, under TAR party secretary Chen Kuiyan, economic liberalization took hold in the TAR (Barnett 2003). At this point the state began to absolve itself of responsibility for the "health of the masses" on the margins. This trend and the increasing difficulties encountered by rural populations in affording health care have been only slightly curbed by the implementation of a new insurance scheme in 2003, the New Cooperative Medical Services (NCMS), which partially subsidizes state biomedical care but not Tibetan medicines. Various amchi have innovated to meet the challenges of providing rural primary health care, particularly the rising prices for Tibetan medicine in a competitive market-driven environment. Elderly doctors travel to remote villages on a regular basis to offer free health care, and the Tashilhunpo Medical Clinic continues to produce its own medicine to keep prices down, espousing a moral economy to meet the crisis of medicine. More recently, practitioners move within, across, and between centers and margins, reflecting major infrastructural developments that have taken place in rural Tsang and Tibetan areas more broadly (Yeh 2013; Fisher 2013).
MEMORY, ETHNOGRAPHY, HISTORICITY
Befitting their social positions and lives in often-remote villages in Tsang, amchis and others remember the past quite differently from the way it is written in official historiography of Lhasa. The memories of Yonten Tsering, for example, are not written records but recollections and stories told in everyday life, shared with his patients, his students, and myself. I compare his recollections with those of other amchi, their families, and other members of the community, who—despite having a status in Tibet's pre-1959 society similar to that Yonten Tsering—were often less fortunate and experienced more pronounced violence and forced social transformations. How should we understand such differing accounts? And in what ways do the social and political realities surrounding these stories and memories influence them? Were they used strategically? How do they compare with official accounts?
Anthropologist Michel-Rolph Trouillot's ideas about history are useful for considering such contradictions. He posits that there are "two sides of historicity": the "sociohistorical process" and the "narrative construction about that process" (1995: 22–29). By focusing on the process and conditions of the production of narratives, we can uncover how the two sides of historicity overlap and thus discover the differential exercise of power that makes some narratives possible while silencing others (25). The Chinese saying that "history is written by the victors" sums up at least some of Trouillot's observations, and both optics are pertinent.
In China's Tibetan Medicine, Zhen Yan and Cai Jingfeng of the China Institute for History of Medicine, Beijing Academy of Chinese Medical Sciences, write:
In 1951, Tibet was liberated peacefully. Since then, the history of Tibetan medicine has written a new chapter. Although there was a glorious past in the ancient period with marvelous achievements, in a society based on feudal-slavery as was Tibet, all the attainments in science and technology, including medical science, were the property of the ruling class, who were also the beneficiaries, while the poor had no access to the medical arts.
After 1951, conditions changed a lot. Radical changes occurred in Tibetan medicine, whose goal became to serve the vast masses. The old medical institutions underwent thorough change.
As an integral part of Chinese medical treasures, Tibetan medicine was well inherited and developed. (2005: 33–34).
Jampa Trinlé, longtime director of the Mentsikhang in Lhasa, writes in a college textbook for Tibetan medical students widely available in Lhasa bookshops:
In the Iron Rabbit year, 1951, Tibet was peacefully liberated. Particularly, since the 3rd session of the 11th local assembly, Communists and all representatives in government respectfully recognized the Tibetan medical science as a very important shiny jewel of the medical treasure house of China [mes rgyal]. In order to continue the practice, to explore, to collect and to develop the traditional Tibetan medical science, the representatives drafted a series of resolutions on the system of Tibetan medical science and approved it as the way forward for all related activities. (Trinlé 2004: 133)
In contrast to these writings from within the PRC, Tibetans in exile describe the phase after the occupation of Tibet as a catastrophe for Sowa Rigpa institutions and medical practitioners. According to the foreword to a recent English translation of the Four Treatises,
Tibetan medicine, as a whole, flourished in all aspects until the devastating Chinese invasion of Tibet in 1959 [sic]. After the Chinese annexation, Tibetan medicine and all other aspects of Tibetan culture and religion were immeasurably affected. The Chagpori Medical School in Lhasa was completely destroyed by the Chinese during the Tibetan uprising against Chinese domination in 1959. Vast quantities of medical literature were burned and practitioners of Tibetan medicine were tortured, imprisoned, and persecuted. Thousands of Tibetans, some of them physicians, followed His Holiness the Fourteenth Dalai Lama into exile in 1959. In exile, Tibetan medicine first spread in India and Nepal, and then gradually to the West. (Men-Tsee-Khang 2008: xiv)
These examples represent the vastly opposing political stances on Tibet taken by the PRC state and the exile government. Narratives from ordinary Tibetan medical doctors not only make our understanding of the history and practices of Tibetan medicine more complete but also demonstrate the political purpose of the official histories and, equally important, that of its numerous silences and acts of forgetting.
While state discourses, such as those reverberating in the writing of the late Jampa Trinlé or Chinese writers Zhen Yan and Cai Jingfeng, draw largely on the episteme of a Marxist evolutionary history, the memories of the doctors I worked with derive from epistemes that intimately connected to their everyday lives and their communities in Tsang. The latter are expressed in memories, going beyond the mere spoken word. Recent scholarship in anthropology that theorizes the intersection of ethnography with history, for example, is useful for broadening the kinds of links people make among pasts, presents, and futures (Hirsch and Steward 2005). Other relevant forms of the amchis' engagement with the past are visible in aspects of material and immaterial culture and through the embodiment of the past in medical practice, such as the doctors' "looking at illness" and the preparation of medicines.
Individual and collective memories expressed in conversations and interviews are revealing, such as the way one amchi from a high-class family repeatedly praised the CCP using stock phrases he had learned during the 1960s. He employed these phrases strategically to get projects approved and carried out successfully. This left me and others puzzled over whether such expressions of admiration were, as someone put it, from his "heart" or from his "mouth"—that is, whether they were deeply felt and meant or a necessity in the context of social or political pressure. Such narratives are interwoven and juxtaposed with several amchis' "oppositional practices of time," drawing on the concept first coined and developed by Eric Mueggler in the context of postreform social organization and ritual in a Lolop'o village (2001: 7).
Amchis construct and connect past and present by means of inherited books, instruments, and other aspects of their Medical Houses, including skills, knowledge, and authority that were often wholly or partially lost in the most extreme upheavals of the reforms. Memory practices are also evident in doctors' bodily techniques broadly conceived as the core of amchi's medical work, namely "looking at illness" (including feeling the pulse) and making medicines. These skills span years, sometimes decades, of accumulated experience and continued "enskilment" (Ingold 2000, 2011) and thus form a direct connection among the past, present, and future work of amchi.
Through such memory practices, whether repetition of slogans from the Mao era, feeling pride and longing in respect to aspects of the time before occupation, as expressed in "oppositional practices of time," or ongoing attempts at revival and continuity, this work reveals discrepant temporalities and alternative accounts of events and lives that the party state cannot allow to be expressed, let alone included in official histories. These memory practices also show up the silences in state discourses on Tibetan medical development since 1951: the disappearance and destruction of doctors' and Tibetan medical institutes' material and immaterial belongings, the demolition of Medical Houses and the Lhasa Chakpori in 1959, the devastation of many private and monastic medical libraries, and not least the physical death and deprivation inflicted on physicians in the wake of the reforms.
AGENCY, THE CHINESE STATE, AND DYNAMIC MEDICAL TRADITIONS
An important question is the extent to which the state or individual practitioners have been responsible for the survival or transformation of this medical system during the most intense phase of reform, namely the Cultural Revolution and the period that followed. It is a question that has been addressed with regard to Chinese medicine's trajectory.
Based on CCP policy documents, historian Kim Taylor (2005) studied Chinese medicine's role in the Communist Revolution between 1945 and 1963. She suggests that Chinese medicine, or what subsequently became Traditional Chinese Medicine (TCM), was not as much a continuation of the past as a deliberate distillation of ancient concepts according to the dictates of the twentieth century and the PRC state. Mao's famous 1958 statement that "Chinese medicine and pharmaceuticals are a national treasure house" came from the period studied in Taylor's work. She traces official CCP policies designed to transform the unruly diversity of Chinese medical lore into simplistic sets of knowledge and practice. These could then be put to use in their reduced and practical form for the newly mobilized masses, especially in rural areas, as well as for promoting Communism. In the process, medicine was cleansed of scholarly interpretations and theories, links to religious and spiritual practices, and the lineage authority from bygone days. This model would later be globalized and readily applied to diverse cultural and social circumstances (for example, for East Africa, see Hsu 2008), while still being perceived as an "ancient" knowledge system.
In this picture of the heavy CCP involvement in the transformation of Chinese medicine and the making of TCM, one can see the "invention of tradition" at work, in which cultural and political practices of supposedly ancient origins are invented to lend legitimacy to current holders of power (Hobsbawm and Ranger 1983).
Volker Scheid, an anthropologist and practitioner of Chinese medicine, shows in a study of practitioners of the Menghe current of medicine in southeastern China (2007) how the CCP's construction of TCM was neither unitary nor entirely successful. Instead of eliminating lineage affiliations and sophisticated scholarship and practice, the CCP project opened up an alternative sphere for Chinese medicine. Here much (medical) power remained in the hands of doctors who had the lineage affiliations, associated medical techniques, and social networks. This might be read as an argument against the top-down, all-encompassing "invention" of TCM.
Such studies reveal a complex picture of state and individual practitioners' agency in the transformation of Chinese medicine during the high socialist period and the reform era after Mao's death in 1976. But for Tibetan medicine, the current literature provides a less complex picture. There are highly politicized accounts and Lhasa-focused anthropological work, but work on Tibetan medicine during the Cultural Revolution is especially thin, represented in often short and contradictory notes. While Craig Janes holds that by 1973 Tibetan medicine as an institution had disappeared (1995: 20), Heather Stoddard notes that "medicine was the one domain of Tibetan traditional learning which was not completely interrupted by the Cultural Revolution" (1994: 141). Some of the more marginal amchis were able to negotiate rather than be wholly subjugated to radical state-led reforms. The CCP's creation of TCM and the spread of secularized Chinese medical techniques during the Cultural Revolution enabled Tibetan medicine to, in some cases, adopt revolutionary terminology and enable its practitioners to continue their work to a greater extent than other professions in Tibetan society. The core need for basic health care, especially in remote places with few alternatives other than reliance on the amchis, may also have contributed to the leniency.
This book also adds considerably to our current understanding of the actors involved in Tibetan medicine's revitalization and reemergence. Janes and Hilliard defined the Tibetan medical revival of the 1980s as a "restoration of the institutions of Tibetan medicine—the hospitals, clinics, and medicine factories—to their former integral position in Tibetan society" (2008: 35). They state that this accompanied a "'re-integrating' of Tibetan medicine into the public health and primary medical services." But when I expand the scope of inquiry to practitioners outside the institutions of Tibetan medicine, I find that the newly formed institutions of Tibetan medicine referred to by Janes and Hilliard were, in fact, only to a limited extent similar to institutions of Tibetan medicine found in the 1940s and 1950s, especially Medical Houses and monastic practices. The revitalization of Tibetan medicine, then, is far more than a top-down, state-led process pertaining to mainly government institutions; rather it is characterized by multiple agendas and actors with diverse projects.
GENDER
The intersection of gender with the political economy of Tibetan medicine in the 1950s and 1960s and through subsequent reforms is little understood. Only a handful of women working as doctors, such as Khandro Yangga and Lobsang Dolma Khankhar, are known from academic works (Trinlé 2000; Tashi Tsering 2005), and they practiced at central medical or Buddhist institutions in Lhasa or later Dharamsala. Focusing on the Medical House enables a better analysis of the social and economic situation of amchi and gender in Tsang in relation to wider political economy, revealing the circumstances in which women and men inherited medical knowledge, how they fared, and how that differed according to gender, region, and economy. Through this case study, the effect of Communist social, economic, and political reforms can be appreciated in more depth.
THE RESEARCH
Officially approved, long-term anthropological fieldwork in rural areas of the TAR has so far been the privilege of few foreign researchers. Most have either had to make do with much shorter but repeated research visits or pursue longer stays through work in different capacities, often combining research with a role as student, English teacher, tourist, or business or NGO consultant.
"Officially Official"
My first fieldwork in rural Tsang took place in the summer of 2003. For this I had gained an official invitation and research visa from the Tibetan Academy of Social Sciences (TASS) in Lhasa, thanks to a research collaboration between that institution and the Austrian Academy of Sciences in Vienna, where I was affiliated. Together with a Tibetan co-researcher from TASS, I stayed for six weeks in Ngamring County (Ngamring Xian), both in the administrative center of Ngamring (also home to the largest monastery in the area, belonging to the Gelugpa school of Tibetan Buddhism) and in several townships (xiang) and villages in the southern, agricultural parts of the county. While there, I recorded twenty-one formal interviews, conducted in Tibetan, with healing specialists: sixteen amchi, two oracles, one tantric priest or ngakpa (who specialized in astrology and healing with mantras), and two biomedical doctors, as well as conversations with hospital and health bureau administrators at different levels. The interviews covered the practitioners' training, medical work, connections between Sowa Rigpa and Buddhism, the place of Tibetan medicine in governmental health care, the recently introduced NCMS insurance scheme, amchis' lineage affiliations, and the history of Sowa Rigpa in the area. I also conducted several interviews with elderly monks and others, focusing specifically on local history, and with patients concerning their financing and experience of government health care.12 Owing to the official approval granted by TASS, as well as a letter from the local county administration (which explicitly allowed us to ask questions on "Tibetan culture, religion and medicine"), I also gained access—albeit limited—to statistics on medical treatments in the government facilities housed in the local Health Bureau. In addition, I was given unpublished and private documents, including handwritten histories of the People's Hospital and the Tibetan Medical Hospital in Ngamring. At the monasteries I obtained several local histories, some compiled by elders in the monastic community. Due to the relatively short period of time and visits to several sites, I felt more like an observer than a participant. That said, my official status as researcher and especially the approval of local officials gave me confidence to ask questions more openly, as well as to freely record interviews and generally feel secure in my role.
"Officially Unofficial"
My research experience during the second and longer fieldwork period, from September 2006 to August 2007, was rather different. My status then resembled that of an "officially unofficial" researcher and Tibetan language student, aptly described by Henrion-Dourcy (2013). Like her, I wanted to carry out long-term fieldwork in rural areas in Tsang and in the autumn of 2005 and spring 2006 had made several attempts to gain official permission through two Lhasa-based research institutions. But the necessary official invitations never materialized. The only other option known to me was to become a Tibetan language student at Tibet University, then see how far I could venture once enrolled.
The great advantage of being at Tibet University was clearly that I could improve my language skills and at the same time seek out knowledgeable doctors and scholars in Lhasa. Moreover, I could familiarize myself with official representations but also see what I could discover for myself of the recent history of Tibetan medical education, clinical practice, research, and pharmaceutical production. I studied works by the Mentsikhang's Jampa Trinlé (also discussing them with him), visited the various and growing Tibetan medicine museums in the city, and read Tibetan medical research papers and college textbooks. I often visited friends and acquaintances at the Mentsikhang, the TAR Tibetan Pharmaceutical Factory, and the Tibetan Medical College. The chance also arose to conduct biographical interviews in Lhasa as well as gain increasing familiarity with the classical Tibetan medical works that amchi frequently referred to.
I began to travel to Tsang on weekends, visiting established contacts and friends, and then extended my stays to the long holidays. This meant that my research in Tsang was scattered over the school term (October to early December, and March to June) but more sustained in the long holidays in between, bringing the total time spent in Shigatse and rural areas of Tsang to just over three months (see figure I.3). Given the usual restrictions and the need for travel permits for some places (specifically, the infamous Alien Travel Permit), this was a considerable achievement. Among earlier foreign researchers in rural Tsang, only Goldstein and Beall (1990) had been given permission for a twelve-month stay in Pala (northern Ngamring County), Fjeld (2006) for five months in an agricultural village in Panam, and Childs, Henrion-Dourcy (2017), and Diemberger (2007, 2010) for shorter repeated periods. Social science research undertaken by Tibetan researchers in the region is also scarce (e.g., Ben Jiao 2001). As a result, Tsang is a very understudied area of the TAR.
What traditionally had been referred to as Tsang was administered during the fieldwork as Shigatse Prefecture and divided into seventeen counties. The area is roughly equivalent in size to Washington state or Cambodia. Taking into account the region's enormous size and the constraints on research access, it is hardly surprising that Tsang is understudied, especially when it comes to contemporary life and recent historical developments.
In my application and upon arrival at Tibet University, I had informed its Foreign Affairs Department that I was conducting research on Tibetan medicine. This was never questioned further. It thus gave me the status of an "officially unofficial" researcher, in anthropologist Isabelle Henrion-Dourcy's terms, but, like her, I felt that it was "an ethically distressing choice" (2013: 208). Much less confident in my role than I had been during my 2003 stay, I was extremely vigilant and careful not to cause informants or translators trouble with the authorities. I spent considerable energy figuring out where the boundaries lay between safe and unsafe, and what this implied in terms of adjusting my conduct, my questions, and the visibility of my research as distinguished from my study of Tibetan language and medicine.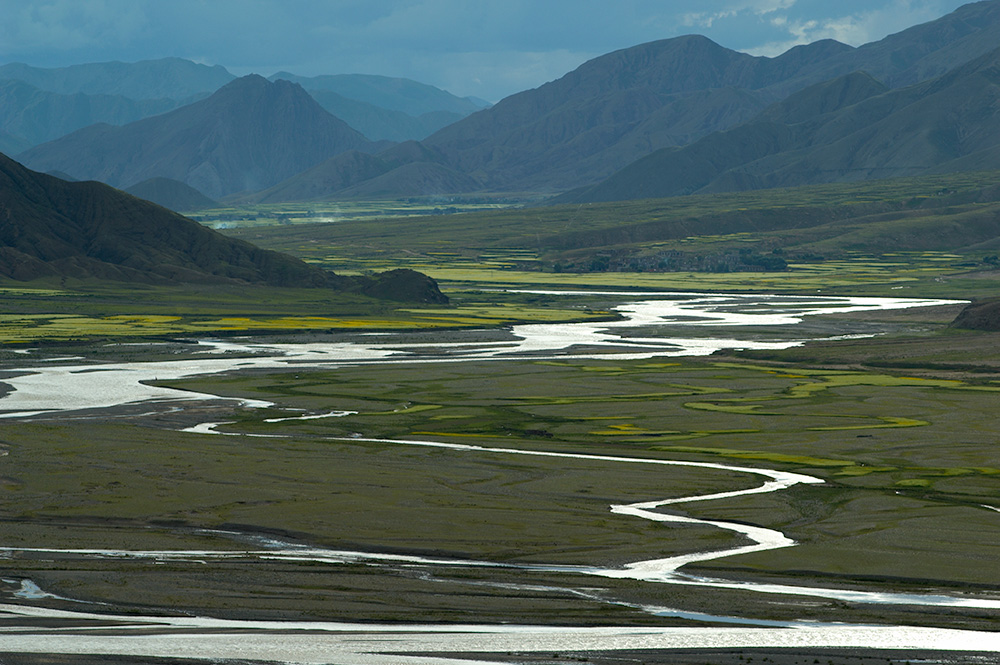 This was especially problematic when I was not with Yonten Tsering, one of my main interlocutors, who was originally from Ngamring, then resident in Shigatse, and of whose family I became a member. He always managed to smooth relations with officials and other Tibetans by following the party line, at least "from the mouth." His personal confidence and professional acumen, and the respect he commanded compensated at least in part for the great uncertainty I experienced. I felt to some extent protected by him. This perhaps explains why, despite his enervating praises of the CCP, Tibetans involved in medical and social projects seem particularly comfortable around him and seemingly empowered. This elderly doctor attributed to me the roles of medical student (amchi loma), researcher (zhimjuk pa), amchi (although I had at that point no medical training in this or any other medical tradition), family member (acha), and sponsor (jindak), depending on the context. When we were with his patients, he typically introduced me as a student from Tibet University in Lhasa, which carried high prestige, especially in rural areas. Or he introduced me as his medical student. In his family, I was called Acha—and or its honorific, Acha-la—which is used widely in Tsang for female relatives as well as acquaintances and close friends, in contrast to the Lhasa Tibetan dialect (where it means "older sister" or, with a different pronunciation, "wife"). I earned the title sponsor as a result of my fundraising efforts for some of Yonten Tsering's medical tours to the countryside and the reestablishment of a Tibetan medical clinic in the amchi's childhood home.
Although I had explained to him that my work was that of an anthropologist, it was impractical for him to explain this to patients and officials, who would not know what the term meant. He preferred to describe me as a "student," amchi, or "medical student," which may allude to the difficult position of researchers in Tibet, and the PRC more broadly (M. Hansen 2006), perhaps colored by previous state-enforced research. Local officials are primarily concerned by potentially sensitive or political topics that will get them into trouble with superiors, and these are usually related to the political status of Tibet and the Dalai and Panchen Lamas. Such politically sensitive topics are, however, not clearly defined or openly articulated; rather they have to be figured out and one's behaviors constantly adjusted. This is part and parcel of what geographer Emily Yeh has called a "politics of fear" orchestrated by the Chinese state to control its citizens and researchers (2006: 97).
I also developed a close relationship with Ngawang Dorjé, whose whole family befriended me. They allowed me to participate in numerous ordinary aspects of family life in Lhasa and to independently hear accounts by several family members: his two children (one a biomedical health worker, the other a Tibetan medical pharmacist); Ngawang Dorjé's sister Ani Payang, who had been a nun and had undertaken some Tibetan medical training in her youth; his elder brother, who also lived in the household and had an excellent memory; as well as Professor Wangdu, who was a close friend and a scholar and professor at the Tibetan Medical College. Time spent with Ngawang Dorjé and Yonten Tsering allowed me to study and discuss some printed medical and historical sources with them. An additional benefit was that they were from the same area and generation and had known each other for a long time. Thus I gained different perspectives on comparable situations and locations. The close rapport I developed with these two individuals and their social network allowed me to carry out repeated interviews and have many informal conversations.
Most of my weekends were spent in Shigatse Town and surrounding villages, while during the university holidays my research extended into five other distant counties in Shigatse Prefecture. The choice of place, timing, and length of visit was, with the exception of a three-week stay in Ngamring County, neither strategic nor planned; it came about because I was invited to accompany Yonten Tsering and a few medical students on trips to provide health care in rural areas. Delighted to accept, I spent several days in the counties of Rinpung, Sakya, and Thongmön, where we visited townships and villages for a half or full day, in some cases remaining overnight. Yonten Tsering provided Tibetan medical treatments, assisted by the students, some of whom had taken medical lessons with him and were eager for hands-on experience. I knew these trips would provide ample opportunity to learn from him and participate in Tibetan medical practice. I went on similar trips organized by just the doctor, to Lhatse County and Ngamring.
In the doctors' homes and in rural areas I witnessed over one thousand consultations, of which I discussed just under two hundred, along with follow-up meetings, with Yonten Tsering. I also filmed many of the medical encounters and some of the interviews. I talked as much as I could with patients but managed to carry out a systematic review of the illness experiences of only thirty patients, including informal conversations with their family members.
These various roles, and extended exposure to and engagement with the two amchi, their families, and social networks, as well as a return visit to several of the amchi I had met in 2003 and meetings with new ones (not least through the Swiss Red Cross), allowed me to generate new texts, including field notes, transcriptions of many hours of interviews and videos, and practical notes on medicine. The many issues that arose during this anthropological participant observation, in particular with regard to some of the oral history interviews, are discussed throughout the book but especially in chapter 3.
APPLIED ANTHROPOLOGY AND PERSPECTIVES FROM BEIJING
During the second period of fieldwork, I was fortunate to obtain substantial data through a short-term consultancy role for the Swiss Red Cross (SRC), which at the time was the main international NGO (out of just a handful) operating in Tsang. On their behalf I carried out two Evaluations and Needs Assessments of two cohorts of graduates from the SRC-funded Pelshung Tibetan Medicine School (Hofer 2007a, 2007b). The results of these the SRC were used in deciding how to administer the last round of support for these graduates before the NGO withdrew from this sort of intervention. For the consultancy, I carried out fifty-one semistructured interviews of sixty to ninety minutes and two focus-group discussions during a training course at the Swiss Red Cross headquarters in Shigatse (the first in December 2006 and the second in March 2007). In addition, I visited six graduates in their home villages or the townships where they worked. This assignment helped me build a good rapport with the Pelshung-trained doctors of the Tashilhunpo Medical Clinic. Apart from forming the basis of my two reports—hence qualifying as "engaged" or "applied" medical anthropology (Lamphere 2003, 2004)—the substantial data generated during these encounters was crucial in advancing my understanding of the non-state-led revitalization of private medical training in Tsang and the work of the Tashilhunpo Medical Clinic. This practical engagement, rather than limiting my work, enhanced it. It gave me pleasure to see some of my research activities directly benefit these two groups of graduates, while I discovered many aspects that would otherwise have passed me by, for example the wider implications of the Pelshung amchi lacking official medical licenses and their anxieties about it. I would agree with the Tibetologist David Germano that "engaged and participatory research is not just more ethical but the knowledge it produces gets better, more diverse, more extensive and more useful. And it enables [those who have often been termed] 'others' … giving [our Tibetan] colleagues the tools and the space for self-representation."13
In addition to the fieldwork in Tibet and work for SRC, I conducted two short research stays in Beijing, mainly to study centralist representation, regulations, and state sponsorship of what was typically referred to there as "China's Tibetan medicine" or "minority medicine" (C. minzu minjian yiyao/yixue). Particularly useful was a meeting with representatives of the National Minority Medicine Association and a visit to their library, since they published periodic reviews of PRC-wide legislation on "minority medicine." I also visited the Beijing Nationalities Hospital, better known as the Beijing Tibetan Medicine Hospital. It has more recently been renamed again, this time as the Beijing Tibetan and Ethnic Medicine Hospital (Hofer 2011b), in line with recent shifts in the redefinition and translation into English of minzu, from "minority nationality" to "ethnic group" (cf. Bulag 2010a).
MEDICINE AS AN EXCEPTION?
Despite intense surveillance and the care I needed to take during my research, the topic of Tibetan medicine made me, generally speaking, less suspect to officials in Foreign Affairs, at Tibet University, at the county level, and in village administrations. Tibetan medicine was by then fully supported, recognized by all sides as an important aspect of health care and, of late, commerce. Moreover, my Tibetan friends and interviewees generally considered it to be an apolitical topic.
Given common anthropological practice, my various roles and positions during the research, and the still pervasive and intense political sensitivity, the personal names of research participants and interlocutors have been anonymized. Exceptions are those who wanted to be named in person, publicly well-known figures and published authors, and some interlocutors who have now passed away. The precise names of locations have also in some cases been amended.